Key Points:
Five of the top ten selling EV models in China come off BYD assembly lines: the Song, Qin Plus, Han, Dolphin, and Tang.
Laying claim to 10.1% of China's EV market share, SGMW produces some of the world's cheapest EVs. One example is the $4,104 Wuling Hongguang Mini EV microcar.
The publicly traded but state-owned Chinese automaker, Guangzhou Automobile Group Co., Ltd., or GAC Group, reached 4th place in Chinese EV sales in 2021 with a 4% market share.
Electric vehicles are flourishing in China. Seeking freedom from petroleum dependency and reducing pollution in its cities, the Chinese government is all-in on the support of universal EV adoption.
Almost 11% of China's 2021 new vehicle sales were EVs, according to Statista, with plug-in hybrids adding another 2.4%. With the country's billion-strong population, China's EV market accounts for 53% of 2021's worldwide EV sales, Daxue Consulting reports.
Of course, Chinese drivers buy a significant number of foreign EVs to drive, with Tesla leading the pack. The Tesla Model Y wins the crown as the country's most popular August 2022 EV model, per China Daily research. Its monthly sales soared 261% year-over-year.
But, domestic development and production are also flourishing. Chinese EV companies aren't household names around the globe currently, but this will likely change in the coming years. BYD and NIO are already known internationally and other companies are rising quickly.
Without further ado, here are a half-dozen of the biggest and their claims to fame in the Chinese EV market.
1. SAIC-GM-Wuling (SGMW)
Laying claim to 10.1% of China's EV market share, SGMW produces some of the world's cheapest EVs. One example is the $4,104 Wuling Hongguang Mini EV microcar. The company sold 161,579 Hongguang EVs between January and May 2022, beating even the BYD Song's 127,304 sales.
The sheer number of EVs made and sold by SGMW doesn't push its market share higher simply because most of them are so cheap. The BBC reports SGMW sells 460,000 Wuling Sunshine microvans annually, each setting customers back just $3,700.
SGMW is a jointly owned company, partly operated by the Chinese state. SAIC is a government enterprise, while GM stands for General Motors. The final piece of the alliance is the private company, Wuling Motors. The automaker originally launched in 1982 but has significantly evolved and expanded since, acquiring other Chinese car companies along the way. The company makes a range of diesel microcars and microvans alongside its EVs.
Exporting its vehicles to approximately 40 countries according to Just-Auto, SGMW continues to add markets and models. It's unclear whether the company will ever try to export to Europe, Australia, or North America. It's equally uncertain if such an attempt would succeed. However, SAIC-GM-Wuling appears likely to continue as a powerhouse in China, popular among a vast low-income sector of the population.
2. BYD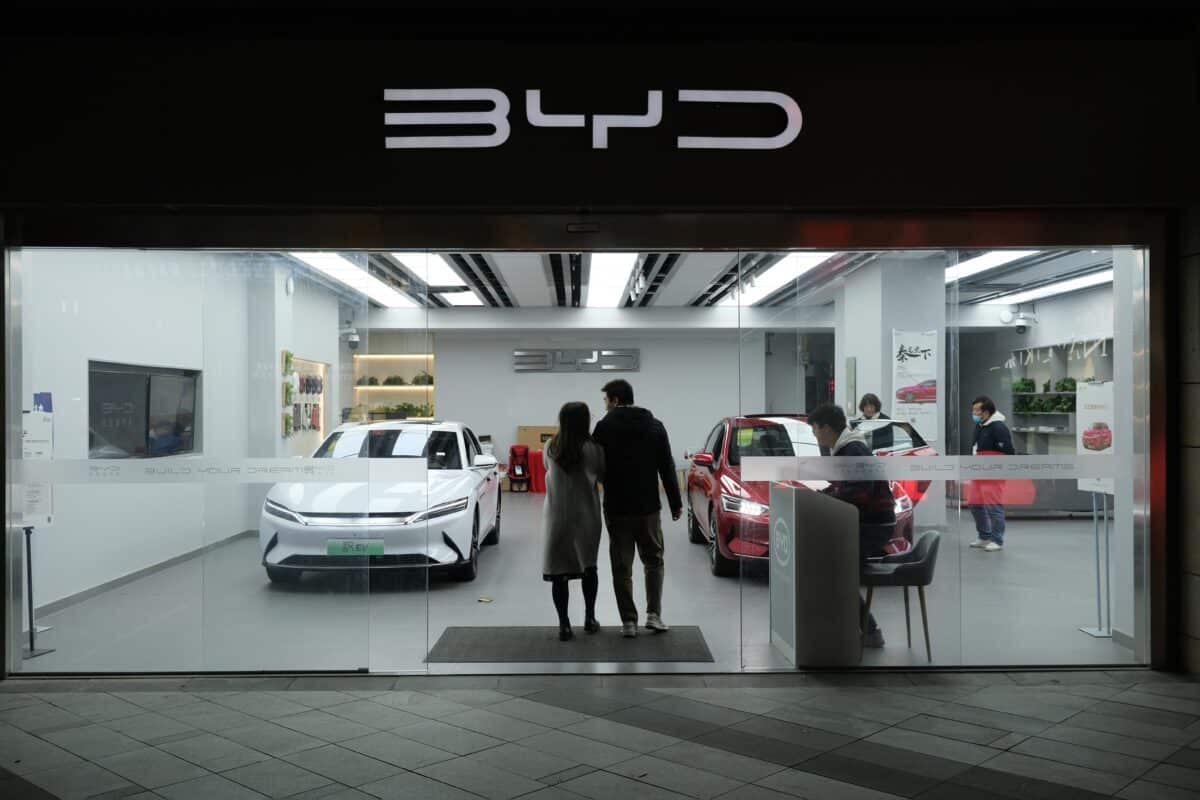 BYD ("Build Your Dreams") heads the list of Chinese EV sellers when it comes to market share and the sheer volume of sales.
Born decades ago in 1995 as a rechargeable battery manufacturer, BYD is worth more than $800 billion today. It sold just shy of 600,000 EVs in 2021, according to Business Insider. It also captured a 27.9% market share in China in 2022's first 5 months. Five of the top ten selling models in China come off BYD assembly lines, the Song, Qin Plus, Han, Dolphin, and Tang.
BYD claims that its blade batteries, strengthened by an aluminum honeycomb matrix, are among the planet's safest. It also boasts about its longevity, claiming more than 5,000 charge cycles are possible, and superior energy density. Using the battery as a structural part enables the creation of vehicles with shorter overhangs and a longer wheelbase. One byproduct of this is a low coefficient of drag at about 0.21. BYD EVs are certainly more aerodynamic than a typical sedan at a 0.29 coefficient, but fall short of Aptera's record-setting 0.13.
While BYD offers multiple passenger vehicle models in China, its presence in the U.S. is limited so far. BYD North America, located in California, currently focuses on government and commercial sales. It produces electric buses, trucks, and forklifts for municipalities and companies, powering these EVs with its iron phosphate batteries. Iron phosphate batteries are safer than nickel-cobalt, though shorter range.
It's likely only a matter of time before BYD passenger EVs appear in America, though, and it will start selling three passenger EV models in Japan in 2023. Additionally, its Atto 3 compact EV SUV is slated to sell in Australia, New Zealand, and Europe soon.
3. GAC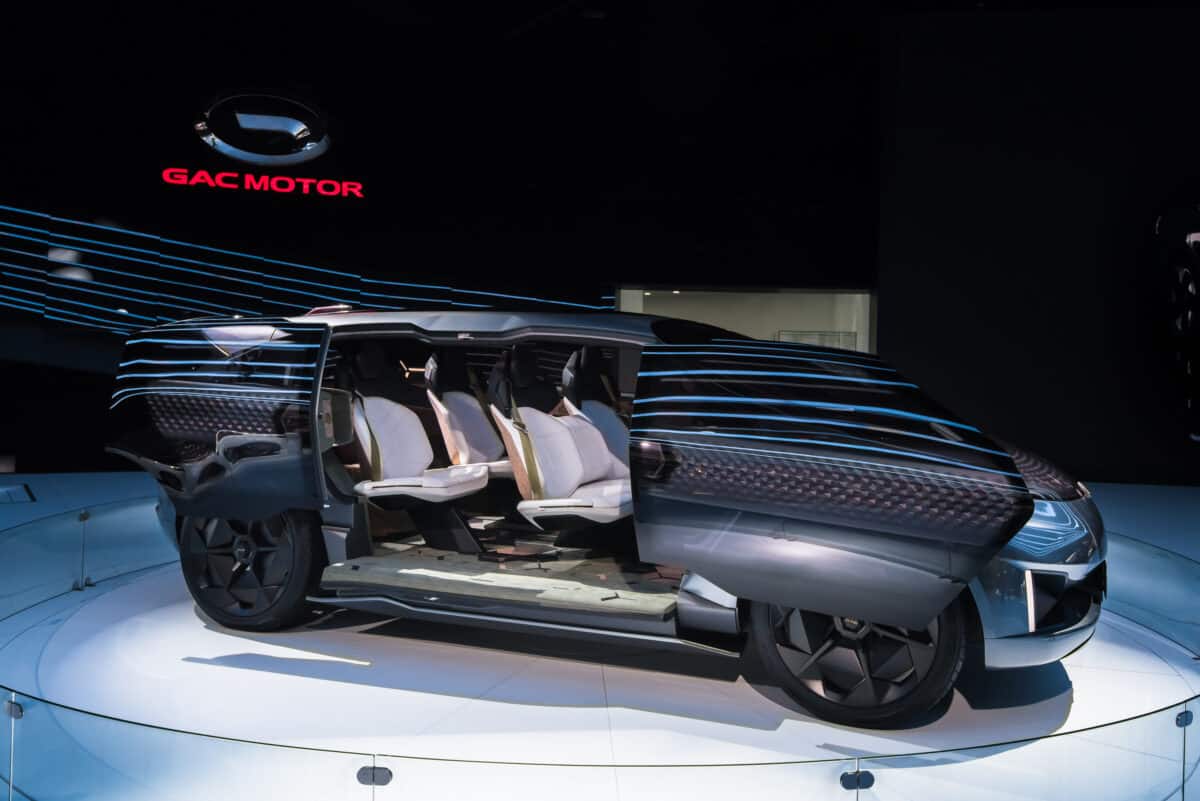 Another publicly traded but state-owned Chinese automaker, Guangzhou Automobile Group Co., Ltd., or GAC Group, is pushing aggressively into EVs.
The Chinese government founded the company in 1954 and it still produces many ICE vehicles. Nevertheless, GAC is pivoting production toward electric vehicles in keeping with China's EV policy. It reached 4th place in Chinese EV sales in 2021, according to InsideEVs, with a 4% market share.
GAC made an attempt in 2017 to bring its EVs to market in the U.S., under the accidentally controversial nameplate "Trumpchi," Reuters reports. It postponed its plans until 2019, then postponed them again because of the trade conflict between the countries.
The company manufactured and sold 535,000 EVs and hybrids during 2021, about 15.1% of the total, China.org reports. The company is spending over $7 billion on an industrial park in Panya, capable of churning out an additional 600,000 electrified vehicles annually. If GAC Group's claims are true, it could soon have the industrial capacity to build more than 1.1 million EVs and hybrids every year, with more expansion to follow.
4. Chery
The QQ Ice Cream is Chery's current signature EV, a cartoonishly stubby vehicle capable of seating four, thanks to the lack of an ICE engine. Chery whimsically named the QQ Ice Cream's trims the Pudding, Cone, and Sundae. The tiny vehicle rivals SGMW EVs for affordability while offering a modest 72-mile range in its standard battery configuration.
Chery's QQ Ice Cream came in 9th among 2022's top EV sellers in China. This success makes it one of the top four companies in the country for individual model sales. Chery Automotive itself is a state-owned enterprise now a quarter century old, founded in 1997. While successful within China, Chery has had a checkered history internationally. Many foreign car companies have accused it of intellectual property violations. Alleged safety problems and the use of asbestos also caused it difficulties.
The Chinese automaker exports its vehicles to Eastern Europe, Russia, the Middle East, and assorted other countries. Chery also sold vehicles in Australia between 2011 and 2015.
Chery is currently within a few weeks of resuming Australian sales, with diesel, hybrid, and EV models soon to be on offer again. The models are likely to include the ultra-affordable all-electric QQ Ice Cream.
5. NIO
While NIO can't yet match the market share of long-established giants like BYD, it's still a major EV player in China. As a startup with an all-electric vehicle range, with no ICE or hybrid models, it's a direct competitor to Tesla. It's also the most aggressive Chinese EV automaker when it comes to expansion in Europe and, likely, North America. Significant numbers of NIO EVs will likely be seen on U.S. streets long before Chery or SGMW models.
NIO's EV lineup includes the EP9 sports car, a two-seater built mostly out of carbon fiber. The EP9 can rocket to 60 mph from a standstill in 2.7 seconds and achieves 186 mph in 15.9 seconds. More prosaic models include the EC6, ES6, and ES7 mid-size SUVs and the ES8 full-size EV SUV. The mid-size ET5 sedan seats 4, while the full-size ET7 sedan holds 5 passengers and competes against the Tesla Model 3.
NIO is already actively selling its EVs in Europe. Hundreds of its vehicles are already on the roads in Norway, and Germany is in the Chinese EV maker's crosshairs, too. The company plans to build at least 1,000 battery swapping stations in Europe, Reuters reports. The swap technology enables changing out the battery for a fully charged example in just a few minutes, immensely speeding up recharging. The use of swap stations makes sense in the compact landmass and dense cities of Europe. It remains to be seen how NIO adapts its battery swap model to the wide-open spaces of the U.S.
6. Li Auto, Inc.
Li Auto's plug-in electric hybrid SUV, the Li Auto One mid-size crossover, made the top 10 list of bestselling EVs and PHEVs for 2022's first half, according to InsideEVs.
A newer and slightly bigger version, the 5 to 6-passenger Li Auto L8, was revealed in spy shots on September 1st, 2022. Li doesn't have quite the same clout as some other Chinese EV makers, but it's clearly popular and catching up.
Li Auto was founded in 2015 by the eponymous Li Xiang with headquarters in Beijing. Its first vehicles appeared in Chinese showrooms in late 2019 when the One SUV went into commercial production. It was backed by investments from several major Chinese businessmen and companies, and its vehicles received government subsidies.
Like most Chinese EV makers, it racked up losses despite its energetic expansion. The company went public on the NASDAQ stock exchange in the U.S. in late July 2020. Enthusiastic investor interest enabled Li Auto to pocket about $1.1 billion in funds from its IPO.
Besides its Li Auto One flagship SUV and the upcoming Li Auto L8 SUV PHEVs, Li also makes the L9 crossover SUV. The full-size L9 SUV boasts a remarkable range of 817 miles using both diesel and electric power, or 124 miles electric-only. These figures are European NEDC estimates rather than the usually shorter EPA estimates. Li Auto also built the $68,418 base price SUV with lots of luxury features, a hallmark of its vehicles. These include multiple touchscreens, heated and ventilated seats, and a small center console refrigerator, CarScoops reports.
Summary of the Largest EV Companies in China
| Rank | Company | Revenue |
| --- | --- | --- |
| #1 | SAIC-GM-Wuling | $109.77 billion |
| #2 | BYD | $62.14 billion |
| #3 | GAC Group | $16.2 billion |
| #4 | Chery | $9.2 billion |
| #5 | NIO | $7.143 billion |
| #6 | Li Auto | $6.566 billion |
Up Next
The image featured at the top of this post is ©John_T/Shutterstock.com.