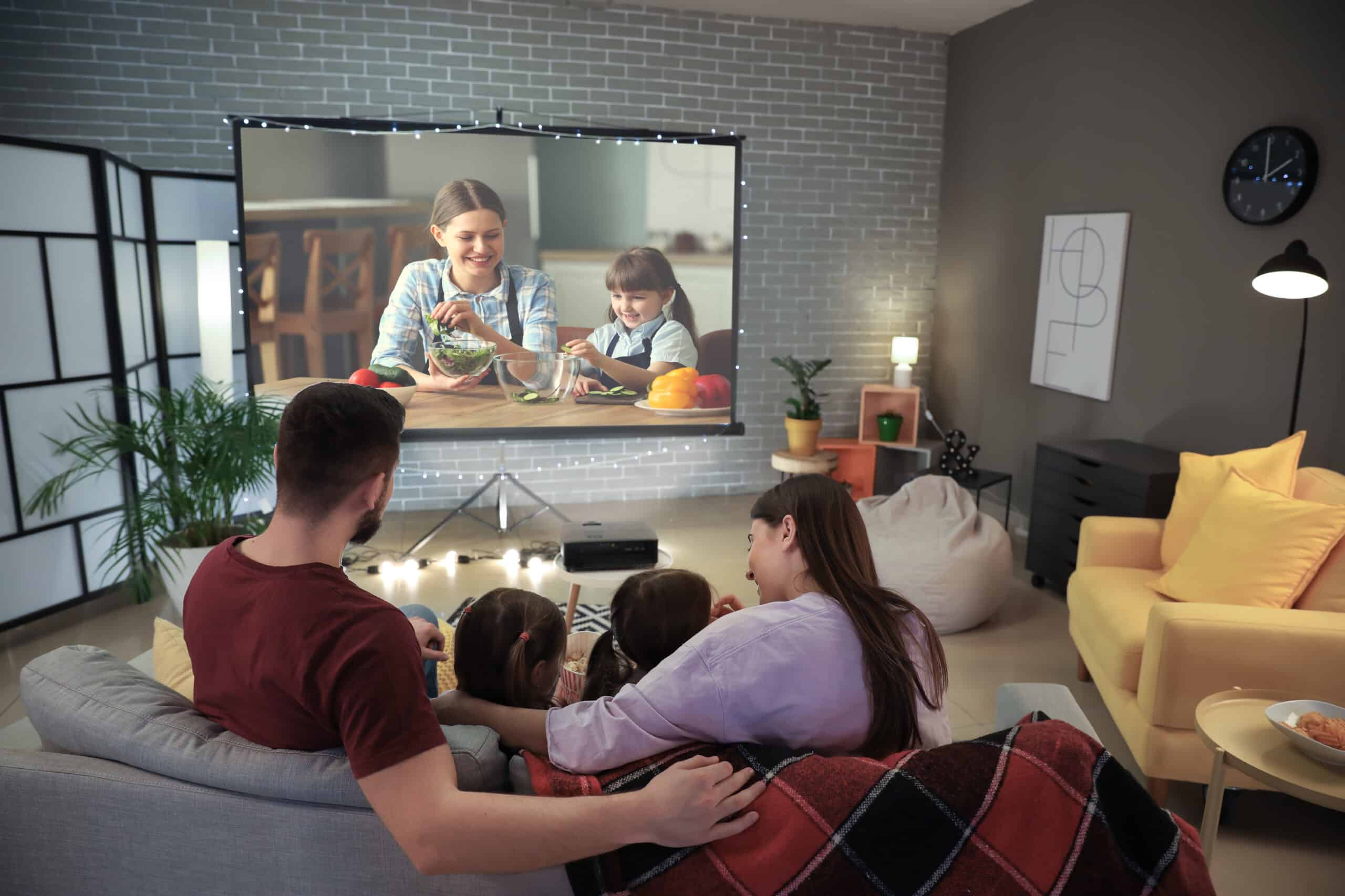 Sometimes you just want a television that sits in an entertainment center and, other times, you want a full-on movie theater-like experience right in your home. For those in the latter category, ultra-short throw projectors are a must-own piece of technology. 
Whereas televisions commonly offer pictures up to 85 inches, with an ultra-short throw projector, you can push a "screen" on your wall up to 120 inches in size. That's a whole lot more room for movies, games, classrooms, offices, and more. Not to mention they take up a whole lot less room than a television and with fewer cables to boot. 
So, let's take a look at the best Ultra Short Throw Projectors you can buy today. 
For the best ultra-short throw projector around, you'll pay a small premium with the Samsung Premiere LSP7T, but it's worth every penny.
Capable of supporting native 4K resolution and a maximum screen size of 120 inches, the Samsung is the best choice for any home that wants the best possible ultra-short throw projector experience. 
Powered by Samsung's Tizen operating system, menu navigation is super easy and both Bixby and Amazon Alexa voice assistants are built in. That makes it even easier to get to the content you want to watch, just through the sound of your voice. 
The best part is that the Samsung can produce a screen size of 90 inches while sitting only nine inches back from a wall in a home or school. If you want the full 120 inches of screen size, you just need to push the Samsung back 16 inches away from a wall. 
That the design is both sleek and aesthetic while still having room for 30 watts of room-filling sound is just one more reason why the Samsung is the best ultra-short throw projector on the market today. 
Pick up the Samsung Premiere LSP7T on here. 
Offering up to 150 inches of screen size all while hanging back only 35 inches off a wall, the WEMAX Nova 4K is another standout ultra-short throw projector.
If the display isn't enough to impress you, the inclusion of Dolby Audio and 30W of sound including two 5W tweeters ensure you'll feel like you're in the movie, but from the comfort of your home. 
Delivering more than 25,000 hours of lamp life, that's good enough to watch on the WEMAX for 24 hours a day over the course of 1,041 days before lamp lighting will need to be replaced.  
Native 4K resolution brings crisp and clear colors while incorporating ALPD 3.0 and TI DLP technology to help reduce eyestrain that could be caused by any blurry images. That's true whether you are looking at WEMAX while projecting 80 inches up to its maximum size of 150 inches. 
Built-in Android TV gives access to over 5,000 apps including YouTube, Amazon Prime Video, Netflix, Hulu, Disney+, and more through the Google Play Store. 
Pick up the WEMAX Nova 4K on Amazon here today. 
When it comes to ultra-short throw projectors, few can match the excellent sound quality of the Epson EpiqVision LS300.
For the audiophiles, a 2.1 sound by Yamaha speaker system is built into the Epson for a powerful sound. Epson notes that the included audio experience should rival that of a soundbar which is a big claim in a small(er) package. 
Audio aside, there is plenty more to like about the Epson, including its Android TV interface. That means access to the Google Play Store for downloading all of your favorite streaming services plus voice assistance with built-in Google Assistant. 
Another benefit of utilizing the Android TV operating system is the built-in Chromecast. With Chromecast, you can easily "cast" directly from your smartphone, tablet, or computer to the Epson unit. When you are projecting content either by casting or directly from the Epson, you'll be doing so with anywhere from 61 to 120 inches of space and in 4K quality. The largest screen size requires a mere 15.2 inches of space between the projector and the wall to reach its maximum screen size. 
Grab the Epson EpiqVision LS 300 today at Amazon here. 
Best Budget-Friendly: LG HF65LA
If you're willing to set aside 4K quality for an ultra-short throw projector that's a little more budget-friendly, the LG HF65LA is exactly what you need.
Available in Full HD 1080p, this UST requires only a 4.3-inch gap from a wall to display 60 inches and a 15-inch gap to get its maximum display size of 100 inches. You can even utilize LG's "4-corner" technology to manually adjust the four corners of the image to make sure you get your idea of perfect alignment. 
Regardless of which size you prefer, you'll be able to enjoy all of them for up to 30,000 hours of lumination. That's 1,250 days of watching non-stop before you will need to change out the light source. 
With Bluetooth on board, stream your video to your favorite pair of headphones or external speakers for a more immersive audio experience. Built-in Wi-Fi connects with both Android and Windows through the LG HF65LA so you can stream directly from a content source of your choice or connect a gaming console or Bluray player through the available HDMI port. 
Find your LG HF65LA on Amazon here. 
When you want an ultra-short throw projector for watching movies, look at the Optoma CinemaX P2.
Along with 4K UHD resolution, the Optoma also adds HDR10 compatibility and PureMotion image processing. As all of this technology comes together, the result is a realistic cinematic experience and a screen that can go as big as 120 inches. 
The laser light source ensures up to 30,000 hours of work but it's really the 3,000 lumens of brightness that really adds value for movie watching. That's strong enough brightness to watch a movie when it's full daylight outside while still receiving the entirety of the wide color gamut of the Optoma. 
One more added value for this UST is the inclusion of a 40W soundbar that includes two full-range drivers and two woofers for heart-pounding sound. Throw in Amazon Alexa smart home compatibility or Google Assistant and you have both a smart projector and one that can completely immerse you in the next Avatar film.
Head to Amazon and pick up the Optoma CinemaX P2 here. 
It's a true testament to the quality of Epson ultra-short throw projects that two are on this list. This time around, the Epson EpiqVision Ultra LS500 hits at the higher end of the UST price range but it's so good for gaming, it's okay if you want to skip a few months of rent to pay it off. 
Should you give up eating for a month, you receive 4K PRO-UHD projection technology which leads to crisp and accurate colors plus HDR for an all-around exceptional picture. Also giving the LS500 a bump is the high brightness at 4,000 lumens which makes gaming in the middle of the day look as good as it does when completely dark outside. 
Powered by Android TV, you can game on anything from the Google Play Store or hook up your favorite console via HDMI and give yourself up to 130 inches of space to play with. No wires, no ceiling mount, just plenty of screen to enjoy Call of Duty, Halo, Horizon Forbidden West, and all of your favorite titles. 
Pick up the Epson EpiqVision Ultra LS500 on Amazon here. 
How to Pick the Best Ultra-Short Throw Projector: A Step-by-Step Guide
When you are picking the best ultra short throw projector, there are a few things you want to look for before making any purchases: 
Price
Operating system
Audio
Connectivity
Screen size
Price
One of the most important aspects of any UST purchase is going to be price. Even the lowest price UST is still over $1,000, so you have to really believe this is the right product for your office or classroom. The price can go as high as $4,000 or $5,000, further emphasizing the need to make sure this is a product you are going to use frequently and hold onto for a while. 
Operating System
While it isn't the most important aspect of selecting a UST, choosing one with an operating system that works for you is still important. For the most part, many of the best options on this list run Android which leaves the door open for plenty of app availability. Similarly, Tizen on the Samsung model offers a download store plus a clean interface. 
On the other hand, you can opt for a UST like the LG HF65LA which doesn't have an operating system that reduces the cost and instead uses Wi-Fi to stream from a smartphone or tablet. 
Audio 
As big of an investment as ultra-short throw projectors are, you want a good audio experience to match the quality of the viewing. All of the "best of" options here have built-in speakers, but that doesn't make them equal. You want to try and find more powerful speakers that recreate a soundbar or add in features like Yamaha 2.1 audio for a more cinematic-like audio experience. 
Connectivity
For the price, you want to make sure you can do as much as possible with the UST of your choice. Does it have HDMI inputs, Bluetooth, and optical audio out? Can you connect them to a soundbar using ARC inputs? Wi-Fi connectivity is another important connectivity feature or even ethernet as you want strong speeds available so your streaming isn't buffering. 
Screen Size
One of the main reasons to buy an ultra-short throw projector is to have a giant screen for viewing. Ask yourself how large of a screen you want and if you have a plain, preferably white, wall that is large enough to accommodate. This is unquestionably the biggest question ahead of any UST purchase: can you utilize the larger screen sizes? You can start with screen sizes as small as 60 inches all the way up to 150 inches, so knowing not only what screen you can use but also which one you can support in a home, classroom, or office is a big question. 
What to Know Before Buying an Ultra Short Throw Projector
One of the key reasons to pick up any ultra-short throw projector is that they are ideal for small spaces. Not only are they small equipment-wise, but you can position them sometimes as little as four or five inches off a wall and still get 100 inches of screen to display. 
One of the biggest misconceptions about any projector, never mind an ultra-short throw projector, is that they won't last long. For the price, you want something that's going to be around for years and these will be. Even the shortest lifetime machines will last for at least 20,000 hours of use or 833 continuous days of 24/7 continuous watching. 
There is no reason to think you can only watch one of these in a dark or dim room. As many of the best options on this list contain 2000 lumens of light or more, they can play during the daytime just as easily as they can play during the evening. 
Using Ultra Short Throw Projectors: What it's Like
Anyone who wants a big screen in their home without a television taking up too much space would be best served looking at an ultra-short throw projector. No matter which model you purchase, setup takes less than a few minutes and then you are ready to roll. 
For those running on Android or Tizen, logging into your favorite apps is super easy as is connecting to Wi-Fi to download each app. People who want a great experience are probably going to enjoy using Android the most and it's also the most familiar interface. 
For the most part, each "best of" option on this list does a really great job of reproducing accurate colors, though the Optoma CinemaX P2 was just outstanding in this category for movies. Watching the original Avatar, a movie that feels like it was made to test these types of devices, looks as accurate as ever. This is the same for the Samsung and the Epson EpiqVision LS500, both of which produce incredibly accurate colors. 
Final Thoughts
Competition in the best ultra-short throw projector space is fierce but, in the end, there can only be one winner. The Samsung Premiere LSP7T is the reigning champion of color reproduction, sound, and a standout operating system with an easy-to-learn interface and long-lasting functionality.
Next Up…
Take a sneak peak at some of our other popular articles: