Apple has been a household name when it comes to consumer electronics and its products have become quite popular worldwide because of their quality and stunning designs. One of their latest products that have gained much attention is the AirPods Pro.
Do you have a pair of Apple AirPods Pro? If so, you're part of the growing movement that prefers wireless audio to traditional wired earphones. Although they may have some redeeming qualities, there are several reasons why you should think twice before buying them. When you hit the buy button, it's essential to weigh up all of your options and understand the pros and cons. After all, it's quite an expensive purchase!
While their popularity in recent years has grown, this device certainly has its flaws. From potential connectivity issues to potential battery problems, there are many valid reasons to avoid them.
Let's explore all the reasons why you may be betting off not adding these to your cart.
Best Battery
Apple AirPods Pro
Features Active noise cancelling technology
Water resistant (including sweat)
Siri voice control automatically enabled
Battery: 24hrs
We earn a commission if you make a purchase, at no additional cost to you.
They're Not Cheap
Let's start with the obvious. AirPods Pro comes with a hefty price tag that may not be feasible for everyone. They are expensive compared to other wireless earbuds on the market or its predecessor that offer similar or even better features.
Although the AirPods Max retail at $164, the high price does not necessarily indicate better features or abilities than other headphones. Headphones such as the TREBLAB Z7 PRO, priced at $159, or the Monster Persona Noise Cancelling Headphones Wireless, priced at $119, are similar to the AirPods Pro and may perform even better.
Despite its impressive features, the AirPods Pro's price is twice as much as similar headphones from well-known brands with all the same features. Unless you are a loyal Apple user willing to spend more, it may not be necessary to pay for the AirPods Pro.
Unreliable Battery Life
When you test the battery life of these earbuds, you can expect to get about 4 hours and 20 minutes of continuous music playback with active noise cancelation (ANC) turned on. This is just above average compared to most other accurate wireless models. If you turn off the ANC, you can enjoy even more battery life, up to 5 hours and 6 minutes.
The charging case is a convenient way to keep your earbuds charged on the go. You can listen for up to 24 hours with a fully charged case. The case is even better compatible with any Qi wireless or MagSafe charger.
However, one issue you might run into is that the charging case still requires a Lightning cable. This can be frustrating because the line included in the box is now USB-C on one side and lightning on the other. So, you'll need to remember to bring this specific cable with you wherever you go. If you already own a newer iPhone, this won't be a big deal since you'll already have the same cable. But if you haven't upgraded yet (or don't plan to), this could be an annoying inconvenience that you'll just have to deal with.
Connectivity Issues
Many users have reported connectivity issues with their AirPods Pro. Although AirPods Pro is marketed toward iPhone users, it can be used with other devices. However, they lack the seamless integration between iPhone and AirPods, which can be a dealbreaker for some. It can be troublesome if you're in the middle of a call or listening to music and your earbuds suddenly disconnect.
Another common issue that AirPods owners face is when one AirPod won't connect. This can be frustrating, but it's more familiar with older machines. Newer Macs usually don't have this problem, but maintaining a Bluetooth connection can be challenging at times if you're using an older device.
There could be many reasons why you're experiencing static or subpar audio quality. Bluetooth connections are sensitive to interference, which can cause everything from static to reduced audio quality, and even disconnects. If you're having this problem in one particular place, it could be due to interference.
If you have the second-generation wireless case (or cases for the 3rd-gen and AirPods Pro), you can charge it wirelessly, but ensure the charger is compatible.
Your AirPods should update automatically when you connect them to your device, provided there's new firmware available. Unfortunately, there's no straightforward way to force an update on your AirPods Pro. However, there is something you can try.
Controlling the AirPods Pro
If you have an Apple Watch, managing your AirPods Pro is a breeze. Simply tap on your music, select the mode icon on your screen, and choose between noise-canceling, transparency, or off modes. This feature is beneficial when you want to chat with someone while your AirPods are on.
However, without an Apple Watch, the process is more complicated. You'll need to access your iPhone settings, find and tap Bluetooth, locate the AirPods Pro device listing, and select the "i" icon to make changes. It's a lengthy and not entirely straightforward journey.
But there's hope! Controlling your AirPods Pro mode from Control Center would be much quicker and easier. While this feature wasn't available before, long-pressing the volume control in Control Center now brings up a quick toggle for noise-canceling and transparency modes.
Removing the AirPods Pro Can be a Challenge
Getting your AirPods Pro out of the case can be quite a challenge. Unlike the old AirPods that slid out quickly, the Pro model is deeply seated in the case, with slick plastic parts that make them slippery to handle. Even the grippy silicon tips are angled lower, adding to the difficulty.
However, there is a trick to getting them out quickly. Simply squeeze the case while pushing up on the AirPods and they should pop right out.
While it may seem like a minor issue, the user experience is essential, especially when it comes to popular products such as AirPods. Awareness of this nuance can help you avoid frustration and enjoy your AirPods Pro fully.
Verification Errors
When pairing new AirPods, you may encounter an error message saying, "These headphones could not be verified as genuine AirPods and may not behave as expected." This message pops up when your iPhone or iPad detects something is wrong with the AirPods' connection. In most cases, this means that the AirPods are counterfeit.
While you can ignore the warning and continue using the counterfeit AirPods, verifying them before using them is best. Counterfeit products have plenty of risks and aren't likely to last as long as an authentic pair of AirPods.
Here are some reasons why you should verify your AirPods:
Authentic AirPods come with a warranty that counterfeit products don't.
Counterfeit AirPods may have poor sound quality or connectivity issues.
Counterfeit AirPods may pose a safety risk, as they may not be built with the same high standards as genuine AirPods.
So, what should you do if you receive a verification error message when trying to pair your new AirPods? First, make sure that you purchased your AirPods from an authorized Apple retailer. If you did, contact Apple Support for assistance. If you didn't, return the counterfeit AirPods to the seller and purchase authentic AirPods from an authorized retailer if possible.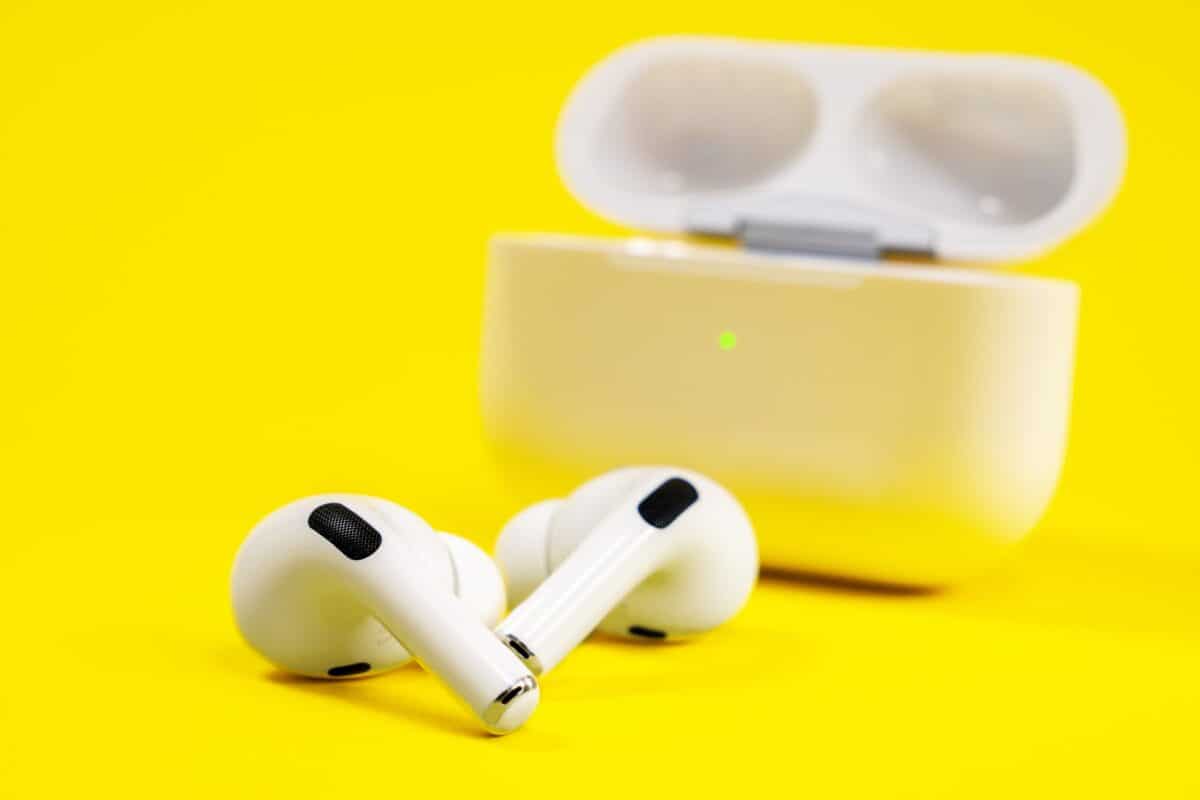 Are the AirPods Pro Worth Purchasing?
The AirPods Pro has quickly become one of the hottest accessories for iPhone users. But the question remains, are they worth the investment? The answer is yes, usually.
With its active noise-cancellation feature, these sleek earbuds can transport you to a world of audio bliss, all while cutting out the outside noise. Plus, the transparency mode allows handy ambient noise control, making them convenient for many situations. The AirPods Pro has a comfortable fit and is sweat- and water-resistant, making them an excellent investment for workouts and everyday use. So, if you're looking for a high-quality audio experience that is versatile, user-friendly, and sleek, the AirPods Pro is worth considering.
However, it's no secret that the AirPods Pro, much like any other tech device, comes with some drawbacks. If you're looking to save some money, there are plenty of comparable earbuds out there right now for a much smaller price tag. Additionally, if you regularly need long battery life for long commutes or extended periods away from a charger, you might want to skip the AirPods Pro in favor of earbuds with better battery life.
So, Should You Go Pro?
AirPods Pro is not for everyone, and that's OK. While they offer a range of features that entice tech-savvy consumers, many practical considerations come into play when finding the right headphone solution. Consider your budget, lifestyle, and how much you value sound quality and comfort when deciding whether or not to invest in AirPods Pro.
Remember, even if AirPods Pro is not the best fit for you, there are still plenty of excellent wireless headphones to choose from that can offer comparable features and better value. It's always important to do your research before committing to any purchase.
Ultimately, what matters most is finding a headphone solution that works for you and meets all your needs – an investment in quality audio gear can go a long way toward enhancing your audio experience.
The image featured at the top of this post is ©iStock.com/Credit:Avid Photographer. Travel the world to capture moments and beautiful photos. Sony Alpha User.