Key Points
Our choice for the #1 Best Overall gaming TV on Earth today is the LG C2.
The best gaming TVs offer features like VRR, ALLM, and dedicated gaming modes to automatically enhance picture quality.
When choosing a gaming TV, you want to look at picture quality, price, and size as your primary decision factors.
Whether you are diving in with the latest ninth-generation video game consoles or looking for a bigger screen to play from your Steam Deck, you want to find the best gaming TVs around.
Anytime you go with a larger screen, you get more immersive gameplay, and with televisions coming down in price over time, there is more value in a TV than a dedicated monitor. No matter if you are a casual gamer or someone who uses video games to escape from the realities of work and life, you deserve to have a great gaming experience.
The reality is that some TVs are better than others (sorry Vizio!) when it comes to gaming, so let's take a look at the 6 best gaming TVs you can purchase right now.
#1 Best Overall: LG C2
Excellent OLED Screen
LG C2 65-Inch OLED evo
Great contrast, deep blacks, and over a billion colors
8 million self-lit OLED pixels
Alpha 9 Gen 5 AI Processor 4K, exclusive to LG, intuitively adapts to what you're watching
LG Game Optimizer mode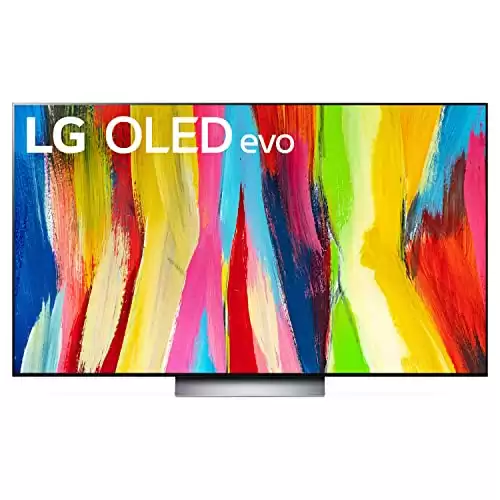 We earn a commission if you make a purchase, at no additional cost to you.
Anyone who follows the television industry, even in their spare time, knows the LG C2 is highly regarded as one of the best gaming TVs available today.
As fantastic as the LG C2 is for movies and streaming, it's just incredible for gaming thanks in part to its near-perfect black levels. Along with the outstanding deep blacks, the LG C2 also excels in its brightness and infinite contrast. Powered by an Alpha 9 Gen 5 Processor 4K, the C2 will automatically adjust the picture settings to improve not just the picture quality but to improve sound as well.
When it comes to gaming, the biggest highlights include support for NVIDIA G-Sync, FreeSync Premium, and variable refresh rate (VRR). All four of the C2's HDMI inputs are v2.1 certified, so you have support for 4K at 120Hz, which makes the C2 compatible with the best features of the PlayStation 5 and Xbox Series X.
Last but not least is LG's Game Optimizer mode, which takes all of the key gaming factors built into the C2 and optimizes everything for the best possible experience. This includes an input lag down to just over 10ms (at 1080p, 60Hz), which easily helps solidify the C2's spot as one of the best gaming TVs around.
| Pros | Cons |
| --- | --- |
| The best all-around television when it comes to gaming | There are some TVs on this list with a slightly lower input lag |
| Includes four HDMI 2.1 ports for optimal performance with the newest generation of consoles | LG's remote is a hit-or-miss experience with its Wii-like pointing interface |
Best for PlayStation: Sony A95K
Best for PlayStation
Sony 4K Ultra HD A95K
Quantum Dot Color technology for deeper blacks and lifelike colors
Includes Google TV operating system
Exclusive gaming modes for the PlayStation 5
Connect with Alexa, Google Assistant and more
We earn a commission if you make a purchase, at no additional cost to you.
If you're someone who is deeply entrenched in the PlayStation world, especially with the PlayStation 5, and wants the best TV for it, should look to the Sony A95K.
When connected to a PlayStation 5 console, the Sony A95K immediately flexes its muscle by showing off its super low 8.5ms input lag. When you add the low input lag to other A95K benefits like four HDMI 2.1 inputs for 4K/120Hz speed as well as VRR and ALLM, you start to see why this is such a popular gaming TV.
Also giving strong credence to the gaming prowess of the A95K is the inclusion of BRAVA XR exclusive features like Auto HDR Tone Mapping and Auto Genre Picture switch. Add in Quantum Dot color for excellent brightness through the QD-OLED panel, and you can almost feel the lifelike colors produced by the A95K popping off the screen.
As a Google TV, the Sony A95K also stands out when not in use for gaming with an excellent streaming interface with thousands of apps plus support for Google Assistant and AirPlay 2.
| Pros | Cons |
| --- | --- |
| The 8.5ms low input lag is among the best in the gaming TV space. | The low input lag only applies to PS5 consoles and not to Xbox consoles. |
| Comes complete with dedicated features to boost the Sony PlayStation 5 picture | The QD-OLED panel doesn't get as bright as those from LG. |
Best Value: TCL 6-Series
Best Value
TCL 65″ Class 6-Series 4K
Mini LED technology for increased brightness and contrast
Includes support for Dolby Vision, HDR10, and HDR10+
Game Studio Pro optimizes up to 144Hz
Built-in Roku operating system
We earn a commission if you make a purchase, at no additional cost to you.
Finding the best value in the gaming TV space can be full of options, but as soon as you land on the TCL 6-series, you know you found the right choice.
What you get with the TCL is a 65-inch mini-LED TV for less than $1,000 while still receiving excellent contrast and brightness levels.
The biggest callouts here for gaming surround AMD's FreeSync Premium Pro, Auto Game Mode (ALLM), as well as VRR for up to a 144Hz refresh rate. Also bumping up TCL's gaming street cred is the introduction of its Game Studio Pro technology introduced as part of its 2022 lineup, which helps all of these features work together in one single mode.
With these gaming features built in, first-person shooters and racing games are going to look very smooth, and with ALLM, you can forget about lag as a concern with TCL. Of course, the TCL isn't just good at gaming as it offers Dolby Vision IQ for a terrific HDR experience with some of the best contrast and brightness at the sub $1,000 price point. Plus, you get the benefit of the Roku operating system with support for thousands of apps, including all of your favorite streaming services.
| Pros | Cons |
| --- | --- |
| Undoubtedly the best value TV you can purchase that offers strong gaming support | The gaming mode isn't as good as some of the more expensive TV models on the market. |
| Game Studio Pro includes a host of features like VRR and a 144Hz refresh rate. | |
Best for Xbox Game Pass: Samsung S95B
Incredible Brightness
SAMSUNG S95B 65-Inch OLED
Contains 8.3 million self-illuminating pixels
Built-in Dolby Atmos object sound tracking
Smart TV hub to help find movies, shows, and games you want to play
Xbox Game Pass built-in, no console necessary
We earn a commission if you make a purchase, at no additional cost to you.
Undoubtedly one of the best OLED televisions around, for Xbox Game Pass fans, the Samsung S95B is the best gaming TV you can pick up today.
Right away, the Samsung stands out with built-in support for streaming Xbox games directly from the S95B to your home. As part of a Samsung and Microsoft partnership, Game Pass is available without the need for any console hardware. With Samsung offering Motion Xcelerator Turbo technology for smooth action at 4K/120Hz, you can also expect very low input lag as well.
With good gaming, you need good sound, and Samsung shines in this department with its object-tracking sound. The technology featured here incorporates six dedicated speakers behind the TV panel and creates a sound as if the actual noise is coming from a specific area on the screen. This means as you fire a weapon in a first-person shooter, the sound will come across as if it's happening right where your weapon is.
Add in Samsung's best-ever television panel with QD-OLED technology, including HDR and 4K upscaling, and you have a better-than-fantastic picture with which to play on.
| Pros | Cons |
| --- | --- |
| Samsung's best-ever screen with one of its first OLED panels. | No special optimizations for the PS5 outside of regular gaming features |
| Built-in support for Xbox Game Pass without the need for a console | More expensive than the LG C2 while offering comparable technology |
Best Budget Option: Hisense U8H
Best Budget Option
Hisense U8H QLED Series Quantum 4K
Quantum Dot wide color gamut creates over a billion color combinations
Hands-free voice control
Game Mode Pro including HDMI 2.1 inputs
Dolby Vision and Dolby Atmos support
We earn a commission if you make a purchase, at no additional cost to you.
If you want an even better value than the TCL 6-series, you can look at the Hisense U8H, which is easily the best budget gaming TV around.
For under $700, you can pick up a 55-inch model that includes Hisense's Game Mode Pro functionality. This technology includes support for HDMI 2.1 with 4K/120Hz, ALLM (automatic low latency mode), and FreeSync Premium Pro. All of this tech helps reduce overall input lag, keeps screen jitter away, and reduces frame tearing to an almost nonexistent level for most casual gamers.
What might surprise many first-time Hisense U8H buyers is how well it punches above its weight when compared to other names in the best gaming TVs category. There is also praise at this price point for the U8H including both Dolby Vision and Dolby Atmos, which help create a truly lifelike amount of sound and picture quality. When it comes to brightness, the Hisense continues to show its strengths with up to 1,500 nits of peak brightness, which makes this a great TV choice for really bright rooms during the daytime hours.
Last but not least is the availability of IMAX Enhanced technology that adds a cinematic quality when watching movies by automatically adjusting color and brightness.
| Pros | Cons |
| --- | --- |
| The Hisense U8H punches well above its price point with gaming features. | Doesn't offer many of the enhanced features like FreeSync or a dedicated gaming mode |
| Adds a cinematic mode with IMAX Enhanced technology | For a little more money, you get much more value with the TCL 6-series. |
Best Dual Purpose: LG G2
Best Dual Purpose
LG G2 Series 65-Inch Class OLED evo
8 million self-lit OLED pixels provide stunning depth and clarity in 4K resolution with Dolby Vision HDR
Gallery Edition hangs closely to the wall and displays art photography when not in use
Ideal for gamers with a VRR, ALLM, and Game Optimizer Mode
Alexa-enabled with streaming support for HBO Max, Disney+, Hulu, Netflix, and more
We earn a commission if you make a purchase, at no additional cost to you.
There is little argument that, over the past few years, LG has made some of the best OLED panels on the market, and the LG G2 is no exception.
Taking everything that is good about the C2 and making it better is no easy task, but the OLED evo panel on the G2 is up to the challenge. Even before you get into gaming strengths, the bigger biggest differentiator here is the no-gap design that enables the LG G2 to hang flat against a wall.
The reason for this design and the biggest reason to look at the G2 serves as a Gallery Edition TV. Because of this, when the TV is not being used for gaming, you can display various artworks, creating a decorative piece in a room rather than just a big television.
Art aside, the G2 is a fabulous gaming machine complete with LG's Game Optimizer mode, which builds on the inclusion of NVIDIA G-Sync, FreeSync Premium, VRR, and four HDMI 2.1 ports. All of these features help reduce input lag, eliminate screen tearing, and overall provide more fluid gameplay. Plus, with an LG TV, you get the benefit of using the webOS smart TV platform with apps for all your favorite streaming services.
| Pros | Cons |
| --- | --- |
| One of the best screens in the LG OLED lineup | More expensive than the LG C2 without adding significant gaming benefits |
| Galley Edition features enable the G2 to act as an art piece when not being watched | |
What to Know Before Buying the Best Gaming TV
It's important to know that when you are buying one of the best gaming TVs, you recognize not a lot of TVs are made specifically for gaming. Instead, gaming features are included with televisions and the amount of gaming-specific features can vary between manufacturers and models. For the most part, it's unfortunate that many gamers won't immediately know the difference between a game mode and a regular television mode. More specifically, there is a good chance that only a truly dedicated video game player will recognize the difference between 9ms and 12ms of lag.
However, anyone looking to buy one of the best gaming TVs should know that when looking at their options, finding one that works with HDMI 2.1 for 4K at 120Hz is going to provide the smoothest possible gaming experience. No matter what type of refresh rate your TV includes, the max refresh rate a current ninth-generation console can deliver is 120Hz, so if you want one of the best gaming TVs, this should be one of your primary features to include.
Using the Best Gaming TVs: What It's Like
Whether you are gaming on a PlayStation 5 or trying to connect your Nintendo 64, having the right TV to game on really matters. Yes, it's true that only eighth and ninth-generation consoles are the ones most likely to see any benefits from many of the features here like VRR or ALLM.
However, a TV with dedicated features like LG's Game Optimizer mode is definitely going to be better than a television that doesn't offer something similar. Even a TV on here with the least amount of dedicated gaming features like the Hisense U8H is a vastly better experience than something like the TCL 4-series with zero advanced gaming features.
The good news is that TVs aren't only for console users as PC users can also hook up these televisions through HDMI. By doing so, you will have better colors, sound, and more space with which to play games over a standard monitor. As you can get many of these TVs for a great price with frequent Amazon sales throughout the year, there is little reason to add one to your watch list and pick it up when the next sale comes along.
The image featured at the top of this post is ©Gorodenkoff/Shutterstock.com.