Key Points
Luxury electric vehicles are capable of meeting your needs in terms of exclusive features, technology, and esthetics.
When searching for your dream luxury electric vehicle, you will need to factor in charging costs, as well as repairs which can cost a pretty penny.
The Porshe Taycan Turbo S is the most expensive vehicle on our list with a starting price of $187,400.
Even as the electric car market continues to grow, two things remain true: there are electric cars that cost a lot, and some that are highly affordable. The EV market is expanding rapidly to become a lot more accessible to different groups, as seen with models like the KIA EV6 and Hyundai Ioniq 5. Still, pricing remains a barrier to entry for some.
That's especially true as we look to the high-end electric vehicle market, where the most expensive models still largely dominate. These cars find the right balance between everyday use and all of the niceties you expect in a luxury vehicle, including technology, materials, and aesthetics. On top of the luxury benefits, anyone buying an electric vehicle has the important benefit of helping the environment by using sustainable energy.
Our team has compiled a list of the most expensive electric vehicles available today, in case you're curious or looking to splurge on a great car:
Don't let the design of the Porsche Taycan Turbo S EV fool you into thinking this car is all show; it's really fast.
With a starting price of $187,400, expectations should be high, and this Porsche delivers. It has a 0-60 mph time of 2.6 seconds and a top speed of 161 mph, which just can't be beaten. The incredible speed is thanks to the whopping 750 horsepower available through a 560kW battery with launch control enabled. Even with the large battery, Porsche's only downside is its shorter range of just over 200 miles.
To reach that range and the high speeds, you need to be charged on a Level 2 charger at around 9.6kW. The Porsche Taycan Turbo S will go from 0 to 100% in approximately 10.5 hours. On a 50kW fast charger, going from 5% to 80% takes just around 93 minutes.
Of course, it's the interior of the Porsche that is really something to rave about. Everything from the seats to the steering wheel to the Porsche Advanced Cockpit and its fully digital displays that stretch across the whole dashboard is just beautifully laid out. It's easily one of our favorite interiors of any car—electric or not—ever.
The number of SUVs on the electric vehicle market is rising rapidly, but few are as polished and premium as the Audi e-Tron.
The base price of $70,800 is well worth it for this impressive model, and you can opt for the top-end Chronos Edition which starts at $86,400, before adding a $595 charge for different exterior colors and a tow package.
Regardless of your trim level or options, the e-Tron gets an EPA-estimated range of 226 miles on a single charge, which is fairly low by modern EV standards, especially when you consider the Tesla Model Y's Long Range range of 330 miles on a single charge, but the car's performance helps to make up for it.
With 402 horsepower available—355 without Boost mode—the Audi e-Tron can hit 0-60 mph in 5.5 seconds, all while offering up to 4,000 pounds of towing capacity.
The 95kWh battery is pretty sizable, which means a Level 2 charge will take upwards of 10 hours to charge from 0 to 100%. A Level 3 public charger, like those found through Electrify America, will take the Audi from 0 to 80% charge in just 30 minutes. Pretty incredible!
Driving the Audi has proven that the company's reputation for outstanding ride quality has absolutely carried over to its electric vehicle lineup.
Most Expensive with the Best Technology: Mercedes-Benz EQS
All it takes is one look at the Mercedes-Benz EQS Hyperscreen and there is little question you'll have the same reaction we did. It's so technology-rich that you'll want to just sit in the car for hours and do nothing but play with the screens.
Speaking of screens, Mercedes includes a standard 12.3-inch instrument cluster for the driver, a 17.7″ infotainment system, and a 12.3" touch screen full of games and audio controls for the front seat passenger. These screens make the Mercedes Benz EQS even more fun to use, but wait until we tell you about its performance specs.
Yes, it has a 107.8 kWh battery that powers it for 350 miles of range—277 miles on the AMG model—and reaches 0-60 mph in 5.9 seconds, and that's pretty impressive enough. What makes it even better is the combination of Mercedes' staple luxury interior and technology. When we started speaking to the car, it soon recognized our voices and it will learn your face and fingerprint climate preferences after a few drives as well.
For the $102,310 asking price, you get exactly what you pay for and that is a car that is just full of incredible tech and performance. The only downside is that it takes 11.5 hours to charge from 10% to 100% on a Level 2 charger.
It might seem odd for a pickup and a Ford to appear on a list of the most expensive electric vehicles—but forget what you know! The Ford F-150 Lightning Platinum demands attention.
Rest assured, its place on this list is well earned, and with a starting price of $90,874, it's also quite expensive. For that price, you get something that no other electric vehicle can offer at this time: 8,500 pounds of towing capacity. That's on top of the 300 miles of extended range available on a single charge. Driving it is a lot of fun, but knowing what it's capable of is even better. It's further proof of what electric vehicles are capable of.
To be fair, the entry-level Ford F-150 pickup starts at $41,669, less than half of what the Lightning Platinum trim level starts at. But you're paying for amazing upgrades with the Lightning Platinum trim level, offering 22" black socket wheels, aluminum and wood interior trim, two-trailer towing packages, massage seats for the driver and passenger, and premium leather throughout the interior. Ford's BlueCruise technology also enables you to go hands-free while driving across 130,000 miles of divided highways in North America.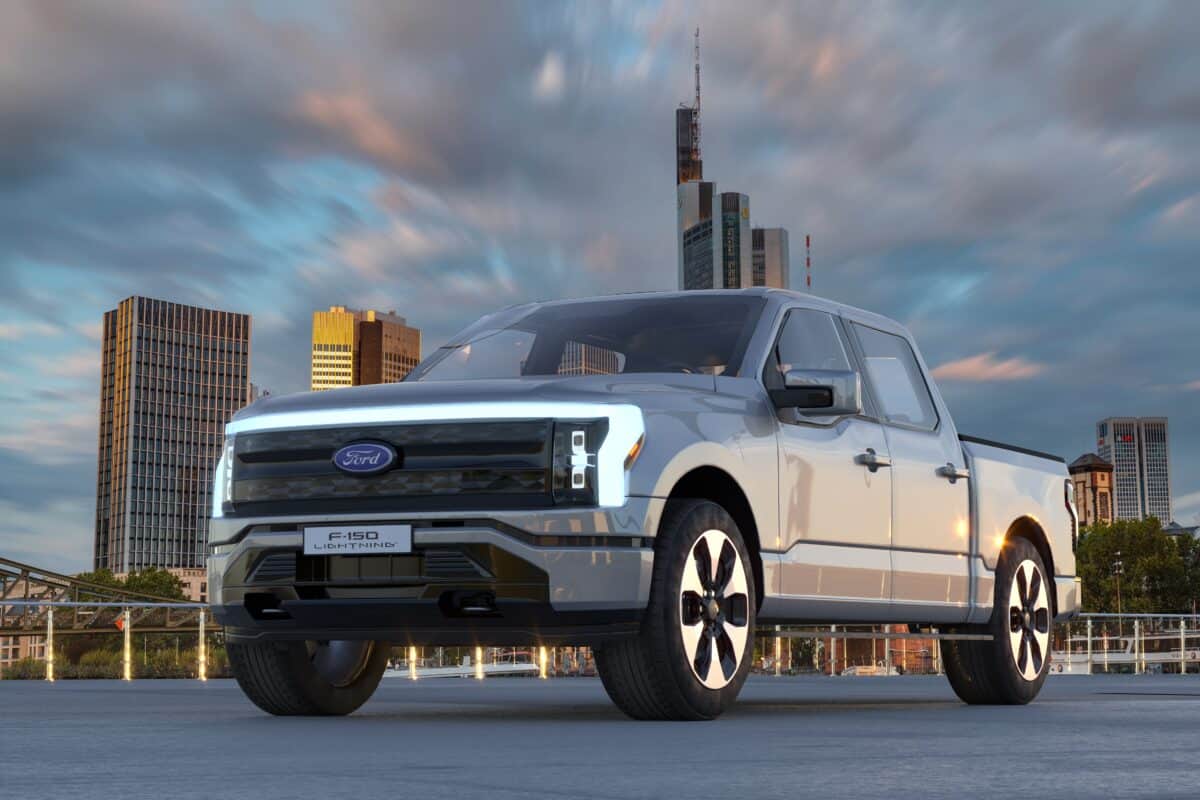 If price is no object and range is at the very top of your priority list, the Lucid Air Dream Edition is the EV for you.
It's definitely a dream to drive and one we look forward to driving again with its amazing 520 miles of range on a single charge. With a starting price of $169,000, you pay a hefty premium to get that range.
Along with the substantial range, the Lucid Air Dream Edition comes with 933 horsepower, which is a mind-boggling amount on a street-legal car. We urge you to do your best to ignore anyone who challenges you to a red light race, it just wouldn't be fair. DC fast-charging will help you to recoup 300 miles of range in 21 minutes, though a Level 2 home charger will be considerably slower and match the overnight times of Lucid's competition.
Of course, given how luxurious the interior of the Lucid Air Dream Edition is, you might be tempted to sleep in the car while it's charging and look at the night sky through the front-to-back glass roof while listening to your favorite music on Lucid's incredible 21-speaker Surreal Sound system.
How to Pick An Expensive Electric Vehicle Today
When choosing which electric vehicle is right for you, there are a few considerations most buyers should consider:
Technology
Range
Capability
Charging
Technology
Tesla has received no shortage of praise for its great technology and aesthetics. However, Tesla's competition is looking to surpass them as the current EV industry leader, and technology is going to play a big role in helping them do exactly that.
The Mercedes-Benz EQS is a prime example of a company used to delivering big on technology, and it really raises expectations with three beautiful screens. The same goes for the Lucid Air Dream Edition, which adds a number of technological advancements all on its own.
We recommend looking closely at what each of the most expensive electric vehicles offers in terms of both standard and optional technology packages to know what you're getting and compare options.
Range
This is likely the most important of any consideration, as the range is one of the most critical aspects of an electric vehicle.
The Audi e-Tron is a standout luxury electric vehicle, but it offers a somewhat short range that makes it a lackluster option for long driving distances. On the other hand, the Lucid Air Dream Edition's impressively long 520 miles of range is best-in-class.
Of course, there's a big price difference, but that's not always the case. The Mercedes EQS sits firmly in the middle in both price and range, while our best overall choice, the Porsche Taycan Turbo S, is at the bottom of the range.
Our advice is to think about your needs for driving range, particularly if you see any long drives in your future. If so, you'll want to look for a long-range EV.
Capability
Do you need a sedan, a car great for towing, or one to battle the elements? Understanding your needs for an electric vehicle is going to play a significant role in what you purchase.
Ford's F-150 Lightning Platinum is the only choice for someone who needs to tow frequently. On the other hand, the Audi e-Tron is well suited to battle snow and rain with great AWD. If you want the most comfortable interior for four passengers, look at the Porsche Taycan Turbo S, as its leather seats are the height of luxury.
Charging
Unsurprisingly, charging is a big question for any electric vehicle.
For all of its technology, the Mercedes-Benz EQS takes more than 11 hours to charge up to 100% on a Level 2 Charger. That's not perfectly ideal for anyone who arrives home late and leaves early the next morning.
Given that, it's important to look at the charging time of the electric cars you're considering before making any purchase decisions. This is especially true if you are road tripping, as we recommend looking at how fast these electric vehicles can charge at stations like Electrify America so you're stuck at a charging station.
What To Know Before Buying: Expensive Electric Vehicles
Before you purchase any electric vehicle—never mind one of the most expensive on the market—you should understand two important factors.
The first is that charging costs are going to play a big role throughout your ownership, and that's true for any electric vehicle purchase. Knowing how much charging is required is crucial to anticipating your electric bill. Fortunately, for the most part, a Level 2 charger at home it's unlikely to add more than $100 or so to your monthly bills, even if you charge frequently. Charging around the country as you road trip or drive around town can run you up on charges that may vary quite a bit, depending on seasons, time of day, demand, and your general charging frequency. Don't be surprised if charging costs upwards of $40 per charge, depending on demand and how much of a charge you need.
The second is the overall cost of ownership. Yes, you are going to pay a good amount outright for any car on this list, but you also need to factor in what costs come after that. As premium cars, they require premium pricing for new tires and any bodywork required. Any damage, however minimal, can require significant repair work (think $$$) and that is definitely something to factor in.
Using The Most Expensive Electric Vehicles: What It's Like
Just being inside these vehicles feels like luxury. Driving them is even better.
Even the Ford F-150 Lightning Platinum is a testament to what car manufacturers on the bulkiest of trucks. The luxury, the technology, and the drive quality are all exceptional.
The Mercedes-Benz EQS is wonderful to just even sit in and stare at the three screens, or recline your seat all the way in the Lucid Air Dream Edition and stare out the glass roof. We don't want to admit how much time we spent just sitting in these cars, admiring them.
If you want the absolute best in the expensive electric vehicle market without making the jump to supercars, these are definitely the cars to consider.
As the market moves more toward electric vehicles as a whole, these EV manufacturers are bringing some of their best features to electric vehicles first, and it shows.
Final Thoughts
When it comes to the most expensive electric vehicles available on the market now, there's a whole lot more to consider than just price. Range, features, and luxury are just a few of the factors that will all play a role in deciding which car is right for you, and every car on this list certainly has something going for it.
Porsche's Taycan Turbo S is the current king of the hill—but the competition isn't letting up, and so its reign may be short-lived.
Up Next…
Interested in reading more articles on electric vehicles? Click on the links provided below:
The image featured at the top of this post is ©buffaloboy/Shutterstock.com.