Key Points 
Our choice for the #1 Best Overall smartwatch for Android is the Samsung Galaxy Watch 5.
They have features like tracking abilities, heart monitoring, and other health metrics.
A decent battery life for your smartwatch should last several days, even a week.
A smartwatch should have a GPS to assist you in navigating your outdoor mission, like hiking.
No longer do we live in an era where watches solely tell time. With the technological advancements of smartwatches, they have become integral to many people's daily lives. These innovative devices keep us connected with the world and help us monitor our fitness progress while efficiently managing our daily schedules.
Choosing the perfect smartwatch to complement your Android can be challenging. With so many options available today, narrowing down your choices can feel overwhelming.
To take the work off of you, we've put together this convenient guide to show you the top 5 Android-compatible smartwatches currently on the market. Let's talk about them below!
#1 Best Overall: Samsung Galaxy Watch 5
Best Overall
SAMSUNG Galaxy Watch 5 40mm Smartwatch
40mm Bluetooth smartwatch
With body, health, fitness, and sleep tracking
Improved battery
Sapphire crystal glass
Enhanced GPS tracking
Pink gold bezel with pink bankd
We earn a commission if you make a purchase, at no additional cost to you.
The Samsung Galaxy Watch 5 ticks all the boxes in every sense of convenience, boasting impressive features designed to elevate the user experience.
One standout feature is the stunning super AMOLED display, which delivers crystal-clear and sharp visuals even when faced with the brightest outdoor settings.
To fully unleash the capabilities of this innovative smartwatch, it's best to pair it with a Samsung phone. However, it's important to note that it won't work with any iPhone models. This fantastic smartwatch offers a comprehensive body composition monitoring feature. You can also use this watch to easily track key metrics such as skeletal muscle, heart rate, body fat, and even your metabolic rate.
The Samsung Galaxy Watch 5 boasts a resilient construction with its sapphire crystal glass design. This feature makes it the perfect companion for individuals with active lifestyles who may encounter daily wear and tear. Moreover, the watch has advanced GPS voice navigation, making it an excellent choice for those who love venturing into the great outdoors.
| Pros | Cons |
| --- | --- |
| Durable and cost-effective | Does not come with a charging brick in the box, so it will have to be bought separately |
| All-around great fitness features | The battery life on the 40mm model isn't amazing |
| Enhanced GPS voice navigation boosts your outdoor exploration efforts | The Watch 5 offers only a handful of significant enhancements compared to its predecessor, the Watch 4 |
| Compatible with many apps |   |
| The sleek and stylish design comes in many colors |   |
Best for Durability: Apple Watch SE
Best for Durability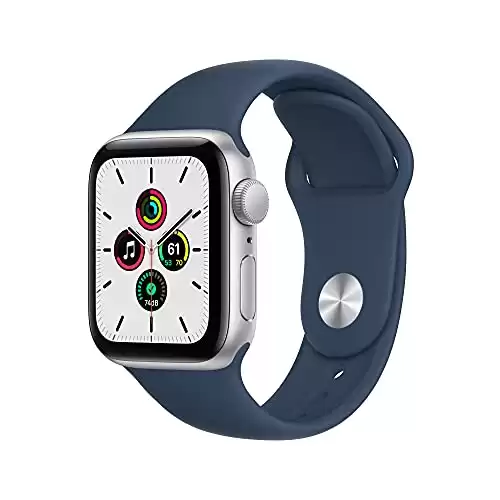 We earn a commission if you make a purchase, at no additional cost to you.
The Apple Watch SE is arguably the best Apple Watch on the market.
It is customizable, meaning the package comes with a dozen bands in different colors and sizes to suit your everyday looks, whether going out or to the gym. 
The Apple Watch SE is highly versatile. With your AirPods, you can listen to music, unlock your Mac automatically, or use Apple Pay to pay at stores. This watch is designed to be your ideal companion for fitness pursuits. With its sophisticated sensors, it effortlessly monitors your movements and gauges the intensity of your preferred exercise routines. It has a sleep tracker and an alert system for detecting irregular heart rhythms to promote your wellness.
The smartwatch excels in sustainability, as its thoughtful design incorporates robust, swim-proof materials that ensure longevity and durability.
| Pros | Cons |
| --- | --- |
| It's versatile, enabling you to make phone calls and enjoy your favorite tunes effortlessly | It lacks on-display, meaning one has to tap the screen before checking the time. |
| Large display for easy navigation | Lacks blood oxygen tracking |
| Long-lasting materials make it durable |   |
| GPS settings are comprehensive |   |
| Comfortable and lightweight |   |
Best Functionality: Google Pixel Watch
Best Functionality
Google Pixel Watch Android Smartwatch
Circular, domed design and a new experience with Wear OS by Google, so it's easy to get help at a glance
Stay on top of activity, calories burned, and more with Fitbit activity tracking
Enjoy 6 months of Fitbit Premium included.
Track your heart rate and get insight into your sleep and assess your heart rhythm for AFib with ECG
Save time with things like Google Wallet for contactless payments, turn-by-turn directions using Maps, and event notifications from Calendar
Stay connected and productive wherever you go; respond to messages, manage your inbox, and make calls right from your wrist
We earn a commission if you make a purchase, at no additional cost to you.
The Google Pixel Watch is a beautiful product with charming features to make you connected.
This Pixel Watch is the best smartwatch for Android offering superb features. So, if you want to lose weight quickly, this watch is for you. It can guide you on how to burn calories in your routine. Plus, you can track your sleep and pulse rate. 
The Google Pixel is designed to enrich your day-to-day life with various built-in apps tailored to your needs. For instance, Google Wallet offers a convenient way to make contactless payments with a tap. Google Maps guides you, ensuring you always keep track, whether navigating to a new destination or exploring points of interest.
The manufacturers carefully crafted the watch using Corning Gorilla Glass, a highly durable and scratch-resistant material. Designed to withstand the elements, it's perfect for a swim, as its waterproof construction ensures it stays protected. Moreover, with its user-friendly interface, the wearer can easily manage phone calls and their inbox right from their wrist, making it a versatile and practical accessory.
| Pros | Cons |
| --- | --- |
| Comprehensive health features to promote your fitness plans | Lacks blood oxygen sensing |
| Google has enhanced the Pixel Watch's aesthetics, giving it a sophisticated and stylish appearance | It comes in only one size, 41mm |
| Comes with additional bands to match every outfit |   |
| An emergency SOS button can notify your trusted contact when you need it |   |
| Long-lasting stainless steel materials have resistance to water and scratches |   |
Best for Wellness Support: Ticwatch E3 SmartWatch
Best for Wellness Support
We earn a commission if you make a purchase, at no additional cost to you.
The Ticwatch E3 is a smartwatch that runs on Google's Wear OS platform, providing access to a wide range of apps and services.
The watch has a range of sensors, including a heart rate monitor, accelerometer, and gyroscope to track your workouts and overall health. It also tracks your sleep patterns and provides insights to help you improve your sleep quality.
The watch has a built-in Google Assistant, allowing you to access information, set reminders, and control other connected devices using voice commands. It will enable you to stream music directly from the watch so that you can leave your phone behind during workouts.
The Ticwatch E3 is water-resistant up to 50 meters, so you can even wear it while swimming.
| Pros | Cons |
| --- | --- |
| Advanced tracking systems featuring a heart rate monitor, gyroscope, etc. | It comes with an LCD screen, not an OLED |
| The water-resistant feature makes it ideal for swimmers | The casing makes it look basic |
| The package comes with various faces for you to customize the look | The battery is less durable compared to its competitors |
| Affordable price point without breaking the bank |   |
| Enhanced GPS with voice navigation |   |
Best for Versatility: Fitbit Sense
Best for Versatility
We earn a commission if you make a purchase, at no additional cost to you.
The Fitbit Sense is undeniably classy and one of the best smartwatches for Android on the market now.
This model utilizes a top-of-the-line fitness tracker that focuses on enhancing health and wellness. This stylish timepiece offers round-the-clock heart rate monitoring with advanced sensors and algorithms. These features ensure you always stay in tune with your cardiovascular health and fitness. Moreover, the Fitbit Sense also boasts an innovative Electrodermal Activity (EDA) scan app, which skillfully measures changes in your skin's conductivity to reveal how your body reacts to stress. With these remarkable features, the Fitbit Sense is a leading choice for health-conscious Android users.
The Fitbit Sense watch provides detailed sleep tracking, including information on your sleep stages, heart rate, and breathing rate, to help you identify areas for improvement. It supports mobile payments, allowing you to make purchases without carrying your wallet or phone. The watch also features an integrated voice assistant that helps you control other smart devices, see call notifications, receive text notifications, and use voice commands.
| Pros | Cons |
| --- | --- |
| Provides a comprehensive monitoring system for keeping tabs on your fitness and well-being | Putting on a watch by yourself can be challenging |
| The mobile money apps make it convenient to purchase the wrist | It is not possible to send personalized messages or initiate phone calls |
| The voice assistant helps you control the watch activities through voice commands | If you switch the display to always-on mode, the battery life is reduced by 50% |
| The water-resistant design makes it convenient for running in the rain or for accidents | The Fitbit application contains numerous glitches |
| Decent battery life that takes six days when you minimize the usage of some apps | To fully optimize it, you require a Fitbit Premium subscription |
How to Pick the Best Smartwatch for Android Today: Step-by-Step
In today's tech-driven world, an Android-compatible smartwatch has become an essential gadget for tech and fitness enthusiasts. These wearable devices not only offer convenience and accessibility but also provide a range of features that make our lives easier.
With so many available options, picking the best smartwatch for Android can be overwhelming. To better understand what the smartwatch must have, it is essential to consider various factors such as features, budget, compatibility, and research for options.
Let's explore these factors in detail and provide a comprehensive guide on picking the best smartwatch for Android today.
Features 
When choosing a smartwatch, you must consider what features you need. Some features include fitness tracking, heart rate monitoring, mobile payments, voice commands, GPS, and notifications. Think carefully about which features are most important to you, and use that list to help you find the perfect product.
In addition to features, it's also essential to consider the smartwatch's user interface, ease of use, and quality of materials. Consider extra features such as built-in music storage or water resistance. There are many available options, so take your time and consider all the possibilities before making your decision.
Budget 
Determining your budget is a crucial first step in picking the best smartwatch for Android. Smartwatches can range in price from $100 to over $1,000. Deciding how much you are willing to spend can help narrow your options. Furthermore, consider what features are most important to you and how much you will pay. 
By setting a budget, you can spend your money wisely. You might be tempted to go for the most expensive smartwatch with all the bells and whistles, but remember that more affordable options can still offer many valuable features. While pricier smartwatches may have higher-quality materials and more advanced features, remember to weigh them against your budget.
So, whether you're willing to spend big or looking to save some cash, it's all about finding the right balance between the features you need and the price you can afford.
Compatibility 
Make sure the smartwatch you are considering is compatible with your Android device, specifically, the version of Android you have. Compatibility should be a significant priority when choosing a smartwatch for your Android device. Some smartwatches may only work with certain Android phones or require a specific version.
Equally, check if the smartwatch requires a supplementary app to function and if that app is available on the Google Play Store. Lastly, confirm compatibility or connectivity issues between the smartwatch and your Android device before purchasing.
Research Your Options 
Look for reviews and comparisons of different smartwatch models to get to know what's out there. Check out the manufacturer's website, tech blogs, and online marketplaces for more information. You can also look for video reviews on YouTube to see how the smartwatch looks and functions in real life. 
Consider the user experience and how the smartwatch will fit into your daily routine. Be sure to check for software updates or known issues with the smartwatch. You can also read customer reviews to understand the device's reliability and longevity. 
What to Know Before Buying a Smartwatch for Android
There are a few one-of-a-kind considerations that you need to examine before purchasing the best smartwatch for Android. First, ensure that the wristwatch you want to buy is compatible with your Android device. Here, you should ensure that your choice has all the required features, such as a fitness tracker, the ability to make mobile payments, and voice commands. 
Remember to find a smartwatch with an intuitive design that has a user interface that is simple to operate. Think about the smartwatch's longevity and the quality of its construction, and check for other features that might be significant to you. These may include resistance to water and the capacity to save music. You will want a choice that meets your needs. 
Before purchasing, do your homework and read reviews from other customers. This will help guarantee that you are making an educated decision.
Using a Smartwatch for Android: What's It Like?
Using a smartwatch for Android can be a convenient and valuable experience. You can receive notifications, make and receive calls, and track your fitness goals from your wrist. You can also control music playback, set reminders, and use voice commands to operate your device hands-free. A smartwatch should offer an exciting experience to handle your tasks and remain relevant. 
Many smartwatches also offer mobile payment options, making it easy to pay for purchases. Remember, using a smartwatch requires some adjustment and learning, as the interface differs from your smartphone. So, it's sensible to take the time to explore and learn how to use the features of your smartwatch to get the most out of your device.