Key Points
Best overall: Coros Pace 2.
Best bang for your buck: Garmin Forerunner 45.
Best for IPhone and Apple users: Apple Watch Series 7.
When searching for the best running watches, enthusiasts particularly look for ease-of-use, GPS tracking, and a variety of features. However, tracking your runs doesn't have to cost you a fortune.
There is a running watch best suited for every individual. Whether you're a beginner or you're training for your next triathlon, having the right device is going to make tracking your progress and performance a breeze.
After reviewing dozens of products, we narrowed down the best running watches of 2022. Our list includes:
Best Running Watches: Specs
| | Coros Pace 2 | Garmin Forerunner 255 Music | Polar Pacer | Garmin Forerunner 45 | Apple Watch Series 7 |
| --- | --- | --- | --- | --- | --- |
| Price | $199.99 | $399.99 | $199.95 | $139.99 | $399.99 |
| Display Size | 1.2 in | 1.3 in | 1.2 in | 1.04 in | 1.8 in |
| Total Weight | 35 g | 49 g | 40 g | 36 g | 32-42 g |
| On-board Music | No | Up to 500 songs | No | No | Offline sync, smartphone connectivity |
| Swim Tracking | Yes | Yes | No | No | Yes |
| Color Options | Three | Two | Four | Five | Four |
| Battery Life | 30-60 hours | 30 hours; with music: 6.5 hours | 35-100 hours | 13 hours | 5 hours |
Coros PACE 2 Premium GPS Sport Watch
From just under 30g with the nylon band, COROS PACE 2 Sport Watch is the lightest GPS watch in the world at its launch
30 hours of activity tracking with full GPS, barometer, and heart rate; 20 days of regular use with weekly training and daily sleep & recovery tracking
Designed to be easy and intuitive to operate with a 2-button layout. The Digital Dial allows you to easily navigate your watch with just one finger so that you can receive less distraction and put your mind on your training.
Trusted by elite athletes, COROS PACE 2 Running Watch helps you transform data into actionable insights with advanced training solutions like training load trends, recovery timers, training status, workout builders, and a lot more.
Whether you are exploring the streets of a new city or finding your way back to the parking lot, our navigation tools will help you create new routes and stay on the right path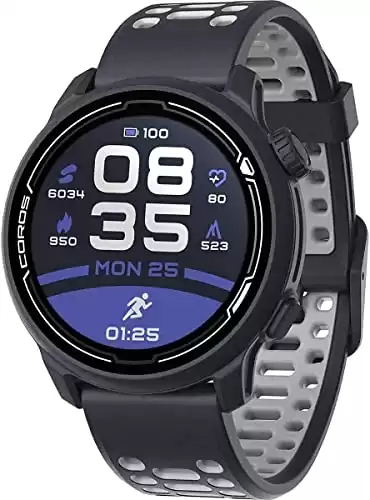 We earn a commission if you make a purchase, at no additional cost to you.
Whether you're just getting into running or you're looking to update your fitness hardware, the Coros Pace 2 is one of the best running watches overall. The device is ultralight, packed with features, and has one of the longest-lasting batteries on the market. And at only $200, the Coros Pace 2 makes a great argument against some of the more luxurious brands.
The running watch includes 16 activity modes, including swim tracking for those training for triathlons. After your workout, you can connect the watch to your smartphone and analyze your performance using Coros' native app. With updated memory, you can store plenty of data and expect the watch to keep up with the latest updates in technology.
However, one of the most noticeable features is the smart watch's battery life. The Coros Pace 2 can last up to 30 hours while GPS tracking, or up to 60 in UltraMax mode. In this power-optimizing mode, the watch actually turns off the GPS and uses machine learning to guess your location. While this might skew the accuracy of your run, it's incredibly useful for those that run a consistent route.
Check out Coros Pace 2 on Amazon.
Best for Runners
We earn a commission if you make a purchase, at no additional cost to you.
Of course, there are running watches that simply outpace the competition, and the Garmin Forerunner 255 Music is exactly that. Equipped with a plethora of training modes, state-of-the-art metrics, and onboard music, this running watch has it all. And it's able to present it in a sleek, lightweight body.
The Forerunner 255 includes the company's premier health metrics. Runners can track heart rate and blood oxygen levels, which help monitor breathing rate, HRV, and stress. It also includes Garmin's advanced GPS capabilities, ensuring that you're accurately tracking your performance. There are over 20 activity modes inducing swimming, so you can train in multiple sports.
The running watch has a great battery life for all it offers. You can expect the Forerunner 255 to last for 30 hours in GPS mode. It will even offer enough time for a few sessions with music, at nearly 7 hours of battery life. You can pick up this running watch for the price of an Apple Watch Series 7, just under $400.
Check out Garmin Forerunner 255 Music on Amazon.
But maybe you're a total beginner and all you're looking for is a watch that does one thing well: track your runs. The Polar Pacer drops extra features like onboard music and swim tracking to focus on GPS tracking and functionality. This also helps keep the price down; you can find this beginner's running watch for just under $200.
The Polar Pacer's strongest feature is its industry-standard GPS tracking; the device features GPS, Glonass, Galileo, and QZSS satellite support. Whether you're in the city or in areas with spotty coverage, you can expect this running watch to keep accurate tabs on your location, pace, and distance. The company is currently testing software features that will support other activities as well.
With as much power that this watch uses for its GPS tracking, it's astounding that it boasts up to 35 hours of battery life. And that extends up to 100 hours in power saver mode (with less functionality, as you would expect). The only complaint about this beginner running watch: its power cable is unique to the device, so make sure to keep it safe.
Check out Polar Pacer on Amazon.
Garmin Forerunner Smartwatch
Gps running watch with Garmin Coach training plan support.Supported Application:GPS,Fitness Tracker,Heart Rate Monitor,Sleep Monitor,Music Player. Connectivity technology:GPS. Wireless comm standard:Bluetooth
Easy to use running watch estimates heart rate at the wrist and features GPS to track your pace, distance, intervals and more
Works with free Garmin coach adaptive training plans that bring expert, personalized coaching right to your wrist
Connected features include smart notifications for incoming texts and calls, automatic uploads to our Garmin connect online community, live tracking and controls for the music playing on your paired compatible smartphone
Safety and tracking Features include incident detection (during select activities) which sends your real time location to emergency contacts through your paired compatible smartphone
We earn a commission if you make a purchase, at no additional cost to you.
You really can't go wrong with a running watch from the industry leader. But if you won't compromise on price, the Garmin Forerunner 45 is a great, stripped-down version of the Forerunner 255. Equipped with all the necessities to track runs at more than half the price, this device is the best running watch for those on a budget.
Even though the Forerunner 45 sits at about $140, you can still expect impressive GPS tracking and all the body metrics to analyze your performance. The running watch includes 11 activity modes and can even track your sleeping patterns. The budget watch connects to Garmin's native app, allowing you to access all the advanced features that come with it.
While it connects to your smartphone, the watch lacks in usability; you're able to see notifications, but you won't be able to answer them. It also tends to drain its battery life quicker when in GPS mode than our other choices. Still, this should be plenty for a few sessions a week.
Check out Garmin Forerunner 45 on Amazon.
We earn a commission if you make a purchase, at no additional cost to you.
There's value in versatility, and if you're familiar with Apple products, you'll love the Apple Watch Series 7. Not only will this device work for running, but it connects seamlessly with many iOS features. You're paying more than most watches in the industry (the Apple Watch rarely sells below $400), but it earns its price for its function.
Designed for everyday use in mind, runners will love the massive display. The watch features a touchscreen and QWERTY keyboard, making it one of the most intuitive watches to use while out on the trail. And it makes listening to music a breeze, as it can easily sync with your Spotify or Apple Music playlists, which can even be downloaded for offline use.
An impressive feature of the Apple Watch is how quickly it charges; some users report nearly full charges in less than an hour. However, you can expect to use this quick charge feature more frequently than any other device, as the Series 7 only has a 5-6 hour battery life when tracking GPS. Still, it is nice that the watch charges using a universal USB-C cable, meaning you can use the cords that you already have.
Check out Apple Watch Series 7 on Amazon.
How to Pick the Best Running Watch: Step by Step
When choosing a portable charger there are four main considerations.
Size and weight
GPS accuracy
Battery life
Price
Let's review each one in more detail.
Size and Weight
Your running watch can include all the latest features and metrics, but if you don't enjoy wearing it, none of that matters. The first aspect that the majority of runners notice when trying watches is their size.
When considering a new device for tracking your running performance, consider how it fits on your wrist. A few questions worth asking when checking for size and weight include:
Do parts of the watch push into my hand or wrist?
Does the watch weigh down my hand?
Am I constantly noticing the watch during my activity?
Ideally, your watch will fade out of focus while you're exercising. However, if it's too small, you won't be able to read the display. And what use is the watch if you can't see your metrics, after all?
GPS accuracy
One of the main reasons you're considering a running watch is to accurately track your improvement, and accurate GPS tracking is the catalyst of all those metrics. The frequency and reliability of your watch help determine the pace, distance, and heart rate, guiding you toward your next goal.
Some watches handle GPS tracking better than others. If you're in a busy area like a city or neighborhood, most watches can keep a consistent connection. However, if you frequently go into areas of poor service, such as tunnels or forests, having a more powerful watch might prove beneficial.
Battery Life
In addition to GPS function, you want a watch that will last the entirety of your run. Many runners prefer a watch with a long battery, so they can record more sessions without having to put it on a charger.
A couple of aspects have major effects on battery life: music and smartphone features. For instance, while the Apple Watch Series 7 is an impressive device when paired with the new iPhone 14, its poor battery life means you might have to charge it before an evening run.
Price
With military-grade features such as GPS tracking and body metrics, a quality running watch can range over $500. However, for those on a budget, quality devices can still be found for less than $200. Just remember that more affordable watches typically miss out on nice features such as heart rate monitoring, music capability, and smartphone compatibility.
What to Know Before Buying a Running Watch
One of the biggest oversights regarding running watches is that you're sharing your personal health data with private companies. These aren't healthcare industries or government agencies, and without proper knowledge, they could use or sell your data to others. Before you purchase a running watch, it's essential to know the consequences of sharing your private data with others.
Fortunately, you shouldn't have to worry about your health information with the companies listed above. They don't share your data with third parties, and all of your data is encrypted upon collection.
Using the Best Running Watches: What It's Like
When running with these watches, users more frequently mentioned experiences with the display and GPS tracking.
Some watches, such as the Garmin Forerunner 255, were easy to read even in direct sunlight. The Apple Watch was particularly easy to read, with a display of nearly 2 inches that somehow doesn't sacrifice in overall size.
Most running watches tracked position, distance, and pace accurately enough for the typical runner. However, some noticed connection issues with the Garmin Forerunner 45, in which it would drop in and out of connection more frequently than the other models.
Next Up…
The image featured at the top of this post is ©Ground Picture/Shutterstock.com.