Our first choice for the #1 Best Overall Nerf for customization and upgrades is the Nerf N Strike Elite Strongarm.
Some popular Nerf modifications or customizations include spring upgrades, flywheel rewiring for motorized blasters, magazine upgrades, plunger upgrades, and installing tactical attachments.
When you customize or upgrade a Nerf blaster, you modify its appearance, performance, and functionality according to your preference. In most cases, it involves replacing stock parts with aftermarket alternatives.
The perfect Nerf blaster can make all the difference when it comes to the exhilarating world of foam dart battles. Although off-the-shelf Nerfs are undoubtedly fun, the real thrill lies in modifying the units to unlock their full potential. Upgrades and customizations let players unleash their creativity, tailoring the designs to fit their tactical preferences and gain a competitive edge in battles.
Whether you prefer a balanced all-purpose approach, long-range sniping, or close-quarter skirmishes, you can find customization options to suit every play style. Modders can also unlock the hidden potential of their Nerfs, boosting range, accuracy, firepower, and overall performance. All these are possible because of the vast array of after-market parts, 3D-printed components, and modification kits.
This article looks in-depth into the best Nerfs for customization and upgrades. We'll showcase a selection of the finest blasters ranging from comprehensive upgrade kits to simple drop-in modifications. Whether you are a seasoned modder seeking the next big upgrade or a casual enthusiast looking to boost your performance, we've got you covered.
Here are our top five picks for the best Nerf blasters for modification!
Types of Customizations and Upgrades to Consider
It's a common misunderstanding that modding or customizing Nerfs is illegal. The truth is that, although Hasbro, the company that owns Nerf, is against the practice due to safety concerns, the United States only regards using live ammunition and explosives in the blasters as illegal. Also, Modders are not supposed to paint barrels or muzzles any color besides orange and red because law enforcers use these color codes to distinguish toy weapons from real ones.
For dedicated Nerf enthusiasts, the stock performance of the blaster is just the beginning of the journey. Below are some popular Nerf blaster modifications that modders can undertake to enhance aesthetics and performance.
Spring upgrade: This mod involves replacing the stock spring with a stronger one. Doing so can significantly increase your Nerf's firing power and range. However, modders must ensure that other internal parts can handle the upgrade (i.e., increased tension) to avoid potential damage.
Dart barrel upgrade: Aftermarket barrels like tighter-bore or riffled barrels can reduce dart wobble and improve dart stability. This upgrade can enhance playing precision and accuracy, resulting in more consistent shots. You can design and 3D print your barrel and use it to replace the stock option.
Flywheel rewiring: You can rewire the electrical system of a flywheel blaster to enhance its power potential. Modders often use higher gauge wires and even add more powerful battery packs to increase dart velocity and firepower. However, players should follow the proper safety guidelines to ensure they do the correct electrical modifications.
Magazine upgrade: You can change your blaster's magazine to enhance its dart capacity and reliability. Most aftermarket magazines for upgrade purposes feature larger dart capacity, ensuring extended periods of continuous firing without reloading. Moreover, these magazines feature designs that reduce the risk of misfeeds and jams. As such, players can have smoother operations during intense fighting battles.
Cosmetic modifications: You can customize your blaster to enhance its aesthetics. Modders often paint their favorite colors and add unique accessories like stocks, scopes, barrel attachments, and dart holders. These mods offer a chance for players to showcase their creativity and make the blasters stand out.
Plunger upgrade: Another popular mod involves replacing the stock plunger with one that's larger. Doing so enhances the seal, increasing the dart velocity and overall power. However, we only recommend experienced modders take upon this modification because any slight mistake can damage the blaster.
Tactical attachments: Adding tactical attachments like accessory rails, foregrips, and dart holders can enhance the versatility and functionality of your Nerf blaster. These attachments allow modders to customize Nerfs to their liking.
Other popular mods include air restrictor removal, voltage mod, dart suction cup removal, and structural reinforcements. Modders should note that customizing Nerfs can void warranties. Always exercise caution, consult resources from various Nerf modification communities, and follow the appropriate guidelines to ensure safe and successful modifications.
The 5 Best Nerfs for Customization and Upgrades
Now that we got that out of the way, let's talk about the 5 best Nerfs that enthusiasts can customize and upgrade to fit their style and tactical requirements!
#1 Best Overall Nerf: Nerf N Strike Elite Strongarm
Best Overall
We earn a commission if you make a purchase, at no additional cost to you.
The Nerf N Strike Elite Strongman may not top the list of top-of-the-line Nerf blasters, but it does stand out when you want a highly customizable Nerf.
The design is similar to the Maverick; what makes it truly exceptional is its lightweight nature despite looking chunky and heavy. Perhaps that's why most gamers deem it a baby's blaster, which isn't exactly true. In fact, because of its sturdy and compact design, any person above eight years can use it.
This blaster is a popular choice for modding enthusiasts because of its simplicity. It's highly compatible with numerous aftermarket kits, with some specifically designed for its use. These mod kits offer options such as barrel replacement, dart compatibility enhancement, and spring upgrades, among many others.
For instance, if you decide to upgrade the spring, we recommend opting for one that gives a force equivalent to six or seven kgs. The stock spring would give you up to 5kg, capable of a maximum firing range of 75 feet. Although 75 feet is quite long, it doesn't have much impact. With the upgrade, you can achieve 30% more range with maximum impact.
Besides being highly compatible, it's pretty cheap. The blaster features six rotating dart barrels arranged in rows to first quick draw. Even more exciting is the Nerf's slam fire blasting capabilities. This feature allows players to rapidly blast at moving targets by moving the slide back and forth with the trigger held down.
The only downside with this Nerf is that it doesn't use batteries, putting you at a disadvantage if you are up against players with motorized blasters.
| Pros | Cons |
| --- | --- |
| The lightweight design makes it easier to carry | Comes with a rotating dart barrel and slam-fire blasting capabilities |
| Highly customizable, with numerous kits specifically designed for its use | |
| Comes with a rotating dart barrel and slam fire blasting capabilities | |
| Easy to dismantle; even non-experts can mod | |
Best Semi-Automatic Blaster: Nerf N-Strike Elite Rapidstrike CS-18 Blaster
Best Semi-Automatic Blaster
We earn a commission if you make a purchase, at no additional cost to you.
The Nerf N Strike Elite Rapidstrike CS-18 blaster is one of the most popular and highly sought-after Nerf blasters.
Best known for its rapid-fire capabilities and excellent overall general performance, it offers an exciting experience when playing Nerf games. The sleek design has outstanding tactical assault features, resembling futuristic assault rifles. It boasts an adjustable shoulder stock, attachment points for accessories, and a tactical rail.
Generally, its build quality is sturdy, but players have recently reported issues with occasional jamming. Usually, they solve this problem with proper operation and regular blaster maintenance.
Modders highly regard the Rapidstrike as one of the most customizable blasters in the market. The internal parts are easily accessible, allowing modders to perform various modifications to enhance the gun's range, firing range, and general performance. Some common mods include upgrading the motors, changing the battery pack, replacing switches, and upgrading the wiring.
For instance, besides their rabid firing capabilities, Rapidstrike CS-18 stock motors are usually not powerful. A standard unit gives a firing range of about 75 feet, almost similar to a non-motorized unit. Modders may change to more robust options capable of higher firing power. With changed motors, you'll also have to upgrade the wiring to handle the increased power.
And if you want to play for longer, this semi-automatic blaster lets you replace the battery pack with one that lasts much longer. For those who don't like the blue and yellow combination, spray painting the Nerf with your favorite color is also an option. Also, reducing the overall weight of the blaster and upgrading the barrel for better shots can make it worth the while.
| Pros | Cons |
| --- | --- |
| It's a semi-automatic machine with strong firing power | Reported occasional jamming issues |
| Modders can easily access the internals for customizations | The motor generates a noticeable sound which may not be ideal if you are playing a hiding game |
| Designed with high-quality and durable materials | Modding this Nerf is quite complex and may require technical expertise |
| High capacity of 18 darts | |
| Offers a respectable firing range of about 75 feet | |
Best Easy-Build Blaster: Nerf Modulus ECS-10
Best Easy-Build Blaster
We earn a commission if you make a purchase, at no additional cost to you.
The Nerf Modulus ECS 10 ranks as the third-best blaster for customization and upgrades because it's one of the easiest to mod.
This blaster offers an excellent balance between versatility and simplicity, making it an easy choice for modders who want an enjoyable building experience. Unlike other Nerfs, it has more than 30 combinations that create several play styles.
Players can easily attach and detach stock and aftermarket accessories, allowing for multiple blaster configurations. And because it's a motorized unit, you should expect rapid firing powered by the four AA batteries. Players also have access to stock with storage space for an extra clip. This feature enables quick reload times, especially during intense gameplay.
While the Nerf Modulus C-10 already offers several combinations, modifications can take the unit's functionality to another level. One popular customization option is increasing the voltage supplied to Nerf's motor. Doing so helps the motor spin much faster, resulting in rapid firing or higher dart velocity. Other electrical modifications may include rewiring to improve electrical efficiency and reduce voltage drops and adding microswitches and other components to foster the responsiveness and reliability of Nerf's trigger mechanism.
You may also want to extend the barrel and muzzle devices to improve accuracy, aesthetics, and stability. Modifying the appearance of the Nerf Modulus is another option. Because it's a big machine, custom paint jobs incorporating 3D-printed parts and vinyl wraps can create a unique look that'll stand out on the battlefield.
| Pros | Cons |
| --- | --- |
| Versatile unit with several accessories and attachments | Can be complex for young players to use. |
| Features a modular design that facilitates easy assembly and disassembly | The base package may include only a few accessories |
| As part of the Modulus series, modders can grow their collection over time, adding new components and accessories that can design new Nerfs | |
| Easy-build unit, meaning any person can customize the unit. | |
Best for Beginner Modders: Nerf Disruptor Elite Blaster
Best for Beginner Modders
We earn a commission if you make a purchase, at no additional cost to you.
The Nerf Disruptor Elite Blaster is an excellent choice for beginners looking to find a footing in Nerf modifications.
This blaster offers an excellent platform for experimentation and learning with simple modifications. Before we go further into its customizability, the Disruptor Elite features a sleek, compact design, and high-quality plastic that ensures longevity. The grip is comfortable and easy to handle, ideal for players of different skill levels.
Regarding modifications and upgrades, the internal mechanism is straightforward compared to other blasters. Although it isn't as extensively modifiable as other Nerfs, it has all the basics a beginner modder would need to become versed in the modding process. You can easily dismantle the units and change some parts with modifiable ones.
For instance, this unit uses a spring to blast darts. You can replace the stock spring with a stronger one to achieve higher dart velocities. Also, adding a spring spacer between the plunger and the spring provides more compression and even improves the dart's velocity. Removing the air restrictor is also a customizability option for this Nerf. Doing so allows more air into the blaster, improving dart velocity and firing consistency.
This Nerf also lets you perform seal improvements. Modders can implement techniques such as foam padding rousing o-rings to improve the seal and increase performance. Cosmetic modifications are also popular with this blaster. Modders can apply vinyl wraps or spray paint on the unit to enhance its aesthetics.
| Pros | Cons |
| --- | --- |
| Designed for easy operation and is ideal for players of all skills | While it's good for beginners, you can't modify this unit extensively |
| The rotating drum mechanisms enable quick-fire actions without constant reloading | The lack of an engine means it lacks automatic firing functionality |
| It's a relatively cheaper unit. | |
| Modders with no skills can easily modify the unit to their desired specifications | |
Best for Spring and Air Restrictor Modifications: Nerf Doomlands 2169 Lawbringer Blaster
Best for Spring and Air Modifications
Nerf Doomlands 2169 Lawbringer Blaster
Features Mega Whistler Darts that scream through the air
W

ith Zombie Strike blasters

Fire Vision sports gear that glows when thrown

Pro-Grip Football and Nerfoop basketball set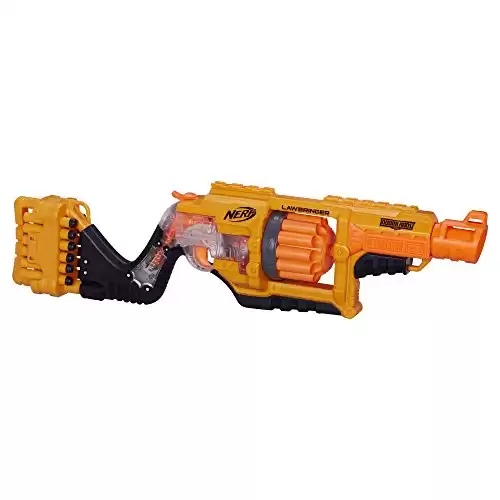 We earn a commission if you make a purchase, at no additional cost to you.
While most of these blasters have a range of modifications, others work extremely well if you customize certain parts. That is the case with the Nerf Doomlands Lawbringer Blaster 2169.
It's not a fancy unit, nor does it feature exciting features like slam fire. But we must admit the post-apocalyptic design quite brings the rugged and intimidating aspect of a battle setting.
Still on design, while the size of the blast gives it a substantial heft, the handle feels a little weird because it's steep. That's especially true for blasters of its size, but once you get accustomed to holding it, you won't feel the discomfort. The stock isn't long enough, meaning the internal components are cramped. However, modders can easily access the internals, so changing the spring and removing the air restrictor is seamless.
Modders can unlock the full potential of the Doomlands 2169 Lawbringer by installing a much stronger spring capable of an equivalent mass of 9kg. With such a spring, you can increase the firing range by up to 70%. Removing the Air restrictor increases the airflow and enhances the dart performance.
The standard mechanism of an air restrictor is to regulate and limit the amount of air traveling a blaster's barrel. Removing the air restrictor results in a higher dart velocity and increased blasting range because of increased airflow. Doing so also gives your shots more force, making the blaster more competitive in Nerf battles.
| Pros | Cons |
| --- | --- |
| It has a large capacity (12-dart) rotating drum | Lacks slam fire |
| The unique post-apocalyptic design makes it stand out in Nerf battles | The stock is small, and the handle might feel weird in the first few moments |
| Accessing the internals is easy, so modifications are seamless | Quite expensive |
| Modified versions have enhanced performance (70% increase in range) | |
Final Thoughts
The possibilities for creative modifications are abundant for enthusiasts looking to take their blaster game to the next level. Whether upgrading springs, removing air restrictors, or adding custom accessories, the potential for personalization and improved performance is vast. However, it's crucial to cautiously approach modifications, ensuring safety and adherence to guidelines.
With the right knowledge and creativity, Nerf enthusiasts can transform their blasters into powerful, one-of-a-kind weapons that deliver a truly immersive and exciting foam-flinging experience!
The image featured at the top of this post is ©8H/Shutterstock.com.