The best foldable keyboards feature portability, ample battery life, and a comfortable layout. However, not all device works for every situation. When searching for the right folding keyboard, you have a lot to consider, and with many brands on the market, choosing one can prove difficult.
If you need help deciding which one works in your case, we've got you covered. We reviewed dozens of models to bring you the top-of-the-line products on the market.
Whether looking for optimal battery power or the smoothest keyset, here are the best folding keyboards you can buy in 2022.
Best Foldable Keyboards: Side-by-Side Comparison
| | Samsers Foldable Bluetooth Keyboard | iClever BK05 Bluetooth Keyboard | MoKo Foldable Bluetooth Keyboard | Plugable Foldable Bluetooth Keyboard | Geyes Folding Wireless Keyboard |
| --- | --- | --- | --- | --- | --- |
| Size | 11.5 x 4.0 x 0.3in | 11.0 x 4.7 x 0.6in | 6.2 x 4.0 x 0.5in | 11.5 x 4.8 x 0.8in | 8.7 x 6.7 x 0.2in |
| Weight | 5.0oz | 9.9oz | 6.2oz | 15.0oz | 7.0oz |
| Foldability | Bi-fold | Tri-fold | Bi-fold | Tri-fold | Tri-fold |
| Layout | Tenkeyless w/78 keys | Tenkeyless w/78 keys | 65% w/ 64 keys | Tenkeyless w/ 78 keys | 65% w/ 58 keys |
| Battery life | 40 hours | 300 hours | 40 hours | N/A | 120 hours |
| Connectivity | Bluetooth | Bluetooth, USB | Bluetooth | Bluetooth, USB | Bluetooth, USB |
| Price | $38.99 | $52.99 | $29.99 | $49.95 | $33.99 |
Best Overall: Samsers Foldable Bluetooth Keyboard
Samsers Foldable Bluetooth Keyboard - Portable Wireless Keyboard with Stand Holder, Rechargeable Full Size Ultra Slim Folding Keyboard Compatible IOS Android Windows Smartphone Tablet and Laptop-Black
【Bluetooth Foldable Keyboard】 Portable folding keyboard with free phone holder allows you to work anywhere, anytime! Standard-size design provides accurate, fast typing, just like the desktop...
【Pocket-Size & Easy to Use】 Only 5.53-ounce palm-sized keyboard can be folded into your pocket or backpack to carry around. Just press the CONNECT button to quickly pair with your devices....
【Elegant Style & Rechargeable Battery】 Elegant and wear-resistant PU leather with contemporary styling. Its excellent touch and clean appearance make it perfect for your laptop and desktop....
【Multi-system Compatible】 The Bluetooth keyboard works seamlessly with iOS, Android and Windows. Maintain a stable connection and provides fast response to devices within 10 meters of operation....
【100% Satisfaction Service】Samsers provides you with 24-hour Email Response & 100% Satisfaction Service & Lifetime Technical Support. If you have any questions, please don't hesitate to contact...
We earn a commission if you make a purchase, at no additional cost to you.
The best foldable keyboard is the Samsers Foldable Bluetooth Keyboard, which has a good blend of portability, comfort, and battery life.
The Samsers' folding keyboard has a slightly larger layout than an Apple Bluetooth keyboard. It trades out the number pad for larger keys, making it one of the more pleasing models for typing. It's lightweight and folds in half, making it quick to set up and easy to pack wherever you go. However, this model doesn't have a USB connection option. You can find the Samsers foldable Bluetooth keyboard for at a decent price.
Check out the Samsers Foldable Bluetooth Keyboard on Amazon.
Best for Performance: iClever BK05 Bluetooth Keyboard
iClever BK05 Bluetooth Keyboard with 3-Color Backlight, Bluetooth 5.1 Multi-Device Foldable Keyboard with Aluminum Alloy Base for iOS Windows Android Tablets, Smartphones, Laptops, PC and More
TRI-FOLDING KEYBOARD: Foldable full standard-size keys deliver user-friendly typing experience. Tri-folding design for easy carrying
iOS, WINDOWS & ANDROID COMPATIBILITY: Built-in Broadcom Bluetooth 5.1 chip, which providing stable connection and quick response within operating range of 33 ft, compatible with Smartphone PC Tablet...
WIRELESS & WIRED MODES: Easily connect both your wireless device and your PC with the keyboard simultaneously and switch between them with ease
COLOR-CHANGING BACKLIT: Users can select colors from red, blue, or green, at two different brightness levels. Easy to see the keys in various situations, even in a dimly-lit room, a dark airplane...
ERGONOMIC & DURABLE DESIGN: Aircraft-grade aluminum alloy texture for superior durability. 2 balance stands keep the keyboard balanced for a better typing experience
We earn a commission if you make a purchase, at no additional cost to you.
If you're looking for the highest quality, there's no better keyboard than the iClever BK05 Bluetooth Keyboard.
iClever's aluminum alloy design also makes it one of the most durable keyboards on the market. This model has all the portability of our top choice but features a more seamless fold and a massive battery. We love the option to connect with a USB cable, allowing users to get nearly 300 hours of use on a single charge. And for extra flair, the BK05 comes with RGB LED backlights. Just keep in mind that using the backlights will drain the keyboard's battery in 5 hours.
Check out the iClever BK05 Bluetooth Keyboard on Amazon.
Best for Budget: MoKo Foldable Bluetooth Keyboard
MoKo Foldable Bluetooth Keyboard, Ultra-Slim Portable Wireless Keyboard Rechargable Fit iPad iPhone, Folding Bluetooth Keyboard Compatible with iOS Android Windows Tablet Smartphone Laptop, Gray
【Tri-folding Keyboard with Numeric Pad】 MoKo portable bluetooth keyboard designed with 81-key layout and number keypad and non-slip pads at its back keeps the keyboard balanced and stable...
【Multi-channel & Stable Connection】Adopted upgraded Bluetooth 5.1 tech, our folding bluetooth keyboard allows you to pair up to 3 devices on triple bluetooth channels simultaneously and achieve...
【Scissor Keys for Quiet Typing】The scissor key mechanism enhances fluid and stability. This wireless foldable keyboard with optimized key-travel and anti-slip tapes make typing more comfortable,...
【Rechargeable 140mAh Battery】Built-in 140mAh lithium rechargeable battery that lasts up to 6 months standby time, and the travel folding keyboard can be easily recharged through the included USB...
【iOS/Windows/Android/Mac Compatible】Increase your working efficiency with this 81-keys mini foldable keyboard. It includes common shortcuts, widely compatible with laptops, computers, Windows,...
We earn a commission if you make a purchase, at no additional cost to you.
If you're looking for a low-cost keyboard, the MoKo Foldable Bluetooth Keyboard device with a simple, lightweight design and a 166-degree fold is worth checking out,
Moko can naturally accommodate typing posture. Plus, its battery holds enough power to keep you working all week long without interruption. For all its benefits, we wish the MoKo folded better. Its design leaves a wide gap in the center, which feels awkward in most cases. And with its slender frame trying to support 64 keys makes them tricky to use. Still, when you're looking for a foldable keyboard that is also affordable, it's hard to beat MoKo.
Check out the MoKo Foldable Bluetooth Keyboard on Amazon.
Best for Multiple Devices: Plugable Foldable Bluetooth Keyboard
Plugable Foldable Bluetooth Keyboard Compatible with iPad, iPhones, Android, and Windows, Full-Size Multi-Device Keyboard, Wireless and Portable with Included Stand for iPad/iPhone (11.5 inches)
Adaptable - Going out into the world? Take along a full-size Bluetooth keyboard. Tri-fold design flips out to 11.5 inches when you need it, folds away when you don't. Quick charge battery lasts...
Solid Build, Solid Battery - An anodized aluminum shell houses precision scissor-switch keys. USB-rechargeable Li-Ion battery holds enough power to keep you typing for weeks on a single charge. Plus,...
Compatible - Yeah, it'll work with that. More than an iPad keyboard, more than a computer keyboard. With compatibility modes for Android, iOS, Mac, Windows, and Linux, this multi device keyboard...
Key Quality - High-quality scissor switches supply a satisfying sensation when tapping away on this wireless keyboard. Sounds like a soothing cascade of quiet clicks. Feels strong enough to lend...
2 Year Warranty - We love our Plugable products, and hope you will too. All of our products are backed with a 2-year limited parts and labor warranty as well as Seattle-based email support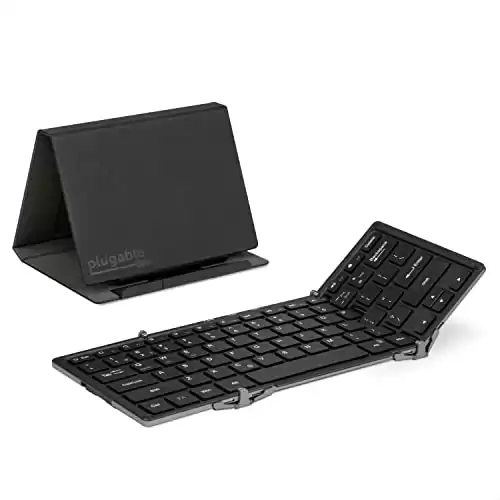 We earn a commission if you make a purchase, at no additional cost to you.
Whether you're working on a Mac, PC, or mobile, you can rely on the Plugable Foldable Bluetooth Keyboard to work with your devices.
This durable, tri-folding device is perfect for whatever you work on, wherever you go. While very compact, the Plugable keyboard expands to nearly full size, making transition simple. What solidifies this as the best foldable keyboard for multiple devices? The Plugable features a protective case that folds into a stand, making it easy to work on your phone or tablet. It even connects via USB for more reliability.
Check out the Plugable Foldable Bluetooth Keyboard on Amazon.
Best for Mobile Devices: Geyes Folding Wireless Keyboard
Geyes Folding Bluetooth Keyboard, Foldable Wireless Keyboard with Portable Pocket Size, Aluminum Alloy Housing, for iPad, iPhone,Android Devices, and Windows Tablets, Laptops and Smartphones
【Geyes Folding keyboard】:Geyes tri-folding bluetooth keyboard, add more functionality to satisfy everyone's need. Longer battery life, wide compatibility,double bluetooth channels, triple folds...
【Smart and Easy Operation】: Automatic on/off and sleep mode function helps to conserve battery..Supports dual channel ,it can connect with two devices at the same time and free swithing;
【Aluminum Alloy Shell with Stand】: Unlike other similar design plastic keyboard, this wireless BT keyboard housing is made of Aluminum Alloy makes it smooth and luxury. Built-in Kickstand holders...
【Supports Daul Channel】: Geyes GK608 have 2 Bluetooth memorys, allow you move seamlessly between 2 connected Bluetooth-enabled devices, only need one single step and easy-switch from Mac to iPad...
【A Perfect Gift Choice】: Best gift choices for friends: Folding wireless BT keyboard, perfect for travel. What you Get: Foldable BT Keyboard, USB Charging Cable, User Manual, 12-Month...
We earn a commission if you make a purchase, at no additional cost to you.
If you prefer to use your phone, and not carry multiple devices, the Geyes Folding Wireless Keyboard might be right for you.
Its unique tri-folding design can easily fit in your pocket and features a stand built specifically for smartphones. However, its compact frame doesn't take away from its usability or battery life. The Geyes model features a battery that can last up to 120 hours. And with only 58 keys on its slender body, this keyboard feels completely natural to use. If you're exclusively using a mobile device, you can't find a better product for the price.
Check out the Geyes Folding Wireless Keyboard on Amazon.
How to Pick the Best Foldable Keyboard: Step by Step
When choosing the right foldable keyboard, there are four main considerations.
Portability
Battery life
Key position
Compatibility
Let's review each one in more detail.
Portability
If you're looking at a folding keyboard, you're likely trying to use it outside the office. While most models weight less than a pound, their size is worth considering. Some keyboards sacrifice keys for a smaller frame, making them easier to carry. However, this can also make them more difficult to use when spread out.
If you're thinking about how to compromise portability and usability, take a look at the way each keyboard folds. Tri-folding devices can offer more keys while keeping a small, folded frame. Keep in mind, tri-fold keyboards typically cost a little more.
Battery Life
It's also important to find a model that won't die on you in the middle of an important task. Most folding keyboards feature a 40-hour battery life, which can cover the typical workload for a week. However, if you plan on using it more, you might consider a device with a larger battery. For extra reliability, look at keyboard models that connect via USB.
Key Position
You might not think about it, but if you use a specific keyboard often enough, switching to another one can prove challenging. This becomes even more apparent with folding keyboards, where the fold in some models can separate keys in frustrating ways. Before you purchase a device, take a look at how it folds and where the keys are located.
Compatibility
Fortunately, we live in a time where most folding keyboards feature interoperability. Whether you use iOS, Windows, or Android, you can expect any of our choice models to work. However, some keyboards are designed with specific devices in mind, and their usability might not work as well with others. Before you make a purchase, consider reading customer reviews regarding the device you plan on using.
What to Know Before Buying a Foldable Keyboard
Before you go out and buy a foldable keyboard, it's essential to know that most of them do not feature a full set of keys. Manufacturers remove certain sets of keys to make them more portable. The sizes of keyboards come pretty standard:
Tenkeyless (87 keys)
75% (84 keys)
65% (66-68 keys)
60% (62 keys)
40% (49 keys)
The easiest to remove in most cases is the number pad (referred to as tenkeyless). For those that use the number pad often, take extra time to look for a model that features one.
As keyboards get smaller in size, other sections of keys are removed. Manufacturers might remove function, navigation, or system keys to save space. Before finalizing your purchase, take a good look at the keyboard and make sure it has the keys you typically use.
Using a Foldable Keyboard: What It's Like
Most typically had no issues with portability when using the best foldable keyboards. All the models in our list weigh less than a pound. You can slide them into a pocket or pack in a computer bag. The Geyes brand particularly folded up tighter than the others.
With regards to setup, the tri-folding models tend to offer a more natural typing feel. However, each folding keyboard set up quickly and were immediately usable. Only the MoKo was difficult to use due to its wide key gap.
As far as battery life goes, all the keyboards hold ample power to complete a full week's work. In addition, they all charge back to full in no more than three hours. This makes for a seamless transition into the next week of work.
Best Foldable Keyboards: Further Reading
For your next trip out of the office, the best foldable keyboards can make work a breeze. You can find the right model for any situation in our list. And for more gadgets to enhance your travels, check out some of the articles below.