Key Points
Our choice for the #1 Best Overall DSLR Camera is Canon EOS-1D X Mark III.
This high-end professional DSLR stands out for its superior build quality, advanced autofocus, high frame rate, and exceptional image quality.
DSLR cameras provide unrivaled versatility and image quality for photographers. They offer excellent low-light performance, flexibility in choosing lenses and accessories, and precise manual control over settings, allowing photographers to express their creativity fully.
Owning a DSLR will take your photography to a whole new level. Whether you are a professional photographer or a photography enthusiast, a DSLR allows you to capture stunning images with great detail and dynamic range that can't be matched by smartphone or point-and-shoot cameras.
Selecting the suitable DSLR requires considering your photographic needs and budget. Factors such as sensor size, speed, autofocus system, build quality, and available lenses should be considered.
As photography continues to evolve, the need for superior image-capturing equipment is undeniable. A DSLR camera is an essential tool for both professional and amateur photographers. With high-quality lenses, exceptional light sensors, and precision controls, these cameras offer many features to elevate any shot. But the question remains: which are the best DSLR cameras today?
The ultimate DSLR camera offers top-tier picture quality, ease of use, durability, and state-of-the-art features. An outdated or low-quality camera may produce dull images that limit creativity. Similar to how graphics cards influence which monitors are helpful, your choice of DSLR camera has an enormous effect on its photographic output.
So, without further ado, let's unveil our top picks for the five best DSLR cameras available today!
Best Overall DSLR: Canon EOS-1D X Mark III
Best Overall
Canon EOS-1D X Mark III Body
New DIGIC X Image Processor with an ISO range of 100-102400

High Image Quality with New 20.1 Megapixel Full-frame CMOS Sensor Combined with Newly Designed low Pass Filter

New 191-point AF System Capable of Tracking the Subjects Head and Face using Deep Learning Technology

Dual Pixel CMOS AF for Fast and Accurate Auto Focus using up to 3869 Manual AF Positions** and up to 525 Automatic Positions

Use the EOS Utility Webcam Beta Software (Mac and Windows) to turn your Canon camera into a high-quality webcam, or do the same using a clean HDMI output
We earn a commission if you make a purchase, at no additional cost to you.
The Canon EOS-1D X Mark III secures the top spot as the best DSLR Camera overall.
This camera features a high-quality 20.1 Megapixel full-frame CMOS sensor, matched with a new low pass filter, resulting in crisp, unparalleled image quality. Its advanced DIGIC X Image Processor boasts an impressive ISO range of 100-102,400, expandable to 50-819,200, catering to diverse lighting conditions. This makes it a versatile choice for any professional photographer.
The dual-pixel CMOS AF enhances the camera's speed and accuracy, offering up to 3869 Manual AF Positions and 525 Automatic Positions. The standout feature is its new 191-point AF System, which can track the subject's head and face using deep learning technology. This ensures precision-focused shots, making it easier than ever to capture the perfect moment.
Beyond photography, the Canon EOS-1D X Mark III marks a significant shift for Canon regarding video capabilities. It now supports uncropped 4K video, providing stunning, cinema-quality footage, a feature long-awaited by Canon users. It's not just a DSLR camera; with its EOS Utility Webcam Beta Software, your camera doubles as a high-quality webcam, making it a versatile tool for the digital age.
The Canon EOS-1D X Mark III is a game-changing DSLR camera that combines high-tech features and versatility, making it the best overall choice for professionals. Check out the Canon EOS-1D X Mark III on Amazon.
| Pros | Cons |
| --- | --- |
| Delivers high-quality images with a 20.1 Megapixel sensor | Its advanced features may require a steep learning curve |
| Supports uncropped 4K video for high-quality footage | Priced higher than many similar DSLR cameras |
| Utilizes deep learning tech in its 191-point AF System | Limited use for amateur or hobbyist photographers due to complexity |
Best Budget-Friendly: Canon EOS 2000D
Best Budget-Friendly
Canon EOS 2000D DSLR Camera Body
Background blur
Interchangeable lenses

EOS 2000D body, Eyecup Ef, Camera Cover R-F-3, Camera strap EW-400D, Battery Pack , Battery Charger , Power cable for battery charger

24.1 MP

Black
We earn a commission if you make a purchase, at no additional cost to you.
The Canon EOS 2000D reigns as the best budget DSLR camera.
From our experience, this camera combines quality and affordability perfectly. Its ability to take stunning photos with background blur sets it apart. Shooting beautiful images becomes effortless due to this feature. Its DSLR capability, coupled with interchangeable lenses, offers unlimited creative freedom.
The Canon EOS 2000D DSLR camera enables you to shoot, connect, and share on the go. This feature breaks down barriers between you and your online audience, allowing for effortless creativity accompanied by clear guidance. So, whether you are a professional photographer or an amateur, this DSLR camera makes photography easier.
If you're seeking an affordable, user-friendly, and effective DSLR camera, the Canon EOS 2000D is a fantastic choice. Check out the Canon EOS 2000D on Amazon.
| Pros | Cons |
| --- | --- |
| Facilitates easy connectivity for shooting and sharing | The body may feel plastic and less durable |
| Supports interchangeable lenses, offering more creative possibilities | The learning curve for beginners may be steep |
| Delivers high-quality images with beautiful background blur | Limited advanced features compared to higher-end models |
Best Hybrid DSLR for Professionals: Nikon D850
Best Hybrid DSLR for Professionals
We earn a commission if you make a purchase, at no additional cost to you.
The Nikon D850 positions itself as the top pick for a Hybrid DSLR for professionals. 
It delivers remarkable performance in our hands-on testing. The D850's key strength is its 45.7-megapixel sensor, offering unmatched detail capture. This substantial upgrade from its predecessor allows it to compete well with the Canon 5DS and Sony A7R II regarding the DSLR camera's pixel count.
Moreover, experience has revealed that its Multi-CAM 20K autofocus system is fast and accurate, ensuring you never miss an image-making moment. Furthermore, thanks to its EXPEED 5 processor, this DSLR camera performs admirably, even at higher sensitivity settings. Check out the Nikon D850 on Amazon.
| Pros | Cons |
| --- | --- |
| The rear thumb-operated sub-selector offers quick AF point positioning | The SnapBridge wireless connectivity needs to be enhanced |
| The 45.7-megapixel sensor captures details with precision | The camera lacks phase detection AF in Live View |
| The fast viewfinder autofocus enhances its real-time performance | Key exposure settings are missing in touchscreen operation |
Best for Beginners: Nikon D3500
Best for Beginners
Nikon D3500
EXPEED 4 Image Processor

Multi-CAM 1000 Autofocus Sensor

1080p Full HD videos

Bluetooth version 4.1
We earn a commission if you make a purchase, at no additional cost to you.
The Nikon D3500 DSLR Camera tops the list for beginner-friendly DSLRs.
It masterfully blends user-friendliness and high-quality image production, making it an optimal starting point for budding photographers. Its compact, travel-friendly design is coupled with a 24.2MP APS-C sensor that outperforms many competitors. Unlike typical smartphones, this sensor is 15x larger, yielding sharper, more explicit pictures. Moreover, its SnapBridge app feature allows easy photo sharing via smartphones or tablets.
In our hands-on testing, the D3500 demonstrated superior image quality, excellent battery life, and ease of handling. Furthermore, integrated into the VR kit lens version, Nikon's image stabilization system adds excellent value at minimal extra cost. Users can take clear photos unaffected by minor camera shakes with this feature. Nikon offers an expansive catalog of DX system lenses to provide beginners with upgrades as they gain experience, meeting all their evolving needs.
Even though Nikon has discontinued the D3500, it still commands a significant presence in the DSLR camera market due to its beginner-friendly features and affordability. It is a testament that you don't need to break the bank to own an excellent camera. While more seasoned photographers may seek advanced options, the D3500 remains a formidable choice for those starting their photography journey. Check out the Nikon D3500 DSLR Camera on Amazon.
| Pros | Cons |
| --- | --- |
| Nikon's SnapBridge app facilitates easy photo sharing | Monaural sound in videos might not suit all users |
| A 24.2MP APS-C sensor produces high-quality images | It might be too basic for advanced photographers |
| Its compact design and impressive battery life make it travel-friendly | As a discontinued model, future support might be limited |
Best Premium: Canon EOS 90D
Best Premium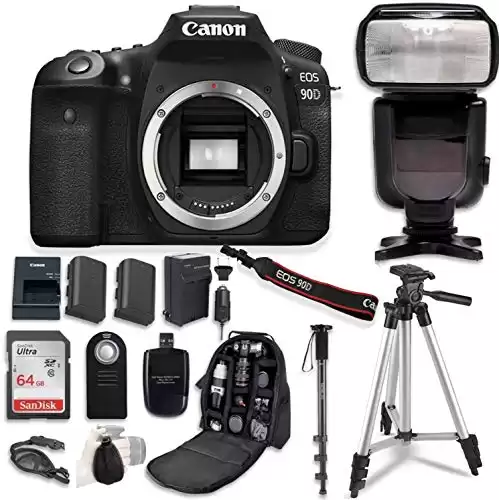 We earn a commission if you make a purchase, at no additional cost to you.
The Canon EOS 90D DSLR Camera shines as the best premium DSLR for aspiring filmmakers.
After hands-on testing, its value proposition stands out, especially in video shooting capabilities. Despite its friendly price tag, the EOS 90D confidently struts into the 4K territory, a feature often reserved for high-end DSLRs and mirrorless models.
The DIGIC 8 Image Processor provides smooth, high-quality UHD 4K30p and Full HD 120p video recording — an enticing feature for the aspiring videographer. Furthermore, the camera's dual-pixel sensor technology facilitates sharp focus, maintaining clarity regardless of subject movement.
Its 32.5MP APS-C CMOS Sensor guarantees highly detailed images, while its 45 autofocus points ensure quick, accurate tracking of subjects. Plus, its 3″ 1.04m-Dot Vari-Angle Touchscreen LCD enhances flexibility by permitting shooting from unconventional angles while its touchscreen interface provides a seamless user experience.
Despite its notable features, the EOS 90D still has some limitations. While it does offer 4K video, it caps at a maximum of 30 FPS. This might need to be revised for those looking for high frame-rate footage. Additionally, it requires an extra investment for full utilization, such as purchasing an additional LP-E6 battery for extended shooting sessions. Check out the Canon EOS 90D DSLR Camera on Amazon.
| Pros | Cons |
| --- | --- |
| The 32.5MP APS-C CMOS Sensor delivers highly detailed images | The 4K video recording is limited to a maximum of 30 FPS |
| 4K video recording sets it apart from most budget-friendly DSLR cameras | Despite the touchscreen interface, beginners might find the multiple features somewhat overwhelming |
| The dual-pixel sensor maintains a sharp focus on moving subjects | Additional investment in accessories, like spare batteries, may be required |
How to Pick the Best DSLR Camera: Step-by-Step
Choosing the best DSLR camera isn't just about picking up the first one you see on the shelf. It involves carefully ensuring you get a camera that fits your needs.
There are six key factors to consider when buying a DSLR camera.
Sensor size
Adaptability
Megapixel resolution
Brand loyalty
Lenses
Speed
Sensor Size
Sensors are at the core of all DSLR cameras, collecting and converting light into images. Sensor size is instrumental in image quality, especially during low-light situations. As larger sensors capture more light, their quality tends to improve. However, cameras with larger sensors tend to be larger and costlier.
Professional photographers who often shoot in low light or prefer greater detail should choose a larger sensor camera. But for amateur photographers or beginners, cameras with smaller sensors may provide greater portability and lower costs.
Adaptability
A DSLR camera's adaptability is its ability to handle various shooting scenarios and conditions. This can range from interchangeable lenses to customizable settings and compatibility with multiple accessories. A camera with user-friendly features and guided modes is more suitable for beginners, while seasoned photographers prefer a more customizable model. Cameras with higher adaptability will allow you to grow as a photographer, adapting to your changing needs and skills.
Megapixel Resolution
While many believe more megapixels equal better image quality, this isn't always true. Higher megapixel counts may be appropriate if you print large photos or crop heavily; otherwise, a DSLR camera with modest megapixel counts suffice for most people's needs. Megapixels do matter but should only be seen as part of the picture.
Brand Loyalty
Although it may not seem significant, brand loyalty can enormously impact the selection process for a DSLR camera. Different brands feature distinctive user interfaces, lens compatibilities, and color renditions; if you had previously enjoyed using one camera brand, sticking with them may make your transition more accessible, but don't be intimidated into switching if another offers better features!
Lenses
One of the greatest assets of a DSLR camera is its adaptable lenses. Selecting an ideal lens can tremendously affect the resultant photos you take; consider your type of photography (for landscape shots, a wide-angle lens is appropriate, while portrait photography requires prime lenses) when choosing one to ensure creative flexibility and creative freedom. When picking out a DSLR, ensure it supports various compatible lenses for maximum creativity and creativity.
Speed
Last but not least, consider the speed of the DSLR camera. This includes shutter speed, focusing speed, and even how fast it can process images. If you often capture fast-moving subjects, such as sports or wildlife, a camera with high speed is crucial. On the other hand, a model with a slower rate might be adequate if you're more into landscape or portrait photography.
What to Know Before Buying a DSLR Camera
Before purchasing a DSLR camera, understanding sensor size is paramount, as sensor sizes significantly affect image quality. Full-frame sensors, larger than crop sensors, excel in low light conditions by producing images with greater clarity and less noise. However, full-frame sensor DSLR cameras tend to come at a premium, which could put budget-minded consumers off purchasing one. Instead, crop sensor variants offer much better value. Hence, determining your photography needs and budget is crucial before deciding on the sensor size of your DSLR camera. Careful consideration can make all the difference in your photography journey.
Using a DSLR Camera: What It's Like
A DSLR camera provides a captivating combination of creative control and high-quality images. Once mastered, manual settings open up incredible potential. With a DSLR camera, you can customize its lens and capture an image with an ideal perspective. No matter if it is candid moments or picturesque landscapes that you capture on camera, each photograph offers a sense of fulfillment and satisfaction.
For close-up shots, a DSLR camera captures every intricate detail with stunning clarity. Harnessing this creative device elevates photography into art. Experience the joy of turning fleeting moments into timeless memories with a DSLR camera!
The image featured at the top of this post is ©REDPIXEL.PL/Shutterstock.com.