Key Points
Our choice for the #1 Best Overall DDR4 RAM is Team Xtreem ARGB DDR4-3600MHz.
DDR4 RAM has a high data capacity, allowing it to handle more information. Plus, DDR4 has no clock speed limits, and each memory module has a maximum capacity of 64GB.
Video editing, engineering, and gaming software require tons of memory; hence DDR4 RAM is an important asset.
When shopping for the best DDR4 RAM, remember the following criterion: speed, memory timings, CAS latency, and overclocking support. 
Your computer needs enough memory to store data, so you need the best Best DDR4 RAM. Random Access Memory (RAM) is the data storage area of your computer or laptop. It loads and retrieves your application, browsing, and gaming information. However, RAM is a volatile, short-term type of memory, meaning it forgets its contents when you turn off your device. 
Dynamic RAM (DRAM) and Static RAM (SRAM) are the two RAM types. DRAM serves as the main memory and requires constant recharge to retain data. SRAM retains data for as long as a computer system is connected to a power supply.
DDR4 stands for Double Data Rate Fourth Generation Random Access Memory, and it boasts higher speed, boosts performance, and reduces power consumption.
You might have noticed some lag while working with different applications on your laptop. The slow speed could prompt you to consider buying a new laptop or upgrading its RAM. We recommend the latter option, and this review will look at the best DDR4 RAM options available today!
Best Overall: Corsair Vengeance DDR4
Best for Ryzen: G.Skill Trident Z Neo 32GB
Best for Intel 12th Gen Processors: Crucial Ballistix Max DDR4-5100
Best for Workstation: Kingston FURY Renegade DDR4 RGB
Best for Gaming: Team Xtreem ARGB 16GB DDR4-3600 C14
#1 Best Overall DDR4 RAM: Corsair Vengeance DDR4
Best Overall
Corsair Vengeance LPX 16GB (2x8GB) DDR4 DRAM 3200MHz C16 Desktop Memory Kit – Black (CMK16GX4M2B3200C16)
Hand-sorted memory chips ensure high performance with generous overclocking headroom
SPD Speed-2,133 MHz
Vengeance LPX is optimized for wide compatibility with the latest Intel and AMD DDR4 motherboards
A low-profile height of just 34mm ensures that vengeance LPX even fits in most small-form-factor builds
A high-performance PCB guarantees strong signal quality and stability for superior Overclocking ability
A solid aluminum heat spreader efficiently dissipates heat from each module so that they consistently run at high clock speeds
We earn a commission if you make a purchase, at no additional cost to you.
The Corsair Vengeance DDR4 takes top honors for exceptional performance and is our choice for the Best Overall DDR4 RAM.
This DDR4 RAM boasts a 2,400 MHz operating frequency and a CAS latency of 16. Moreover, it is auto-overclockable, meaning you don't require BIOS changes. It is available in 8GB, 16GB, and 32GB variants.
The Corsair Vengeance DDR4 features an aluminum cover that helps dissipate heat. Thanks to its unique design, the RAM pulls heat from your laptop's motherboard and directs it to the cooling path. Also, its eight-layer PCB provides an overclocking headroom. 
Among its specs are a 16GB capacity, 3,200 MHz speed, and a CAS Latency of 16. However, speed and latency are what stood out most. Gaming PCs run on an optimum speed of 3,200 MHz. 
On the other hand, the Corsair Vengeance DDR4 is compatible with numerous motherboards. It comes in numerous colors enabling you to pick one that matches your motherboard, components, or preference. 
| Pros | Cons |
| --- | --- |
| Has an aluminum heat spreader that helps prevent overheating | The latency of CL16 is a real downside |
| Its black and white color makes it blend easily with the host PC or laptop | Its aesthetic is bland |
| Compatible with all air coolers | |
| Boasts top-notch speed and latency | |
Best for Ryzen: G.Skill Trident Z Neo 32GB
Best for Ryzen
We earn a commission if you make a purchase, at no additional cost to you.
Next on our list is the G.Skill Trident Z Neo 32GB, the best memory stick for Ryzen.
In computing, Ryzen is an AMD processor marketed for servers, PCs, workstations, and desktops. Ryzen motherboards are compatible with DDR4 RAM.
The G.Skill Trident Z Neo 32GB memory kit is within your alley if you are a PC-building enthusiast. As a gamer using the AMD Rayzen 9 or AMD Rayzen 5 CPU, this memory kit helps boost your gaming memory requirements. The RAM is optimized for Rayzen CPUs. In addition, it has a stunning physical appeal, specifically the diffused RGB lighting. 
The RAM stick boasts a 10-layer PCB incorporated with B-die integrated circuits. G.Skill hand-picks its ICs from Samsung. You are set to enjoy impressive memory speeds of 2,666MHz, with 4,000MHz options also available.
| Pros | Cons |
| --- | --- |
| The RAM stick features a 10-layer PCB | It is not readily available |
| Memory speed ranges from 2,666MHz to 4,000MHz | |
Best for Intel 12th Gen Processors: Crucial Ballistix Max DDR4-5100
Best for Intel 12th Gen Processors
We earn a commission if you make a purchase, at no additional cost to you.
The Crucial Ballistix Max DDR4-5100 is the best in Intel 12th Gen Processors.
It is an affordable RAM with excellent performance. Tight timings and a sleek design are among its notable features. Besides, the RGB lighting looks good; you can always replace the light bar.
Regarding specifications, the memory stick has a 16GB capacity with a latency of C19. The processing speed is impressive at 5,100 MHz. It was one of the fastest memory kits that we reviewed. Spanning a length of 39.17mm (1.54 inches), the Ballistix Max does not get in your way. If anything, it is compatible with many CPUs. 
The Ballistix Max DDR4-5100 memory kit features two 8GB modules with an 8-layer PCB. The only issue was that its XMP performance is average, but that should not worry you.
| Pros | Cons |
| --- | --- |
| Has a removable light bar | XMP should have performed better |
| Impressive processing speed of 5,100 MHz | |
Best for Workstation: Kingston FURY Renegade DDR4 RGB
Best for Workstation
We earn a commission if you make a purchase, at no additional cost to you.
The Kingston FURY Renegade DDR4 RGB is the best for workstations. It boasts a stylish design heat spreading capability, high speed, and short latencies.
You can get it in single modules or kits of 2, 4, and 8 pieces. The single module has an 8GB to 32GB capacity, while the kits feature between 16GB and 256GB capacities. 
It comes with a lifetime warranty and an assurance of extreme performance. We could not help but notice its stunning RGB style and lighting effects. Kingston Technology's patented infrared lighting enables this DDR4 RAM to emit synchronized lighting patterns. 
The RGB RAM works perfectly with any motherboard and PC infrastructure. Speed variants range from 3200MT/s to 4600MT/s. Its latencies are between CL15 and CL19, and it can withstand an operating temperature of up to 70°C.
| Pros | Cons |
| --- | --- |
| Customizable RGB lighting | Its reliability diminishes when you overclock |
| Boasts a fast speed of over 4,000MHz that boosts performance | |
| Has an effective heat spreader that cools the memory kit and prevents it from overheating | |
Best for Gaming: Team Xtreem ARGB 16GB DDR4-3600 C14
Best for Gaming
We earn a commission if you make a purchase, at no additional cost to you.
To wrap up our review of the best DDR4 RAM is the Team Xtreem ARGB DDR4-3600 C14.
It boasts a colorful mirror design and comes in a black PCB with an aluminum alloy for heat dissipation. The heat spreader is on the rear side.
Another aspect we noticed is the translucent plastic with a dark blue tone. Even more attractive is the RGB LED light that shines through the plastic material. Its luminous memory module allows you to synchronize and control lighting effects. Also, being a plug-and-play memory, you don't have to adjust the BIOS manually.
Away from aesthetics, this desktop memory is compatible with Intel & AMD motherboards. It comes as a memory kit comprising two 8GB modules. Both modules combine to form an XMP profile that runs at DDR4-3600 data rate. Along with its 1.45V DRAM voltage, this memory kit has 14-15-5-35 timings. 
| Pros | Cons |
| --- | --- |
| It is a plug-and-play RAM | Performs poorly from overclocking |
| | |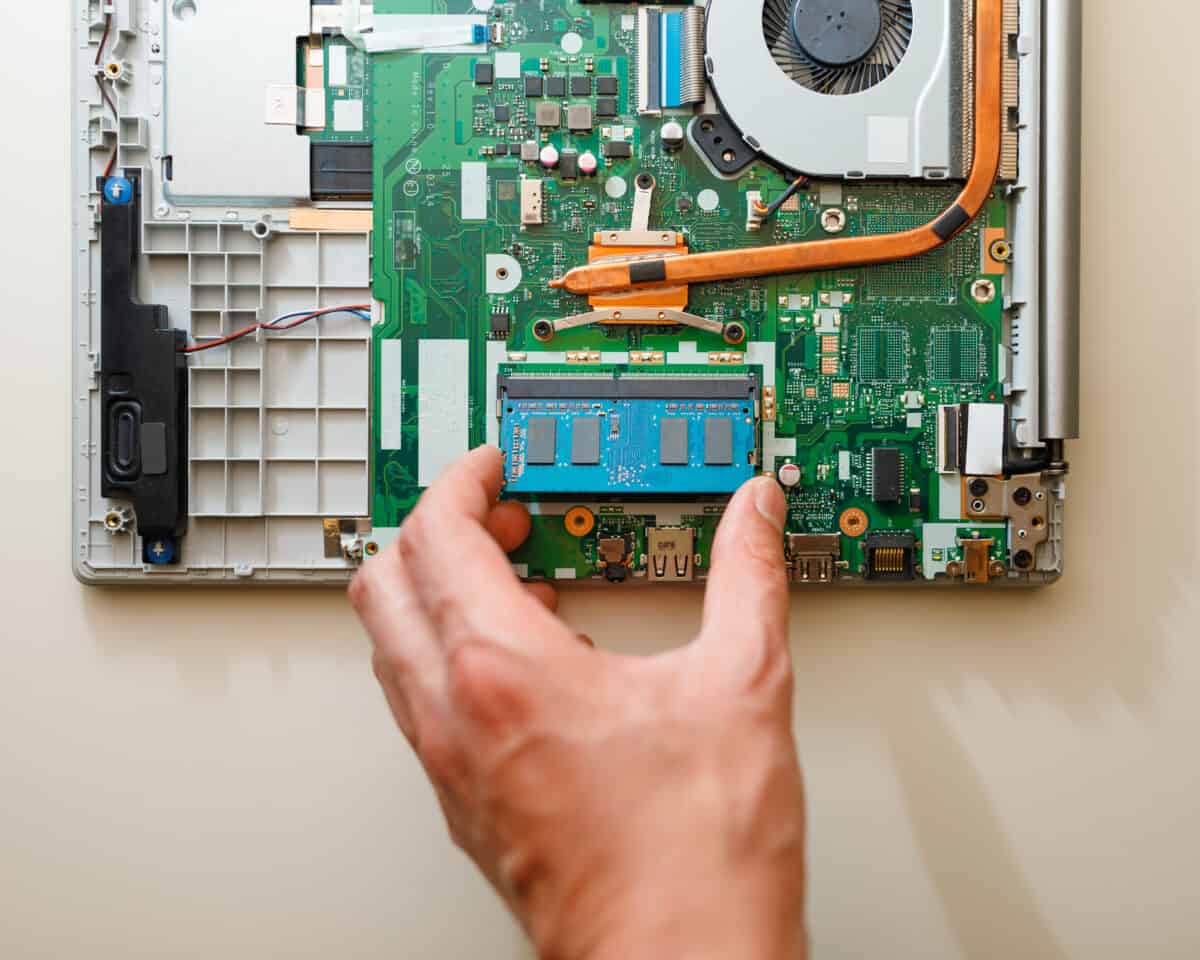 How to Pick the Best DDR4 RAM: Step-by-Step
If you seek a desktop or laptop memory upgrade, 16GB is an excellent starting point. Laptops require SO-DIMM kits, while desktops run on DIMM modules. You will find the memory kit soldered to the motherboard for slim laptops.
When choosing the best DDR4 RAM, there are five primary considerations for most buyers.
Capacity
RAM speed
Motherboard
RAM timings
Aesthetics
Let's review each of these criteria in more detail.
Capacity
Start with 16GB. Basic mainstream and gaming tasks require 8GB of memory. However, since other programs will use this quickly, opt for 16GB. We suggest raking the memory to 32GB or higher if you are into video content production. The whole idea is to ensure that your programs load faster. Also, stick to the clock speed that your system supports. 
RAM Speed
Speed is relative, depending on how you utilize your device. Determine your RAM speed. High-rated speeds provide some advantages in gaming. The best DDR4 RAM starts at 1,600 MHz. However, modern processors such as the Intel Core i9-10900 can support speeds up to 2,933 MHz. Find the perfect balance.
Motherboard
Check your motherboard's architecture. RAM kits come in modules of two or four (2-16GB or 4-8GB modules). First, check your motherboard and see how many memory slots it can accommodate. Usually, laptops come with two slots. Desktops have four, while workstations have eight. Additionally, ensure that the RAM on your laptop is not soldered on the motherboard.
RAM Timings
RAM timings are shown on the manufacturer's sticker as a number set. You will see something like 14-15-16-17. They represent a memory's latency, i.e., the time it takes for a RAM to execute commands.
Nonetheless, as a gaming enthusiast, you need not worry much about memory timings. However, you can adjust timings to improve your RAM's performance if you are an overclocker.
Aesthetics
If you love colors, you should seek RAM with RGB lighting that customizes and give your system the desired visual appeal. We must emphasize here that you must always choose memory sticks compatible with your motherboard.
What to Know Before Buying the Best DDR4 RAM
We've mentioned heat spreading numerous times in our review. Why? RAM overheats and needs constant cooling. Typical RAM kits have a cooling case. On the other hand, high-performance memory kits come with a heat spreader called a heatsink.
Channels are also critical. Single-channel RAM has a single 64-bit memory, while the dual-channel has two 64-bits. Therefore, when operating dual-channel RAM, you have 128 bits of memory and a fast system.
RAM kits have a voltage specification usually indicated on the product. The voltage shows the electric power needed for the RAM to operate at its full capability. As an ordinary PC or laptop user, voltage issues should not be cause for concern.  
Like other computer components, RAM gets faulty after prolonged use. Some come with a short-term or lifetime warranty. We recommend verifying the product guarantee status before purchase.
Using the Best DDR4 RAM: What It's Like
Let's assume your computer is an office. RAM is like having a huge desk with everything you're working on arranged neatly. However, you must remove the desk of all papers before signing off for the day. RAM works similarly by losing its contents once you turn off the power. It is a volatile memory.
DDR4 RAM means computer memory with a double data rate. Hence the initials DDR, while the number 4 symbolizes the technology's generation released in 2014. Working with DDR4 RAM is beneficial as it reduces your device's power consumption and boosts performance.