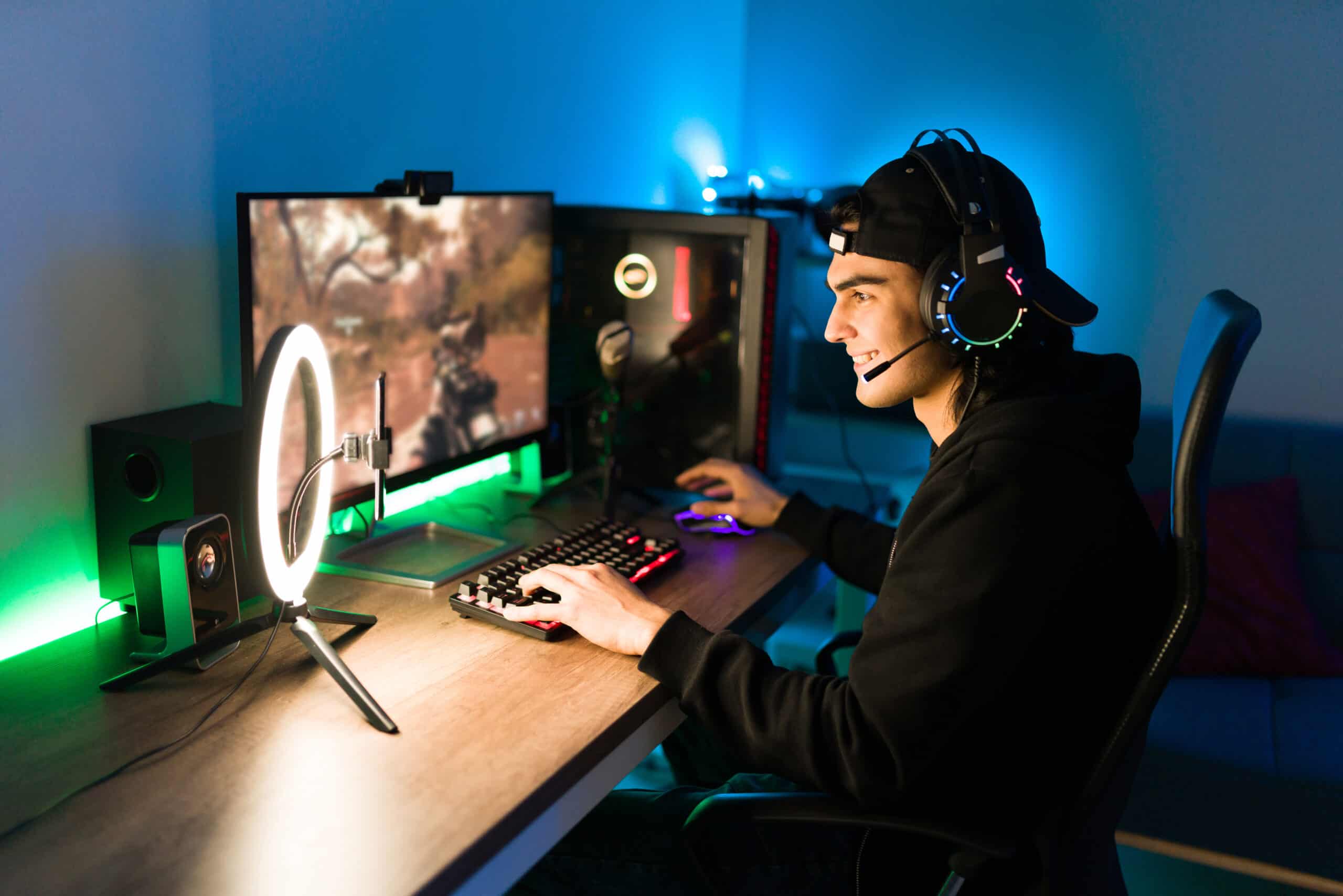 While most gamers would prefer powerful gaming computers with specific configurations and hand-picked parts, building a gaming rig on a tight budget can be a real challenge. Fortunately, many affordable gaming computers can still run modern games at acceptable frame rates. So, you won't have to break the bank to join the fun. Whether looking for a great price, a balance between features and performance, or want something cheap that does its job, these budget gaming PCs are great options.
Here are five of the best budget gaming PCs you can buy today.
Alienware Aurora Ryzen Edition R10 is a solid gaming PC. It packs some of the latest AMD Ryzen 7 processing power and is upgradable thanks to its compatibility with Intel's LGA 1151 socket CPU. The price may seem high initially, but it becomes much more accessible with its 1-year comprehensive warranty covering accidental damage. With all these options and affordable pricing, this is one of the best budget gaming PCs you can buy today.
It has 8GB of RAM, which you can expand later as your needs change, a 1TB HDD for plenty of storage space, and an Nvidia GeForce GTX 1660 Ti GPU. However, just because it's an older graphics card doesn't mean it can't keep up with the latest games; for an extra $98, you can upgrade to the Nvidia GeForce RTX 3060.
If you have extra cash, you can add a secondary, solid-state drive for faster program launching and boot times for just $49 more, bringing the total price to just under $1,250. If you prefer liquid cooling for your components, you can add it for $30 to your build. Bluetooth 5.0 for connecting wireless peripherals such as mice, keyboards, and headsets, as well as dual-band Wi-Fi for fast internet speeds during online gaming sessions, are included in the base build.
Specifications
| | |
| --- | --- |
| CPU | AMD Ryzen 5 %600X  |
| GPU | Nvidia GeForce GTX 1660 Ti |
| RAM | 8GB |
| Storage | 1TB HDD |
| Power supply | 850W |
| VR ready | Yes |
Check out the Alienware Aurora Ryzen Edition R10 on Amazon.
OMEN 25L Gaming Desktop PC, NVIDIA GeForce RTX 2060, 10th Generation Intel Core i7-10700F Processor, HyperX 16 GB RAM, 512 GB SSD and 1 TB Hard Drive, Windows 10 Home (GT12-0060, 2020), Shadow black
HYPER-REALISTIC GRAPHICS: NVIDIA GeForce RTX 2060 (6 GB GDDR6 dedicated memory). Enjoy incredible power to create and game at ultra-fast speeds with the all-new NVIDIA Turing architecture, including ray tracing technology for unbelievable visuals. VR Ready. Dual monitor support (1 HDMI, 1 DisplayPort, 1 DVD-D)
ULTRA-FAST PROCESSOR: 10th Generation Intel Core i7-10700F Processor, 8-core, 2.90 GHz base frequency, up to 4.80 GHz with Intel Turbo Boost Technology
STORAGE AND MEMORY: 1 TB 7200RPM SATA hard drive & 512 GB PCIe NVMe M.2 Solid State Drive (Slots: 1 occupied PCI-E Gen 3 x 16 , 2 occupied M.2, 1 available internal 3.5" HDD) & HyperX Fury 16 GB DDR4-2666 MHz 288-pin XMP RAM memory (1 x 16 GB, upgradable to 64 GB, 4 x 16 GB)
PC GAMING CONNECTIVITY: Realtek Wi-Fi 5 & Bluetooth 5, 3.5mm Headphone/Microphone Combo, Microphone jack, 2 SuperSpeed USB Type-A (top), 2 SuperSpeed USB Type-A (rear), 2 USB 2.0 Type-A (rear), 1 SuperSpeed USB Type-C (rear), and 1 Ethernet port (10/100/1000 Base-T Network)
KEYBOARD AND MOUSE INCLUDED: Comes with the HP black wired keyboard with volume control and wired optical mouse
The HP Omen 25L is a high-performance gaming PC that allows easy updates and upgrades. You can adjust the settings on this machine to fit your needs, whether you want to play games or need more power for other tasks. It features an Intel Core i5-12400 processor from the 12th generation, which is a fantastic midrange gaming CPU with six P-cores and 12 threads that can overclock like nobody's business. You'll have no trouble completing everyday tasks, and it's a gaming workhorse. Of course, pairing that processor with Nvidia RTX 3050 graphics makes this machine a 1080p gaming champion, though higher resolutions will cost you a frame rate.
With only DDR4 RAM and a PCIe 3.0 SSD, this gaming PC isn't quite full-featured. However, it has everything you need to start playing PC games with 8GB of memory and 256GB of storage space. Want to scale? HP Omen 25L has plenty of custom upgrades and a fairly large PC case that lets you easily swap out your components.
HP Omen is great for gamers who like Team Red because it comes in several AMD configurations. But fans of Nvidia's RTX line can also use it because it can be set up to an RTX 2070 Super GPU. Once it's all set up, the Omen 25L costs as much as many high-end gaming PCs in their mid-range configuration, except that HP's version has more memory and storage space because it has multiple drives.
Specifications
| | |
| --- | --- |
| CPU | Intel Core i5-12400  |
| GPU | Nvidia RTX 3050 |
| RAM | 8GB DDR4 3,200MHz |
| Storage | 256GB PCIe 3.0 SSD  |
| Weight | 30.45 pounds  |
| Size | 6.50" x 15.59" x 17.64" (W x D x H) |
Check out the HP Omen 25L on Amazon.
Sale
Want a gaming PC that can handle basic gameplay but doesn't cost a fortune? Acer Predator Orion 3000 base model is your best bet. Going for less than $1000, this machine can be configured with as much as a 1080Ti GPU. You won't get a 4K performance at 60fps, but you will play many games at a good resolution. If you're looking for an affordable option and want some customization, this is the best one on the market today.
If you want an upgrade path, this computer has enough room for an M2 drive for future expansion. As with all pre-built systems, a keyboard and mouse are included. That's not usually the case when you build your system from scratch, so it's worth mentioning if you don't have those things handy.
Even though it's a powerful gaming PC with good potential for piecemeal upgrades in the future, the Predator Orion 3000's chassis isn't huge like some other gaming PCs. It's been thoughtfully designed to fit next to a monitor or under a desk, and the front and side panels have vents so that it stays cool. It also has the "gamer aesthetic" everyone wants, with RGB lighting and a big, triangular power button that feels great to press.
Specifications
| | |
| --- | --- |
| VR Ready | Yes |
| Processor | Up to Intel Core i7 |
| RAM | 16GB |
| Graphics Card | Up to Nvidia GeForce RTX 3070 Ti |
| Storage | Up to 1TB HDD |
| Accessories | Predator wired keyboard and gaming mouse, both w/ customizable RGB lighting |
Check out the Acer Predator Orion 3000 on Amazon.
MSI Trident 3 (SFF) Gaming Desktop, Intel Core i7-12700F, GeForce RTX 3060 (ITX), 16GB' Memory (Dual-CHL), 512GB SSD, WiFi 6E, USB Type-C, VR-Ready, Windows 11 Home (12TC-007US)
Intel Core i7-12700F 8P+4EC/20T 2.1-4.9 GHz 25MB Cache
NVIDIA GeForce RTX 3060 (ITX)
16GB' DDR4 (2 x 8GB) 3200 MHz
512GB M.2 NVMe
WiFi 6E (802.11ax) 2.4Gbps Tri Band 2.4GHz, 5GHz, 6GHz
With its best-in-class performance, MSI Trident 3 10th is one of the best compact gaming PCs you can buy. It has everything you need to play your favorite games—and more—with the ability to add a dedicated graphics card if you want to take on even more challenges.
The Trident 3 features an Intel Core processor with 16GB of DDR4 RAM and up to 1TB of storage space. Thanks to its power and portability, you can take his PC anywhere.
If looks are just as important to you as power, you might like the MSI Trident 3 10th, especially if you like a gaming-style look. The angular tower is about the same size as a home console, so it won't take up too much space on your desk and could even fit into a TV stand if you'd rather play games on the couch with a controller. It comes with a base that you can take off if you'd rather stand it up.
It's not just about how it looks. This small gaming PC has 10th-generation Intel Core processors and the best Nvidia RTX and GTX graphics, costing less than its competitors. It's even cheaper than many gaming PCs on this list since an Intel Core i7 + RTX 2060 Super + 16GB RAM configuration costs much less than an HP Omen 25L with the same specs. This is the best budget gaming PC for you if you want to get the most out of your space and money.
Specifications
| | |
| --- | --- |
| CPU | Up to 10th-generation Intel Core i7 |
| Graphics | Nvidia GeForce RTX 2060 Super |
| RAM | Up to 16GB |
| Storage | Up to 1TB |
Check out the MSI Trident 3 10th on Amazon.
Best For Both Work and Play: HP Pavilion
Sale
HP Pavilion Gaming Desktop, NVIDIA GeForce GTX 1650 SUPER, Intel Core i3-10100, 8 GB DDR4 RAM, 256 GB PCIe NVMe SSD, Windows 11, USB Mouse and Keyboard, Compact Tower Design (TG01-1022, 2020)
FREE UPGRADE TO WINDOWS 11 (1) (when available, see below)
CUSTOMIZABLE AND COMPACT – This sleek, space-saving tower allows you to expand and upgrade with customizable LED lights and system optimization in the OMEN Command Center
4K READY – Outstanding performance and immersive multimedia entertainment with 4K visuals courtesy of the 10th Generation IntelⓇ Core i3-10100 processor
STUNNING GRAPHICS – With the all-new NVIDIA Turing architecture and 4 GB GDDR6 dedicated memory, you'll boost your creative and gaming experience with real-time ray tracing and fast performance from the NVIDIAⓇ GeForceⓇ GTX 1650 SUPER graphics card
DDR4 MEMORY – With 8 GB of RAM, everything from browsing multiple web pages to playing games gets a performance boost
The HP Pavilion is an all-around computer, perfect for both work and play. It has a sleek, modern design that looks great in your home or on your desk at the office. The base configuration costs less than $800, a steal for a prebuilt gaming PC. The HP Pavilion Gaming Desktop keeps the gamer's look to a minimum. A compact chassis and refined LED lighting along the base make HP Pavillion looks just as good in an office as in a game room. So, if you want a machine you can play on and use for work, this is it. You can kill two birds with one stone and save even more money.
It won't be a machine with all the bells and whistles, but if you pay a little more for the higher configurations, you can get one with an RTX 3060 that will help you play the latest games with better graphics. But its lower configurations should be able to handle 1080p gaming if you are willing to turn down the graphics settings a bit.
It even comes with a basic keyboard and mouse, so you can start playing your favorite games as soon as you open the box. If you have room in your budget, add a second 1TB HDD storage drive to the build for $49 or swap out the keyboard and mouse that come with the build for wireless versions for an extra $20.
Specifications
| | |
| --- | --- |
| CPU | Up to AMD Ryzen 7 |
| Graphics | Up to Nvidia GeForce RTX 3060 Super |
| RAM | Up to 16GB |
| Storage | Up to 1TB HDD + 512GB SSD |
Check out the HP Pavilion on Amazon.
How to Pick The Best Budget Gaming PC: Step By Step
Choosing a budget gaming PC can be a daunting task. With hundreds of models and unsolicited advice from tech-savvy people, it's easy to get overwhelmed. Here are factors to consider when picking the best budget gaming PC for your needs.
Price
When shopping for the best budget gaming PC, the price will be one of your biggest considerations. You want a fast machine that can run all your games and applications but doesn't cost an arm and a leg. Luckily, there are plenty of great options in the $700-$1000 range and even higher than that if you want high-end graphics cards and other components.
Performance
 Think about what kind of game you want to play. Game streaming services like Google Stadia can offer good performance, but if you want solid 1080p/60fps gaming, you'll need a good Core i5 processor and a GeForce 2060 or AMD Radeon RX 5600 GPU. Cards like the Radeon RX 5700 and the GeForce 2080 are right in the middle for reliable 1440p gaming. Going 4K? You should buy expensive hardware like an RTX 3080 or an AMD RX 6800.
Quality
 The quality of your components will make a huge difference in how well your rig performs. For example, if you want to play games at 4K resolution (3,840 x 2,160) or higher than 60 fps on high settings with the latest titles, then you'll need a machine with Intel Core processors and AMD Radeon graphics cards or Nvidia GeForce graphics cards.
Upgradability
Gaming PC components are constantly evolving, and the best gaming PCs can be easily upgraded with new parts over time. Even non-techies can easily open up and modify devices like the HP Omen 25L and Alienware Aurora. Compact devices like the MSI Trident 3 10th can be a little more challenging to open up. So bear this in mind if you intend to upgrade your investment gradually.
What To Know Before Buying the Best Budget Gaming PC
When buying a new gaming PC, you need to consider a few things. First, you'll have to decide whether you want an all-in-one or a more traditional build. Then there's the matter of how much RAM and storage space you need and how powerful your CPU will be. Finally, think about the specs of your desired PC and how powerful they need to be to run popular games on high settings.
Using Best Budget Gaming PC: What It's Like
If you're a gamer, you know how important it is to have the right gaming PC. The best gaming PC is one that can run all of your games at the highest possible settings and allow you to customize your experience based on what kind of games you enjoy playing. Every gamer needs to make some trade-offs to save money while still getting a great machine. The 4GB memory is only suitable for playing less intensive games like Minecraft or Terraria, so keep this in mind if you're looking for something with higher graphics capability. If you don't need a ton of storage space or extra peripherals, this could be just what you're looking for!
Last update on 2022-09-29 / Affiliate links / Images from Amazon Product Advertising API