Key Points
Our choice for the #1 Best Overall alternative to the RX 6950 is the Nvidia GeForce RTX 4080.
GPUs or graphics processing units were initially built for video rendering. The GPU design enables it to accelerate computer graphics performance.
Game programmers are now using GPUs to enhance visual effects and scenes.
More applications include deep learning, high-performance computing (HPC), and artificial intelligence (AI).
Consider the following criterion when shopping for the best GPU card for gaming: cooling, PCIe requirement, slot width, memory, clock speed, output ports, and price.
The RX 6950 is a premium tier graphics card thanks to its top-notch performance. It boasts an attractive look of silver and dark gray colors. In addition, three alternating fans provide the cooling solution. Further, an attractive backplate protects the sensitive connections and houses the dual BIOS switch. The switch flips the GPU's mode from Silent to OC and vice versa. Regarding speed, the RX 6950 has a base clock of 1,925MHz and a boost clock of 2,324MHz. Its memory speed is 1,800MHz.In addition, its superb performance enables you to enjoy PC games and 4K gaming. It averages 29fps but only manages 13fps without upscaling support. However, the RX 6950 needs to catch up in some critical areas. It lags in Adobe Premiere and Blender's benchmark tests. Therefore, we have compiled a list of these best alternatives to the RX 6950. Take a look at them below:
#1 Best Overall Alternative: Nvidia GeForce RTX 4080
Best Overall
NVIDIA GeForce RTX 4080
16 GB of GDDR6X VRAM
2.51 GHz GPU clock speed
PCI Express 4.0 support
Great for AI work

9,728 NVIDIA CUDA Cores
We earn a commission if you make a purchase, at no additional cost to you.
The Nvidia GeForce RTX 4080 card takes top honors for impressive gaming performance and is our choice for the #1 Best Overall Alternative to the RX 6950. It has a redesigned cooling fan with seven blades and uses the single 12-pin PCIe 5 standard. Also included is a 12VHPWR power adapter. 
It is a giant GPU measuring 304mm long and 137mm wide. A primary concern among users is whether it can fit into their PC cases. Size should not be an impediment, considering that there is always a way around it. For example, an Intel Core i9-13900K CPU has plenty of real estate for the graphics card. You could also invest in a 13th-gen compatible motherboard. Once the space issue is sorted, you will notice that the GPU card comfortably fits in your motherboard slot. Then, three PCI screws help secure it in place.
If you're the power-saving type, the RTX 4080 is among the best alternatives to the RX 6950. The card requires a power supply of at least 750 Watts, which is also ideal for overclocking. Even more impressively, it produces less noise than the RX 6950. Plus, the design looks great, especially if your PC case has a see-through side panel. Further, it boasts a boost clock speed of 2505MHz.
Nvidia has also packed its DLSS technology into the card. Not all games have DLSS, but you can still get numerous options using DLSS1 and DLSS2. However, DLSS 3 only works on the RTX 4080. Hopefully, AMD will catch up with this standard later.
| Pros | Cons |
| --- | --- |
| The GPU is fast. | It is a pricey card. |
| It excels in ray tracing. | The card is too big. |
| The GPU performs excellently at 4K resolution. | |
Check out the Nvidia GeForce RTX 4080 on Amazon.
Best for PC Builds: Nvidia GeForce RTX 3080
PC Builder
We earn a commission if you make a purchase, at no additional cost to you.
The Nvidia GeForce RTX 3080 is our best alternative to the RX 6950 in the Best for PC builds category. It works at a core clock speed of 1.4GHz and a boost clock speed of 1.7GHz. It requires a two-slot width compared to the RX 6950, which is slightly thicker due to its triple fans. Therefore, the RTX 3080 takes less space on your PC case. 
The RTX 3080 has a thermal design power (TDP) of 320 watts, unlike the RX 6950's 335 TDP. That's a 15-watt difference. TDP affects your choice of PSU and also alters the PC build configuration. The RTX 3080 utilizes less power, thus translating to savings on your end.
Regarding its memory component, the Nvidia RTX 3080 has earned its place among the best alternatives to the RX 6950. A GDDR6X module enhances its performance compared to the RX 6950's older GDDR6 memory. Switching focus to bus width and bandwidth, the RTX 3080 wins with a 384-bit bus width and bandwidth capacity of up to 760Gbps.
Having pioneered DLSS and Ray Tracing, Nvidia cards are a generation ahead of AMD. In this regard, Nvidia's GeForce RTX 3080 offers RT and Tensor cores that yield reliable DLSS results.
| Pros | Cons |
| --- | --- |
| It packs a vast array of non-gaming features | This is an expensive GPU card. |
| It runs quietly | |
| The graphics card delivers 60+ FPS | |
Check out the Nvidia GeForce RTX 3080 on Amazon.
Best Aesthetic Appeal: MSI Gaming RX 7900 XTX
Aesthetically Attractive Performance
We earn a commission if you make a purchase, at no additional cost to you.
The MSI Gaming RX 7900 XTX is our top pick for the best aesthetic appeal. Ticks the right boxes in performance, aesthetics, and thermals. In the middle fan are RGB stripes that move diagonally through it, and you can customize them using lighting software. Certainly, MSI has an industry reputation for top-notch graphics cards, and the Gaming Trio Classic is no exception. 
It packs a base clock speed of 1.85GHz alongside a boost clock speed of 2.5GHz. In addition, a 384-bit memory and 24GB GDDR6 VRAM provide power efficiency and improved performance. Its RDNA 3 architecture comprises a chipset design and 2nd-generation Infinity Cache technology. These resources are from AMD and provide efficient rendering and ray tracing.
On its shroud are three fans that provide thermal cooling. The GPU boasts TRI FROZR2, a masterpiece thermal air control system that cools the device and reduces noise. Also, additional built-in fuses safeguard the GPU against electrical damage.
| Pros | Cons |
| --- | --- |
| The graphics card has impressive cooling. | The card's ray tracing is below par. |
| Its performance is exceptional. | It is a high-power consumer. |
| The cooling fans are very quiet. | |
Check out the MSI Gaming RX 7900 XTX on Amazon.
Maximum Graphics Power: Nvidia GeForce RTX 3090 Ti
Maximum Power
We earn a commission if you make a purchase, at no additional cost to you.
The Nvidia GeForce RTX 3090 Ti is the best overall alternative for maximum graphics power. Nothing is as compelling to gamers as maximum graphics power. Yet, that is what this card delivers. Further, creators will find its performance most outstanding, as the 24GB frame buffer provides fast rendering time. 
It is an enormous card with a 384-bit memory bus and a bandwidth of 1,008GB/s. Also, the RTX 3090 boasts a VRAM of 24GB GDDR6X. As far as DLSS, the card is a heavy lifter with 336 Tensor Cores alongside 84 Ray Tracing Cores. Nvidia's DLSS technology does an excellent job of simultaneously keeping high frames and graphical fidelity. As a result, you get crisp visuals.
The clock speed is also impressive at 1,860MHz for the boost clock and 1,560MHz for the base clock. Another notable spec is the 21Gbps memory speed. The fan stays quiet under minimal gaming workloads but releases an electrical whine when the gaming loads increase.
| Pros | Cons |
| --- | --- |
| It has excellent 4K gaming performance. | The card consumes a lot of power. |
| The card is fast. | It is large and may not fit in some PC cases. |
| It is highly suitable for content creators. | |
Check out the Nvidia GeForce RTX 3090 Ti on Amazon.
Best Gaming and Content Creation: Nvidia GeForce RTX 4070
Work and Play
MSI Gaming GeForce RTX 4070
12GB GDDR6X memory
Supports DisplayPort 1.4a and HDMI 2.1
DLSS 3 boosts performance with AI-powered graphics
1920MHz clock speed
192-bit memory interface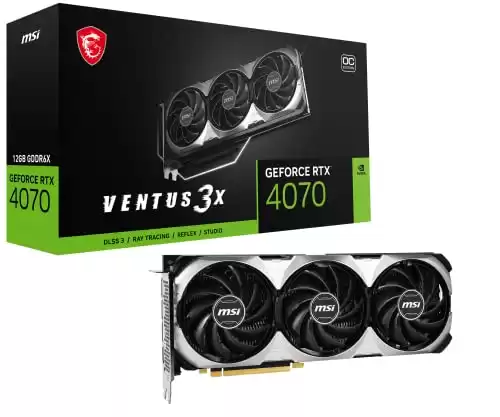 We earn a commission if you make a purchase, at no additional cost to you.
The Nvidia GeForce RTX 4070 is our top alternative for the best gaming and content creation category. The best graphics card goes hand in hand with value for money, and this GPU offers you a sterling performance. Whether you are a pro gamer or content creator, it does exceedingly well in PC games at any resolution. Besides, the card has an optimal size and does not clog your PC case. Whether you're dabbling in video editing, 3D graphics modeling, or similar content creation, this card is up to the task. In fact, its gaming power is phenomenal, thanks to Nvidia's trailblazing DLSS technology.
Other notable features include a 1,920MHz base clock and a 2,475MHz boost clock speed. It boasts a 12GB GDDR6X VRAM and a 192-bit bus size. The RTX 4070's cooling mechanism is via a twin fan, one on the front and the other at the back. On matters to do with power, the card boasts a 16-pin power connector and a 200W TGP.
| Pros | Cons |
| --- | --- |
| The graphics card has superb gaming performance | It is expensive |
| It has a quiet cooler | |
| Its ray tracing is excellent | |
Check out the Nvidia GeForce RTX 4070 on Amazon.
How to Pick the Best Alternatives to the RX 6950: Step by Step
There are four major considerations for buyers seeking the best alternatives to the RX 6950.
Price
Cooling mechanism
Slot width
Clock speed
Let's review each of these criteria in more detail.
Price
MSRP (Manufacturer's Suggested Retail Price) is critical when shopping for a GPU card. The RX 6950 and its best alternatives are available at prices consistent with the MSRP. Other factors, such as demand and news of upcoming releases of next-generation GPUs, affect pricing. Nonetheless, you can check and compare prices from different online vendors.
Cooling Mechanism
Without a cooling mechanism, a GPU card will overheat and melt. Fortunately, most cards have a cooling system comprising one or more fans. Check the cooling structure on every card you buy alongside its reliability under heavy load. The RX 6950 has a triple fan system. A similar cooling fan design is replicated in the RTX 3080 and RTX 7090.
Slot Width
Typically, a PC case has four or five PCIe slots. It is essential to know the slot width of the graphic card you seek so that you can compare it with your PC's compatibility. For example, the RTX 3080 GPU has a 2-slot width, while the RX 6950 has three. That means a GPU such as the RX 6950 will occupy more space.
Clock Speed
GPU cards have two variations for measuring speed — core and boost clock speeds. The core clock measures the graphics card processor's speed. Boost clock speed is the frequency at which the GPU can operate under optimum power. These are usually indicated on the card and abbreviated in GHz. Some GPU brands use the name turbo clock speed.
What to Know Before Buying the Best Alternatives to the RX 6950
A graphic card's memory stores data from the processor and relays it to your monitor. Overall, there are a few considerations while choosing alternatives to the RX 6950. Computer motherboards usually come with compatible PCIe slots. PCIe 4.0 expansion slots are currently the latest for attaching SSDs and GPUs. The RX 6950 and the alternatives mentioned in this review are all PCIe 4 compliant.
Further, ensure that your GPU is the latest generation with a high-capacity memory module. GDDR6X memory is the newest technology and offers fast speed. You should also check the VRAM or memory capacity.
HDMI and DisplayPort are the primary port options for GPUs. You will also find these ports on monitors, TVs, and projectors. Despite the commonality, you should check the graphic card's versatility. Examine the output ports and GPU's version to ascertain if it matches your setup.
Using Alternatives to the RX 6950: What It's Like
Nvidia's GeForce RTX 4080 boasts excellent performance with a unique cooling fan. If you find the RTX 4080 too big, you could choose a much smaller graphics card, like the RTX 3080. However, be prepared to dig deeper into your pocket as the latter is a pricey product. Conversely, the RX 7900 XTX packs an aesthetic appeal not found in other GPUs. It also delivers performance-wise so that you enjoy the best of both. But if you want power, shoot for the heavy-lifting Nvidia GeForce RTX 3090 Ti.
Using the best alternatives to the RX 6950 requires you to align your needs with the GPU's abilities and budget.
The image featured at the top of this post is ©Aleksandr Grechanyuk/Shutterstock.com.