Technology has evolved exponentially, and with it comes an ever-evolving television market; that means LG C1 TV may be popular but may no longer be your best option in future years.
This blog offers several Alternatives to the LG C1. We will examine various models from various brands and discuss their features. This will help you decide which will suit your media setup best. We have you covered no matter your needs, so let's break down your best options today! Take a look at these top-rated products:
Best Overall: Samsung Q90T QLED TV
Best Overall TV
We earn a commission if you make a purchase, at no additional cost to you.
The Samsung Q90T QLED TV is an outstanding home entertainment system and makes a fantastic alternative to the LG C1.
It offers 4K resolution and 120Hz refresh rate for an unforgettable viewing experience. The Q9 features Direct Full Array 16X technology for fine control of lighting zones behind the screen and richness in blacks to whites. Furthermore, its Ultra Viewing Angle feature was specifically created to reduce glare while increasing color vibrancy. It offers you a beautiful picture from any seat in the house.
Experience an immersive cinematic picture with Quantum HDR 16X on the Q9. Powered by deep learning AI technology, its Quantum Processor transforms everything you watch into 4K quality while its Object Tracking Sound feature adapts sound levels accordingly to follow action-packed videos.
The Samsung Q9 offers Alexa built-in, making it easier to access and manage smart home devices like your TV and smart devices. Its modern, aesthetically pleasing design measures 11.2″D x 56.9″ W x 36.2″H, making this TV perfect for any living room setting.
| Pros | Cons |
| --- | --- |
| Excellent picture quality | Large dimensions may not fit in small living spaces |
| Quantum HDR 16X for a strikingly vivid and cinematic picture | The TV only has one HDMI 2.1 port |
| Direct Full Array 16X for fine control of lighting zones | |
| Alexa built-in for easy control of TV and smart home devices | |
Check out the Samsung Q90T QLED TV on Amazon.
Best Picture Quality: Sony X950H 4K Ultra HD TV
Best Picture Quality
Sony X950H 4K Ultra HD
Full Array LED with local dimming

Triluminos display

4K resolution

X-tended Dynamic Range PRO 6x
We earn a commission if you make a purchase, at no additional cost to you.
The Sony X950H 4K Ultra HD TV is an outstanding TV, boasting excellent picture quality, peak brightness in SDR and HDR, full array local dimming functionality, and great motion handling with impressive response time and a fast 120Hz refresh rate.
While running an older version of Android TV, this model still offers an excellent selection of streaming apps with an easy and fast interface ideal for gaming. Low input lag makes for fantastic gameplay, though newer models provide advanced gaming features.
Sony has designed this 64.5-inch television to be visually impressive and feature their best processor, the Picture Processor X1 Ultimate, which analyzes content to improve color, contrast, and clarity. Triluminos Display also delivers advanced color gradation, while Full Array LED local dimming technology delivers brighter highlights, dark scene detail enhancement, and incredible contrast levels.
This TV features Game Mode, which is perfect for gamers. Plus, it comes compatible with Google Assistant to easily control the TV and your smart home devices. In addition, Alexa works seamlessly with this TV, and Apple Airplay 2 and HomeKit are fully supported.
| Pros | Cons |
| --- | --- |
| Offers great picture quality with excellent black levels and color accuracy | The TV's sound quality is mediocre, and external speakers are necessary for an immersive audio experience |
| It has a full array of local dimming that improves its contrast ratio | The TV's design is not particularly eye-catching, and it has a relatively thick bezel that may not appeal to everyone |
| It provides good motion handling for fast-moving content, making it suitable for sports and gaming | The TV is relatively expensive compared to other models in its class |
| It has a wide viewing angle, making it ideal for watching TV in large rooms or from different angles | |
Check out the Sony X950H 4K Ultra HD TV on Amazon.
Best Performance: Hisense H9G Smart TV
Best Performance
We earn a commission if you make a purchase, at no additional cost to you.
Hisense unveils its H9G flagship 4K Smart TV as an affordable high-end option with an impressive performance that rivals more costly options.
You will appreciate its superb HDR experience, wide color gamut, and bright highlights that stand out against dark rooms — not forgetting its great contrast ratio and black uniformity capabilities. Plus, it has excellent reflection handling even in bright environments. However, narrow viewing angles require direct observation for optimal viewing experience.
Hisense's 64.5-inch TV offers gamers an enjoyable gaming experience with Game Mode, significantly decreasing input lag. However, variable refresh rate (VRR) support is nonexistent due to an internal 120Hz panel; there's also no 120Hz signal being displayed. You can access entertainment and apps quickly through Android TV's voice-enabled remote, which also works with Alexa voice control.
| Pros | Cons |
| --- | --- |
| Impressive performance for its price | Narrow viewing angles require sitting directly in front |
| Satisfying HDR experience and wide color gamut | Lacks variable refresh rate (VRR) support |
| Brightness makes highlights pop | Doesn't properly display any 120Hz signal |
| Outstanding contrast ratio and black uniformity | |
Check out the Hisense H9G Smart TV on Amazon.
Best Color Accuracy: LG CX Smart OLED TV
Best Color Accuracy
LG CX 55″ Smart OLED TV (2020)
Screen: 55 inches, 4K resolution
LG's third generation alpha 9 AI processor auto-adjusts your settings to their optimum position
Voice control supported with Siri, Google assistant, and Alexa
Magic Remote combines with WebOS for full voice and gesture/motion control
We earn a commission if you make a purchase, at no additional cost to you.
Looking for an outstanding television that delivers perfect blacks, intense colors, and stunning picture quality? Consider the LG CX Smart OLED TV.
OLED technology utilizes individual pixels that emit their light source for dimmable, infinite contrast dimming. This allows each to emit its distinct hue allowing for dimmable pixels and infinite contrast levels resulting in over one billion vibrant hues on your screen.
The LG CXPUA comes equipped with a webOS platform that makes streaming movies and shows with your preferred apps easy. Additionally, with Magic Remote voice and motion controls, you can operate the TV effortlessly. The a9 Gen 3 AI Processor 4K enhances everything you see and hear, providing clearer, smoother, more dynamic content. Your television will continue evolving thanks to features such as AI Picture Pro, Sound Pro, and AI 4K Upscaling.
| Pros | Cons |
| --- | --- |
| Stunning picture quality with OLED technology | Expensive compared to other 55-inch TVs |
| Easy streaming with webOS platform and Magic Remote | AV Input requires a breakout cable, which is not included |
| Advanced AI Processor for automatic improvements in picture and sound | |
| Motion handling with OLED Motion Pro | |
Check out the LG CX Smart OLED TV on Amazon.
Best Size: Vizio PX65 Quantum X Smart TV
Best Size
We earn a commission if you make a purchase, at no additional cost to you.
Unveiling the Vizio PX65 Quantum X Smart TV, an impressive 64.5″ LED 4K TV featuring an amazing refresh rate of 240Hz.
With Quantum Color technology, this TV provides up to 165% more color than standard 4K televisions. Additionally, it has an ultra-bright 3000 producing vivid, detailed highlights at up to 600 nits brightness levels.
With 384 local dimming zones and Dolby Vision HDR capability displaying a wide color gamut and detail support for HDR10 and HLG content. VIZIO PX65-G1 offers over 8 million pixels with four times higher resolution than 1080p. It's perfect for watching movies and playing games and it's compatible with Apple Airplay and Home Kit for wireless content mirroring/control through Siri or Home App.
| Pros | Cons |
| --- | --- |
| Full-array local dimming enhances contrast and black levels for a more cinematic experience | The TV's overall picture quality may not be as good as higher-end models from more established brands |
| 384 local dimming zones provide deep black levels and stunning depth | The TV's interface and remote control may be clunky and not as user-friendly as other models |
| Dolby Vision HDR capability displays a wider spectrum of colors and detail | |
| Smart TV functionality allows for easy access to streaming services and apps | |
Check out the Vizio PX65 Quantum X Smart TV on Amazon.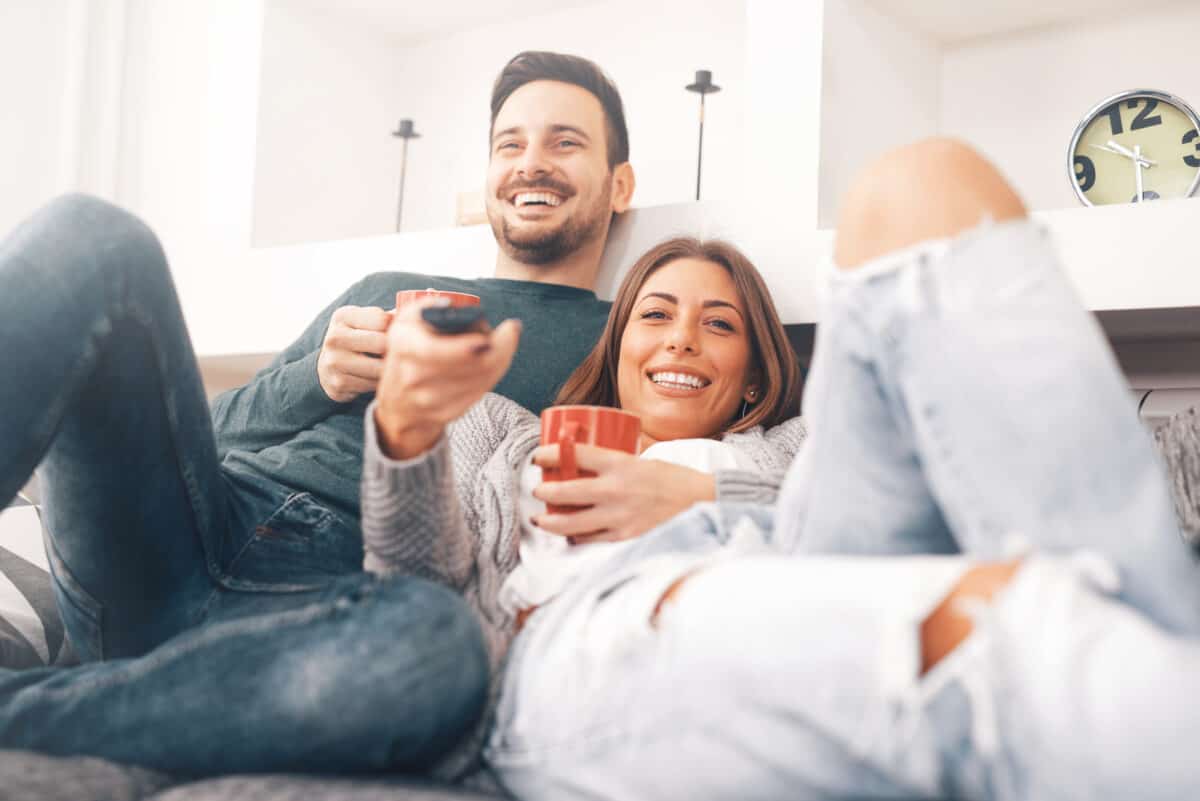 How to Pick the Best Smart TV: Step-by-Step
Smart TVs have quickly become a household necessity, offering more than simply basic viewing entertainment. Thanks to technological innovation, there are now an expansive variety of these televisions on the market; but choosing one can be challenging without proper guidance if you are unfamiliar with tech jargon. The following are tips on how to pick the best smart TV and get the best alternative to the LG C1 TV.
Determine Your Budget
As part of choosing the ideal smart TV, the first step should be establishing your budget. Smart TVs come with different price tags. Knowing your maximum spending limit can help narrow down the options to fit.
A high-end model might offer advanced features and high-resolution display quality at an astronomical cost while budget versions might come equipped with fewer features but are still affordable options.
Choose the Right Screen Size
The next step in selecting a smart TV should be choosing an appropriate screen size. Your selection should depend on factors like viewing distance and room size. In large rooms with long viewing distances, you might prefer larger screen sizes while close-seated users could benefit more from smaller TVs with smaller displays.
Select the Right Display Technology
Smart TVs feature various display technologies such as LED, OLED, and QLED displays that offer various advantages and disadvantages based on individual preferences and needs. Additionally, OLED televisions are known for their superior contrast levels and deep blacks, while QLED televisions have wider color gamut capabilities while LED models tend to be the more cost-effective and widespread solution.
Check the Connectivity Options
Smart TVs feature various connectivity options, including Wi-Fi, Ethernet, HDMI, USB, and Bluetooth. You need to carefully examine these connectivity features on your smart TV in order to connect other devices — gaming consoles, streaming devices, and soundbars in particular — seamlessly. Wi-Fi and Ethernet connections provide for streaming content while HDMI/USB are necessary when linking additional devices together.
Look for Smart Features
Smart features make a smart TV stand out from a regular one, such as voice control, built-in apps, and compatibility with streaming services. Voice control enables voice command control of your television while built-in apps give access to streaming services. Ensure that whatever smart TV you select works with the ones you use most.
Consider the Brand and User Reviews
Choosing a smart TV from top brands like Samsung, LG, Sony or TCL can have an effect on its performance and reliability. Additionally, other users' reviews provide insight into its performance, reliability, and customer service qualities. User feedback gives a good indication of an item's merits or shortcomings before a purchase decision is made.
What to Know Before Buying a Smart TV
Smart TVs have quickly become essential components in many households, providing endless entertainment possibilities on demand. Before investing in one for yourself, however, there are a few aspects you must keep in mind to make sure this investment will pay dividends in years to come. This will also help you pick the best alternatives to the LG C1 TV.
Screen Size and Viewing Distance
Before selecting the ideal TV size and viewing distance, take an inventory of what will suit you best. Bigger doesn't necessarily mean better. Additionally, screen sizes depend heavily on viewing distance.
As a guideline, 1.5 to 2.5 times the diagonal measurement would be the optimal viewing distance. For instance, a 50-inch television's optimal viewing distance should fall somewhere between 75 to 125 inches.
Resolution Matters
Next, pay special attention to resolution as this plays a vital role in image quality. Full HD (1080p) should be your minimum goal when considering the resolution, though 4K (UHD) images offer far greater detail and texture, especially on TV screens of 50 inches or bigger.
For optimal viewing experiences on larger displays, it's advised that 4K be selected since lower resolutions tend to produce grainy images when displayed at smaller resolutions.
HDR and Color Accuracy
High Dynamic Range (HDR) should also be taken into consideration, as it enhances color range and contrast for more lifelike images. Furthermore, consider color accuracy and overall picture quality as these can make an important impactful statement about what type of television experience they provide you with.
Connectivity and Compatibility
Ensure your Smart TV offers ample connectivity options such as HDMI ports, USB ports, and Wi-Fi support, such as enough HDMI ports to accommodate gaming consoles, streaming devices, and soundbars. In addition to being compatible with popular streaming services like Netflix, Hulu, or Amazon Prime Video.
Operating System and User Interface
Smart TVs often come equipped with different operating systems, including Android TV, Tizen (Samsung), or webOS (LG). Research the advantages and disadvantages of each operating system before selecting one with an intuitive, user-friendly interface as well as regular updates that give access to numerous applications.
Additional Features and Considerations
Consider any features that might be important to you such as voice control, built-in virtual assistants like Google Assistant and Amazon Alexa, and screen mirroring capabilities. Also, remember that different television models measure screen sizes differently. Although curved TVs might appear larger, they might not offer any noticeable advantages when it comes to picture quality compared with flat models.
Using a Smart TV: What It's Like
At present, smart TVs have revolutionized how we consume entertainment. At first use, utilizing one can be exhilarating as it blends traditional television features with internet connectivity to provide access to streaming services, apps, and social media platforms on a large screen.
Smart TVs often come equipped with built-in voice assistants like Google Assistant, Amazon Alexa, or Apple's Siri to facilitate user experiences, such as searching for content. Changing channels or adjusting the volume using simple voice commands. This hands-free experience not only enhances convenience but also increases accessibility for those living with physical limitations.
Furthermore, smart TVs enable their users to download an array of applications that extend the functionality of their television screen. Popular examples are YouTube, Spotify, and Twitch, which provide access to extensive content beyond traditional television programming. This enables viewers to personalize their viewing experience according to individual interests and tastes.
Smart TVs also support screen mirroring and casting capabilities, which allow users to easily share content from smartphones, tablets, or laptops directly onto the television screen. This creates a more immersive and engaging viewing experience when sharing photos, videos, or games from these devices.
Using a Smart TV is a satisfying and versatile experience tailored to modern users' evolving entertainment needs. While specific features and performance may differ between brands and models. Overall, using one provides a convenient, customizable, and immersive way of consuming content, becoming an indispensable part of life.
The image featured at the top of this post is ©Kobby Dagan/Shutterstock.com.