Key Points
Our top pick for the Best Overall alternative to HypeX Cloud headphones is the SteelSeries Arctis Nova Pro Wireless.
The SteelSeries Arctis boasts a great design, active noise cancellation, 360-degree audio realism, a fully retractable mic, a wireless base station, and 2 hot swap batteries.
When shopping for headphones, consider comfort, design, sound quality, microphone, battery, connectivity, noise cancellation/Isolation, and budget. For gamers, the primary considerations should be audio and mic quality and comfort.
Premium gaming headsets provide an immersive, comfortable, and enjoyable gaming experience. These top alternatives to the HyperX Cloud headphones feature a remarkable performance, blended with durability, comfort, and audio/mic performance to suit your budget. With modern audio capabilities, these headphones will enhance your watching, music streaming, or gaming experience. 
Consider if the headset you'd like is for gaming or simply watching. Our best pick, the SteelSeries Arctis  Nova Pro Wireless Headphones, packs in different features, from the fully retractable microphone, two swappable batteries, a wireless base station, and active noise cancellation capabilities.
Keep reading for our list of the 5 best alternatives to HyperX Cloud headphones!
#1 Best Overall: SteelSeries Arctis Nova Pro Wireless
Best Overall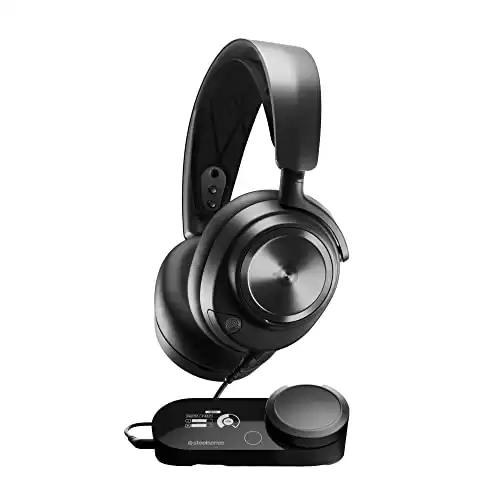 We earn a commission if you make a purchase, at no additional cost to you.
The SteelSeries Arctis Nova Pro Wireless is the best overall headphones in the best alternatives to the HyperX Cloud headphones category.
It has a great design, active noise cancellation, 360-degree audio realism, a fully retractable mic, a wireless base station for audio settings customization, and 2 hot swap batteries.
It's over-ear and incredible for music lovers, gamers, and binge-watchers. On the top of each ear cup are noise-canceling mics to reduce unwanted background noise. However, you can switch to the Sidetone feature that allows you to listen to your own voice. The right ear cup snugs in a removable battery, and you can easily swap it while charging the other at the base station. It also features a fully retractable mic, giving it a sleek look.
The Multi-System Connect features twin USB ports, allowing you to connect to two separate consoles, PCs, or other devices and switch between them without moving cables. Better yet, you can use the 2.4 GHz wireless connection to enjoy a lag-free gaming experience and simultaneously play music, receive calls, or listen to podcasts using the Bluetooth connection.
With the wireless base station, you can customize the settings of your SteelSeries Arctis and achieve the ultimate gaming experience. First, the base station comes with a control wheel to navigate the settings, such as changing the sound profile of your headset. The base station OLED screen also displays the volume levels, battery levels, and other information. The base station also allows you to charge the dead battery, so you'll always have a fresh battery when needed. However, if you don't want to control the base station directly, you can control it through the volume wheel on the left ear cup. Better yet, the SteelSeries Arctis has a 3.5mm to 3.5 mm cable and 2 USB-C cables to allow wired connection to your devices.
| Pros | Cons |
| --- | --- |
| Great sound enhanced by Sonar software to produce 360-degree almighty audio | It's expensive at over $300 on Amazon |
| The pair has a retractable microphone that glows red when in use | |
| It has a four-mic system with active noise cancellation to enhance your audio input's quality | |
| It's compatible with all major platforms, from PC, Nintendo Switch, Xbox, PS5, PS4, and mobile phones | |
| It has a swappable battery that allows you to charge the drained one while you continue watching/gaming | |
Best Battery: NUBWO G06 Wireless Gaming Headset
Best Battery
We earn a commission if you make a purchase, at no additional cost to you.
The NUBWO G06 Wireless Gaming Headset offers the best battery in a pair of over-ear headphones, plus they're a great price of about $49.99.
It is also lightweight at 1.04 pounds (0.47 kg). The cushions are soft and fit well over most ears, with easily accessible buttons and a clear mic.
The NUBWO delivers an immersive, clear, and deep bass thanks to its 50mm drivers. Although it has a unidirectional microphone, it effectively isolates background noise to prevent muffled voice input so that other gamers can hear you well. It has 47 hours of average battery life after only 4 hours of charge with its new version (G06-BT) and 30 hours with the old version (G06). Plus, it will alert you when it has a 3% charge. 
NUBWO G06 also features three connectivity options. It comes with a 3.5mm cable to enable wired connectivity to gaming devices like the PS4, PS5, and mobile devices. Besides, it features a  2.4 GHz USB dongle that enables wireless connection to consoles and PCs, and you can use Bluetooth connectivity as well.
| Pros | Cons |
| --- | --- |
| It has the best battery life of up to 47 hours of usage time and fast charge (only 4 hours to full charge) | It has loud, irritating notifications in Chinese when you power off and on or mute the mic |
| One of the best-sounding headphones with its surround sound feature | |
| Its ear cups are adjustable to fit different ears | |
| It's very comfy with its inner parts lined in soft cushions | |
| It has a great price ($49.99) for a headphone with such advanced features | |
Best Audio Quality and Microphone: Corsair HS80 RGB Gaming Headset
Best Audio Quality and Microphone
We earn a commission if you make a purchase, at no additional cost to you.
The wireless CORSAIR HS80 RGB Gaming Headset has the best audio quality and an omnidirectional microphone that picks up sound from all directions.
It is lightweight, weighing just 0.81 pounds, and comes with breathable memory foam earpads that enable you to play for hours without discomfort.
The CORSAIR HS80 produces immersive audio thanks to its 50mm (25% bigger than most similarly valued headphones) neodymium audio drivers. The headset details every sound clearly and precisely by connecting to SLIPSTREAM WIRELESS. Besides, the Dolby Atmos places audio all around you in a 3D manner so you can live the action happening on your screen, which is also great when watching your favorite movies. It also has a broadcast rating mic that captures your voice clearly, with an optional flip-up to mute option, on-ear volume control, and an LED mute indicator.
Additionally, it has pre-turned audio profiles and an audio equalizer that allows you to increase or decrease frequency ranges to modify or enhance the sound quality. You'll also enjoy a  battery life of up to 20 hours and it's compatible with PS4/ PS5.
| Pros | Cons |
| --- | --- |
| It has memory foam and a floating headband design for ultimate comfort | It doesn't have the best battery life (up to 20 hours) |
| It has an omnidirectional mic that picks up voices from all directions | The mic is omnidirectional and hence tends to pick up noise easily |
| It features Dolby Atmos for an immersive and 3D listening experience | |
| It works best with PC and PS4/PS5 | |
| It's also very lightweight at 0.81 pounds, making it a comfortable option if you game for hours | |
| Its mic features an easy flip-to-mute function | |
Best for Gaming: Razer BlackShark V2 Gaming Headset
Best Headset for Gaming
Razer BlackShark V2 Gaming Headset
12 Hz – 28 kHz Frequency Response
THX 7.1 Surround Sound Capable
Triforce Titanium 50mm High-End Sound Drivers: Outfitted with cutting-edge, 50mm drivers divided into 3 parts for individual tuning of highs, mids, and lows
Oval, cooling gel-infused cushions that prevent overheating and pressure build-up
Detachable Razer Hyperclear Cardioid Mic: Tuned to have a more focused voice pickup area, get the most out of the mic with advanced voice tweaking options via Razer Synapse 3 ​
Audio enhancer DAC connects via USB connector; THX Spatial Audio available on Windows 10 64-bit only
We earn a commission if you make a purchase, at no additional cost to you.
The Razer BlackShark V2 Gaming Headset is the most top-ranked gaming headset, offering all-day comfort thanks to its comfy over-ear oval design.
Its ultra-soft foam breathable ear cushions are infused with a cooling gel to reduce heat and pressure build-up with time.
The 7.1 spatial surround sound output and the Spatial Audio deliver advanced surround sound to your ears to give you pinpoint positional accuracy while you play. Also, the 50mm drivers deliver top-of-the-line realism in clear-cut lows, mids, and highs.
It has a detachable HyperClear Cardioid Mic for advanced voice capture along with enhanced mic clarity and exceptional sound isolation. The headset's advanced Passive Noise Cancellation (PNC) prevents unnecessary interruptions when trying to focus on the game. Additionally, this 1.2 pounds (0.54kg) headphone is compatible with most gaming devices, including PCs, PS5, PS4, Nintendo Switch, Xbox, and mobile phones.
| Pros | Cons |
| --- | --- |
| It is compatible with almost all gaming platforms | The earcups don't swivel |
| It has a 7.1 surround sound that makes the game life-like by ensuring spatial and immersive audio | The mute button is relatively small |
| Its HyperClear Cardioid Mic is designed to pick up more sound | The headphone cable isn't detachable, so it can only be used in wired mode |
| It's also designed for an all-day comfy snug-fit experience with breathable memory foam ear cushions | |
| It has enhanced passive noise cancellation | |
Best Budget-Friendly: LORELEI X6 Over-Ear Headphones
Best Budget-Friendly
We earn a commission if you make a purchase, at no additional cost to you.
The LORELEI X6 Over-Ear Headphones are the best budget headphones going at a price of $20. 
The LORELEI X6 is designed with compact earcups and an adjustable slider that help you achieve a comfortable fit. Besides, their lightweight (weighs 0.55 pounds) and foldable design make them easily portable whether heading to the gym or for an evening run. Also, they come in multiple color combinations, including purple-black, silver, black-gold, black-red, dark blue, Pearl Pink, Space Black, and Vitality Orange. Not to forget the pearlescent coating effect that gives them more texture.
The 40mm drivers and compact earcups help produce impeccably clear audio quality, which delivers dynamic range, crisp mids, and deep bass. It comes with an in-line mic for making calls and skipping tracks. Besides, they are also suitable for noise isolation. The headphones have a premium 1.5m tangle-free cord and a 3.5 mm jack compatible with several devices, including your PC, phone, MP3, and MP4 players. 
| Pros | Cons  |
| --- | --- |
| These are the most affordable from our list at only $20 | Its earcups don't swivel so they may be uncomfortable to wear for extended periods |
| They are lightweight, so you can wear them for longer  | It doesn't support wireless use |
| They are foldable and easily portable | |
| They have a powerful and balanced sound | |
| The 1.5m cord doesn't tangle | |
How to Pick the Best Alternative to the HyperX Cloud Headphones: Step-by-Step
If you're an enthusiastic gamer, you should know the importance of good headphones in enhancing your gaming experience. Before settling on a pair of headsets, consider all these factors to help you determine the best HyperX Cloud alternative.
Comfort and design
Sound quality
Microphone 
Battery
Connectivity 
Noise cancellation/isolation
Budget
Extra features
Let's look at these criteria in detail.
Comfort and Design
Comfort depends on the material that comes into contact with the ears. Ideally, it should be a breathable foam layer. Also, the ideal headphones should have adjustable sliders and a balanced grasp tension. If the grasp is too tight, it will easily irritate; if it's too loose, the headphones will not hold for long. 
Sound Quality
Sound quality is top-notch and one of the essential features for enjoying an immersive sound experience that draws you into the virtual world. For instance, a 7.1 surround sound in a gaming headset helps you determine more accurately the source of any in-game sounds.
Additionally, you should consider bass and treble balance as you don't want muffled sounds or one feature overpowering the other. Premium headphones have settings to help you balance the sound to your preference.
Microphone  
If you spend most of your time in games or conference calls, use a headset with good microphone quality and ANC, such as the SteelSeries Arctis Nova Pro. The external boom microphones are typically the best for headphones.
Battery
Battery life is crucial if you love exercising or traveling with headphones, or tend to play long gaming sessions. This way, you can use them without worrying about recharging constantly. Consider headphones with swappable batteries, such as the SteelSeries Arctis Nova Pro Wireless.
Connectivity
Here, it all narrows down to your preference. You may opt for the wireless design due to the freedom of movement they offer. Although wired headphones do not quite outperform wireless headsets, wireless is preferred because they are more convenient. If you're undecided, it would be best to go for one that supports wired and wireless connectivity, such as the NUBWO G06 Wireless Gaming Headset.
Noise Cancellation/Isolation
While Active Noise Cancellation(ANC) and isolation (Passive Noise Cancellation) seem similar, they have different applications. Isolation means noise is blocked out from your headphones, while cancellation uses technology to cancel out noise altogether. However, there are issues with noise cancellation, where it leaves a hissing sound if no audio is playing, so isolation may be a better option.
Budget
For $50 or lower, you could find headsets like the LORELEI X6 Over-Ear Headphones. For $200 and more, headphones tend to have more advanced features such as surround sound, Dolby Atmos, ANC, and a retractable microphone.
Extra Features
If you are all about convenience with your headphones, you can always go for high-end headphones with advanced features. These features include built-in voice assistants, apps, retractable microphones, water and sweat resistance, active noise cancellation (ANC), and Dolby Atmos.
What to Know Before Buying Headsets
It's important to check the driver diameter, usually indicated in millimeters (mm), because it typically determines the sound quality of your headphones. The smaller the diameter, the poorer the audio quality. The strength of a magnet in the headphone's circuit also helps determine sound quality. Basically, stronger magnets help produce better sound.
A higher Active Noise Cancellation (ANC) rating, usually in dB, indicates a higher noise reduction rate. The dB rating indicates the amount of noise the headphone can reduce. The audio quality of each type of headset suits different tastes and preferences. However, if sound quality is your primary preference, you might have to consider expensive headsets.
Using the Best Alternatives to the HyperX Cloud Headphones: What It's Like
Unlike the HyperX Cloud headphones, the headsets we've reviewed are wireless or a combination of wired and wireless features. They are more convenient, easily portable, and have a longer battery life. More importantly, they offer great sound quality making sound crisp and clear. These headsets provide a better, more precise, clear-cut surround sound that promotes faster reactions than competitors.
Any edge in a game could mean the difference between winning and losing. Whether you're looking for comfort, sound quality, or a good mic, these headphones offer great features for various needs.