Shopping for a TV is always an opportunity to look at the newest features, different smart operating systems, and of course, sizes. Between all of the many different television manufacturers, there are many sizes available across dozens of TV models, which means choosing the right TV for you can be a tough one.
That's why looking at a 60-inch TV model has become popular as it's a sweet spot of size, features, price, and operating system. Let's take a look at some of the best 60-inch TVs you can buy today.
Featuring Samsung's staple quantum dot technology, the Samsung QLED Q60A is a premium television available in a 60-inch size that really stands out.
For its price, you receive a QLED screen that can produce 100% color volume from the DCI-P3 space which means the Q60A mirrors most movie screens and offers HDR quality for TV shows. Dual LED backlights optimize colors on the screen providing outstanding contrast within the television's super slim bezels.
Thanks to Samsung's Quantum Processor 4K Lite, maneuvering around the television is a smooth experience with no stutters as you navigate the Tizen interface. The processor also ensures that 4K looks great and is enhanced along with its related audio which looks and sounds like it comes from a television that should cost twice the price.
Gaming fans will appreciate the processing but also the "Super Ultrawide GameView" which can expand into both 21:9 and 32:9 ratios for enhanced viewing plus three HDMI 2.1 ports for next-gen gaming. Boosting both gaming and other programming are the object-tracking sound-like speakers which deliver a virtual 3D surround sound without the need for third-party speakers. Last but not least is the triple bonus of three different voice assistant services with Alex, Samsung Bixby, and Google Assistant.
Pick up the Samsung QLED Q60A from Amazon right here.
It's not often that you would have two televisions that are so similar in quality that they can easily be interchanged as "best overall," but that's exactly the case here. If for any reason the Samsung Galaxy QLED 60B is out of stock, the Samsung QLED Q60B is a fantastic runner-up at nearly the same price point thanks to its excellent gaming features.
The Q60B stands out thanks to its quantum processor lite with 4K upscaling which ensures that any content in 1080p or lower is upscaled for a better overall picture. Dual LED technology adds lifelike colors to all of your programs, and with Quantum HDR, contrast is excellent for the price and makes both movies and TV shows a joy to watch. With Q-Symphony, adding a Samsung or compatible soundbar pairs perfectly with the audio from the television and creates a room-filling sound without the need for additional speakers.
Motion Xcelerator technology helps minimize any type of motion blur that could be incurred from watching a fast-moving sporting event or during video game sessions. Finally, the primary differentiator between the Q60A and Q60B is that the latter includes Xbox GamePass which is built-in into the television's gaming hub and includes three months of GamePass free with purchase.
Grab the Samsung QLED Q60B from Amazon available right here.
While this one isn't quite 60 inches, at 58 inches, the Hisense ULED U6 is a strong option for anyone looking specifically at a 60-inch television without any compromises.
The sub $600 price tag also helps make a strong case for the U6 to belong in any home. Add to that the use of Amazon's Fire TV interface and this is not only a smart TV but a budget-friendly one.
For the price, you receive a ULED 4K screen that makes use of a Quantum Dot wide color gamut (try saying that three times fast!) and provides very accurate colors. Combined with HDR, HDR10, and HDR10+, you'll find image quality that looks to mirror content as if you were in a movie theater. Up to 600 nits of brightness make the screen great in both darkly lit and well-lit environments.
Of course, the highlight of the U6 is the inclusion of Fire TV with its Alex voice assistance that helps manage volume, TV power, navigation, playback and even finding different programs to watch. Just say "find action movies" and Alex will bring up a host of recommended action titles you can stream immediately. Gamers will make use of ALLM (automatic low latency mode) which provides very smooth gameplay without any stuttering.
The Hisense ULED U6 is available on Amazon here.
Another excellent choice for a 60-inch television with a budget price, the Samsung UN60TU7000FXZA (or U7000 for short) is a lower-end model compared to both the Q60A/Q60B but it's not without merit.
As a 2020 TV, it doesn't offer the absolute latest features, but it does offer Crystal UHD display technology which, while not QLED, still provides excellent 4K viewing. The colors are vivid and look appropriately lifelike which speaks highly of the two-year-old technology.
Boosting the overall viewing quality is the Crystal Processor 4K which helps enhance the content you are currently watching and upscale it up to 4K quality when possible. The TV runs on Samsung's Tizen OS which has access to all of the most popular streaming services like Disney+, HBO Max, Netflix, YouTube, and more. The included OneRemote is not voice-enabled with Samsung Bixby but the TV does include voice assistant support for both Amazon Alexa and Google Assistant if you have a compatible third-party device like Alexa Dot.
The "universal guide" adds to the U7000's feature set but provides a separate personalized list of curated content from both local cable and streaming services based on your previous and current viewing habits.
Pick up the Samsung UN60TU7000FXZA from Amazon here.
Vizio's second 58-inch TV isn't quite 60 inches but it's close enough and a solid TV that is well worth mentioning. The Vizio M-Series, or M58Q7-J01, is a 2022 model that's available in a multitude of sizes including the 58-inch size.
With QLED HDR screen quality, the Vizio focuses on providing outstanding 4K quality thanks to Dolby Vision "Bright Mode," which increases overall color accuracy for a more lifelike picture. The same goes for stronger color saturation, deeper blacks, and increased brightness that help it stand out from the host of other options in this size category.
Where the Vizio really stands out is with its excellent streaming functionality including Bluetooth pairing for headphones so you can listen quietly while everyone else is sleeping. Chromecast is built right in so you can use any phone, tablet, or computer and stream right to your television any pictures or movies on your devices for use on the big screen. The same goes with Apple's AirPlay 2 which streams directly from any iPad, Mac, or iPhone.
On top of that, gamers will appreciate a dedicated gaming menu, AMD FreeSync, and an automatic game mode that tweaks the TV settings to reduce motion blur.
Grab the Vizio M-Series directly from Amazon here.
How to Pick the Best 60-Inch TV: A Step-by-Step Guide
When you are looking at the best 60-inch television to buy, there are a few important considerations you need to evaluate before making your purchase.
Screen Size
Display
Smart Features
Gaming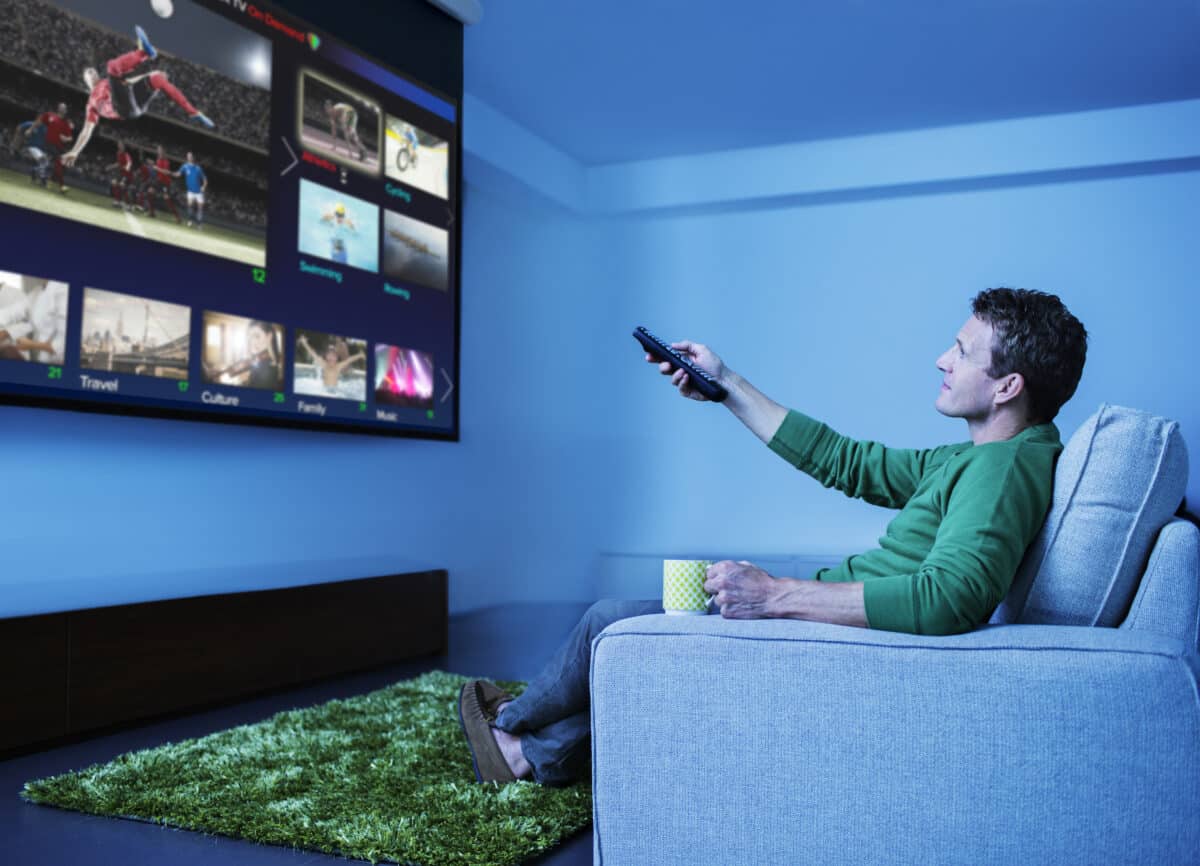 Screen Size
Before you purchase any television, selecting the right screen size for your room is a very important consideration. While 60-inch TVs often strike the right balance between not too large and not too small, you have to make sure it's the right size for whichever room you are planning to place the TV in. This is true whether you plan to mount the TV on a wall or leave it in or on an entertainment center.
Display
Between the five different television models on this list, there is a multitude of different display technologies including QLED, ULED, and Crystal UHD technology. While OLED is the standout among display technology these days, all of the above are still able to hold their own and provide excellent color reproduction, contrast, and brightness. That's not to say they are all equal as OLED tends to stand out a little above the rest due to deeper blacks and more lifelike colors, but you will pay a few hundred dollars more for these features.
Smart Features
While every TV you could purchase from this list has smart features, they are not all created equal. Samsung's Tizen software offers a deep selection of apps and proprietary technology but it's still not quite as good as the Fire TV interface. While Fire TV leans heavily into Amazon's Prime Video as the focal point of any software, it does a really strong job of showcasing the rest of the popular streaming services with personalized recommendations, showing new releases, and more. Vizio's inclusion of things like Chromecast built-in plus a smart interface for downloading stream apps helps it stand out even if it's not as user-friendly.
Gaming
None of the TVs on this list are going to make a list of the best gaming TVs but that doesn't mean they are not offering strong gaming features. Samsung's Q60B is undoubtedly the strongest on this list, thanks to the available features of its Gaming Hub which includes built-in support for Xbox's GamePass. ALLM is also included on the Q60B which only adds to its gaming prowess though it lacks HDMI 2.1 for true next-generation console support.
Using the Best 60-Inch TVs: What It's Like
As is the case with any TV, using a 60-inch TV is no different than using a 55 or a 75-inch. You're still judging it on the same number of factors like the display, smart features, or the remote. As 60-inch is not a hugely popular size, many TV manufacturers like LG and TCL skip this size completely and put their best features into their 65-inch models. Given that, there is some disappointment in not having true OLED screens, big gaming features like VRR (variable refresh rate), or other features like LG's Magic Remote.
Lack of features aside, using a 60-inch TV is perfectly good and the price point is often sandwiched nicely in manufacturer lineups. You'll still get great screens, good color saturation, and strong enough brightness for both light and dark rooms. What you don't get is the most outstanding sound as more expensive models in Samsung or Sony's lineup can feature built-in speakers behind the screen or just more wattage in general. What you do get is a great TV that can last many years into the future at a size that's just right for many rooms.