Let's be honest. Kentucky isn't the first state to come to mind when you think "EV-friendly." But, you may be surprised to know that Bluegrass State is trying to clean up its act and be a better place for electric vehicle owners. While the most popular EVs in Kentucky and ownership still pale in comparison to the ownership of gas-powered cars, the tides are slowly changing. Let's look at the most popular EVs in the state, and their growth!
Total Electric Vehicles Sold in Kentucky
Unfortunately, Kentucky does not keep track of the types of EVs it sells in the state. However, it is known that around 4,220 electric vehicles were registered in the state in 2021. While not great, it's not terrible, and the state is doing more to take care of EV owners.
As an example, there are more than 500 public charging stations in the state, and that number is growing every year. So who knows, maybe we will see EVs become more popular in Kentucky soon!
The 4 Most Popular EVs in Kentucky
While we don't have specific numbers or percentages, Kentucky news stations have showcased some of the more popular choices amongst EV owners. Let's discuss them.
Toyota Prius
Technically, the Prius is a PHEV (hybrid) and not an EV, but we're listing it for good reason. An affordable starter car, it's perfect for those looking to dip their toes into EV ownership. This car does not rely on just charging, you can drive it anywhere in Kentucky without running out of juice, especially in those cities with no public chargers!
The 2.0-liter four-cylinder engine and an electric motor in the front-wheel-drive variants provide a combined 194 horsepower, while the engine and two electric motors in the all-wheel-drive versions generate a combined 196 horsepower.
The 2023 Prius gains better fuel economy. Toyota claims that the base LE trim achieves 57 mpg in the city and 56 mpg on the highway, while EPA ratings aren't yet available. With a lithium-ion battery pack, the Prius has a longer electric driving range (going from 25 miles to 44 miles) on a single charge. This makes it great for driving to and from work or school.
The best part about the Prius? It uses gas, too, helping you travel farther. While not a full EV, it's a great way to get the best of both worlds.
Nissan Leaf
If you want an EV and not a hybrid, consider the Nissan Leaf, a fantastic budget option. The Leaf S and the Leaf SV are the two options available, with the S starting at around $28,000. The S is the entry-level trim level, and it has a 147-hp electric engine, a 40-kWh battery, and a range of 149 miles. The top trim level, the Leaf SV Plus, has a 214 hp electric motor and a 60 kWh battery.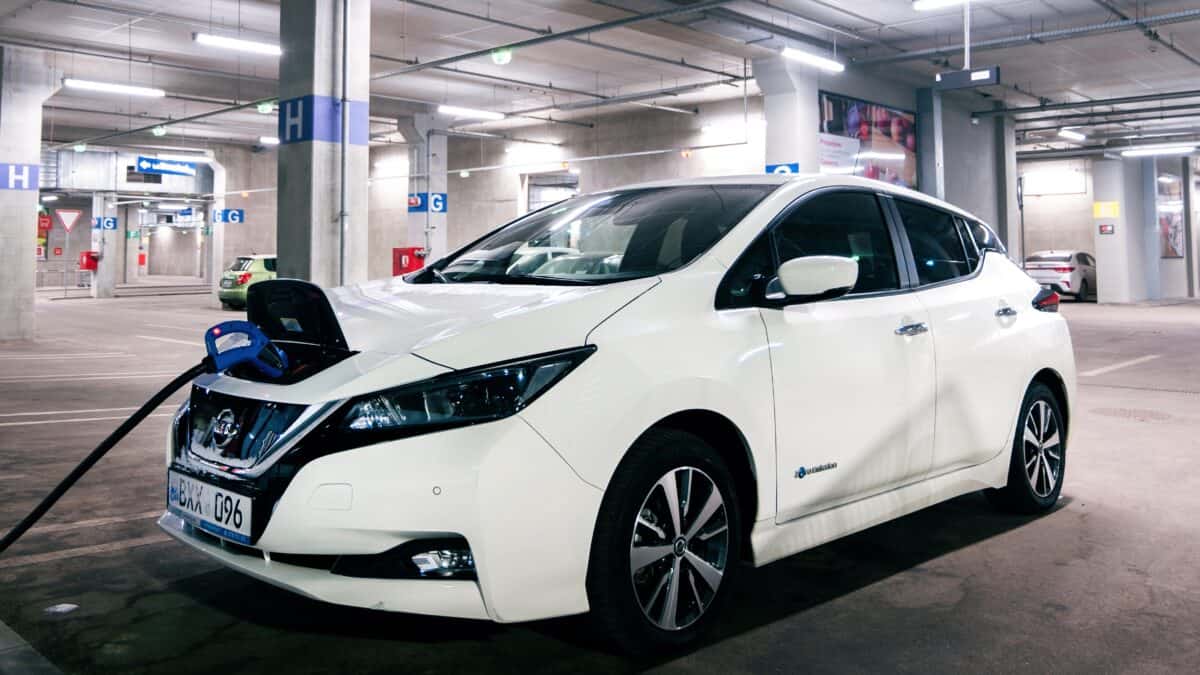 Leaf's touchscreen interface is appealing and supports smartphone connectivity with Apple CarPlay and Android Auto. ProPilot Assist is worth adding on as an SV Plus trim-level upgrade. A driver assistance system with an upgraded adaptive cruise control system and lane-keeping assist capability makes driving on freeways easier.
Nissan provides their typical 60,000-mile limited warranty, which is valid for the same period of time as the rest of the Nissan lineup. The Leaf's battery, though, is guaranteed for eight years or 100,000 miles.
One disadvantage of owning a Leaf is its modest driving range. The Nissan high-speed charge port design is also incompatible with a lot of public charging stations. As a result, your Leaf will need frequent charging, which can be a hassle if you can't find a public charging station. As a result, we only recommend it for urban dwellers.
Ford F-150 Lightning
The Ford F-150 Lightning is a great option if you're more of a truck person. Additionally, you might be able to obtain a special discount because Ford is in talks to build an electric vehicle manufacturing facility in Kentucky!
This all-electric version of America's longtime favorite truck, with prices starting at roughly $59,000 for the base model, is capable of nearly everything its gas-powered rivals are. It can go from 0 to 60 mph in 4.5 seconds, tow 10,000 pounds, and the 98-kilowatt hour (kWh) can go more than 300 miles on a single charge.
Charging is easy as pie. A level 2 charger increases charge from 15% to 100% in less than 8 hours. If you're able to get your hands on a level 3 charger, it takes even less time, around 1 hour.
The "BlueCruise," Ford's electric system, includes lane-keep assist, adaptive cruise control, automated emergency braking, blind spot monitoring, and more.
Tesla Model 3
Looking for a bit more luxury without such a high price tag? Give the Tesla Model 3 a try. While it does offer many of the same features as the Model S and Model Y, it's significantly cheaper. The base model of the 2023 Model 3 with rear-wheel drive costs around $47,000. The all-wheel-drive Performance trim costs $62,000.
A 58-kWh battery powers the base Model 3 Rear-Wheel Drive and can recharge up to 170 kW. A dual-motor type offers an 82-kWh battery that can store up to 250 kW. Either way, you're looking at being able to drive for at least 300 miles on a single charge, the best on this list!
Charging is also quite simple. A 120-volt or 240-volt outlet or an optional Tesla Wall Connector home charging station are options for charging your Model 3 at home. Alternatively, you can use the J1772 adaptor to charge your Model 3 at a DC fast charging station or one of the approximately 7,000 Tesla Supercharger outlets spread across the country. Using a Supercharger can mean charging your Tesla in as little as 45 minutes!
The Most Popular EVs in Kentucky Wrap Up
While Kentucky isn't well known for its EVs and charging stations, that doesn't mean electric vehicles are impossible to get in the state! In fact, popularity is growing rapidly, and we expect to see many more registrations in the next few years.
Breaking EV News
June 8, 2023 — Soon, Ford and General Motors (GM) EV owners in Kentucky and throughout North America will be able to use 12,000 of Tesla's Superchargers. Starting in 2024, owners of these EVs will be able to charge using an adaptor. And starting in 2025, both companies will feature Tesla's North American Charging Standard connector on their EVs.
This move will make recharging Ford and GM EVs in Kentucky and the rest of the U.S. more convenient. And, according to GM's CEO Mary Barra, this collaboration "…could help move the industry toward a single North American charging standard."
The image featured at the top of this post is ©OlliverQueen/Shutterstock.com.