The NVIDIA GeForce GTX 1660 is a middle-tier Turing-based desktop GPU that delivers great performance for your favorite games at 1080p. GTX 1660 helps game lovers enjoy their games at smooth frame rates and rich levels of detailed graphics.
Realize that there are games with more powerful requirements than the GTX 1660, but the GPU can run games with up to DirectX 12 requirements. Some of the GPU's features include a boost clock of about 1.8 GHz, 6GB GDDR5 VRAM, and 1,408 CUDA Cores.
The GTX 1660 was created with similar Turing architecture technology to the GTX 1660 Ti. It is an excellent companion for the latest games and games to come. The GPU supports adaptive shading technology that improves performance for games with supported titles.
The GTX 1660 also has game-enhancing techs such as Freestyle, Ansel, GeForce Experience, Gamestream, ShadowPlay, and Highlights. You can get the GeForce GTX 1660 for your system from leading add-in card providers, including Asus, Gainward, Galaxy, Colorful, EVGA, MSI, and Zotac. GTX prices start at $219. These may vary depending on partner designs, region, and features.
Many users hail the GTX 1660 GPU for its excellent performance. Some users find faults in the GPU. Let's break down some of these issues below.
Quiet but High Performance
EVGA GeForce GTX 1660 Ti XC Ultra Gaming
Real Boost Clock: 1860 MHz
6GB GDDR6
Dual HDB fan offers higher performance cooling and much quieter acoustic noise
Built for EVGA Precision x1, EVGA all new tuning utility monitors your graphics card and gives you the power to overclock like a Pro
Operating System Support Windows 10 (64bit), Windows 7 (64bit)
We earn a commission if you make a purchase, at no additional cost to you.
Incompatibility Issues
Hardware and software compatibility ensures your computer or game console performs efficiently. Users have notably encountered compatibility issues while using the GTX 1660, especially with the GPU's updates.
In reference to the Steam community, a user complained of being unable to stop the video's slow FPS or lag. Even after changing the in-game settings and opting for a lower resolution, the problem still persisted.
Surprisingly, users still reported compatibility issues even if your machine ticks all the boxes of hardware requirements. You might also notice that the setup box could be missing at the onset of your game. Probably, the settings override in the game.
The NVIDIA GTX 1660 Ti tends to display an error code 43. This incompatibility issue might happen if your laptop suffers a fall, but it should clear out when you run a fresh NVIDIA driver installation. If the driver installation doesn't clear the error, consider an in-place upgrade to the latest version to repair all possible issues without deleting files.
Repeated Crashing
Several users posted the crashing issue on the NVIDIA forum. Users noted that despite everything looking OK, from the brand new system, new RAM, new motherboard, new processors, and all drivers and windows updated, games still crashed a few minutes into playing.
In the Steam community, another user reported a crashing issue immediately after they switched from the NVIDIA GTX 970 to the NVIDIA GTX 1660 super. Despite conducting all driver updates as required by NVIDIA, games would still crash minutes into the action.
Some people are unsure if the crashing program has anything to do with drivers or power issues. Sometimes it could be a simple downclocking of games that slows down the loading process. To reboot the system crashing, quickly go to the NVIDIA control panel, select specific games, and ensure none use optimal power.
According to Driver Easy, GTX 1660 drivers keep crashing due to corrupt or incompatible drivers on your machine. In this case, try and fix the problem by uninstalling the driver, then allow Windows to automatically install new drivers to see if the problem will resolve.
Other reasons that could lead to your GPU crashing include overheating, outdated DirectX, faulty power supply, or incompatible in-game settings. GTX 1660 crashing manifests as a blue screen, black screen, flickering textures, or the screen turning off.
Video Playback Errors
Users have also reported video playback errors with the GTX 1660, especially when scrolling through YouTube videos. Despite all Windows 10 Pro system updates, users experience stutters when scrolling between comments or just reading through comments.
Other users complained of the same problem combined with video tearing when using VLC and Windows Media players. They realized that the videos continuously freeze after a few seconds, but the situation tends to go away when you downgrade drivers to 2020, meaning it is a problem with the latest drivers.
Notably, most video playback errors happen when there are unsupported device drivers or codec parks. Your video may also be corrupted by an abrupt interruption during downloads, transfers, or processing of videos and insufficient configuration for HD videos.
Not Created with Future Games in Mind
The GTX 1660 has a smaller VRAM than most GPUs. Its GDDR5 RAM is only 6GB, so it struggles to run modern games and applications that need higher VRAM capacity. The GPU also struggles with high-resolution textures, advanced graphics, and complex scenes.
The GTX 1660 was released in 2019. Five years later, the GPU still lacks the latest technology to keep up with the ever-growing gaming sector. Such aspects make it fall back against its competitors, and more game lovers are now opting for powerful GPUs with promising value.
Best Alternatives to the GTX 1660
As the gaming industry evolves, most game lovers will be pushed for GPUs that promise better performance. While the GTX 1660 remains a popular GPU and an excellent gaming companion, it might not be here long, especially since it cannot keep up with the latest games.
Let's look at some of the alternatives.
NVIDIA GeForce RTX 3070
Great for High Graphics Requirements
NVIDIA RTX 3070
Enhanced Tensor and RT cores
8GB GDDR6 memory

256-bit interface

1695MHz boost clock speed
Features a

ntialiasing and anisotropic filtering
We earn a commission if you make a purchase, at no additional cost to you.
The NVIDIA GeForce RTX 3070 is an excellent GPU with outstanding performance that matches its price. It offers a 4-year warranty, though it's not available to all users. Its GPU clock speed is 1,695 MHz to help you meet the demanding needs of heavy games.
Other outstanding features include enhanced RT Cores and Tensor Cores, high-speed G6 speed, and new streaming multiprocessors to empower you with all you need to accommodate demanding games. However, the GPU might not be compatible with all systems, so be sure to check your device's system before ordering the GeForce RTX 3070.
NVIDIA GeForce RTX 2070 Super
Known to Be Great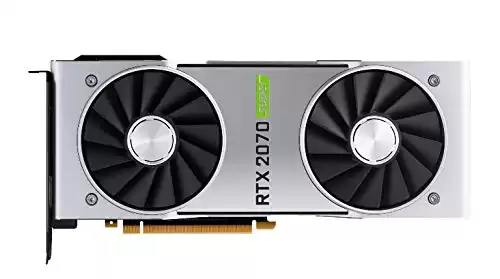 We earn a commission if you make a purchase, at no additional cost to you.
The NVIDIA GeForce RTX 2070 Super is an excellent choice for high-end gaming. The RTX 2070 Super offers exemplary performance affordably with fast speeds, and you'll love it for its efficient cooling system and compact design.
The NVIDIA GeForce RTX 2070 Super supports several GPUs, including the Radeon RX 5700/XT, RX 5600/XT, and GeForce RTX 2080/ 2080Super/ 2080 Ti, just to name but a few. While users hail the NVIDIA GeForce RTX 2070 Super for its excellent performance, some still fault it as it is challenging to find and may require an additional power supply.
AMD Radeon RX 580
Top Performance
AISURIX Radeon RX 580 Graphic Cards GPU
Based on the Polaris 20 graphics processor
Supports DirectX 12
Equipped with 2048SP and 8GB GDDR5 memory with a 1750 MHz (8 GB)
3 monitor support output included 2X DisplayPort 1.4a. +1X HDMI 2.0b
Supports up to 8K display
Semi-automatic intelligent fans system, which can automatically sense the GPU temperature.
Draws power from 1x 8-pin power connector, with power draw rated at 185 W maximum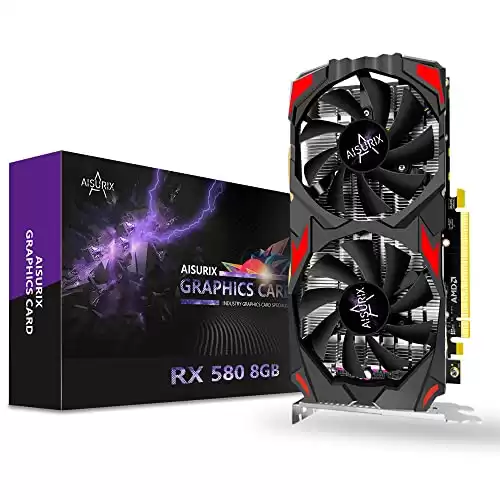 We earn a commission if you make a purchase, at no additional cost to you.
Last on our list of GTX 1660 alternatives worth trying is the AMD Radeon RX 580. The RX 580 offers excellent performance for 1080p, just like the GTX 1660. It is a better choice as it can handle VR workloads and run all games in the market.
AMD Radeon is all worth it, thanks to its unique features. It has a GPU Clock speed of 1,266 MHz, a memory speed of 2,000 MHz, and a bandwidth of 256.0 GB/s. It supports DirectX 12.0 and generally gives you value for your money.
While there are more good things to say about the AMD Radeon RX 580, it's essential to note some of its downsides. It might not be a perfect fit for high-resolution demanding games and is susceptible to frequent driver timeouts, black screens, and game freezes.
Is the GTX 1660 Worth It in 2023?
Despite all the above setbacks, the NVIDIA GeForce GTX 1660 is a powerful GPU that can accelerate your PC gaming experience. While there could be other options in the market, GTX 1660 is still excellent for 1080p gaming in 2023.
The image featured at the top of this post is ©Zoomik/Shutterstock.com.