Funko Pops are a great way for newbie collectors to get their favorite characters from shows, movies, and more. But what are the best anime Funko Pops worth collecting for anime lovers? We have the perfect first options!
Tips for New Collectors
There are two main ways to collect anime Funko Pops. You might order your favorite series, or you could collect exclusive anime Funko Pop from a series range.
Anime Funko Pop is one of the most diverse lines accessible. This is why you should limit your initial collecting possibilities. But remember, they come in more than just the standard 3.75-inch like other Funko Pops do.
So, do your research if you plan on buying an anime Funko Pop that costs more than $20 and is claimed to be a "collectors" item.
12 Best Anime Funko Pops
Okay, it's time to dive into the best anime Funko Pops on the market and how you can grab them!
Pikachu Funko Pop
Pika Pika!
We earn a commission if you make a purchase, at no additional cost to you.
Almost everyone, even those that don't watch anime, knows Pikachu and Pokemon. So, what better way to start an anime Funko Pop collection than with a Pikachu Funko Pop?
Originally released in 2018 as a Target exclusive, this option is rare but still available online. However, you can expect to pay a premium! If you want a different type of Pikachu, there are other options. But this is the original and showcases Pikachu in all of its beautiful glory.
Sailor Moon with Luna Funko Pop
Perfect for Sailor Moon Fans!
We earn a commission if you make a purchase, at no additional cost to you.
Many little girls (and women and men too!) love Sailor Moon over other anime series because it has a lovely plot. That includes us! So, of course, we had to include the main character as a Funko Pop to collect.
This special set including her cat is stunning. Plus, Sailor Moon appears colorfully, as she does in the series, and her hair and attire are adorable. The cat is a separate vinyl figure. So, you'll receive two figures in one packaging, allowing you to develop your collection faster.
Gamakichi and Naruto Funko Pop
Calling All Naruto Lovers!
We earn a commission if you make a purchase, at no additional cost to you.
Many people enjoy Naruto Shippuden because it is a classic anime about martial arts and ninjas. The show is a classic, but this Funko Pop is unique and excellent for collectors!
The Naruto Funko Pop is a Ride edition that includes Gamakichi as Naruto's ride, and the details on both figures are amazing. Naruto and Gamakichi are together as one figure, and their facial expressions indicate that they are prepared for anything.
Tanjiro vs. Rui Funko Pop
Iconic Battle Scene
We earn a commission if you make a purchase, at no additional cost to you.
Demon Slayer is a highly rated show amongst many anime fans. While Tanjiro has his own set of anime Funko Pop vinyl figures, this Rui and Tanjiro square-off is a great limited edition option.
The Demon Slayer Funko Pop depicts Tanjiro battling the demon, Rui, and the effects are impressive for a vinyl figure. The anime figures appear to be fighting because both characters have scars and blood on their faces, and the conflict appears to be coming to a conclusion. This is a great first-time Funko Pop for Demon Slayer fans.
Death Note Ryuk
The Power of Shinigami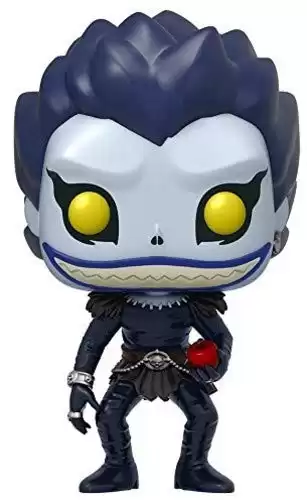 We earn a commission if you make a purchase, at no additional cost to you.
When Light Yagami, a young genius, discovers a mysterious notebook, his life is permanently altered. This Death Note is no ordinary journal; it gives the owner the power to kill anyone whose name is written on its pages. He intends to purify the planet of all morally worthless people and make it into a Utopian paradise by channeling the might of the Shinigami Ryuk.
This wonderfully sculpted Ryuk figure embodies the evil anger and homicidal glee of a Shinigami, spirits or gods who are frequently associated with driving someone to death. From the barbed quills on his shoulders to the apple he holds outstretched in his palm, no detail has been overlooked.
While there are other Death Note Funko Pops, we think this one is the best to start your collection with. But keep in mind that it's also one of the more expensive options.
Tony Tony Chopper Flocked
Did Someone Say Adorable?
We earn a commission if you make a purchase, at no additional cost to you.
Yes, we understand that there are better "pirates" in One Piece, including Captain Monkey D. Luffy. But, how cute are they when compared to Tony Tony Chopper?
Despite the many characters in One Piece, no one can compete with Tony Tony Chopper's cute personality. However, because of his transformation abilities, this Straw Hat Pirates physician has a couple of Funko Pops under his belt, particularly the flocked form and the buffed form that he uses in battle.
Tony Tony Chopper Flocked is based on Tony Tony Chopper's Post-Timeskip appearance from One Piece, this time dressed in a yellow and white striped shirt, orange slacks, and a blue cap. The already charming character is made extra cute by the Funko Pop's distinctive eyes. Many of these sell for over $100 online, but sometimes you can get a good deal.
Deku (Battle Suit)
Cool Battle Suit
We earn a commission if you make a purchase, at no additional cost to you.
Fans of My Hero Academia's protagonist Izuku Midoriya, often known as Deku, will surely desire a Funko Pop of him.
Fans who respect his perseverance and drive to overcome obstacles would most certainly want not only his base form or his powered-up form from My Hero Academia but also the Deku (Battle Suit).
This Battle Suit variant is inspired by the anime's Deku against Bakugo conflict, which is reflected in a suited-up Deku with part of his mask shattered and ripped. Also, his hair and skin are more ragged and dirty, implying that he's in the thick of battle. Online this Funko Pop can be pretty expensive, often fetching more than $50, but sometimes you can get a good deal on it.
Ichigo Kurosaki
Add to Your Bleach Collection!
We earn a commission if you make a purchase, at no additional cost to you.
Anime lovers enjoy watching and rewatching Bleach. The series grew from a little-known Manga magazine serial into a popular television series, four films, a video game franchise, ten stage musicals, and Funko Pops!
The Funko Pop Bleach Ichigo Kurosaki has his signature spiky hair all the way down to the tips of his sandal-wearing toes. With his sword, Zangetsu, Ichigo appears to be more than eager to hack his way out of the windowed collector's box and onto your shelf of other collected Funko Pops.
You'll know Ichigo's spiky orange hair and drawn blade are lovingly portrayed in full detail if you're a fan of the animated series or the popular video games.
Spike
Love Cowboy Bebop?
We earn a commission if you make a purchase, at no additional cost to you.
Cowboy Bebop fans will most certainly want to collect the Funko Pops of all of the show's characters.
While there are numerous options for the main character, this Funko Pop features Cowboy Bebop protagonist, Spike Spiegel, in his characteristic blue outfit, holding his weapon and a sword.
The Funko Pop has Spike's anime-inspired messy hair and realistic detailing, making it a must-have for any fan of the show. Plus, it's incredibly affordable, making it a great first choice!
Aang and Momo Funko Pop
The Last Airbender
We earn a commission if you make a purchase, at no additional cost to you.
Avatar: The Last Airbender was a 2005 American animated series that mixed traditional anime themes with Western influences. It followed characters that could manipulate classical elements like air, fire, earth, and water via psychokinetic skills.
Aang, the primary protagonist, has been reconstructed as he manipulates his air element with his psychokinetic skills. His signature blue Airbender emblem is on his head, his staff is ready, and an air column swirls around his feet. Momo, his winged lemur pal, is perched dutifully on his head.
Momo is the second most renowned animal after Appa, so he's a great addition to this Funko Pop.
Female Titan Funko Pop
Tall and Exclusive Funko Pop!
We earn a commission if you make a purchase, at no additional cost to you.
This 6-inch Funko Pop is perfect for showcasing how huge the Titans in Attack on Titan are since it's twice the size of most Funko Pops!
The Female Titan Funko Pop features beautiful details that make her appear undead, and her muscles are detailed for a vinyl figure. This Funko Pop is from the Deluxe category, making her more exclusive, but she may not be the first character that fans would consider purchasing, but that's just another unique attribute.
Pharoah Atem Yu-Gi-Oh
Yu-Gi-Oh is another long-standing favorite of many anime lovers. This anime series contains magic and mysticism and is well-known among fans.
This Funko Pop was chosen for two reasons. First, it's an exclusive option that is perfect for collectors. Second, it depicts Yugi after Pharoah Atem from the game takes possession of him.
The deluxe collectible Funko Pop depicts Yugi as the Nameless Pharoah from the first season, which is the most detailed representation of him.
The increased scale of Yu-Gi-Oh Funko Pops definitely helps the brand to make better use of details and colors. But keep in mind that if you're a serious Yu-Gi-Oh fan, this probably shouldn't be your first choice, there are other Yu-Gi-Oh Funko Pops for you to start with.
Wrapping Up
Well, there you have it, the best anime Funko Pops worth collecting right now! No matter what you prefer to watch when it comes to anime, we can almost guarantee that you'll find a Funko Pop of your favorite show or character. Happy collecting!
More Funko Pop Coverage