Creating music has never been easier or more accessible, thanks to the rise of free music-making software. These software programs enable aspiring musicians and seasoned producers to compose, record, and mix their tracks without breaking the bank. Whether you're a hobbyist or a professional, a range of free music-making software options are available to suit your needs.
With so many free music-making software programs available, choosing the right one for you can be overwhelming. Some software is more beginner-friendly, while others are more advanced and cater to professionals. It's important to consider your level of experience and what features you require when selecting a music-making software. If you're starting out, some free music-making software options offer an easy-to-use interface with basic tools to get you started. For more advanced users, software programs offer many features and effects to help bring your music to life.
One of the benefits of free music-making software is that you can experiment with different tools and effects without the fear of wasting money. This allows you to develop your skills and find your own unique style without the financial pressure.
Free music-making software is available for all platforms, whether you prefer to make music on your computer, tablet or mobile device. This means you can create music on-the-go, making the most of any creative inspiration that strikes you. In addition to the software itself, many free music-making software programs offer online communities and tutorials to help users learn and connect with other musicians. This can be a valuable resource for beginners and professionals alike.
From virtual instruments to audio recording software, a variety of free music-making software programs are available to suit your specific needs. So, if you're looking to make music without breaking the bank, these programs are a great place to start.
#10. Mixxx
Mixxx is a highly versatile and comprehensive free music-making software that is exclusively designed for DJs. It is compatible with multiple operating systems, including Windows, macOS, and Ubuntu. As an open-source program, Mixxx offers all the features and functionalities that you would typically find in professional music software, making it an excellent choice for beginners and experienced DJs alike.
One of the standout features of Mixxx is its ability to integrate with iTunes, enabling you to add up to 64 sample decks to your mix. You can also easily incorporate custom audio effects and integrate your music library. Additionally, the software offers a fully customizable interface, allowing you to create personalized skins and layouts that cater to your preferences and needs.
Mixxx is compatible with a wide range of hardware controllers and input/output sources, making it a highly versatile music production tool. It also offers the option to stream music online, giving you greater flexibility and control over your music-making process. Additionally, Mixxx comes equipped with an "Auto DJ" mode that features a preset playlist and automatic cross-fading, making it easy for you to create professional-sounding mixes quickly and easily.
#9. Waveform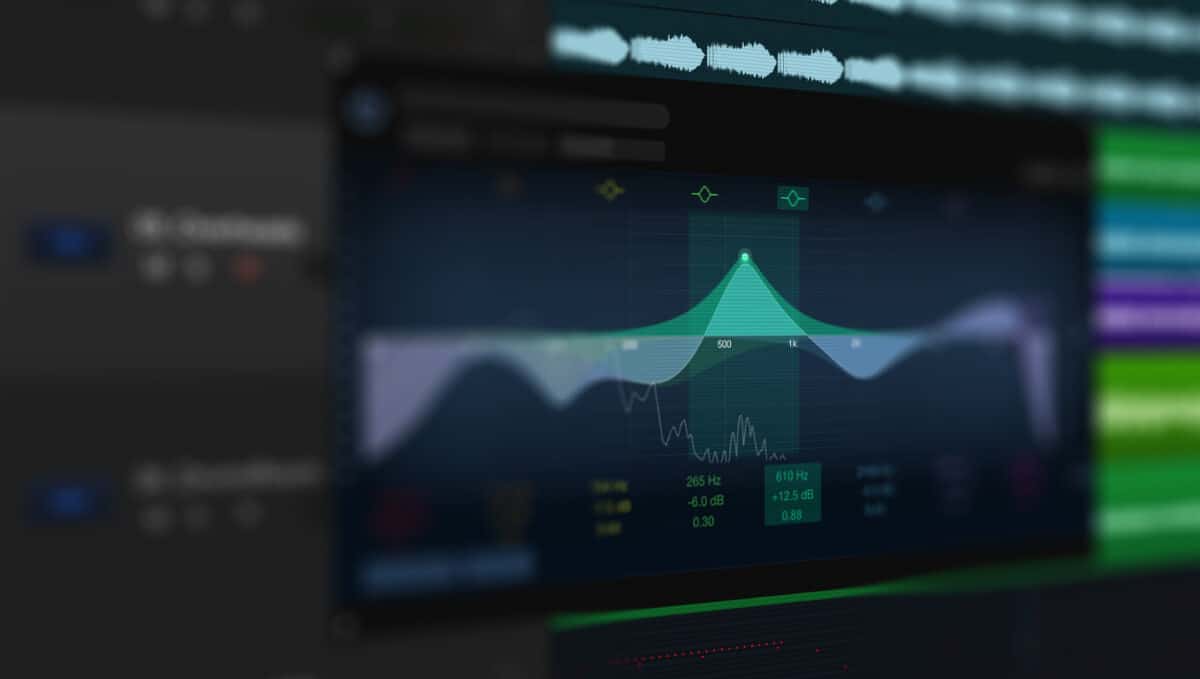 Waveform is a free music-making software that originated from Tracktion T7, a premium music production program. Instead of abandoning T7, Tracktion made the decision to rebrand it as Waveform, offering users a highly functional and feature-rich software for creating music.
With its user-friendly interface within a single window, Waveform provides an intuitive learning experience while offering a wide array of tools and capabilities. Users can effortlessly manipulate audio, compose MIDI tracks, apply various effects, and automate instrument parameters to bring their musical ideas to life.
One of the notable advantages of Waveform is its compatibility with multiple operating systems. Whether you're using Windows, macOS, or Linux, you can enjoy the seamless experience of creating music with this software. Moreover, Waveform offers a free version with the option to upgrade to the Pro version whenever desired, allowing users to explore additional features and expand their creative possibilities.
The Pro version of Waveform includes several valuable features and plugins. It incorporates Groove Doctor, a tool that assists in refining and enhancing rhythmic elements in your tracks. Additionally, it offers the Subtractive Synthesizer, enabling users to create a wide range of synthesized sounds. Further, the Celemony Melodyne Essential plugin is included, providing advanced pitch and time manipulation capabilities to refine your musical compositions further.
#8. SoundBridge
SoundBridge is a free music-making program available for both Windows and macOS operating systems. If you're searching for a simple audio editing tool, SoundBridge is the perfect fit. The software has been specifically designed to be as user-friendly as possible, making it easy for beginners to navigate. SoundBridge also offers support for touchscreen devices and plug-ins for VST audio, enabling you to create a range of unique sounds.
A noteworthy attribute of SoundBridge is its comprehensive set of sound editing tools. These tools allow you to manipulate sound files, trim audio tracks, adjust volume levels, and more. Additionally, the software comes equipped with a free library of sound samples, which you can use to add pre-existing sounds to your music projects.
SoundBridge provides a how-to instruction blog, a paid and a free academy program, and a full set of video based tutorials to help you improve your music production skills. The academy program offers advanced training courses to help you elevate your music-making skills. The blog and video tutorials offer step-by-step instructions on how to use the software's various features.
#7. Hydrogen
Hydrogen is an impressive free music-making software designed for aspiring musicians, particularly those new to the industry. Its user-friendly interface caters to beginners and ensures a seamless and enjoyable music creation experience. With a plethora of features at your disposal, Hydrogen is suitable for crafting songs across various genres, all within the comfort of your own home.
Standout elements include:
The top-notch mixer features.
The line sequencers that facilitate precise arrangement of musical elements.
Additionally, Hydrogen offers playlists with embedded scripting functions, adding flexibility and creative possibilities to your compositions. Notably, the software introduces the innovative pro tab-tempo feature, enhancing your control over tempo changes and overall musical dynamics.
#6. DarkWave Studio
DarkWave Studio is a free music-making software specifically designed for Windows operating systems. It offers a wide range of professional music production features, making it a powerful tool for experienced musicians. Although it may initially seem overwhelming for beginners, DarkWave Studio becomes more user-friendly with practice.
This open-source music creation app is compatible with Windows XP through Windows 10, ensuring that users with various Windows versions can enjoy its benefits. DarkWave Studio comes equipped with numerous plugins and features that set it apart from other music production software options. Its impressive capabilities include a sequence editor, multi-track hard disk recorder, virtual studio, and pattern editor.
An outstanding characteristic of DarkWave Studio is its recording and editing options. Musicians can effortlessly record and fine-tune their tracks within the software, allowing for seamless creative workflow. Additionally, DarkWave Studio provides the opportunity to live stream audio, enabling artists to share their music with a wider audience and engage with their listeners in real-time.
#5. Ardour
Ardour is compatible with macOS and is known for its flexibility and versatility. With Ardour, users can import and export files in different formats, including WAV, AIFF, and MP3, making it easy to collaborate with other music producers regardless of the platform they use. The software also features advanced tools and plugins that allow users to add effects, manipulate sounds, and create professional-quality music productions.
One of the most impressive features of Ardour is its extensive plugin library, which includes both free and paid options. The plugins are designed to enhance the software's capabilities and allow users to create a wide range of sounds and effects. The software also supports third-party plugins, which means that users can install plugins from other sources to expand their creative options.
Ardour also supports multi-track recording and editing, which allows users to work on multiple tracks simultaneously. This feature is particularly useful when working on complex music productions that require the synchronization of different elements. The software's timeline-based interface also makes editing and arranging tracks easy, and users can use the built-in automation tools to adjust volume, panning, and other parameters.
#4. Audacity
Audacity is a versatile free music-making software that offers a broad range of features that enable users to create professional-quality music. With Audacity, users can edit, record, mix, and manipulate sound using a wide range of tools. This software is compatible with multiple operating systems, such as Windows, macOS, and Linux, making it easily accessible to many users. Additionally, Audacity has a user-friendly interface that makes it easy for beginners and experienced users to navigate. The software also allows users to apply various sound effects and plug-ins to enhance the quality of their music production.
One of the significant advantages of Audacity is its high-quality sound processing capabilities. This software allows users to record and edit their sound files in multiple formats without losing quality. Audacity also provides users with multiple editing features such as copy, cut, paste, and undo, making it easier to create perfect tracks. Additionally, the software has a built-in noise reduction tool that eliminates background noise, ensuring high-quality recordings.
Audacity also provides users with a wide range of analysis tools, such as the Spectrogram view mode. This feature enables users to visualize the frequency range of their music tracks and make changes where necessary. Audacity's export and import function also allows users to export their finished tracks to various formats and share them with other users.
#3. LMMS
LMMS is a free music-making software that has gained popularity in recent times. It is available for Windows, macOS, and Linux operating systems. LMMS is a full-featured music production tool that provides everything needed to create electronic music from scratch. The user-friendly interface makes creating professional-sounding music easy for anyone, regardless of experience level. LMMS has been designed with the user in mind, making it stand out from other music-making software.
A notable characteristic of LMMS is its compatibility with different operating systems. This means that regardless of the device being used, the user can access all the features of LMMS. This has made it popular among music enthusiasts around the world. LMMS is designed to be user-friendly, and this is evident in the app's simplicity. The user interface is clean and straightforward, making it easy for beginners and professionals.
The Beat + Bassline Editor in LMMS offers a great music production tool. It includes a wide range of pre-built instrument tracks that users can use to create new music. It also has an easy-to-use piano roll, which allows the user to create their own unique sound. The app includes a variety of built-in effects, such as reverb, delay, and distortion, among others. Users can use these effects to add depth and character to their music.
#2. Qtractor
Qtractor is a popular free digital audio workstation (DAW) designed exclusively for Linux operating systems. It provides all the necessary features and tools to help users embark on their musical journey. The software's intuitive interface makes it extremely easy to use, even for beginners. Users can easily create and edit professional-quality music tracks with standard MIDI file support and multi-track audio & MIDI sequencing and recording capabilities.
One of the standout features of Qtractor is its non-linear editing system. This allows users to edit and rearrange audio clips on the timeline easily, giving them greater control over their music production. Additionally, the software's multi-track tape recorder control enables users to record and mix multiple audio tracks simultaneously. With unlimited overlapping clips for each track, users can layer their music and add effects to create a unique sound.
Qtractor also comes equipped with a variety of built-in effects and filters, including delay, reverb, distortion, and EQ. These tools can be applied to individual tracks or to the entire mix, allowing users to enhance their music with professional-grade effects. The software also supports a range of plug-ins, enabling users to expand their sound palette even further.
#1. GarageBand
GarageBand is an exceptional music-making software that is free to use and exclusively available for macOS users. GarageBand's user-friendly interface is perfect for beginners who want to dive into music production. The software boasts many features that have evolved over the years, including a virtual session drummer, guitar and voice presets, and various instruments. Whether you have access to equipment or not, GarageBand enables you to create and produce music easily.
For budding composers, GarageBand provides a seamless music production experience. With the ability to record up to 255 tracks per song, you can create complex compositions in no time. The software is optimized for today's connected world, allowing users to sync their music files across devices via iCloud. With GarageBand, you can create music on the go and never miss a beat.
GarageBand is an exceptional software for those who want to produce music. Developers created the software to provide music enthusiasts with an unmatched experience, offering them the necessary tools to create amazing music. The software's virtual instruments provide an authentic music production experience with incredible detail and realistic sound, giving users the ability to produce high-quality music. With its extensive library of sounds, loops, and samples, GarageBand enables users to create music that rivals that of professional studios.
Final Thoughts
While the music production software market is replete with high-end options boasting an array of remarkable functions, it is essential to acknowledge the abundance of free alternatives that deliver exceptional results. Don't let financial constraints hinder your pursuit of musical aspirations. The apps featured in our comprehensive guide to the best free music software for beginners provide ample tools and resources to unleash your creativity. So take advantage of this remarkable software and confidently embark on your musical journey!