Key Points
Books on video games can provide amazing insight into the stories behind them which are often as fascinating as the games themselves.
The Game Console 2.0 covers nine generations of games and not only shows you what they look like on the outside, but what they're made of – on the inside.
Written by Jamie Lendino, Starflight examines the history of PC gaming covering the years between 1987 and 1994, exploring an impressive 110 titles.
Have you ever spent time saving the princess or throwing bananas to try and spin out your opponents? Video games have long been an opportunity to enter a new world and escape from our reality. In short, video games are awesome. 
Just as fun as the games themselves are often the stories behind how they are made. Did you know that Nintendo was once best known for selling playing cards? Video game companies and their games don't just appear out of thin air. Their stories are often just as fascinating as the games they ask you to play.
Some books will tell the history behind your favorite consoles and others will tell you of the challenges that go behind working at a game studio. After weeks of reading, we've compiled a list of the best gaming books you should start reading today: 
Best Overall Gaming Book: Console Wars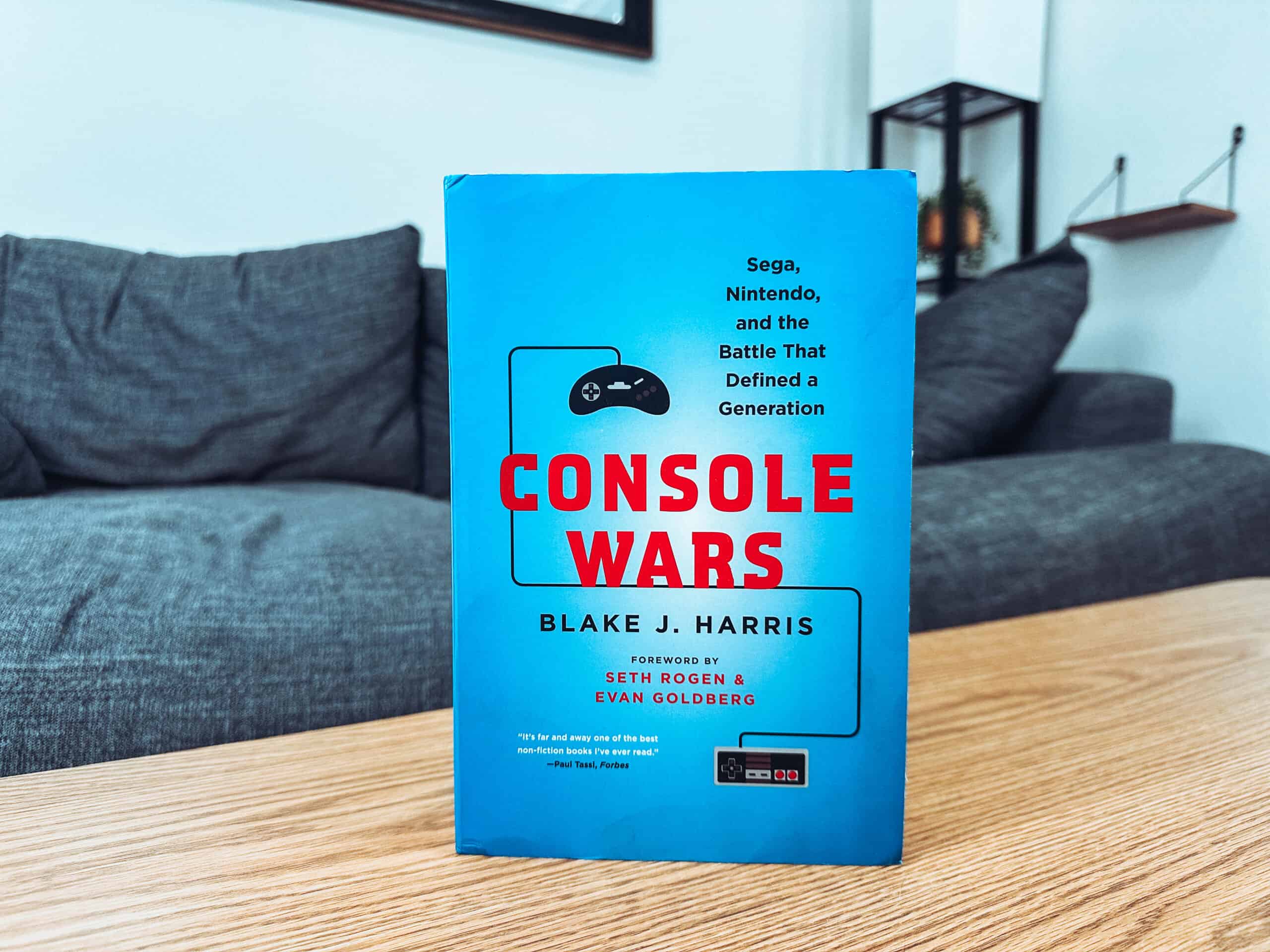 Few books capture the magic of the 1990s battle between Nintendo and Sega like Console Wars.
Author Blake J. Harris presents a fascinating look at the rise and fall of Sega. Through interviews with the likes of former Sega CEO of America, Tom Kalinske, readers get some of the best access ever to show the arguably biggest console battle of all time played out.
Console Wars does an even more enviable job of looking at the marketing and development work that helped Sega of America take market share away from Nintendo. The 16-bit era is one of the most iconic times in all of video games. Thanks to unprecedented access to former employees, this book is a must-read to learn how it played out from the inside.
In fact, the 2014 book is so good that it was turned into a 90-minute TV documentary currently streaming on Paramount+.
You can find your copy on Amazon here.
Playing video games is fun, engaging, and often a great way to block out the rest of the world. Developing video games, as Blood, Sweat, and Pixels by Jason Schreier shows, is almost the exact opposite.
This brutally honest take on what developers and game studios go through to bring a game to market is so good you'll only need to pick it up once to read it cover-to-cover.
Schreier receives outstanding access to behind-the-scenes conversations with dozens of current and former game developers. Everything from financial concerns to creative differences is expertly detailed all while making you appreciate the games you play even more.
Schreier's insider look at how Stardew Valley independent developer, Eric Barone, created a game that has sold over 20 million copies is one of the best video game stories of all time.
Get your copy on Amazon here.
Best Book on a Classic Series: Masters of Doom
Doom is a video game title that needs no introduction as one of the pre-eminent games of the early 1990s. Detailing the pioneering first-person shooter game, Masters of Doom looks at how two video game industry legends, better known as the "Two Johns," created two of the most popular games of all time. 
Author David Kushner dives into the history of id Software founders, John Carmack and John Romero, and their journey toward releasing Doom and eventually Quake.
Masters of Doom does an excellent job of detailing all of the controversy and praise that surrounded Doom's launch and id Software's internal troubles. Kushner's masterful way of telling how Doom came to market is a reminder of just how influential the game has been in history. Masters of Doom is even credited as the book behind the founding of Reddit.com.
You can find it on Amazon here.
Part book, part coffee table picture guide, The Game Console 2.0 is a must-own for any gaming fan.
This revised edition features more than 100 highly detailed photos and accompanying text of video game consoles and their interiors. A nostalgic treat, there's such a rich history with each photograph detailed across all of its 264 pages.
Covering everything from the Commodore 64 to the NES to the PlayStation 5, this very well might be the perfect gift for the gamer in your family. Over five decades and nine generations of video games are covered. A particular favorite is the inclusion of retro gaming and how it influenced a whole generation of gamers.
Rare finds, like the Unisonic Champion 2711, encourage you to look beyond the console names you know and at the history of the consoles you never knew existed.
Get your copy of emThe Game Console 2.0/em on Amazon.
Best for Industry Background: Press Reset
The second book from Jason Schreier, Press Reset is another behind-the-scenes exposé that looks at the ugly side of video game development.
While Blood, Sweat, and Pixels is about the studios themselves, Press Reset focuses more on the people. Between abusive bosses and corporate drama, Press Reset shows how fine the line is between success and burnout in the game industry.
Games like Bioshock Infinite, Epic Mickey, and Dead Space are all evidence of the author's efforts to show the sacrifices made when games fail or are never released at all. Late nights and plenty of missed birthdays come across as the real villain of Press Reset.
The biggest takeaway from Schreier's book is the fundamental question of why an industry that is more successful than ever sees so many developers burn out and walk away.
Pick up your copy of emPress Reset/em on Amazon.
Best on Japanese Gaming: Power-Up
While Japan didn't invent the first video game, it has become a country with an unrivaled passion for gaming. That's the message that author Chris Kohler gets across with his book Power-Up.
In a world where the video gaming industry almost crashed and burned after the disappointing sales of Atari, it was Japanese company Nintendo and its Super Famicom/NES that saved the industry.
Kohler's look at how the Japanese gaming industry's massive influence on the gaming world started in the mid-1990s and continues to dominate through Sony and Nintendo. Through interviews and personal accounts, this behind-the-scenes helps make sense of how Japan's culture at large has paved the way for the gaming roadmap as we understand it today.
A revised edition includes a tribute to late Nintendo CEO, Satoru Iwata, who set the path for the last 20 years of the company's success.
Find your copy of emPower-Up/em on Amazon.
Even though many of the best books about gaming focus heavily on video games, all hope is not lost for PC Gamers. Starflight, by Jamie Lendino, is a welcome look back at the history of PC and DOS gaming from 1987 to 1994, a golden age of PC gaming.
Lendino explores a massive library of more than 110 titles, many of which introduced a whole generation of people to the world of gaming.
Move aside Atari, Lendino points out that PC gaming had already conquered the gaming market by 1990. Before the NES came on the scene and turned attention back to home consoles, this was the time of legendary gaming titles such as King's Quest, X-Wing, and Doom.
Whether you lived this history first-hand or just enjoy gaming as a whole, Starflight should be recognized as the authority for when PC gaming changed forever.
Get your copy on Amazon here.
As one of the most beloved figures in the video game industry, Reggie Fils-Aimé's biography is an inside look at his rise to power at Nintendo. From his infamous Nintendo 2004 E3 presentation to becoming President of Nintendo of America, Reggie's story in Disrupting the Game is a favorite among prominent names in the gaming industry. 
Reggie's writing will walk you through his first jobs, ultimately leading to a revitalization of Nintendo under his watch. As Xbox and Playstation begin their rise and Nintendo started losing market share, Reggie details the introduction of the Nintendo DS to the Switch.
The book doesn't say but Reggie's writing is clear—under Reggie's leadership, Nintendo sees a return back to the top of the video game industry.
On top of the video game angle, Reggie also hits on timeless leadership advice on rising to the occasion and overcoming adversity.
Find emDisrupting the Game/em on Amazon.
Best for Video Game History: Game On!
Adding a unique take on the gaming book genre, author Dustin Hansen's Game On! leads us through 50 years of video game history.
With each title, games are explained in excellent historical detail as well as what makes them worthy of inclusion in Game On!
There's a chance you may not agree with all of his selections and that's totally okay. Instead, you can focus on the random facts sprinkled throughout like Mario being named after a former Nintendo landlord or Halo 2 developers drinking over 24,000 gallons of soda while in development.
Rest assured, this is a book about gamers by gamers, as Hansen spent two decades in the gaming industry, so his writing is all done with an insider's look at how things really work.
Grab your copy of emGame On!/em from Amazon.
The PlayStation 2, GameCube, and Sega Dreamcast are all seeing a resurgence, thanks to the popularity of retro gaming. This makes it a great time to read Steven Kent's The Ultimate History of Video Games, Volume 2, which is a must-read for anyone who wants to learn more about the second generation of modern consoles.
More specifically, you will have a chance to learn what it was really like as Microsoft set out to develop the Xbox or how Nintendo took "lateral thinking" to new heights with the GameCube.
As a bonus, Kent also hits on the rise of some of the most popular gaming franchises today, including Halo, Grand Theft Auto, and Call of Duty, alongside the consoles that helped define them.
This is a satisfying look at the first few years that helped define gaming in the 21st century.
Pick up your copy of emThe Ultimate History of Video Games, Volume 2/em from Amazon.
What to Know Before Buying a Book About Gaming
If you love gaming, there's a good chance you might want to look at every book on this list. But, before you do, consider these two things.
First and foremost, what interests you most about gaming? If you really want to focus on console history, you have a few really great options, like Console Wars. As the defining book of the Nintendo and Sega battle in the 90s, it's a fantastic read.
Alternatively, learning about how PC gaming exploded in the DOS era will have you closely looking at Starflight and remembering some of the great games well before the NES was a reality.
The other big consideration is the author itself. If you want honest recounts of what it's like in the industry, Dustin Hansen's Game On! gives you insight, as he's someone with twenty years of insider experience. Other books like Blood, Sweat, and Pixels are based on insider interviews, so it's a combination of the author's take on what he learned while talking with industry pros.
Up Next
The 10 Best Commodore 64 Games Ever — Here are the top ten titles that brought hours and hours of endless fun to teens and adults on this home computer that ruled the 80s and the 90s.
The Top Selling Video Games of All Time: Ranked — Many games have come and gone, birthed by this multi-billion dollar industry. However a few of them have been able to captivate the hearts and minds of fans like never before. Here are those which belong to that select group.
The Top-Selling Video Games of 2022 (So Far) — What titles have outsold all others so far, this year? Find out on this list which contains a few surprises as well as the usual suspects.