The GameCube is widely considered to be among the greatest video game consoles ever created. It was Nintendo's first home console produced in the new millennium. As a result, Nintendo put so much effort and resources into producing several incredible games exclusively for GameCube, including a number of must-play classics that continue to stand head and shoulders above their rivals.
GameCube action games are renowned for being distinctive and innovative in their design. They have compelling narratives and well-developed characters, both of which contribute to the fact that these games are still enjoyable to play even in this day and age.
Let's look at some of these fantastic action games available on GameCube!
What are Action Games?
An action game is a video game in which the player must use physical skills, such as aim and reflexes, to succeed. In a standard action game, the player controls their character, navigates stages, collects objects, avoids obstacles, and fights enemies using their innate abilities as well as guns and other weaponry. To complete an action game, the player is tasked with defeating a particularly difficult and powerful adversary. The player is always under time constraints, making these games more challenging.
To help you find the best action game for your GameCube, we have compiled the top ten all-time greatest GameCube action games in this article.
Lord of the Rings The Return of the King - Gamecube (Renewed)
Special third-person gameplay as you fight and think your way past multiple dangers, to destroy the One Ring
Choose from playable characters like Gandalf, Aragorn, Legolas, Gimli, Sam, and Frodo -- all voiced by the actual movie actors
Twelve interactive levels players will embark through, as you team up with a friend for cooperative multiplayer action
Interactive environments players can use against their foes -- swing from ropes, fire catapults, kick boulders and more
Explore the Paths of the Dead, defend Minas Tirith, and battle Sauron's forces in the ultimate showdown between good & evil!
We earn a commission if you make a purchase, at no additional cost to you.
This adaptation of the 2003 blockbuster emLord of the Rings: The Return of the King/em by Peter Jackson occupies the tenth spot on our list.
emLord of the Rings: The Return of the King/em was developed by EA Redwood Shores and released by Electronic Arts on December 1, 2003, just before the film's debut. The game was adapted for GameCube by Hypnos Entertainment. It is designed for the Lord of the Rings enthusiasts who wish to come as near as possible to experience the film's iconic scenes.
The player plays this game from a third-person perspective and begins by selecting a character. Every playable character has their own unique set of moves, abilities, and statistics. The player's mission is to eliminate enemies using several tactics available to them while avoiding being attacked. More kills will increase the character's attacking capabilities, and they will gain better combat experience. After completing each level, the player can increase their characters' stats and combos with experience points earned based on the effectiveness of their kills.
As anticipated, substantial enhancements have been incorporated into this version. The player can now employ machinery to complete missions and use weapons like spears to kill foes. This edition also includes a co-op mode for two players to battle it out. There are also new types of assaults, including the back jump, knockback, and killing move. The game levels have also been increased, resulting in an enhanced gameplay experience.
You can get your hands on your own copy from Amazon here.
This great third-person action-adventure video game comes in at number nine on our list. emMetal Arms: Glitch in the System/em was made by Swingin' Ape Studios and published by Sierra Entertainment on November 18, 2003.
The game is best suited for fans of robots who enjoy the excitement of fighting in a destructive conflict and being the world's savior by annihilating the opponents' plans to dominate the world.
The game is set on Iron Star, a planet constructed by Morbots out of scrap metal and space debris. The player assumes the character of Glitch, a robot whose purpose is to repel General Corrosive and his Milbots army. The game equips the player with various lethal devices, including flamethrowers, machine guns, and grenades, so he can smash his way through each level and ultimately defeat the Milbot's army.
In multiplayer mode, up to four players can battle it out. There are seven different game modes to choose from, some of which are King of the Hill, Moving Hill, and Bot Brawl. However, players have the option of developing their unique game modes. In addition to these game types, the game offers a selection of four difficulty levels, from simple to hard, providing the player with a variety of different alternatives from which to choose when playing.
Check it out on Amazon right here.
Freedom Fighters
Christopher Walker has lost his family in New York City, after the nuking of Washington D.C. and the death of America's leaders. As Soviet forces cross the borders of Mexico & Canada, he'll lead a...
Jump headlong into intense urban warfare, as you engage in guerilla combat -- from small sabotage missions to large-scale battles
Turn-based startegy gameplay allows you to pick your own missions - each one has a different set of strategies and outcomes
Keep your charisma high - it's your primary recruitment tool, and you'll need all the help you can get
Enahnced rendering technology and rich multiplayer support lets you become a legendary guerilla warrior -- and Freedom Fighter!
We earn a commission if you make a purchase, at no additional cost to you.
emFreedom Fighters/em is a game of speculative historical fiction and was developed by IO Interactive and published by Electronic Arts on October 1, 2003.
The game appeals most to loyal citizens who enjoy taking up arms to defend their much-beloved countries and prevent foreign aggressors from seizing control of their territories.
In this alternate history game, the Soviet Union invaded the United States and took control of New York City. The player assumes the protagonist's character, Christopher Stone, a rebel leader who started as a plumber. The player takes command of a loyal squad and must fight against Soviet invaders in the streets of New York. By cutting off the enemy's supply lines and seizing their fortifications, the player earns charisma points that let him recruit more troops.
In the multiplay mode of the game, up to four players can participate, each of whom can take either the Soviet or the American side. During combat, players can seize each other weaponry and use it to their advantage. In a two-person combat, each player can command up to eight soldiers, while in a four-player conflict, each player can command up to four. The game features charisma meters that display the number of available fighters for each opposing side.
Get emFreedom Fighters/em on Amazon here.
James Bond 007 Everything or Nothing - Gamecube
The action and adventure has never been so intense - As Bond, you'll do everything from rappel down walls to controlling robots to chasing villains at over 100MPH
New action for Bond, to help him survive shootouts - Duck or hug the wall for cover, then use the new targeting system to disable enemies
Players can interact with Q and M -- voiced by the real actors who play them
Think like Bond - To win you'll have to use physical skills, clever disguises, and a bold personality to save the world
All-new amazing gadgets, straight from the lab -- like the Q-Spider, a robot that offers a new kind of gameplay
We earn a commission if you make a purchase, at no additional cost to you.
It is impossible to compile an exhaustive list of action games without including 007 in the mix. emJames Bond 007: Everything or Nothing/em is a video game developed by EA Redwood Shores and released by Electronic Arts on February 17, 2004.
The game is played from the third-person perspective. It is widely believed that the film Die Another Day, which was released by Eon Productions in 2002 and is the twentieth film in the James Bond franchise, served as the inspiration for the creation of this video game.
The game is styled after a Bond movie, and it has an all-star voice cast, including Pierce Brosnan, who gives his last performance as Bond. The player takes on the role of James Bond. To succeed, Bond must complete missions as quickly as possible while employing a wide range of strategies to defeat his enemies. Bond can use cover, fight with his fists, use technological devices, and react effectively whenever he is up against a daring opponent.
When it comes to driving missions, players have more options in emEverything or Nothing/em than they had in prior Bond games. This newer edition has shifted from a first-person to a third-person perspective, giving the player complete control over his actions. Furthermore, Bond fights strategically using cover and corners, and the third-person is far more ideal for this action style. The developers also worked to improve the gameplay and included a cooperative multiplayer mode for the first time in any of the James Bond games.
Ready to become 007? Get your own copy of emJames Bond 007: Everything or Nothing/em from Amazon here.
Time Splitters 2
This time you've got to stop the evil lords from collecting ancient jewels that will give them power over all time
Battle through nine different time-travelling episodes -- from the Wild West to Tokyo in the year 2019
Interact with over 90 unique characters, from the original characters to new renegades,and even the ancestors of previous enemies
Take a tour through weaponry of the ages -- you'll get to use everything from crossbows to laser pulse rifles
You can even create your own stories and new scenarioes, like deathmatch, capture-the-bag, escort, last stand, and more
We earn a commission if you make a purchase, at no additional cost to you.
This second game in the TimeSplitters series comes in at number six on our list. emTimeSplitters 2/em was developed by Free Radical Design and published by Eidos Interactive on October 15th, 2002 for GameCube. If you're a gamer who enjoys the excitement of waging war against aliens, this first-person shooter game is for you.
Players must use various weapons and strategies to eliminate enemies and accomplish missions. The game's arsenal features weapons from a wide range of periods. The crossbow and the brick are two examples of weaponry from the past. There are also rocket launchers, flame throwers, handguns, rifles, submachine guns, and shotguns. When players are hit, their armor becomes vulnerable, leaving them open to defeat. However, they can restore their health by walking over first aid kits.
emTimeSplitters 2/em can be played on three difficulties: Amateur, Honorary, and Elite. To unlock the next level, players must first complete the previous one. In the game's multiplayer mode, players can adjust several settings, including weaponry used, time limits for mission completion, and the number of points required to win. Players can also use the game's built-in MapMaker to design and build their unique levels.
Check it out on Amazon here.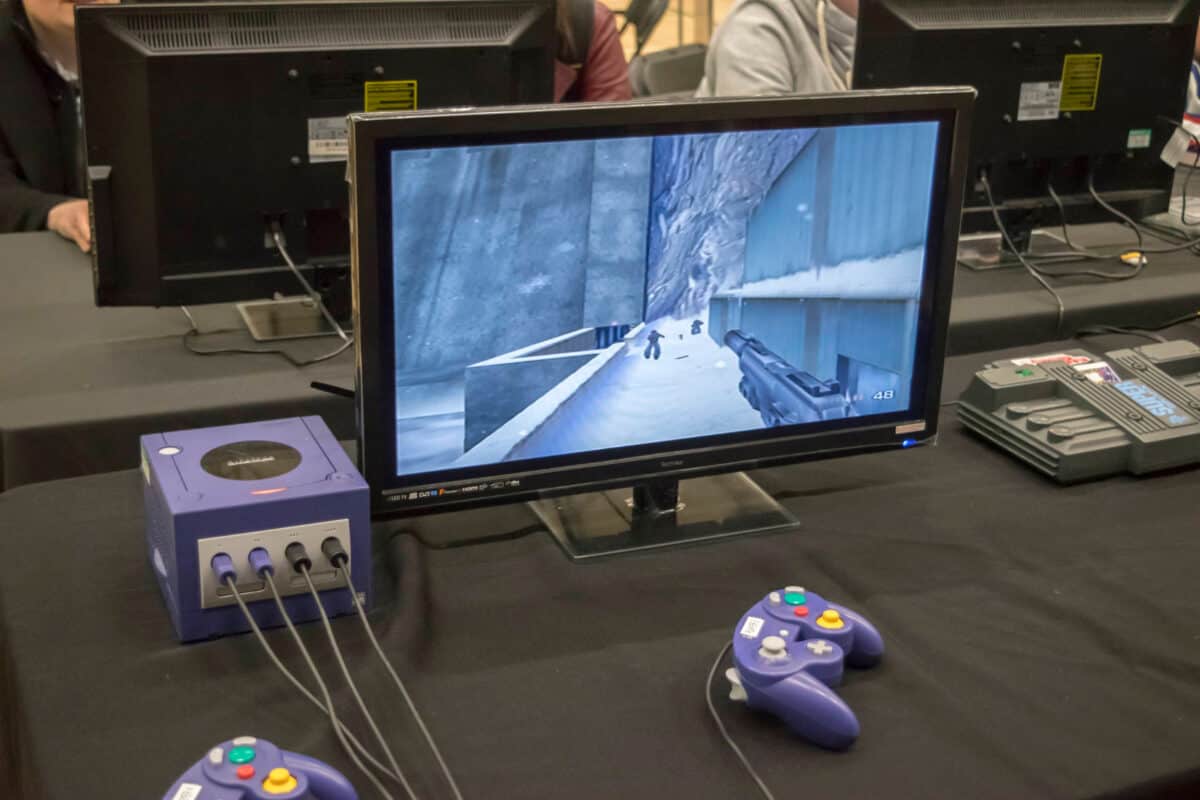 We earn a commission if you make a purchase, at no additional cost to you.
emSuper Mario Sunshine/em was developed and published by Nintendo exclusively on GameCube on August 26, 2002. The game is perfect for players who adore action-packed video games with a fantastic and colorful narrative to accompany the action.
The game takes place on Isle Delfino, a dolphin-shaped tropical island. The player assumes the role of Mario, a tourist who was wrongfully accused of vandalizing the island with graffiti after he arrived there for a vacation. After being convicted, Mario is assigned community service to clean up the island. Using a high-tech water cannon named FLUDD created by Professor E. Gadd, Mario sets out to clean up the island, clear his name, and discover the identity of the villainous vandal.
Massive levels with trampolines, tightropes, water-powered windmills, and enormous coral reefs can be found. Mario navigates these obstacles by using FLUDD and hovers in the air. To complete his missions, Mario has to attack foes, clear up sludge pools, battle huge piranha plants, and solve puzzles. When Mario completes a mission, he receives a Shine Sprite as a prize. By using the Shine Sprites he collects, Mario can advance through the game and gain access to previously inaccessible areas, as well as new challenges and game items.
You can find it on Amazon right here.
Super Smash Bros Melee
Number of Players: Offline: 1-4 Players
Number of Players: Simultaneous: 2-4 Players
More characters and stages are unlocked as hidden objectives are met, and coins rewarded for playing in all modes can be spent on a capsule toy machine.
We earn a commission if you make a purchase, at no additional cost to you.
This second installment in the Super Smash Bros. series, emSuper Smash Bros. Melee/em, was developed by HAL Laboratory and published by Nintendo on December 3, 2001. Die-hard fans of Nintendo will adore this game because it has recognizable characters from series like Pokémon, Star Fox, The Legend of Zelda, and Mario.
The mission of the game is to attack and collect coins made by enemies. The greater the force with which an adversary is fought and defeated, the greater the amount of money obtained. The health of each character is indicated by a meter that displays damage in percentage terms. The greater the percentage, the greater the impact the player can have on an enemy.
The game has 25 characters, all of whom are drawn from iconic Nintendo franchises, making it one of the most popular games Nintendo has ever created. In addition, each character's moves are identifiable from their original series. There are five ways to determine the victor, depending on the game mode. Time mode, in which the game finishes after a predetermined length, and Stock mode, in which the last person or team with remaining lives wins, are the most popular game modes.
Check it out on Amazon here.
Viewtiful Joe - Gamecube
Innovative 2-D or 3-D hybrid action and stunning visual effects
Fight evil-doers as the super coolsuper hero Viewtiful Joe and rescue you're girl
Vividly comic and funky cartoon-style visuals
We earn a commission if you make a purchase, at no additional cost to you.
emViewtiful Joe/em is a fantastic action game, designed by the well-known Japanese game designer, Hideki Kamiya. It was created and published by Capcom Studios on June 26, 2003. This game will provide a thrilling experience for fans of the beat 'em up (also known as brawler) genre.
In the game, you play as Joe, an ardent moviegoer whose girlfriend, Silvia, is kidnapped into a film starring Joe's favorite superhero, Captain Blue. Joe is desperate to find her, so he changes into emViewtiful Joe/em and heads into Movieland. In order to rescue his girlfriend, Joe will have to face many adversaries along the way. Joe has to battle many foes at once, with the enemies appearing from all directions.
emViewtiful Joe/em is divided into seven stages. The setting consists of both Earth and Movieland. There are numerous special attacks in the game, including Voomerang, Red-Hot Kick, Air Joe, and V-Dodge. Joe is capable of punching, kicking, and dodging. Successfully dodging an opponent's assault temporarily stuns them, leaving them vulnerable to attack.
You can get your own copy from Amazon here.
Soul Calibur II - Gamecube
After the ancient sword called Soul Edge was broken to pieces, the shards were scattered across the world. The mighty weapon that destroyed it, Soul Calibur, has since disappeared -- and the evil...
Become any of the warriors from the original monster hit, or two new characters, as you seek the fragments of Soul Edge and the secret of Soul Calibur's disappearance
Face the greatest hand-to-hand fighters in the world and use your combos and techniques to eliminate them from the playing field
Battle your way up the ranks as you follow the fascinating storylines of each character
SPECIAL BONUS - The GameCube edition of the game has Link from the Legend Of Zelda series as a playable character!
We earn a commission if you make a purchase, at no additional cost to you.
This excellent fighting game, the third in the Soulcalibur series, comes in at number two on our list. emSoulCalibur II/em was developed by Project Soul and published by Namco for GameCube on August 27, 2003. Fans of weapon-based fighting video games will find this game fun and adventurous.
The plot of this game centers around the mythical weapon Soul Edge being shattered into fragments, with different characters attempting to acquire all the parts to either reassemble it or destroy it for good. The game is set after the events of Soulcalibur when the Nightmare's massacres that have devastated Europe have abruptly ended. The player's objective is to pursue Nightmare, be the first to seize the Soul Edge from his grasp, and liberate him from its curse.
New features have been added to this version of the game, such as arena walls and additional weapons that must be unlocked and used in specific game stages. Every character now gets access to 12 distinct weapons, ranging from the simple 1P to the extremely powerful Ultimate Weapon. The game also has 25 playable characters, each of whom has a variety of different outfits to choose from.
Take it home from Amazon here.
We earn a commission if you make a purchase, at no additional cost to you.
Our list of the best GameCube action game is topped by this first-person perspective fighting game which is also the fifth installment in the Metroid franchise. emMetroid Prime/em was developed by Retro Studios and published by Nintendo on November 18, 2002. This game is ideal for gamers who love to take the role of a bounty hunter and ends up being the savior of the entire galaxy.
The planet Tallon IV serves as the science fiction setting for emMetroid Prime/em. From a first-person perspective, players control the protagonist of the series, Samus Aran. The gameplay consists of completing puzzles to uncover secrets, jumping from platform to platform, and shooting enemies. The player must traverse the planet of Tallon IV to pursue Artifacts while gathering materials that enhance armor and suit upgrades.
The game contains a number of unique objects that grant special abilities to the player, such as the Morph Ball, which enables Samus to roll into small spaces and drop energy bombs. Samus is also able to traverse gaps with the help of the Grapple Beam, thanks to the special hooks that it provides. The game provides Samus with special boots that give her the ability to jump and climb magnetic rails as she races to defend the galaxy from Space Pirates and other evil forces.
You can find our top pick for the GameCube on Amazon right here.
The image featured at the top of this post is ©Tinxi/Shutterstock.com.