Tesla vs. Ford: Four Must-Know Facts
Despite their extreme differences, both the Ford Model T and the Tesla Cybertruck are famous for only being sold in a single color.
Tesla offers many of its patents as open source to help accelerate the transition to sustainable energy.
Electric vehicles are capable of daily updates after production to fix issues and improve performance.
Henry Ford once tried to create a village called "Fordlandia" in Brazil.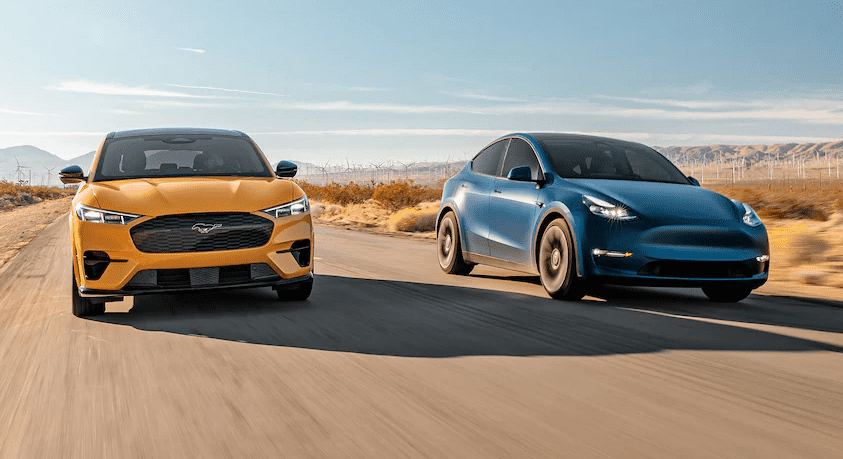 Compare one of the giants of automotive history with a rising star in the electric vehicle industry. Tesla, Inc. and Ford Motor Company both represent key moments in the past, present, and future of automobile manufacturing. Explore the differences and similarities between these leading companies to see a full pros and cons comparison of the brands and related products.
Tesla vs. Ford: Side-by-Side Comparison
| | Tesla, Inc. | Ford Motor Company |
| --- | --- | --- |
| What It Is: | Major electric vehicle manufacturer and home energy solution provider | The multinational automaker that offers a diverse range of internal combustion and electric vehicles for personal and commercial use |
| Company Founders: | Martin Eberhard, Marc Tarpenning, Ian Wright, JB Straubel, and Elon Musk | Henry Ford |
| Founded: | 2003 | 1903 |
| CEO: | Elon Musk | Jim Farley |
| Units Sold: | 930,422 in 2021 | About 3.9 million in 2021 |
| Number of Employees: | Over 99,000 | About 186,000 |
| Headquarters: | Austin, TX (Formerly Palo Alto, CA) | Dearborn, MI |
| Electric Vehicle Lineup: | Model S, Model 3, Model X, Model Y, Roadster, and Cybertruck | Mustang Mach-E, F-150 Lightning, and E-Transit-350 Cargo |
| Company Net Worth: | About $797.3 billion | About $54.27 billion |
Tesla vs. Ford: The Complete Comparison
At first glance, there isn't a lot in common between Tesla, Inc. and Ford Motor Company. Ford is one of the oldest, longest-running automobile companies in the world. It was founded 100 years before Tesla. Tesla is a new electric vehicle (EV) and home energy solution company, as much a tech company as an automaker.
It's named after Nikola Tesla and is dedicated to helping the world transition to sustainable energy. It's also focused on creating self-driving cars and other industry-changing advancements.
The two do, however, have plenty of significant similarities. Tesla, under the direction of Elon Musk, is dominating the EV market, while Ford is making a move toward this industry with EV versions of the popular Mustang and F-150 models.
Both companies have valuations in the billions, though Tesla has skyrocketed above the automobile giant with its net worth of over $797 billion in 2022.
Ford has a long-standing place in the international automotive production market. It's an easily recognized brand with operations in over 125 countries globally. Tesla focuses on consumer sales and only has stores in about 40 countries. Both companies offer an excellent customer experience and safety features.
While Ford Motor Company offers many models of internal combustion and commercial vehicles, the models with the most similarities to Tesla's offerings are the Mach-E and the F-150 Lightning. Explore the pros and cons of these two verses the Tesla Model Y and Cybertruck.
Tesla Model Y vs. Ford Mach-E
The Model Y release date was in 2019 and it continues to enjoy high sales numbers. This luxury electric SUV offers plenty of storage room, style, and technological features for a state-of-the-art customer experience. Here are some unique features of the Model Y:
From $62,990
Seven seats, with the optional third row
Up to a 330-mile range
High-performance all-wheel drive dual motor technology
Autopilot features, including traffic-aware cruise control, autosteer, and autopark
15-inch touchscreen dash display
All-glass roof
The Ford Mach-E is a totally transformed Mustang. This isn't the super-powered pony car you grew up dreaming of. Instead, the Mach-E is a fully electric SUV with five seats and a number of modern features that vary depending on the model type you choose:
From $43,895
Range between 270 and 314 miles, depending on the model
Reaches 60 miles per hour in between 4.8 and 3.5 seconds
Ford Co-Pilot360 technology, including park assist and hands-free driving features
Three driving experiences: Unbridled, Engage, or Whisper, to change the driving dynamic
Included a 15.5-inch touchscreen infotainment system
Panoramic roof
Overall, these SUVs offer a highly similar customer experience. In terms of differences, the Mach-E has slightly higher ratings in terms of interior comfort but the Model Y outperforms it in terms of top speeds and aggressive handling. Both offer a large network of charging stations and impressive driver-assist features for safety and convenience.
Tesla Cybertruck vs. Ford F-150 Lightning
Another head-to-head match between these automotive giants, these two EV pickup trucks promise to be contenders in the category. The Cybertruck is yet to be ready for production but its release date is expected to be in 2023. This funky, boxy truck evokes powerful feelings and is loaded with modern design choices. Here are some key facts about Tesla's upcoming EV truck:
From $39,900
Up to 500-mile range
Armor glass roof and windshield
Cold-rolled steel exoskeleton
Six seats
Autopilot features, including traffic-aware cruise control, autosteer, and autopark
Included 17-inch touchscreen dash display
Towing capacity between 7,500 and 14,000 pounds
Adjustable air suspension
The Ford F-150 Lightning started rolling off the assembly line in time for its release date in early 2022. This modern take on an all-time favorite pickup truck is a strong choice for Ford fans, EV enthusiasts, or anyone who loves the latest tech. Here are some features of the newest F-150:
From $39,974
Up to a 320-mile range
The towing capacity of 10,000 pounds
Can be used as backup power for up to three days with Ford's intelligent backup power safety feature
Front trunk with 14.1 cubic feet
Ford Co-Pilot360 technology, including park assist and hands-free driving performance features
These trucks may seem to have similar prices but the base price of the Cybertruck only has a single motor, while the F-150 Lightning comes standard with two motors. The tri-motor Cybertruck may come with more power but it will set you back at least $69,900. The F-150 offers a modern twist on an all-time favorite truck design, while the Cybertruck is so unique that it's almost unrecognizable as a pickup truck.
Tesla vs. Ford: Which One Is Better? Which One Should You Choose?
It's important to weigh the pros and cons of each before choosing an SUV, pickup truck, or company to invest in. Both companies are moving toward electrification and EV sales in the auto industry. Ford is a classic name in the industry and offers traditional vehicles powered by EV technology. Tesla, however, is the wild-card new kid on the block with a refreshing lineup of unique vehicles. Both offer EV opportunities and promise to be contenders in the future of automakers.
Tesla and Ford Electric Vehicles In the News
On May 19, 2023, Indian Deputy Prime Minister for Information, Rajeev Chandrasekhar, spoke with Reuters. Chandrasekhar said that Tesla is "very seriously looking at India as a production and innovation base." Tesla is reportedly considering establishing a factory in India to build electric vehicles (EVs) and manufacture EV batteries.
In a recent tweet, Elon Musk, Tesla's CEO indicated that the company's FSD (Full Self-Driving) Beta 11.4.2 was scheduled to be released the weekend of May 20, 2023. This release was most likely rolled out only to Tesla employees. According to Musk's tweet, this release addressed "excess conservatism with narrow roads and with lane changes in heavy traffic."
On May 22, 2023, Reuters reported that Ford " unveiled an ambitious strategy to profitably ramp up electric vehicle sales but faces a challenge to slash $7 billion in costs and regain credibility on Wall Street."