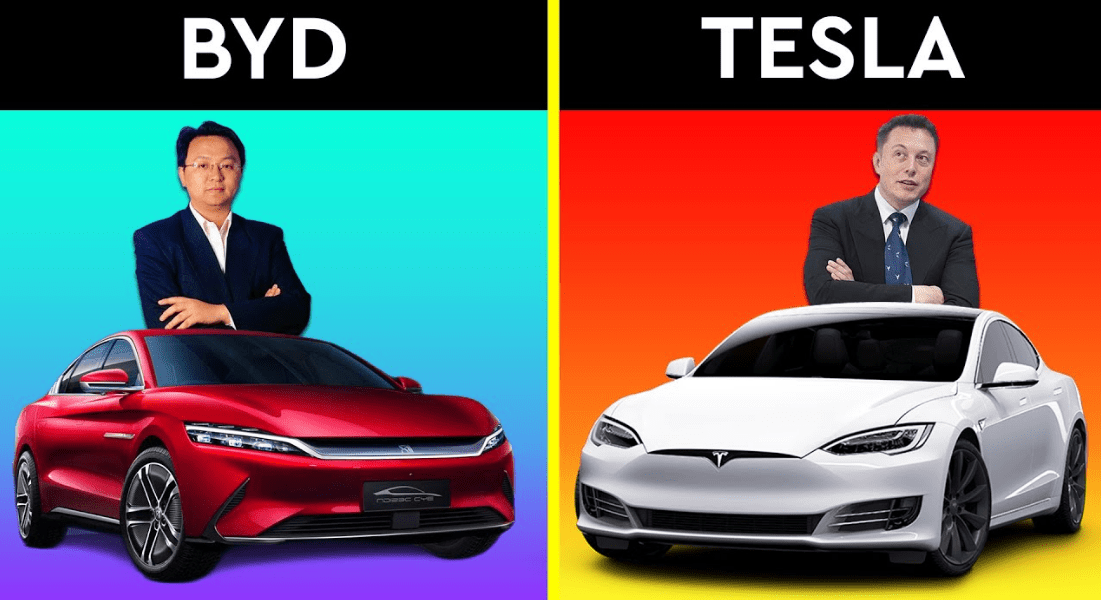 Elon Musk was confirmed as Chairman and largest shareholder at Tesla in 2004. In 2008, a mere four (4) years later, Warren Buffet invested $232 million in BYD — a Chinese company specializing in electric cars and lithium-ion batteries. With such massive funding backing both companies' desires to do more for the EV market, we can safely say that Tesla and BYD are bound to be agelong competitors for the largest share of the electric vehicle market in China.
Fast-growing with unique expansion plans, the differences and similarities between Tesla and BYD are both worthy of consideration. Read on to find out how the two companies compare!
Tesla vs BYD: A Side-by-Side Comparison
| | | |
| --- | --- | --- |
| | Tesla | BYD |
| What Is It? | Tesla is an American-based manufacturer of electric vehicles and components, scalable clean energy storage, and generation products to ensure a zero fossil emission future. In 2020, Tesla sold the highest number of plug-in electric vehicles and battery electric vehicles globally. They were also the largest global supplier of battery energy storage systems in 2021. | BYD is a publicly-listed Chinese manufacturing company specializing in electric vehicles and EV systems such as batteries, power electronics, etc. BYD has its headquarters in Shenzhen, Guangdong, China. |
| Meaning of Name | Tesla was named after the electrical engineer and inventor of alternating current, Nikola Tesla. | BYD is an acronym for "Build Your Dreams." |
| Year of Establishment | July 1, 2003. | February 10, 1995. |
| Products | Model S, Model X, Model Y, Model 3, Powerpack, Powerwall, Megapack, Tesla Energy Software, solar panels, and solar roofs. | Gasoline cars, electric vehicles, monorail trains and buses, battery-powered bicycles, trucks, buses, forklifts, solar panels, handset components, and rechargeable batteries. |
| Subsidiaries | Maxwell Technologies, Tesla Energy, DeepScale, Tesla Grohmann Automation, Colorado River Project, LLC. | BYD Automobile and BYD Electronic. |
| Target Market | Tesla targets the global EV market. Most of their sales come from Europe, China, and North America. | BYD primarily targets the Chinese EV markets. Its manufacturing plants are also in China. |
Tesla vs BYD: 6 Must-Know Facts
BYD Inc. originally started as a factory for rechargeable batteries.
Presently, BYD focuses on EV automobiles, electric bicycles, buses, trucks, rechargeable batteries, and solar panels. Tesla also designs and manufactures electric cars and scalable battery energy storage products for cars and homes.
Tesla is the world's most valuable manufacturer of electric vehicles and had the most sales for 2020 in regards to plug-in electric vehicles and battery electric vehicles across the world.
BYD is an acronym for "Build Your Dreams."
Tesla and BYD target different markets: while Tesla focuses on the global EV market, BYD conducts all of its sales in China.
In 2008, BYD was the first company to sell mass-produced plug-in hybrid electric vehicles (PHEVs) worldwide.
Tesla vs BYD: Head-To-Head Comparison
Check out the head-to-head comparison of Tesla and BYD below.
Battery
To keep up with the growth rate of Tesla, BYD created 10GW per hour of Lithium-Iron Phosphate (LFP) in 2015, then built another manufacturing facility in 2016 to produce 16GW per hour. With that said, Tesla has around half the battery scale of BYD. Despite having a lower battery scale, Tesla has since reduced the cost of Kilowatt per hour.
The advantages of the LFP battery system are numerous, particularly the stability offered during charging, discharging, cooling, or heating. It also contributes to durability. While an average Tesla vehicle is designed to last for 10 years without any major repairs, BYD motors are intended to last for 50 years worth of average driving.
Sales
BYD surprisingly outsold Tesla in China in 2017, but Tesla has consistently dominated the Chinese EV market ever since. However, as Tesla continues to struggle with mass production, BYD is currently offering ten (10) automotive models, scaling up production, and positioning itself for more sales.
Autonomy
Tesla has an autonomy advantage over all other electric vehicle manufacturers worldwide. Tesla CEO Elon Musk has confirmed a continued commitment to ensuring that his vehicles' autonomous driving functionalities outperform those of other manufacturers in the market. Tesla is also working tirelessly to ensure its EV models have full self-driving capabilities.
Employee Count
BYD reported 229,154 staff members in 2020, while Tesla had upwards of 99,000 staff members at the end of 2021.
Tesla vs BYD: Which One Is Better?
Technically, the two companies are interchangeable, with BYD ahead of Tesla in certain areas and vice versa. Both companies are giants in the industry — particularly in the Chinese market.
With BYD's growth since its industry introduction in 2014, it won't be surprising if it outnumbers Tesla in sales and market dominance in the near future. In fact, the company managed to accomplish this in 2017 and 2021, though only in the Chinese EV market. But Tesla remains unbeaten when it comes to self-driving functionalities, which is notably the future of the driving experience. With this in mind, we tend to lean toward Tesla as the better option of the two.