The battle for supremacy in the electric vehicle crossover SUV space is as fierce as ever as numerous competitors look to stop the Tesla Model Y's momentum. The best-selling car in the EV market, the Tesla Model Y has, since its release in March 2020, been a huge hit for Tesla, selling more than 759,000 vehicles in 2022 alone. This is enough volume to make the Tesla Model Y not just the best-selling electric vehicle, but also the fourth best-selling car in 2022, period.
Looking to dethrone the Model Y won't be easy, but Volvo is looking to do exactly that with its 2023 Volvo C40 Recharge. Launched in early 2022, the Volvo C40 is the company's first all-electric SUV and feels similar to the Tesla Model Y, while still being quite different.
A decidedly more conventional vehicle in terms of having a traditional infotainment layout throughout its interior, let's see how well the Volvo C40 compares to the Tesla Model Y and which one is the better EV for most people.
Tesla Model Y vs. Volvo C40: Side-by-Side Comparison
| | Tesla Model Y | Volvo C40 Recharge |
| --- | --- | --- |
| Starting Price | $49,990 | $56,395 |
| Range | 279-330 miles | 226 miles |
| Charging Speed | Up to 162 miles in 15 minutes (Supercharger), 8 hours on Level 2 charger | 10-80% in 37 minutes, 7-8 hours on Level 2 charger |
| 0-60 | 3.5-5 seconds | 4.5 seconds |
| Number of Seats | 5-7 seats (optional third row) | 5 seats |
| Cargo Space | 30.2 cubic feet | 15 cubic feet |
| Self-Driving Capability | Enhanced Autopilot, Full Self-Driving | Advanced driver assistance technology |
| Infotainment Technology | Tesla Proprietary | Google built-in |
Tesla Model Y vs. Volvo C40: What's the Difference?
Pricing
Tesla Model Y
When it comes to pricing, the Tesla Model Y and Volvo C40 aren't so far apart as to make it a one-sided discussion. The Tesla Model Y does have an advantage in that it does have a lower starting price. Of the three available trim levels for the Tesla Model Y, as of April 2023, the standard model starts at an MSRP of $49,990. This pricing is before you start looking at some optional extras like different interior or exterior colors, which can add up to $2,000 to the starting price. The same is true for wheels, as the standard 19-inch wheels can be swapped for 20-inch wheels, costing an extra $2,000.
On the Tesla Model Y Long Range, you will find an MSRP of $52,990 with the same bonus options as the standard model. The only major change here price-wise is that you can update seating from five to seven by adding a third row for an additional $4,000. Last but not least is the Tesla Model Y Performance trim which starts at $56,990 MSRP but only offers one wheel option and is only available in a five-person seating layout.
Volvo C40
The Volvo C40 Recharge is also available in three trim levels, each of which adds a more conventional set of options over Tesla's more simplified purchase model. At its base level, the Volvo C40 Core has a starting pricing of $56,395 MSRP and adds all of the built-in software for Google that makes up the C40 infotainment experience. You also receive the twin motor that includes up to 226 miles of range along with some additional safety features and driver enhancements.
Jumping up to the Volvo C40 Plus trim level provides you with all of the same features as the Core level but adds an additional $1,550 to the starting price. This extra cost provides you with two primary features in the form of a 360-degree camera and fog lights. When you move to the Ultimate trim level, you can spend an additional $4,800 for all of the Core and Plus features as well as a Harmon Kardon sound system, adaptive cruise control, Pilot Assist, and an upgrade to 20-inch wheels.
Range
In the case of the Tesla Model Y, you are looking at three different range levels depending on which trim you purchase. In the standard model, Tesla adds up to 279 miles of range overall, which is pretty par for the course among crossover EVs. The Long Range trim level of the Tesla Model Y adds up to 330 miles of range regardless of whether you pick the five or seven-seat option. Finally, the Tesla Model Y Performance trim lands somewhere in the middle with a range of up to 303 miles on a single charge.
For the Volvo C40 Recharge, regardless of which trim level you purchase, you are receiving 226 miles of range. Volvo has ensured that every buyer of the vehicle has the same battery, which makes choosing a trim level more about options than range. While Tesla definitely has an advantage overall with range, the Volvo C40 is more than good enough to run errands and stay close to your home base, while the Tesla has a real advantage in situations like road trips.
Charging
Tesla's popularity with the Model Y has helped it set something of a standard around charging, and that's especially true when you look at the company's 1,400 plus Supercharger stations. No matter which trim level of the Model Y you own, when using one of these stations, you can expect to receive around 200 miles of range in around 15 minutes, depending on weather conditions. The same goes for plugging into any of the more than 40,000 Supercharger plugs located around the United States. Plugging the Tesla Model Y into a Level 2 home charger (at 240V) will enable around 30 miles of range per hour with a fully charged vehicle in around 7 hours.
Just like the Model Y, Volvo C40 Recharge buyers can expect the same charging numbers regardless of which trim level is purchased. This means that, on a DC fast charger, C40 owners should expect to go from 10-80% charge in around 37 minutes. On a Level 2 home charger, at the same 240V charging rate as the Model Y, C40 owners can expect a fully charged vehicle (0-100%) in around 8 hours.
Driver Assistance
Tesla Model Y
It's inevitable that every electric car at one point or another is going to be asked about its driver assistance features, and that's especially true when comparing it against a Tesla electric vehicle. In the case of the Model Y, there are two driver assistance packages available, with the first being Enhanced Autopilot. Available as a $6,000 option, this option includes the ability to have the Model Y automatically make its own lane changes, navigate on Autopilot when on a highway, auto parking, and Smart Summon which will bring your Model Y from a parked space right to you.
Separately, Tesla Model Y buyers can opt for Full Self-Driving Capability, which includes all of the features of Enhanced Autopilot plus Traffic Light and Stop Sign Control, and Tesla also hopes to bring the Autosteering feature to city streets soon. Adding this self-driving tech package to your Model Y will add another $15,000 to the price tag of the car, which is undoubtedly the most expensive way to get Level 2 Driver Assistance in an EV as of April 2023.
Volvo C40
The Volvo C40 Recharge offers some level of driver assistance but unsurprisingly doesn't yet come close to the Tesla Model Y. What the C40 does offer is cross-traffic alerts when backing out of a spot and a blind spot information system (BLIS) to pull the C40 back into another lane if it detects another vehicle a driver has not spotted. The C40 also enables lane keep assistance as well as an intelligent safety package that detects both pedestrians and other vehicles by auto braking if a driver does not react in time.
On the Ultimate trim level of the Volvo, you can also opt into the Pilot Assist program which helps C40 owners maintain a constant speed on the road as well as help a car stay in between the markings of a lane. There is also an option to set a time interval that you like to maintain from the vehicle ahead of you, and the C40 will ensure you are keeping the right distance.
Infotainment
Even if you are somewhat unfamiliar with the Tesla Model Y, there is a good chance you have seen a picture of the vehicle's 15-inch touchscreen. Unlike many vehicles, the Volvo C40 included, Tesla has ditched the standard layout of a vehicle's interior and opted for a single touchscreen that controls just about every feature of the vehicle. A few buttons exist around volume control, window up and down, or shifting gears, but beyond that, every other feature for the vehicle, including temperature controls and changing radio stations, all exist on the touchscreen.
To help offset a potential waiting period while charging at a Supercharger station, Tesla has also enabled a number of entertainment options. This includes but is not limited to playing games using a Bluetooth controller, watching movies through Netflix as well as the Toybox for activating the Model Y's light show or boombox feature.
Going down a much different path than Tesla, the Volvo C40 Recharge is more of a standard interior and feels very similar to the rest of Volvo's non-electric lineup. The biggest addition is the heavy emphasis on built-in Google features including Google Maps with real-time traffic info. Google Assistance is also enabled so you can stay hands-free while still getting directions, making phone calls, and sending messages. Google Play also supports the download of a variety of other apps or services that can help keep you entertained while the vehicle is charging.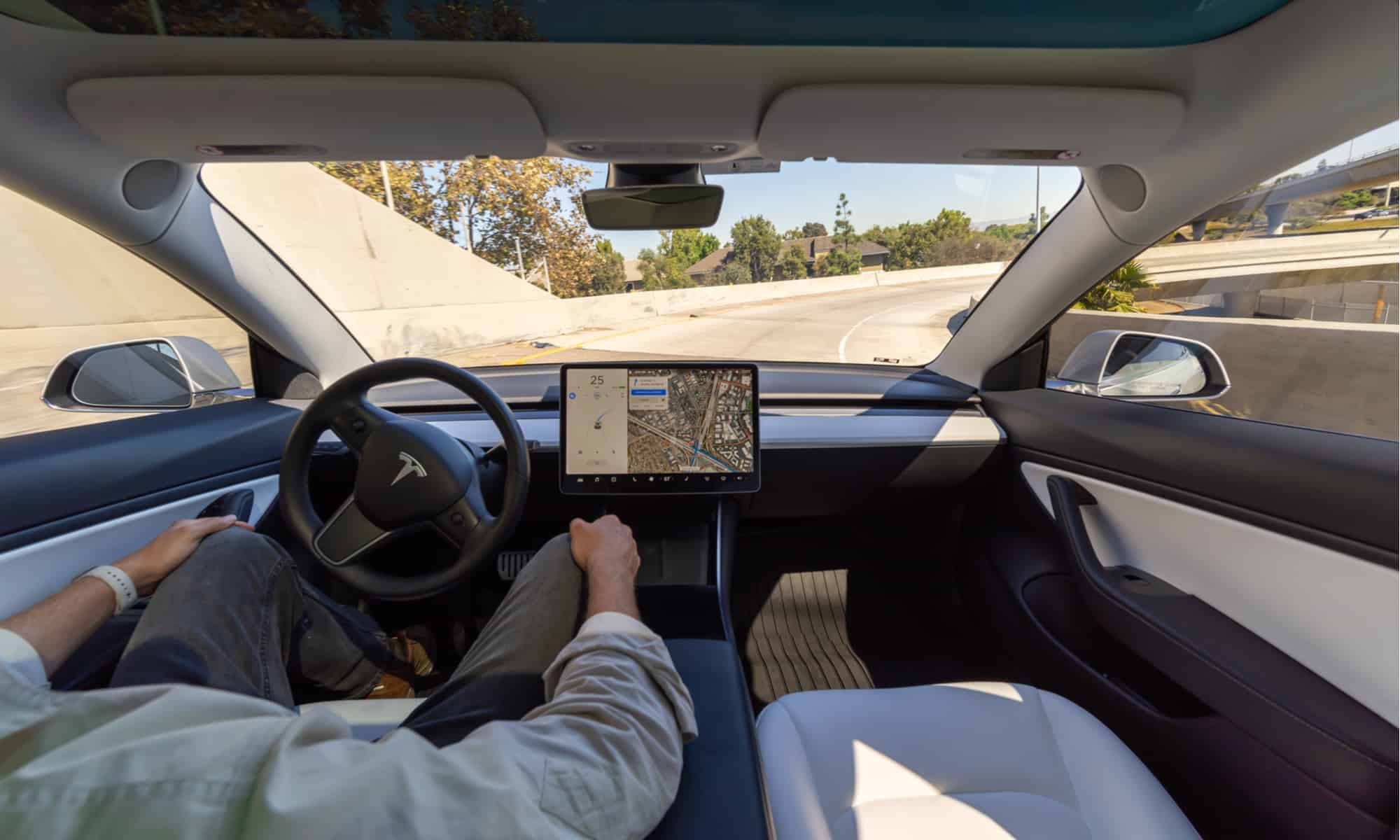 Tesla Model Y vs. Volvo C40: 5 Must-Know Facts
Both the Tesla Model Y and Volvo C40 Recharge are available in three different trim levels.
The Volvo C40 only offers 226 miles of range regardless of trim level, while Tesla offers between 279-330 miles on a single charge.
The Volvo C40 Recharge is not to be confused with the very similar XC40 Recharge, with the latter including slightly more cargo space, while the former is slightly faster from 0-60.
Tesla offers multiple driver assistance programs while Volvo is cautiously approaching the space with its minimally invasive Pilot Assist program.
Tesla includes its own proprietary system around infotainment while Volvo heavily incorporates Google technology.
Pros and Cons: Tesla Model Y vs Volvo C40
Tesla Model Y
| Pros | Cons |
| --- | --- |
| Three different range options are available based on needs | The cost of Enhanced Autopilot and Full Self-Driving is prohibitively expensive |
| Faster 0-60 times with the Performance and Long Range trim levels | The lack of buttons inside the Model Y might be too jarring for some potential buyers |
| The Model Y includes faster overall recharge times on its Supercharger network | Three different trim levels could also be confusing to would-buy Model Y buyers |
| Buyers can choose from a either 5 or 7-seating arrangement | The interiors of all three vehicles are the exact same as one another and the Model 3 |
Volvo C40
| Pros | Cons |
| --- | --- |
| Built-in Google services are updated over the air so they are always up to date | Limited range overall when compared to the Tesla Model Y |
| The interior of the vehicle feels very similar to Volvo gas models | Buyers looking for a more refined interior could be disappointed |
| Three different trim levels are available based on buyer needs | Cost between standard and Ultimate trims not worth the feature difference |
| Can control most vehicle functions through the Volvo app | Slower recharging time compared to Tesla Model Y |
Tesla Model Y vs. Volvo C40: Which One Wins?
Even though Volvo has a longstanding reputation for safety and quality, the Volvo C40 Recharge is still just the company dipping its toe into electric waters. The Tesla Model Y is less expensive, offers more range, has a better infotainment experience, and recharges faster.
Unless you absolutely need to have built-in Google features or would prefer a more traditional interior experience similar to gas cars, there is little room to argue that the Tesla Model Y is not the better purchase. The caveat here is that the Volvo drives a little better as it feels sportier and will be more fun on winding roads, but for getting around town and even road trips, Tesla easily wins.
The image featured at the top of this post is ©Yauhen_D/Shutterstock.com.