Key Points:
With more and more electric vehicle charging stations being added to the growing infrastructure every day, owning a vehicle like a Tesla is becoming very practical.
The Model Y comes in two packages: either the Performance or the Long Range.
The only place to purchase a new Tesla is soley from their website, unlike other auto manufacturers.
A compact crossover with seating for either five or seven, the 2022 Tesla Model Y is already one of the company's most popular vehicle choices. Bridging the gap between the 4-door sedan and the more SUV-like Model X, the Tesla Model Y fits nicely in the middle of the Tesla lineup. Introduced in 2020, the Tesla Model Y has already proven to be one of the most successful electric vehicles available today.
Available in two different trims, Performance and Long Range, each achieves over 300 miles thanks to their dual-motor AWD powertrains and 75-kWh batteries. Add to that seating up to 7, one of the best infotainment systems in the market and Tesla's lauded Full-Self Driving system. With the competition struggling to match the one-two combination of Tesla's range and feature set, the Tesla Model Y is a must-look for all future EV buyers.
Quick Facts
Release Date

13/03/2022

Original price

$51,000 for Long Range, $60,000 for Performance

Units Sold

500,000+
Tesla Model Y Specs
| | Model Y Long Range | Model Y Performance |
| --- | --- | --- |
| Price | Starting at $65,990 | Starts at $69,990 |
| Range | 330 Miles | 303 miles |
| Seating | Up to 7 | Up to 5 |
| Top Speed | 135 mph | 155 mph |
| Acceleration (0-60mph) | 4.8 seconds | 3.5 seconds |
| Display (Infotainment) | 15" Center Touchscreen | 15" Center Touchscreen |
| Drive | Dual Motor All-Wheel Drive | Dual Motor All-Wheel Drive |
| Cargo Volume | 36 cubic feet; 76 cubic feet with the second row down | 36 cubic feet; 76 cubic feet with the second row down |
| Wheels | 19" or 20" | 21" |
| Safety Awards | IIHS "Top Safety Pick+"; Five-Star rating from NHTSA | IIHS "Top Safety Pick+"; Five-Star rating from NHTSA |
| Warranty | 50,000 miles or 4-year basic vehicle; 120,000 miles or 8-year Battery & Drive Unit | 50,000 miles or 4-year basic vehicle; 120,000 miles or 8-year Battery & Drive Unit |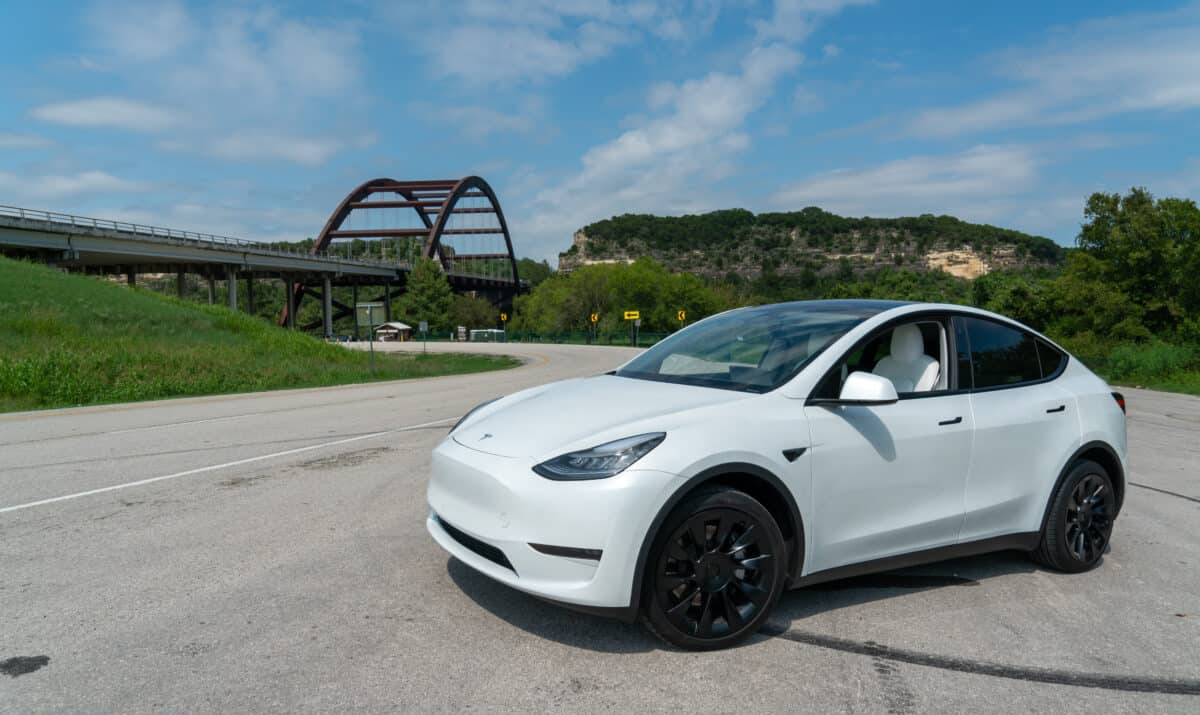 Where To Buy
There's only one destination for any Tesla Model Y purchase and that's Tesla.com. The company has simplified the vehicle buying process in a big way by having you do everything on their website. This includes choosing which version of the Model Y you wish to purchase, selecting options (tire size, exterior paint color, etc.), and additional safety options like Full Self Driving. The final step is whether you want to buy the car at full price or choose between a lease or loan. Just know there is no negotiation as the price of the car is the price of the car.
Alternatively, you can stop into a Tesla store and talk to a Tesla employee about features, model differences, and more. You'll likely be able to sit in some of the various Tesla vehicles available so you can make a more informed purchase. When you're ready to buy, you will still be directed toward Tesla's website to complete your sale. All totaled, the purchase of a Model Y can take less than 10-15 minutes.
History of Tesla Model Y: What to Know
To know the history of the Model Y, you have to go all the way back in time to 2013 and a trademark filed by Tesla under "Model Y". Then, in 2015 Tesla CEO Elon Musk teased a Model 3-based Model Y design with "falcon-wing" doors. Jump ahead to 2017 and the Model Y's silhouette is first teased in front of Tesla shareholders at an annual event.
The time is now June 2018 and a new silhouette is revealed along with an announcement that the car would be formally introduced in March 2019. During the time between June 2018 and October 2018, Tesla finalizes the design of the Model Y with Elon Musk revealing in October 2018 he has approved the production version design. While good news for eager buyers, Tesla also indicated in October 2018 that production would be pushed out into 2020. Fortunately, Tesla fans wouldn't have to wait long for more news as March 3rd, 2019 saw the introduction of a new silhouette and the much-anticipated confirmation of an unveiling event.
Finally, on March 14th, 2019, the Model Y was formally unveiled at a public event in California. This marks the first time the vehicle's exterior and interior have been seen by the general public. During the announcement, Tesla indicates the Model Y will arrive in four different versions: Standard Range RWD, Long Range RWD, Long Range AWD, and Performance with prices starting as low as $41,990.
Tesla's Model Y history culminates on March 13, 2020, as the first deliveries of the Model Y begin arriving to customers. Production of the first models occurred in Tesla's Fremont, CA factory but the company has expanded production to its Giga Berlin and Giga Texas facilities. In the Summer of 2020, Tesla announced it would start selling the Model Y in the Chinese market with production taking place at its Giga Shanghai facility.
Tesla Model Y Versions: Each Edition
Long Range AWD and Performance
As it stands today, Tesla offers two different versions of the Model Y: Long Range AWD and Performance. Both cars are available as dual-motor, AWD versions, and both are powered by a 75 kWh battery pack. The Long Range AWD promises an EPA-estimated 330 miles while the Performance version indicates an EPA-estimated range of 303 miles. The former can reach 60 mph as fast as 4.8 seconds while the Performance model launches quicker and hits 60 mph in 3.5 seconds. These are the only two Tesla Model Y versions that have made it to customers' doorsteps from orders placed through Tesla.com.
Both of these models have undergone a few changes over the years as Tesla rolls out updates to its software and the vehicle's hardware. In 2021, a rear seat option was introduced with a sliding second row, dimming side mirrors, matrix headlights, and improved rear lighting with fog lights available to European buyers. The first half of 2022 also saw the introduction of an improved 4680 battery cell which began shipping to customers in both the Long Range AWD and Performance versions in March of this year.
Standard Range RWD
While the focus is on two of these models today, there remain two other versions of the Tesla Model Y that never officially made it to market. The Standard Range RWD Model Y was first highlighted at the Tesla Model Y launch event but was not among the first versions available for pre-order. In July 2020, Tesla Tesla CEO Elon Musk tweeted that the Standard Range Model Y did not meet the company's expectation for range and would not be launched. At the same time, he indicated that the Long Range RWD would become the cheapest Tesla Model Y available. However, the Standard Range Model Y would finally appear on the Tesla website in January 2021 only to disappear one month later. Again, Tesla CEO Elon Musk Tesla reiterated that it still had not met the company's "standard of excellence".
Long Range RWD
In addition, a Long Range RWD Model Y was available for pre-orders after the Tesla Model Y launch event in March 2019 but customers had yet to take delivery. When the Standard Range Model Y was removed from the Tesla website in February 2021, Tesla CEO Elon Musk indicated that while the company had planned to launch this version, they have "too much product complexity" and it would not be made available to customers.
Standard Range AWD
A surprise to the market, given that details of a public-facing Standard Range version all but disappeared in 2021, Tesla quietly unveiled an employee-only AWD Standard Range Model Y in April 2022. Equipped with the new 4680 battery cell, details are not officially public but an EPA filing indicates the car can achieve 279 miles of range on a single charge. According to internal documentation, Tesla shows the Standard Range Model Y available to employees can achieve 0-60 mph in 5 seconds.
The Public Response
It's safe to say the initial public reaction to the Tesla Model Y was very strong overall. The launch event was typical Tesla fanfare streaming live online and attended by car journos and influencers who quickly posted their thoughts, videos, and images online. The full presentation lasted just thirty-five minutes as Elon Musk took the stage amongst a sea of fans taking video just a few feet away from where Musk was standing. However, it took 27-minutes before Musk finally brought the Model Y to the stage. Once the car rolled on stage, six people would exit the Model Y to show passenger capacity before Musk walked over and admired the vehicle.
Fan buzz was strong right from the start and tens of thousands of Tesla Model Y pre-orders arrived over the course of the first week. First impressions quickly drew comparisons to the Tesla Model 3 in terms of looks but any comparisons faded when attention turned to the roomier interior.
Even with the strong fan buzz and pre-orders rolling in, the stock market didn't respond the way Tesla had hoped as analysts considered the "vehicle" underwhelming and closed down 5% the day after the car was unveiled. Fortunately, Tesla's luck in the marketplace has turned as it's now one of the most valuable car manufacturers in the world, and part of that success is thanks to the Tesla Model Y.
Up Next…
Take a look at some of our other articles about Tesla.
The image featured at the top of this post is ©iStock.com/RoschetzkyIstockPhoto.