In 1964, Ford showcased its first Mustang at the New York World's Fair. It was integrated into Walt Disney's Magic Skyway ride and attracted over 15 million people. Since then, the pony car has been synonymous with power for the average person and the face of the company.
Nearly 60 years later, Ford did something just as incredible; it turned the Mustang into an all-electric vehicle. The automaker recognizes the importance of EVs in the world, a movement sparked by Elon Musk and his auto company Tesla. For over a decade, Musk has dominated the market, but For is up for the challenge. Read on to know how Tesla Model 3 vs Mustang Mach E stack up against each other.
Tesla Model 3 vs Mustang Mach E: Side by Side Comparison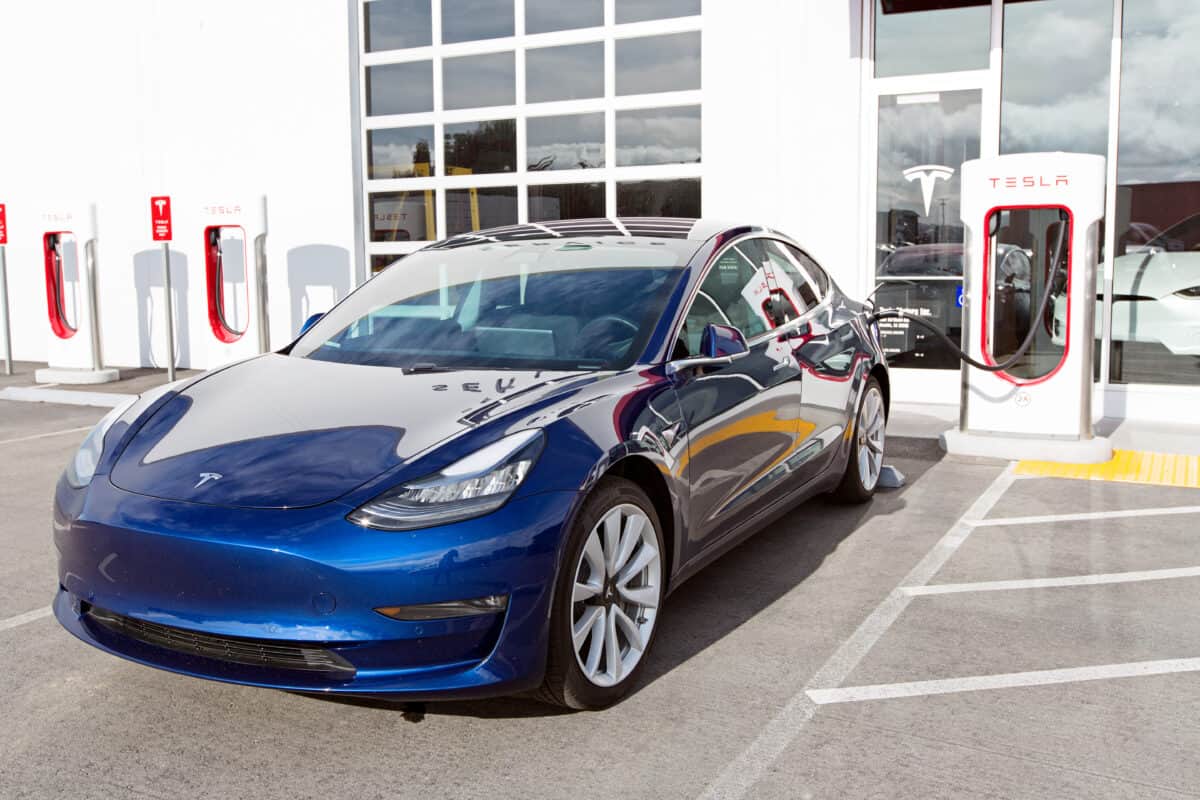 This Tesla Model 3 vs Mustang Mach E comparison looks at specs between base models, both of which are rear-wheel drive and feature standard battery options. Both manufacturers have performance and long-distance models available. 
Model 3
Mustang Mach E
Release Date
2017
2021
Manufacturer
Tesla, Inc.
Ford Motor Company
Range
272 miles
247 miles
Top Speed
140 mph (225 km/h)
112 mph (180 km/h)
0-60
5.8s
5.2s
Charging Speed
At-home: 8.5-10 h
Supercharger: 15 min
At-home: 8-12 h
Charge station: 40 min
MRSP
$46,490
$43,895
Cargo Space
425 L
402 L 
Horsepower
283 hp
266 hp
Torque
302 lb-ft
428 lb-ft
Weight
3,552 lbs
4,394 lbs
Number of Seats
5 seats
5 seats
Tesla Model 3 vs Mustang Mach E: Must-Know Facts
Tesla's models use an exclusive chemical composition compared to other EVs on the market
Tesla owners can take advantage of the superior Supercharger charge station, which can power a battery up to 200 miles in 15 minutes.
Critics find Ford's driver assist feature to be safer than Tesla's.
Ford makes a bold statement by turning its iconic sports car into a crossover.
The Mustang Mach E dominates its competition in handling and design.
Tesla Model 3 vs Mustang Mach E: What's the Difference?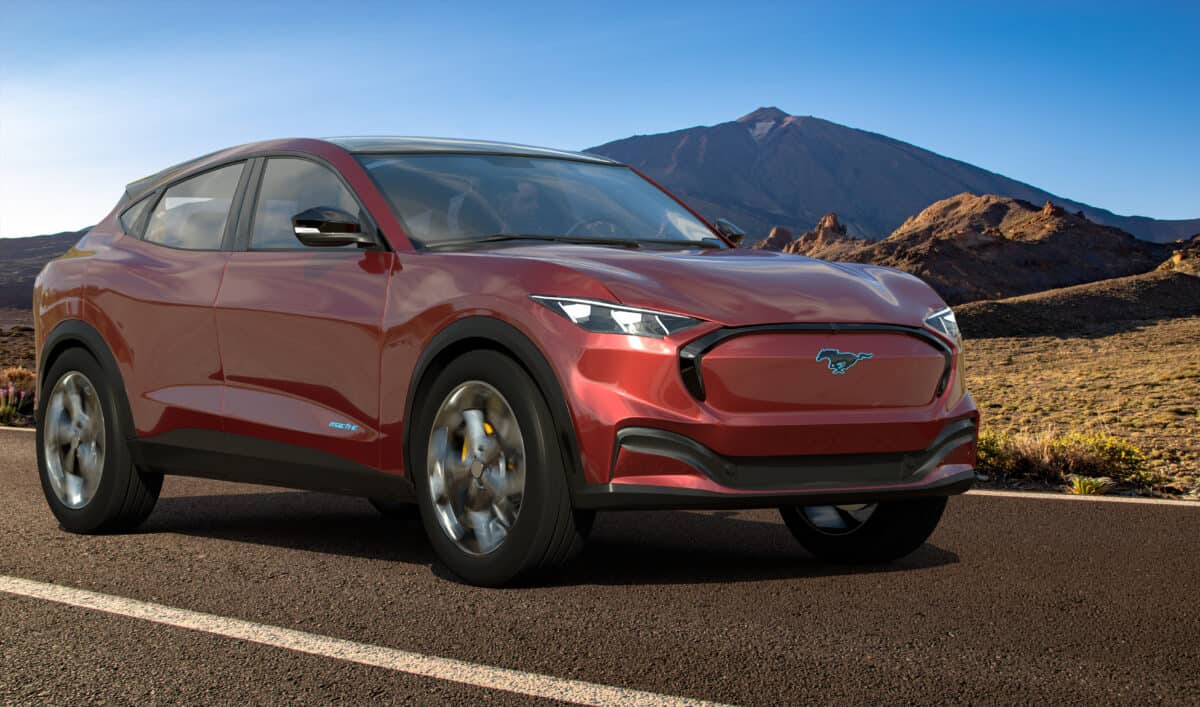 A few aspects make the difference when comparing Tesla Model 3 vs Mustang Mach E. In all EVs, consumers are looking at the range first and foremost. However, due to the massive influx of new electric vehicles, auto reviewers are considering a new feature: driver assist. Let's see how these two models compare.
Tesla Model 3: Range and Charge Time
Tesla has been at the top of the EV industry for over 10 years because its vehicles have an incredible range. The company's unique and exclusive battery design allows it to keep weight low while maintaining distance. The outcome is EV models that can do much more than their competitors. 
Customers can rely on the Tesla Model 3 to cover a range of 272 miles on a single charge. But they also take advantage of the vehicle's incredible charge time (because what good is the range if it takes you days to recharge?). 
For at-home charging, users can expect the vehicle to take 8-10 hours for the battery to go from 0-90% (Tesla suggests not charging the battery full for longevity). For in-a-pinch charging, however, Tesla owners can use Supercharger stations found in most US cities to top off their battery in less than 15 minutes. No other EVs have this luxury, so definitely use it when you can.
Tesla Model 3: Power and Handling
Where the Model 3 succeeds in efficiency, it falters in handling. The vehicle is so light and quick that many users lose track of where the wheels are going. That's not to detract from how awesome it is to drive this vehicle; the standard Tesla Model 3 can go from 0-60 in 5.8 seconds. That's a family driver trying to be a race car!
The Model 3 finds its pep in its low-end torque paired with one of the lightest builds on the market. The vehicle has 300 lb-ft torque and 283 hp under a design that weighs just over 3500 lbs. It's understandable why people might find it hard at times to keep this beast under control.
Tesla Model 3: Technology and Driver Assist
Now, you'd expect the industry leader in electric vehicles to have a landslide advantage in tech. However, this year it's not the case, and Tesla loses some points because of it. When you set the standard for so long, you're expected to keep it.
So, in a world where electric motors are quickly overtaking internal combustion engines, a new evaluation category has arisen: driver assist. What many people discovered about Autopilot, Tesla's AI technology, was that it was easy to fool. So long as you blocked the sensor (or even just kept a hand on the steering wheel) you could play on your phone or do other "distracted driver" things. Not good for a concept that's meant to protect people.
Tesla Model 3: Style
Let's face it. Tesla's strength came from introducing the masses to a more efficient vehicle when many were looking for an alternative to high gas prices. The electric motor and Superchargers made an impression, and the speed and agility spoke to the driving excitement.
But the contemporary, minimalist style can only intrigue people for so long, and when traditional automakers joined the fray, they brought along their centuries of design experience with them. Tesla still has a lot to learn about design to invoke buyer interest in "shiny things".
Tesla Model 3: Price
Still, the Tesla Model 3 comes backed by the company with the most experience in the industry. With a price of $46,490 for the base model, customers get one of the highest quality battery systems on the planet that powers a quick and reliable vehicle. Tesla regularly updates its software via WiFi, so even if you own your Model 3 for years, it'll still feature top-of-the-line applications.
Mustang Mach E: Range and Charge Time
This definitely feels like Ford's first electric vehicle. The Mustang Mach E features a standard NMC lithium-ion battery that mounts underneath the vehicle. However, the vehicle's sheer weight makes it beefy, adding more strain than you'd find with the Tesla Model 3. Because of this, Mach E has a range of 247 miles on a single charge (nearly 30 miles less than its competitor).
There's not much to say about its charge time either. Its at-home charge (220v) will take about 8-10 hours to charge, which makes it on par with the Model 3. However, customers will have to way 2-3 times as long at a charge station compared to Tesla users at a Supercharger.
Mustang Mach E: Power and Handling
The handling is where most drivers tend to prefer the Mach E over the Model 3. Its weight keeps it tied to the road, giving users a deeper sense of control over the vehicle. While it gets off the line slower than its competition (Ford advertises 0-60 in 6.0 seconds), the overall feel is much smoother, leading to a more enjoyable experience negotiating turns at higher speeds.
It's important to note the standard model Mach E doesn't attempt to be a sports car. The vehicle's top speed is 112 mph, nearly 15% slower than the Model 3. But in regards to what it's designed for, to announce Ford's entry into the EV market, it does its job well.
Mustang Mach E: Technology and Driver Assist
Ford's BlueCruise driver assistance pleasantly surprised car reviewers. The AI features lane-keep assist, automatic emergency braking, collision warning, and distracted driver alerts. The technology doesn't slack while keeping drivers engaged, making it more effective at keeping users safe than Tesla's Autopilot. This is one of the major factors that makes the Mustang Mach E superior to its competitors in 2022.
Mustang Mach E: Style
Let's clear the air on this topic: The Mustang Mach E is not a sports car in function or design. It's very clearly a crossover and makes no effort to convince us otherwise. In the world of vehicles, this is a message from Ford; the company recognizes the changing global trends and shows its willingness to adapt.
Now, that's not to say that Ford forgot how to design a vehicle. The Mustang Mach E is slick and modern and features many tinges of luxury. Its tall design allows for a more comfortable ride for several passengers and considers usability in every crevice. Mach E is obviously the product of a historic automaker.
Mustang Mach E: Price
While the Mustang Mach E doesn't feature eye-opening speed or a legendary battery system, it's certainly one of the most reliable EVs on the market. And its price is hard to beat; you can purchase the standard model Mach E for $43,895, three thousand less than the Tesla Model 3. This is an investment into Ford's first fully electric model, a testament to their dedication to the future of vehicles.
Tesla Model 3 vs Mustang Mach E: Which is Better?
While Consumer Review gave this matchup to Ford, choosing between Tesla Model 3 vs Mustang Mach E isn't so straightforward. In fact, these two cars aren't in the same class. It make sense to compare the Mach E to the Model Y, Tesla's crossover model.
But if we have to choose between these two, it's important to know what you're looking for in a car. Both are incredibly reliable, and both manufacturers are renowned for their products. The major difference between these two models? Safety.
If you want a sportier EV, the best option here is not the faux Mustang but the Model 3. And if you're looking for a great family vehicle with a spacious interior and decent range, you'll want to go with the pony.
Tesla Model 3 vs Mustang Mach E: Further Reading
Ford has always found itself in competition with the most prominent automakers. Here, it's done it again with Tesla. For in-depth reviews on these vehicles, or to see how they compare to other EVs on the market, check out these articles: