Key Points:
With the addition and infrastructure of charging stations growing everyday, electric vehicles seem to be here to stay.
The Rivian futuristic design versus the Tesla design is closer to other newer trucks on the road.
Considering the range that you will need day-to-day may be the most important factor in deciding which car to choose.
The electric car market has grown exponentially in the last few years, with more companies seeing the industry's potential and putting their hat in the ring. New competitors such as Rivian, Tesla, and Faraday Future aim to make the industry waves. They look forward to offering different types of vehicles with different specs, features, and benefits. Of course, everyone will have an opinion on this matter. What's really going to matter is how these cars stack up against each other in Side by Side comparisons. Stick around as we explore the similarities and differences between Tesla Cybertruck vs Rivian R1T.
Tesla Cybertruck Vs Rivian R1T: Side by Side Comparison
| | Tesla Cybertruck | Rivian R1T |
| --- | --- | --- |
| Manufacturer | Tesla, Inc. | Rivian Automotive |
| Release date | 2023 | 2021 |
| Top speed | 120 mph | 115 mph |
| 0-60 mph         | 3.0 seconds     | 2.9 seconds |
| Max towing | Between 7,500 and 14,000 pounds | 11,000 pounds |
| Range   | over 500 miles                        | 314 miles |
| Price   | From $39,900 (Est) | From $67,500 |
| Charging | 250 kW | 200kW at launch; 300 kW later |
| Design and Technology | Developed to combine a sports car's performance with a truck's practicality. Built to be strong, adaptable, capable, and high-performing both on and off the road | Impressive off-road capability, punchy acceleration, cleverly designed inside and out. |
| Autonomous driving   | Autopilot (optional Full Self Driving upgrade) | Driver+ |
Tesla Cybertruck Vs Rivian R1T: Six Must-Know Facts
The Tesla Cybertruck, based on the Tesla Semi, is a zero-emission, all-electric truck that can go up to 300 miles on a single charge. It has a battery capacity of 100 kWh and can operate in real-world conditions with a zero percent chance of running out of power.
Rivian was the first to reveal its electric truck at the 2018 Los Angeles Auto Show in November. The R1T pickup and R1S SUV, which share the same platform, were announced as the startup's first vehicles. However, the pandemic pushed the unveiling date by a year.
Driver+, a driver aid system from Rivian, will be a standard feature on every new vehicle. It will receive over-the-air software updates to fix faults and bring out upgrades over time, similar to previous systems of its kind.
Tesla's new truck is the biggest change to its lineup since it launched the Model 3 in mid-2017. The company's electric semi-truck will compete with the Rivian R1T and other luxury trucks from Daimler AG and Volvo AB.
The Tesla Cybertruck's body panels are made of cold-rolled stainless steel. It is heavier than steel or aluminum, making it more challenging to work with.
The chassis of the Rivian R1T is made of high-strength steel, and the body, aluminum and carbon fiber. Its lighter build makes up for the weight of the car's battery pack, which gives the model a power boost.
Tesla Cybertruck Vs Rivian R1T: Design
Both vehicles couldn't be more dissimilar in terms of design. Rivian has taken a classic approach to the aesthetics of its R1T pickup truck, with a hefty, three-box design, four-door configuration, and big load bay at the rear. The Rivian is not, however, devoid of intelligent design. With four motors in the transmission, Rivian's wheels can be individually operated, resulting in outstanding off-roading capabilities. Behind the back doors, a room for storage is created by the so-called "gear tunnel," which runs widthwise. Rivian has demonstrated how this could be used to store skis and even aims to offer a slide-out camping kitchen.
Tesla has taken a significantly more futuristic approach with the Cybertruck. Similar to a pickup truck in proportion, the Cybertruck is all about sharp edges and acute angles with its exposed steel body and angular glasshouse. The 6.5-foot back load bay can be covered, while the front and rear light graphics are unlike anything else on the road.
Tesla Cybertruck Vs Rivian R1T: Battery and Range
Two battery sizes are available for the Rivian R1″launch T's edition." The smaller battery has a claimed range of 314 miles using the EPA testing standard and weighs 135 kWh, which is still greater than every other EV battery currently in use. The 180kWh battery in the $10,000 "max pack" for the vehicle, according to Rivian, provides a range of more than 400 miles.
The Cybertruck's battery packs are anticipated to be 100kWh, 120kWh, and 200kWh in size for the single-motor, dual-motor, and triple-motor vehicles, respectively. Tesla does not specify the precise size of the Cybertruck's battery packs. Using the EPA criteria once more, Tesla calculates that the range of these trucks is over 250 miles, over 300 miles, and over 500 miles, respectively. It's possible to view this as a win for Tesla at this point, but it's difficult to predict with certainty the actual range of each vehicle until they have through official testing. In any case, Tesla's promise of 300-500 miles is significant and, should it become a reality, would be a major milestone for electric automobiles.
Rivian R1T Vs Tesla Cybertruck: Towing Capacity
Electric vehicles are typically quick, and many prospective electric trucks share this trait. Depending on the variant, Rivian claims the R1T can go from 0 to 60 mph in as low as 3.0 seconds. The truck can tow up to 11,000 lbs, according to the manufacturer.
Tesla claims that the single-motor and rear-wheel-drive model will reach 60 mph in under 6.5 seconds, the dual-motor version will do so in under 4.5 seconds, and the triple-motor model will do so in under 2.9 seconds. The pickup truck industry has never witnessed an acceleration of this level, which is appropriate for supercars.
According to Tesla, the Cybertruck will have a maximum towing capacity of 7,500 lbs (for the single-motor model) to more than 10,000 lbs (for the dual-motor model). The dual-motor model, its triple-motor flagship, can town 14,000 lbs.
Tesla Cybertruck Vs Rivian R1T: Interior Features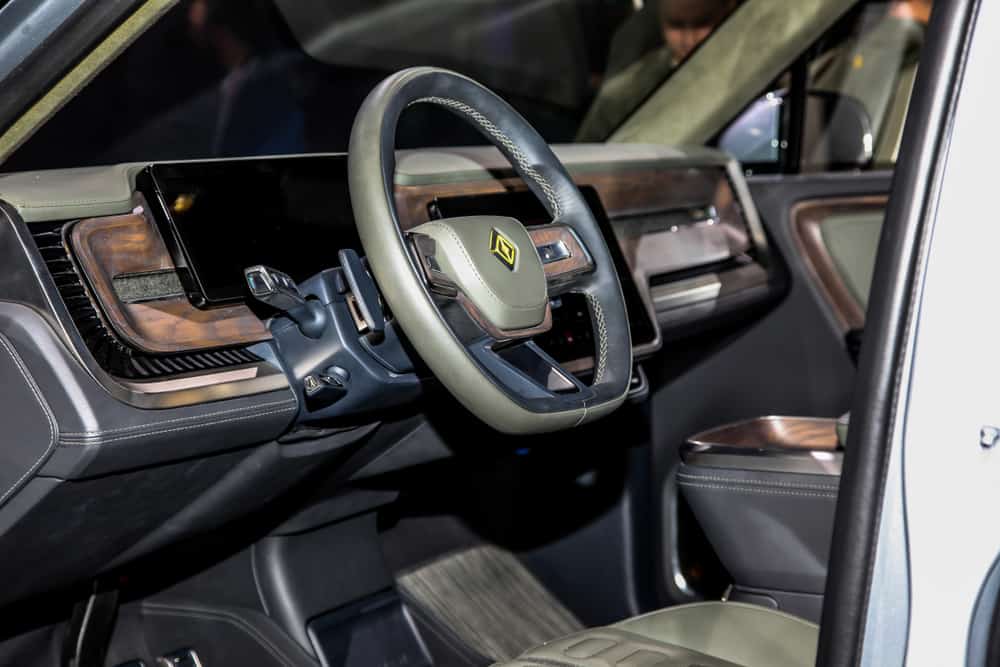 While both EVs have minimalist cabins, the Rivian is the more traditional. Cybertruck is the more extreme with its airplane-style, yoke-shaped steering wheel. The yoke, six seats organized in two rows of three, and a sizable touch screen mounted in the middle of a featureless dashboard are about all that can be found inside a Tesla. Nothing much is known about the interior of the Cybertruck at this time. It will probably have the same rear passenger display and game computer as the 2021 Model S and Model X.
A digital display in front of the driver and a more conventional cabin make up the Rivian's center touchscreen. The R1T has a bench with three seats in the back and two seats at the front.
Rivian R1T Vs Tesla Cybertruck: Autonomous Driving
Driving+, a driver aid system from Rivian, will be a standard feature on every vehicle the business produces. It will receive over-the-air software updates to fix faults and bring out upgrades over time, similar to previous systems of its kind. The vehicle will "automatically steer, alter the speed, and change lanes" at the driver's demand when Driver+ comes on. Driver+ is a level 2 autonomous driving system and not one with "real" autonomy. Therefore, the driver must always pay attention. At launch, Driver+ will only be able to travel on highways. Rivian promises that more types of roads will eventually be viable.
A premium autonomous driving system will be available from Rivian at some undefined time in the future, according to documents submitted to the FCC ahead of the company's initial public offering. Rivian values its system at $10,000. The Driver+ system uses 12 ultrasonic sensors, four corner radars, one forward-facing radar, ten exterior cameras, and an inside camera to monitor driver alertness. According to Tesla, every variant of Cybertruck will come with its standard Autopilot feature. It's an advanced driver assistance technology that automates the accelerator, braking, and steering when on the motorway and other routes with clear lane markers. As with previous Tesla vehicles, Cybertruck customers can spend an extra $10,000 on the 'Full Self-Driving' upgrade, which Tesla believes will someday be capable of fully autonomous driving.
However, this is yet to become a reality. Tesla hasn't stated when such a system would be available or when it will be legal to use wherever its vehicles are marketed. As with Rivian, Tesla's Autopilot technology is upgraded via over-the-air software updates. No one knows precisely what hardware Tesla will employ for the Cybertruck's Autopilot. However, having employed cameras and radar for many years, Tesla is gradually turning away from the radar. The company is adopting a camera-only strategy with its latest versions of Model 3 and Model Y in the US. The cameras are paired with Tesla Vision, proprietary software on its supercomputer.
Rivian R1T Vs Tesla Cybertruck: Pricing
The Rivian R1T is more expensive than the Tesla CyberTruck. The Rivian R1mid T's high-end model costs $75,000 and $85,000, while the CyberTruck with the tri-motor comes in under $70,000. This is probably because Tesla can produce in large quantities and gain economies of scale. A Cybertruck can currently be reserved for a fully refundable $100. With reservations now estimated at 1.5 million vehicles, Tesla has ended reservation availability for Europe and Asia, with only North American customers still allowed to reserve the electric pickup.
Pros and Cons of Tesla Cybertruck
| Pros! | Cons! |
| --- | --- |
| The Cybertruck has a strong exterior shell to ensure the best possible passenger safety. | It doesn't have the same cargo space as a regular truck. |
| Provides a very roomy interior space with seats for up to 6 passengers. | Its polarizing design may not be appealing to some people. |
| The Tesla Cybertruck has a 500-mile range, which is longer than other semi-trucks on the market today. | Due to its size, it can be tricky when trying to park in regular garages. |
| It comes with Single, Dual, and Tri-motor variants | Questionable Window Durability. |
| The extraordinary body design leads to better aerodynamics. |   |
| High-capacity battery pack: The battery pack is designed to withstand heavy-duty use, with a high energy density and low cost per kWh. |   |
Pros and Cons of Rivian R1T
Pros!
Cons!
Inventive use of space, particularly with its Gear Tunnel and numerous lockable storage places.
The price of buying a Rivian R1T may be high compared to competing brands.
It offers a contemporary yet traditional perspective on the pickup, which might help it win over potential customers who dislike the design of the Tesla Cybertruck.
It doesn't have autonomous driving capabilities, which means it requires full attention from the driver at all timesThe R1T also comes with an all-wheel drive system that allows you to drive in any weather condition and on any surface.
 
Acceleration and power are astounding.
 
Tesla Cybertruck Vs Rivian R1T: Which One Is Better? Which One Should You Choose?
The Tesla Cybertruck, with three motors, is the more impressive of the two trucks shown here, at least on paper. Since it was unveiled in 2019, little has been seen of Tesla's first truck, and production has already slipped a year from the original target of 2021. Tesla has a solid track record of eventually achieving the ambitious goals it sets for itself despite frequent delays.
Rivian may have established market leadership with the R1T, but if Tesla can achieve its objectives, the Cybertruck may be the better option. Providing, of course, that you like its design.
Up Next…
We've got plenty more articles detailing information about electric vehicles. Read these next!