Tesla Cybertruck vs Other EV Trucks from Ford, Chevy, and Rivian: 8 Must-Know Facts
The Tesla Cybertruck, Ford, and Chevy EVs have autonomous driving features.
Tesla Cybertrucks have a nearly impenetrable exoskeleton, making them the safest EV truck.
Tesla Cybertrucks have not yet been released, but they are available for pre-order before they are unveiled in 2023.
The features on the Tesla Cybertruck are subject to change before the vehicle is officially released.
An EV truck's performance is measured by horsepower, top speed, and acceleration.
EV trucks perform the same functions as fuel-powered trucks; some are even more powerful.
The Rivian R1T has an electric motor on each wheel, allowing drivers to maneuver each wheel independently.
Chevy's Silverado EV and the Rivian R1T provide recreational facilities not found in traditional pickups, like a movable rear window screen and a built-in kitchen.
Are you looking for a vehicle with high transporting capabilities and environmentally friendly fuel consumption? In that case, an electric truck is just what you need.
EV trucks are special electric vehicles fitted with batteries designed to generate enough horsepower to transport cargo and specialized payloads. They can also maneuver through hostile terrains. So, if you want an efficient transportation means, consider buying an EV truck. There are various models from different manufacturers available on the market.
The Tesla Cybertruck is one of the most recent EV trucks to grace the automobile market. Available for pre-order and set to be released in 2023, the Cybertruck has an exquisite design and hi-tech features all packed into the electric vehicle.
However, before purchasing the truck, looking into other EV trucks and what they offer is essential. As such, this article compares Tesla's Cybertruck vs other EVs from Ford, Chevy, and Rivian to help you make an informed purchase based on your needs and preferences. Let's get to it.
Tesla Cybertruck vs Other EV Trucks: Side-by-Side Comparison
| | Tesla Cybertruck | Ford F-150 | Chevrolet Silverado | Rivian R1T |
| --- | --- | --- | --- | --- |
| What is it | Electric truck | Electric truck | Electric truck | Electric truck |
| Release Date | 2023 | 2022 | 2023 | 2022 |
| Power | 800hp | 580hp | 664hp | 800hp |
| Payload | 3,500 pounds | 2,000 pounds | 1,300 pounds | 1,700 pounds |
| Range | 500 miles | 300 miles | 400 miles | 314 miles |
| Battery Size | 200kWh | 131kWh | 200kWh | 135kWh |
| Fast Charging | Yes | Yes | Yes | Yes |
| Towing | 14,000 pounds | 10,000 pounds | 10,000 pounds | 11,000 pounds |
| Price | $40,000 | $41,669 | $39,900 | $67,500 |
Tesla Cybertruck vs. Other EV Trucks from Ford, Chevy, and Rivian: What's the Difference?
Arguably the most preferred electric vehicle worldwide is the Tesla, dominating sales with its innovative designs and technology. However, when it comes to EV trucks, Tesla's Cybertruck faces fierce competition from models manufactured by other companies.
If you've been looking into EV trucks, you've probably come across or heard of Ford, Chevy, and Rivian EV trucks. While the trucks are suitable alternatives to the Tesla Cybertruck, they have distinct features that set them apart. Here's a review of Tesla's Cybertruck vs other EVs regarding their designs, payloads, ranges, and pricing.
Design
A vehicle's design is essential to consider before purchasing any automobile. When it comes to EV trucks, you not only want one that is aesthetically appealing but also one that has design features that make it safe and comfortable to drive.
Cybertruck
The Tesla Cybertruck has a futuristic design with a striking uniqueness that has attracted thousands of pre-orders. It has an eye-catching exterior akin to an amphibious vehicle with sharp angles and flat surfaces.
It has contemporary truck features, including a 6.5-foot truck bed. The bed has an extendable telescoping ramp, which differs from the standard tailgate on the Ford F-150, Chevy, and Rivian's R1T. The ramp design makes loading the Tesla Cybertruck easier than in other EV trucks in the market.
Unlike Tesla Cybertrucks, Ford's F-150 and the Chevy Silverado EV truck have traditional pickup truck designs. However, they are not devoid of intelligent features and other upgrades that enhance your driving experience and distinguish them from fuel-operated models.
Ford F-150
While Ford F-150 has a familiar look, its interior is quite different from other trucks the company has produced over the years. The automobile company added a digital touch to the vehicle with a 15-inch vertical android screen unavailable on previous F-series trucks. The digital screen pairs well with standard dashboard features, making the F-150 EV an automobile that bridges the past and future.
Chevrolet Silverado
Chevy's Silverado EV takes a different design approach as it has a familiar interior and a slightly enhanced exterior design to appeal to modern EV truck enthusiasts. It is larger than a traditional Chevy truck and incorporates recreationally focused features.
Major design features are the foldable seats and movable rear window screen, allowing you to extend the pickup end to the cabin. You can create room to hang out in the truck or to carry more load.
Rivian R1T
Rivian, on the other hand, has a minimalist interior design but has various add-ons and features that define its structure. The EV truck's design has a built-in kitchen, a nested camping stove, and other unconventional components, such as popup tents and a bicycle rack.
The Rivian R1T is designed to unleash your weekend persona. Given these specifications, the EV truck design you choose solely depends on your preference and taste.
While the Tesla Cybertruck's design stands out as a fashion statement with essential pickup features, the competing models offer the traditional truck design with enhanced features.
Battery and Range
Knowing an EV truck's battery power and range is probably the most important information when purchasing the best-fit pickup. Even if you only drive a few miles a day, you'd prefer a vehicle with a high range. After all, you may want to go on a road trip someday, and it would be quite unfortunate if your car ran out of charge every hour.
Cybertruck
The Tesla Cybertruck offers the best range and battery capacity if released as advertised. The EV truck has a battery capacity of 250kWh and can go up to 500 miles on a single charge with the quad-motor setup.
The Cybertruck's battery capacity and range are quite impressive for an EV truck as it puts the vehicle ahead of the Tesla Model S, which is currently the EV with the best range in the market at 405 miles.
Chevrolet Silverado
Chevy's Silverado EV is a close second with battery features and the range it offers. It uses the newly released Ultium battery pack produced by General Motors, which has a 200kWh capacity. The range is slightly lower than that of the Tesla Cybertruck, as the Silverado EV travels 600 miles when charged to full capacity.
Ford F-150
The Ford F-150, on the other hand, offers two battery capacities. The standard Ford battery has a capacity of 98kWh, while the advanced model has a battery capacity of 131kWh and a range of 300 miles.
Rivian R1T
The Rivian EV, by contrast, has a slightly higher battery capacity at 135kWh, which gives it a range of 314 miles. It is notable that despite the different battery capacities, all the EV trucks offer considerable range.
Even the Ford F-150, which has a 300-mile range, could travel a considerable distance before it runs out of charge.
Performance
Like contemporary trucks, an EV truck's performance depends on its horsepower, load capacity, and speed. With the right horsepower and speed, your EV truck can easily get you anywhere you want to go.
Cybertruck
Although the Tesla Cybertruck is yet to release its final horsepower figures, the top trim's prototype is estimated to produce 800hp and 824 lb-ft of torque. The car has a tri-motor and all-wheel-drive system that adds to its performance.
The system combines well to give the vehicle incredible speed, as it is estimated to accelerate to 60mph in just 2.9 seconds when it starts from a stationary position. 
Rivian R1T
The Rivian R1T equally offers impressive performance not expected of an EV Truck. The vehicle has four electric motors, one on each wheel, to enable the driver to control each wheel independently, which makes it easier to navigate difficult terrain.
The EV truck's horsepower is rated at 835hp, has a 908 lb-ft torque, and has a high acceleration rate, as it can rocket to 60mph in just 3.2 seconds.
Ford F-150
Although Ford's F-150 EV is by far the most powerful vehicle produced by the company in terms of performance, it is lowly ranked compared to its competitors. It has a standard all-wheel-drive, dual motors, and an independent rear suspension that allows the vehicle to operate on 580hp
It also has a 775 lb-ft of torque and runs from 0-60 mph in 4.4 seconds. These specs indicate the Ford F-150 is more powerful than vehicles operating with a 7.3-liter V8 engine.
Chevrolet Silverado
The Chevy Silverado is no slouch in the performance department, either. The EV Truck has two electric motors producing 664hp and 780 lb-ft torque. This power is enough to propel the EV truck to 60mph in just three seconds.
With this in mind, it is clear that the Tesla Cybertruck is the best vehicle of the compared brands in terms of performance. However, since the truck is not yet released, the figures are solely based on estimates from the prototypes. They are subject to change.
Payload and Towing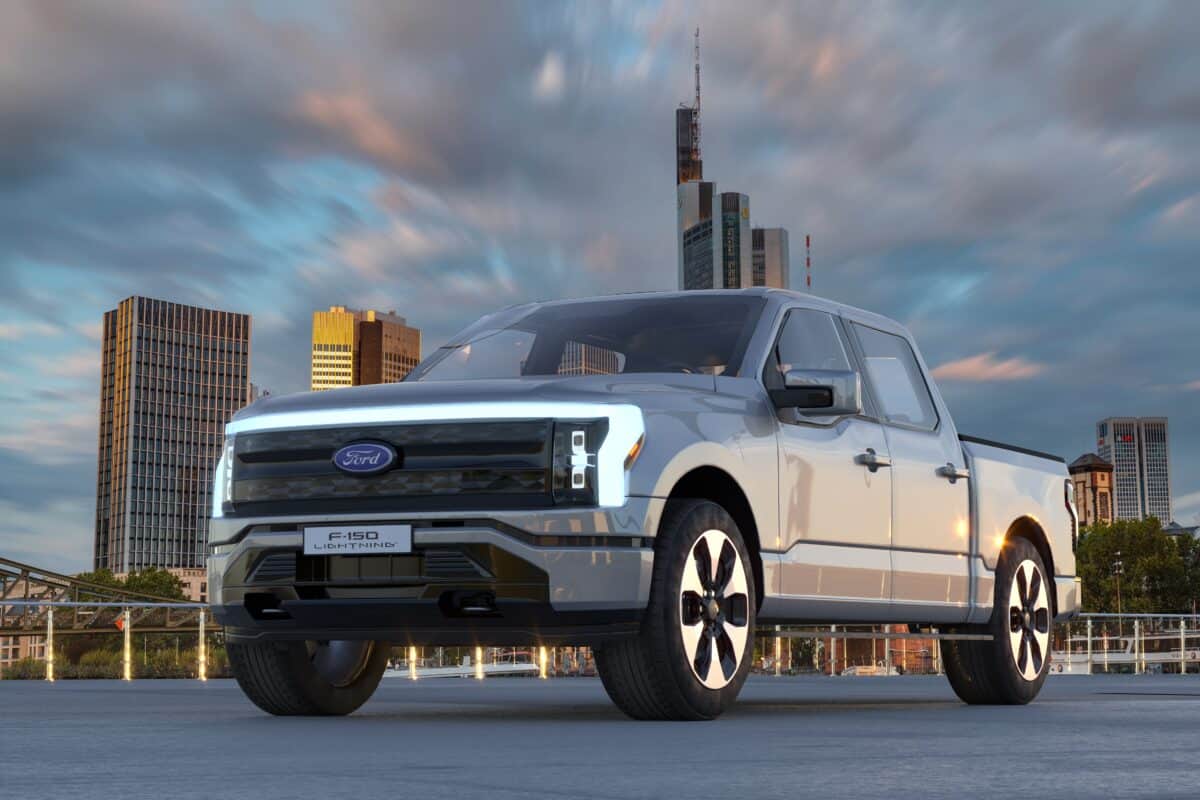 Despite operating on a battery and motors, EV trucks are still expected to fulfill similar functions to their Diesel-operated counterparts. After all, what would be the point of purchasing them if they didn't?
Thus, it is only befitting to compare Tesla's Cybertruck vs other EVs from Chevy, Ford, and Rivian regarding their payload and towing capacities. Although the Tesla Cybertruck has numerous incredible features, one of its top-selling points is its payload and towing capacity.
The vehicle can handle a considerable load and continue operating efficiently as it has a 3500-pound payload and can tow 14,000 more pounds on the tri-motor. The single and dual motors have towing capabilities of 7,500 and 10,000 pounds, respectively.
The Ford F-150 EV truck is equally impressive as it has a 2,000-pound payload and a 10,000-pound towing capacity. The load capacity is extended by a Pro Trailer Hitch Assist, which helps tow heavy loads.
The payload and towing capabilities in the Chevy and Rivian EVs are not as impressive as those of the Tesla Cybertruck, but they can still handle considerable loads. The Chevy has a payload of 1300 pounds and a towing capacity of 10,000 pounds. On the other hand, Rivian has a 1700-pound payload capacity and can tow 11,000 pounds.
Pricing
We cannot have a complete review of Tesla's Cybertruck vs other EVs until we compare their prices. Suppose you are still on the fence about which EV truck to purchase, given their presented specs. Maybe their prices could help you make up your mind.
The Tesla Cybertruck is fairly priced, considering its features. It is available for pre-order on the company website, where they were initially planned to go for $40,000. However, Tesla is known to raise prices as it improves its vehicles' design and features. Therefore, once the car is released in 2023, it may cost a lot more.
The Ford F-150 EV is equally competitively priced with a $41,699 starting price. The purchase is subject to a federal tax credit; you can get it for $7,500 less. If you want the top trim vehicle model, you must dish out around $90,000 to access the fully loaded version. The Rivian EV has an almost similar pricing model as it goes for $39,900.
The Chevy Silverado is priced like all Chevrolet automobiles. It is arguably the most expensive EV truck in the market, with the standard model going for around $67,500. Enhanced features, such as a larger battery pack, will cost you $6,000 – $16,000 more.
History of the Tesla Cybertruck
The Tesla Cybertruck was first announced by Tesla in 2019. It was intended to provide an eco-friendly substitute for Diesel-operated trucks. The announcement followed Elon Musk's 2012 and 2013 desire to build a truck with load-compensation suspension.
In 2014 Musk gave a timeline of 4-5 years for production work to begin on the truck. In 2016, Musk described the intention to use the chassis of a van and that of a pickup truck. Later in 2017, he announced the size to be that of a ford F-150. In Late 2018, the Tesla CEO anticipated a prototype would be available in 2019.
A teaser image was released, and the car unveiled a higher towing capacity than the Ford-150. Production of the truck was scheduled for 2022, but the company delayed production to 2023 due to supply chain issues. Without delays, the car could be on the roads soon after production in 2023.
History of the Ford EV Truck
Ford announced its electric vehicle in 2019 at the Detroit Auto Show. The car was said to be fully electric and light. A prototype was tested in 2019 and demonstrated a test tow of 570,000kg.
During the announcement, Ford declared its intention to combine durability, capability, and productivity to produce the most efficient electric trucks. The truck was unveiled and released in May 2019, and production began in 2022.
Ford also announced its intention to release electric trucks beyond the F-series, such as the Expedition and Navigator. The first electric Ford pickup was thus manufactured on April 18, 2022, and delivered on May 26.
History of the Chevy EV Truck
The Chevrolet Silverado EV is a fully electric pickup truck manufactured by General Motors. It was introduced in the automobile market in January 2022. The car was presented at the Customer Electronics Show (CES) in January 2022.
General Motors announced that the Chevrolet Silverado EV would use the electric-only BT1 platform with a Ultrium battery. The company also shared its desire for the car to have a wheel-based and overall-length ICE-powered Silverado. According to the company, the 2024 version of the car will go on sale in 2023. 
History of Rivian Electric Trucks
Rivian produces electric cars under the name Rivian R1T, which is a light-duty pickup vehicle. The car was unveiled as Rivian A1T in May 2018 but was rebranded in November of the same year. The vehicle has an offroad design with the concept design planned to have 360mm of ground clearance and an 800hp (600kW;810PS) electric motor. 
In 2018, Rivian announced its intention to license its electric chassis to different manufacturers and intended to start production of the R1T in 2020. The first Rivian electric vehicle was produced and delivered in September 2021.
In March 2021, Rivian released plans to produce public charging stations by 2023, rivaling their main competitor Tesla. Rivian will place the destination chargers (Rivian Waypoints) at retail stores, lodgings, restaurants, and parks.
Tesla Cybertruck vs Other EV Trucks from Ford, Chevy, and Rivian: Which One is Better? Which One Should You Use?
Now that we have reviewed Tesla's Cybertruck vs other EVs, you may be wondering which one would suit you best. When looking for an EV truck, you should consider its multiple features, including whether it has an all-wheel drive to maneuver harsh terrains, its range and power, the load capacity it can take, and recreational facilities.
In this light, the Tesla Cybertruck checks all the boxes. It has incredible power, range, and design features that make it suitable for rough roads and unfriendly terrains. Similarly, the vehicle has great safety features that are handy during accidents. It is the epitome of truck technology that forms a gateway to the future.
Nonetheless, you may find the vehicle's design unappealing or be uncomfortable with the thought of waiting an entire year to get your EV truck order. In such circumstances, consider getting the Ford F-150 EV truck.
Although America's favorite truck manufacturer did not match Tesla's Cybertruck, Ford stayed true to delivering a quality EV truck with a traditional design and improved features. Moreover, it's already available on the market. All in all, it is up to you to consider what features you'd want on your EV truck.
Up Next…