Key Points
TCL and Sony are two key players in the smart TV industry, with impressive specs and features.
TCL TVs have a razor-thin bezel and edge-to-edge glass display, while Sony TVs have a minimalist design and clutter-free rear side.
Sony TVs provide a superior gaming experience with features like reduced lag and vibrant colors, while TCL TVs offer a near-instant response and a cinematic gaming experience.
Sony's Bravia Cam technology adjusts settings based on your sitting position, while TCL offers multiple streaming platforms and Dolby Vision and Sound technology.
TCL TVs are relatively cheaper than Sony TVs, making them a budget-friendly option.
Every year, TV manufacturers battle for market supremacy in the smart TV industry. We also hear complex TV jargon, which is one of the ways to know who is winning. One TV brand that has always been in the fight is Sony.
In 2022, they caught us by surprise when they attacked the market with a QD-OLED TV. Later, TCL came out guns blazing with their 6-Series TVs that feature the famous Roku TV, which has impressively worked for them in previous years.
Nevertheless, though the TV battle is filled with multiple key players, like Samsung and LG, we will mainly focus on TCL and Sony, two contenders with the perfect eye for quality. Below is a review of TCL vs. Sony TVs. Let's get to it!
TCL vs. Sony: Side-by-Side Comparison
Specifications
TCL 8-Series
TCL 6-Series 8K
Release date
2019
2022
Sizes
65" and 75"
65" and 75"
Panel technology
QLED
QLED
Picture processor
AIPQ Engine
AIPQ Engine
Display resolution
4K
8K
Other features
Dolby Vision, Dolby Atmos, Quantum Contrast, 4K Upscaling, and HDR Pro Gamma
Game Studio Pro, Dolby Atmos, Dolby Vision, Smart Upscaling Technology, and Variable Refresh Rate
Price (Official Websites)
65"- $1,999.99
75"- $2,999.99
65"- $2,199.99
75"- $2,999.99
Specifications
Sony Bravia XR Class Z9K 8K
Sony Bravia XR Class A95K
Release date
2022
2022
Sizes
75" and 85"
55" and 65"
Panel technology
Mini LED
QD-OLED
Picture processor
Cognitive Processor XR
Cognitive Processor XR
Display resolution
8K
4K
Other features
Bravia cam, hands-free voice assistant, XR motion, XR sound, and Dolby Vision
Bravia cam, hands-free voice assistant, XR motion, color, and contrast, and Dolby Vision
Price (Official Websites)
75"- $5,499.99
85"- 7,999.99
55"- $2,499.99
65"- $2,999.99
TCL vs. Sony: What's the Difference?
From the table above, TCL and Sony TVs have incredible specs that we only see in premium models from other top brands. So, what separates them? Keep reading to find out!
Design
Kicking off our TCL vs. Sony TV matchup is design. A quick glance at TVs from either manufacturer shows that both companies understand the importance of first impressions.
For example, TCL TVs come with a razor-thin bezel and have a sophisticated design that triggers you into impulse buying. Moreover, TCL TVs' edge-to-edge glass display elevates its aesthetic appeal, complementing your living room.
Best Smart System
TCL 65-inch 6-Series 8K
Over 33 million pixels and four times the clarity of 4K UHD displays
Intelligently enhanced by TCL's AiPQ Engine
Mini-LED backlight technology
Quantum Dot technology
Contrast is optimized across up to 240 localized zones
Smart 8K HDR and 8K Upscaling
Dolby Vision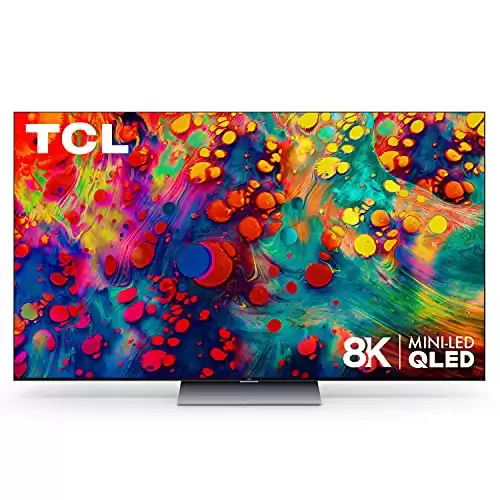 We earn a commission if you make a purchase, at no additional cost to you.
On the other hand, Sony TVs boast a minimalist, one-slate bezel design that will keep you glued to the TV for hours. Furthermore, thanks to Sony's dual-style design, you can position the A95K using the front side or back side to ensure it blends well with your interior décor.
In addition, Sony TVs have a clutter-free rear side, which is a bonus for those who don't like having messy cables. All in all, we have a tie in this matchup because both TVs are well-designed; you only have to choose one that perfectly complements your living room.
Panel Technology
Let's now discuss panel technology. Newer TCL models use the QLED panel, which uses Quantum Dot technology to produce bright colors. Moreover, with over 25,000 Mini LEDs working for you in the background, the TCL 8-series TV is super-bright and ensures black shades appear dark and white shades are lit up.
Interestingly, Sony still makes Mini LED TVs, as seen with their Z9K, but their most significant accomplishment is the A95K, a QD-OLED TV that has surprised all of us due to its lifelike images. Watch as your movie comes alive thanks to the stunning blacks and high brightness levels seen in this QD-OLED TV.
You also don't have to change your sitting position to get the best visual experience, as the A95K maintains its vibrant pictures and doesn't lose color regardless of the angle. Lastly, this TV regulates blue light exposure, allowing you to binge-watch for hours with little-to-no eye fatigue.
Overall, nothing comes close to the QD-OLED panel, which makes Sony TV the obvious winner in this category.
Picture Processor and Quality
We cannot have a complete review of TCL vs. Sony TVs without checking how their picture processors compare. The AIPQ Engine is the TCL TVs' brain that adjusts picture quality in real-time and scene-by-scene.
For example, watch as your night shots leap off your screen, thanks to the AIPQ Engine, which tirelessly works for you to ensure your images are lifelike.
Moreover, TCL paired this engine with the 4K upscaling technology, which improves your content's original resolution to 4K. But if you choose the TCL 6-Series, your images will come alive in 8K.
Our Pick
Sony 75-Inch 8K Z9K Series
Cognitive Processor XR

Thousands of Mini LEDs

Features a Game Menu

Input lag as low as 8.5ms

HDMI 2.1 features (4K/120,10 VRR, and ALLM)
We earn a commission if you make a purchase, at no additional cost to you.
Conversely, Sony TVs use the Cognitive Processor XR, which analyzes images the way our eyes scan objects. Similarly to our brains, the Cognitive Processor XR evaluates the content you are watching and identifies the focal point in the picture to add depth and clarity.
For instance, if you are watching a music video, your TV's brain will focus on the lead singer and enhance that part of the image to make it more real. Moreover, the cognitive Processor XR has a depth mapping feature, which enhances an image's background depth to make it natural and realistic.
Overall, it seems Sony wins our picture processor battle because their Cognitive Processor XR goes the extra mile to create real-life images.
Gaming Experience
Dive into the gaming world with Sony TVs' graphics, which are perfect for PlayStation. But where these TVs stand out the most is their game mode feature, which reduces lag, thus not affecting your gameplay.
Furthermore, Sony packed these TVs with Dolby Vision for gaming, ensuring vibrant colors and deep contrast to bring the gaming characters alive. Sony's multi-view feature for gamers is also welcoming, as it allows you to play a game on one side while checking its YouTube walkthrough video on the other.
Call of Duty is now flawless and lifelike with the 8K TCL 6-Series TVs. Moreover, this TV has a Game Studio Pro feature that delivers the ultimate cinematic gaming experience. But where this TV shines the most is its near-instant response that doesn't seem to tire even after playing for hours.
Overall, Sony slightly edges out TCL in the gaming experience battle because they have packed their TV with multiple features to make your gaming realistic.
Other Smart Features
Sony equips their premium TV models with Acoustic Surface Audio for improved sound quality and performance. The technology syncs your TV's sound and images, which is important when playing media from an external source like a flash drive.
Moreover, Sony paired the Acoustic Surface Audio with the XR sound, which upscales your entertainment experience thanks to its 3D surround sound, which immerses you into your movie. Also, with Voice Zoom 2, Sony TVs analyze sound and enhance it even when the characters' dialogue has a low volume, ensuring it's clear.
Nevertheless, Sony's Bravia Cam technology is their most impressive intelligent feature. The Bravia Cam can identify your sitting position and adjust the voice and display settings to suit your position and current environmental factors.
For instance, suppose you're sitting a few meters away from the TV in a dark room. The Bravia Cam will adjust the brightness settings based on your sitting position to give you the best viewing experience.
Best Display
Sony 65-Inch 4K A95K Series
Broad viewing angle

Cognitive Processor XR

QD-OLED technology delivers vivid colors

Dolby Atmos and DTS:X with Vertical Surround Engine

Great reflection-handling capabilities

360 Spatial Sound
We earn a commission if you make a purchase, at no additional cost to you.
On the other hand, TCL provides endless entertainment with its multiple streaming platforms, like Netflix and Hulu. But where this TV surprises us all is its Dolby Vision and Dolby Sound technology, which gives you a theater-like experience when watching a movie.
TCL also fitted its latest models with virtual assistant technology, allowing you to operate your device using voice commands. All in all, while both TVs have multiple innovative features, nothing comes close to Sony's Bravia Cam technology.
Price
Last in our discussion is the price, which is imperative considering we all want a TV that gives you good value for money. TCL TVs are relatively cheaper than Sony TVs, which is unsurprising, considering this is TCL's main marketing tactic.
For instance, a 65-inch 8-series TCL TV goes for $1999.99, while the A95K costs a whopping $2999.99 for a 65-inch TV. Interestingly, a 75-inch TCL 8-series TV costs $2999.99. So, considering Sony's picture quality and brilliance, you should probably sacrifice the TV inches and buy the 65-inch Sony A95K.
In addition, Sony and TCL have 8K TVs, which are more expensive than their 4K counterparts. So, go for these TVs unless you are desperately yearning for 8K picture quality.
History of TCL TVs
Founded in 1981, TCL's primary mission has always been to inspire greatness with innovative and budget-friendly technology. Their 40-year history is depicted by a series of TV firsts in their quest to dominate the TV industry.
We had to wait until 2014 for TCL to launch its first QLED TV. This was later overshadowed when TCL introduced a Roku TV, which has left people gushing to date.
TCL introduced Mini LED TVs in 2019 to raise their bar for screen depth and contrast, especially in a market oversaturated with multiple TV brands. Ultimately, TCL is hungry for more success, so expect them to release more innovative TVs in the coming years.
History of Sony TVs
Sony's TV history differs from TCL's because they joined the TV industry in 1960 when they introduced their first TV, the Sony TV8-301. However, we had to wait until 2005 for Sony to release the Qualia 005, their first LED TV. It was a flat-screen TV with brilliant colors and extraordinary pictures thanks to its LCD panel.
We all know that LED panels paved the way for OLED TVs. Sony released their first OLED TV in 2007, but it wasn't until 2017 that Sony released an OLED TV similar to our modern TVs.
Today, Sony has attacked the market with the QD-OLED TV, an innovative hybrid TV that combines the benefits of QLED and OLED TVs. With Samsung, LG, and TCL pushing Sony to the limit, expect the company to release other innovative TVs in the coming years in an effort to cement its legacy as the best TV manufacturer.
TCL vs. Sony: 5 Must-Know Facts
Panel technology impacts viewing angles and colors. Sony's QD-OLED panel technology beats TCL's QLED panel, as it offers better image clarity irrespective of the viewing angle.
TCL TVs are cheaper than Sony TVs but have fewer intelligent features, so you must forego some of them if you're working on a budget.
Both TVs have a game mode feature, but Sony slightly edges out TCL because the TV is packed with gaming-specific technology to make your games more realistic.
You cannot separate Sony and TCL TVs design-wise, as both TVs perfectly complement any interior décor.
Sony TVs have a Bravia Cam, an impressive additional feature that boosts your viewing experience.
TCL vs. Sony: Which One Is Better? Which One Should You Use?
So, which TV is better, TCL or Sony? Our review of TCL vs. Sony TVs has likely drawn you to one of the brands. However, if you're still in a dilemma, we recommend buying a Sony TV for its superior features and performance.
For example, the A95K's QD-OLED panel is better than TCL's QLED panel, guaranteeing superior brightness levels and picture quality. Moreover, Sony's Cognitive Processor XR does a better job of improving image quality than TCL's AIPQ Engine.
However, we cannot completely discredit TCL TVs, as they have multiple amazing specs that we usually see in premium TVs. Furthermore, these TVs are the best choice for those working on a budget. Overall, choose a TV that best matches your budget and preferences.
Over 33 million pixels and four times the clarity of 4K UHD displays
Intelligently enhanced by TCL's AiPQ Engine
Mini-LED backlight technology
Quantum Dot technology
Contrast is optimized across up to 240 localized zones
Smart 8K HDR and 8K Upscaling
Dolby Vision

Buy Now on Amazon

We earn a commission if you make a purchase, at no additional cost to you.

Cognitive Processor XR

Thousands of Mini LEDs

Features a Game Menu

Input lag as low as 8.5ms

HDMI 2.1 features (4K/120,10 VRR, and ALLM)

Buy Now on Amazon

We earn a commission if you make a purchase, at no additional cost to you.

Broad viewing angle

Cognitive Processor XR

QD-OLED technology delivers vivid colors

Dolby Atmos and DTS:X with Vertical Surround Engine

Great reflection-handling capabilities

360 Spatial Sound

Buy Now on Amazon

We earn a commission if you make a purchase, at no additional cost to you.

11/28/2023 06:09 am GMT