Key Points
Verizon has a more robust 5G network than its competitors, although the nationwide coverage of only 13% leaves something to be desired.
T-Mobile's basic Unlimited Talk & Text Only plan is just $20 a month, but Verizon's rival Basic Phone Plan is $30 monthly.
T-Mobile offers 5G coverage to 53% of the country, but their 4G LTE coverage is only 59% compared to Verizon's 70% coverage.
Both providers have a 50GB data cap, with the exception of Verizon's unlimited plans.
Verizon's plans are more expensive than T-Mobile's plans, but Verizon has excellent subscriber perks, as well as unlimited data plans.
Summary
With T-Mobile's merger with Sprint in the spring of 2018, the network quickly shot up in the ranks of the mobile marketplace. T-Mobile is now one of the biggest and best mobile providers in the entire country. But, between T-Mobile vs Verizon, is there a real winner? How do the two compare, and what are their most notable vital differences? Let's weigh the two to come up with an answer. In the end, we'll be able to say confidently who's best between T-Mobile vs Verizon.
T-Mobile vs. Verizon: Side-By-Side Comparison
| Feature | T-Mobile | Verizon |
| --- | --- | --- |
| Year Introduced | 1994 (as VoiceStream Wireless PCS); 2001 (as T-Mobile) | 1983 (as Bell Atlantic Corporation); 2000 (as Verizon) |
| Key Markets | United States, Czech Republic, Netherlands, Poland | United States; worldwide |
| Revenue | $80 billion (2021, US only) | $133 billion (2021, worldwide) |
| Number of Subscribers | 109 million | 143 million |
| Notable Subsidiaries | Metro PCS, Sprint Corporation | TracFone Wireless; Yahoo |
| Cheapest Plan | Unlimited Talk & Text Only ($20/month) | Basic Phone Plan ($30/month) |
| Unlimited Plan | Essentials ($60/month) | Welcome Unlimited Plan ($65/month) |
| Data Cap | 50 GB | 50 GB; Unlimited with some plans |
| 4G LTE Coverage | 59% of US | 70% of US |
| 5G Coverage | 53% of US | 13% of US |
T-Mobile vs. Verizon: Key Differences
While these numbers are undoubtedly significant, it's worth breaking down some of the more important ones below, from the price customers can expect per plan to the kind of coverage they expect from each provider. You'll also know what types of data caps are placed on T-Mobile and Verizon customers.
Plan Pricing
A key buying factor for mobile customers is monthly subscriptions. How much they spend will determine whether they stay on a mobile network or leave, and the T-Mobile vs Verizon debate is not immune from this. Looking at the most basic plans from each network — talking, texting, and mobile data — you'll notice that T-Mobile's offering is cheaper. Their Unlimited Talk & Text Only plan is just $20 a month, while Verizon's rival Basic Phone Plan is $30 monthly.
As you rise through the ranks of T-Mobile and Verizon's other plans, prices go up. Verizon's prices are slightly more than T-Mobile's. The two's top-of-the-line plans demonstrate this as well as their most basic. T-Mobile offers an Essentials plan with unlimited talk, text, and data with no contract for $60 a month. Verizon, by comparison, offers the same thing for a slightly higher $65 a month. When it comes to pricing, Verizon's are undeniably higher.
Coverage
Going hand in hand with plan pricing is mobile network coverage. After all, even the best prices fall by the wayside if coverage is inadequate. Of course, as with most things in this T-Mobile vs Verizon debate, the winner isn't so black and white. As far as 4G LTE coverage is concerned, Verizon is pretty much the winner. They have 70% 4G LTE coverage around the country, whereas T-Mobile offers 4G LTE has 59%.
Interestingly, when looking at 5G coverage, the tables turn. T-Mobile offers 5G coverage to 53% of the country, while Verizon covers merely 13% of the United States. That's a severe discrepancy that undoubtedly hurts Verizon — even with their superior 4G LTE coverage. The quality of Verizon's 5G network is altogether superior to the quality of T-Mobile's. It might cover significantly less than the country than T-Mobile's, but it's a higher quality 5G network.
Data Caps
"Unlimited" is a tricky little word in today's world of mobile carriers. While unlimited sounds like you can use as much data as you'd like, there comes the point in every mobile user's plan when the carrier will reduce data speeds. It's an unspoken rule in cell service: data caps. Throttling is inevitable, and every network has them. The purpose is to slow down excessive data use to save some speed for the other users on the network.
T-Mobile has a firm, unmoving data cap. It's a line in the sand for all T-Mobile users, regardless of their plan or location. Their data cap is set at 50 GB, which means they will start throttling a user's data from that point forward until that data resets at the start of each new billing period. Verizon's data cap is also 50 GB, but there's a caveat. Some of Verizon's plans boast no data cap whatsoever, so long as you're willing to pay extra for it. This again puts Verizon at an advantage, even though T-Mobile vs Verizon has the same standard data cap.
5 Must-Know Facts About Mobile Carriers in 2023
When mobile networks emerged in 1983, they were an extravagant luxury that very few could afford. The first cell phone sold in America cost nearly $4,000 alone — and that's not even counting the monthly plan price.
Smartphone SOCs — a.k.a. systems on a chip — grow more and more advanced with each passing year. It's been said that Apple's latest chip, the A16 Bionic, is more powerful than the computers used to send NASA astronauts to the moon on Apollo 11.
The best-selling mobile phone of all time is the Nokia 1100, with 250 million units sold since its introduction in 2003. The Nokia 1110 is a close second at 247 million units sold since 2005.
Apple's iPhone 6 (And 6 Plus) have the distinct honor of being the best-selling smartphone in history. They sold 224 million units between 2014 and its official discontinuation in 2018.
The largest mobile network in America, AT&T, with 210 million subscribers, pales compared to the world's largest mobile network. China Mobile Communications Corporation has 974 million subscribers.
The History of T-Mobile
Before T-Mobile, there was Deutsche Bundespost: Germany's first mobile network. Renamed Deutsche Bundespost Telekom in 1989 and once again renamed Deutsche Telekom AG in 1995, it wasn't until 2001 that the T-Mobile name emerged. Born out of the name of Deutsche Telekom's holding company T-Mobile International AG, the T-Mobile brand was initially reserved for Deutsche Telekom's international operations. Naturally, come 2005, this eventually included the United States.
T-Mobile US impressively reaches all corners of the country, including the furthest reaches, such as Hawaii, the Virgin Islands, Puerto Rico, and even Alaska. From 2G coverage to 5G coverage, the brand name currently reaches 98% of the United States. T-Mobile is widely considered the fastest network in the country, beating Verizon and AT&T.
A large part of what makes T-Mobile a contender came from its merger with Sprint in 2018. For $26 billion, the two became one and effectively dropped the Sprint name as part of the terms of the deal. The deal was announced in 2018 but didn't become official in 2020, making the conjoined mobile provider still relatively young. With this in mind, T-Mobile still has room for growth. It's already a vast mobile network and will only get bigger as its newly merged clientele become increasingly comfortable with the new T-Mobile ownership.
How Verizon Competes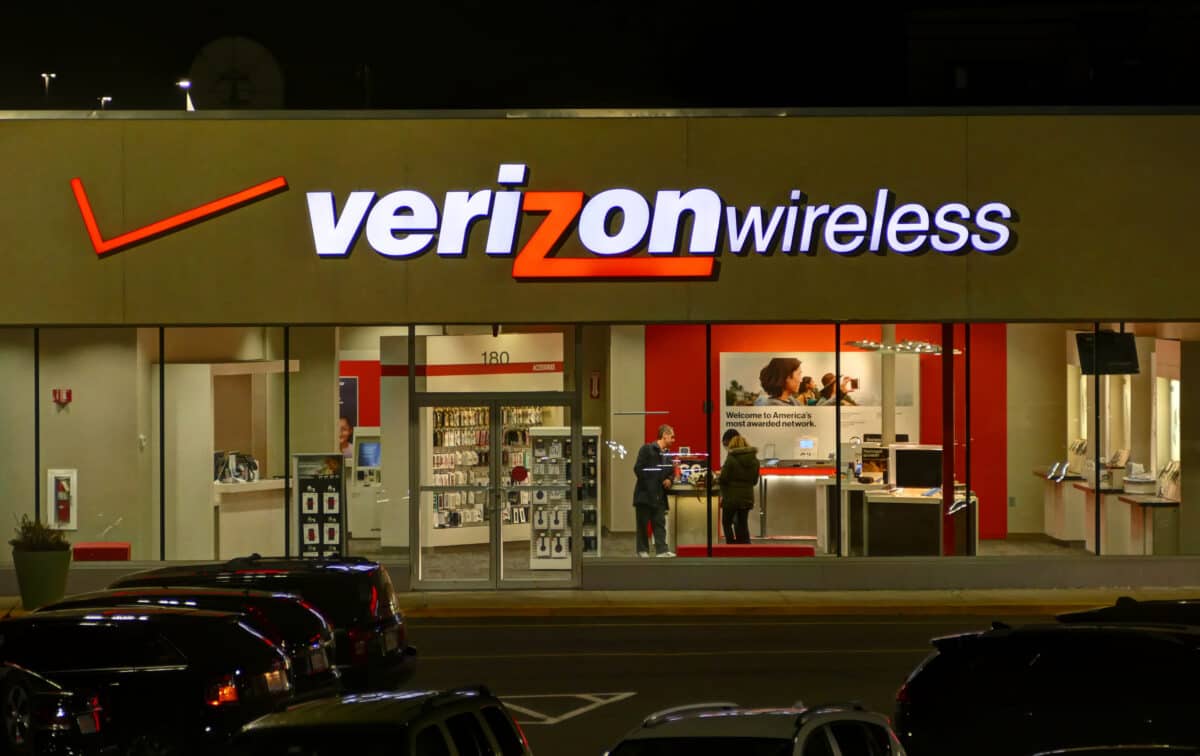 As a matter of fact, it came about in the early 1980s after the U.S. Department of Justice broke up AT&T's Bell System. Numerous providers came about during this break-up, including the Bell Atlantic Corporation in 1984. Bell Atlantic operated under this new name for more than a decade until merging with New England telephone company NYNEX in 1996. Several years later, another merger — this time with mobile provider GTE — received the government's approval in 2000.
Verizon Communications's name was borne out of this merger. It also brought on a major accolade: Verizon was officially the biggest telephone provider in the country. At the time, they had 63 million telephone lines across 40 of the 50 United States and 25 million mobile customers. However, these mobile customers were considered separate from Verizon's primary focus. As such, they were grouped under the Verizon Wireless name (formed in partnership with the U.K.'s top telecommunications brand Vodafone).
Between 2005 and 2010, Verizon Wireless took the front seat. The telecom company worked tirelessly to grow its mobile network tremendously. This work culminated in one of the biggest corporate deals of all time: The acquisition of Vodafone's portion of Verizon Wireless, making Verizon Communications the sole owner. The deal cost a whopping $130 billion but allowed Verizon to take control of its mobile market once and for all. Now, they're the second-largest cell phone provider in the nation, second only to AT&T.
T-Mobile vs. Verizon: Pros and Cons
| Pros of T-Mobile | Cons of T-Mobile |
| --- | --- |
| Offers the nation's largest 5G network | No plans without a data cap |
| More affordable plans on the whole | Significantly capped mobile hotspots |
| Taxes and fees included in their plans | Limited 4G LTE coverage |
| Offers some perks to subscribers | 5G network is weaker than competitors |
| Pros of Verizon | Cons of Verizon |
| --- | --- |
| Best 4G LTE coverage in America | Poor 5G coverage nationwide |
| Offers plans with unlimited data caps | More expensive plans than rivals |
| Excellent subscriber perks | Verizon devices cannot be unlocked for use on other networks |
| More robust 5G network than competitors | |
T-Mobile vs. Verizon: Which Is Better?
Ultimately, which is the better carrier? T-Mobile vs. Verizon? As we've said, the answer is not so cut and dried. This debate has a lot of nuances to it. From pricing to coverage, data caps to their pros and cons, which of these two networks deserves the top spot? In the end, we feel Verizon deserves to win the debate. Their 4G LTE coverage is superior, and their 5G coverage (while limited) is far stronger than T-Mobile's. While it costs more than its rival, the higher fees are for a good reason.