If you're looking for a home internet service provider, T-Mobile Home Internet and Comcast's Xfinity are two leading options, with extensive coverage across the United States. Selecting the right provider is key to getting the speed and reliability you'll need for streaming shows, telecommuting, and running a smart home network.
In this article, we'll take a closer look at T-Mobile and Comcast to see how they compare and help you evaluate which ISP will meet the needs of your household.
T-Mobile Home Internet vs. Comcast: A Side-by-Side Comparison
T-Mobile Home Internet
Comcast
What is it?
Mobile internet service provider (ISP)
Cable and fiber internet service provider (ISP)
Primary Use
Broadband internet access
Broadband internet access
Initial Release
Q1 2021
2010
Influential Developers
Mike Sievert, T-Mobile President and CEO
Dave Brown, CEO of Xfinity)
Dana Strong, Xfinity Consumer Services President
Matthew Strauss, Xfinity Services)
Frequency Bands Used
4G/LTE and 5G cellular frequency bands
N/A
Max Uplink Speed
Up to 23 Mbps
Up to 6 Gbps
Max Downlink Speed
Up to 182 Mbps
Up to 6 Gbps
Contract?
No
Yes, for some plans
Throttling?
No
No
Data Limits?
No
No
Monthly Subscription
$50
Between $65 and $300
Additional Fees?
No
$20 installation fee, $14 monthly gateway hire fee
Equipment Provided
Wi-Fi 6 cellular router
Wi-Fi 6E gateway/hub
Locations Available
49 U.S. states
40 U.S. states
What is T-Mobile Home Internet?
If you're scratching your head and thinking T-Mobile is a cellular network operator, you're right. T-Mobile has not stepped out of its land but has launched a revolutionary home internet solution that uses its 4G/LTE and 5G cellular networks to provide high-speed internet connectivity throughout your home.
T-Mobile launched its home internet solution back in early 2021. It was initially a pilot, but the reception and reviews for the service have been overwhelmingly positive, leading the company to launch its 4G/LTE service nationwide by April of that year.
Fast-forward to 2022, and T-Mobile has continued to innovate with a 5G launch with a bold "Internet Freedom" tagline. T-Mobile Home Internet has continued to go from strength to strength, placing second in the 2022 American Customer Satisfaction Index's 2022 survey for customer satisfaction.
About T-Mobile
T-Mobile is the U.S.'s second-largest mobile network operator with over 110 million subscribers to its services nationwide. Its majority shareholder is the German company, Deutsche Telekom AG, which operates T-Mobile subsidiaries in Europe.
T-Mobile has over 62% 4G/LTE coverage nationwide. They are also at the forefront of the 5G network rollout, with 40% coverage and climbing. Over 90% of Americans should be able to access T-Mobile's service which include:
Contract and prepaid cell phone plans
Business telecommunications solutions
TV streaming services
Personal banking
Home Internet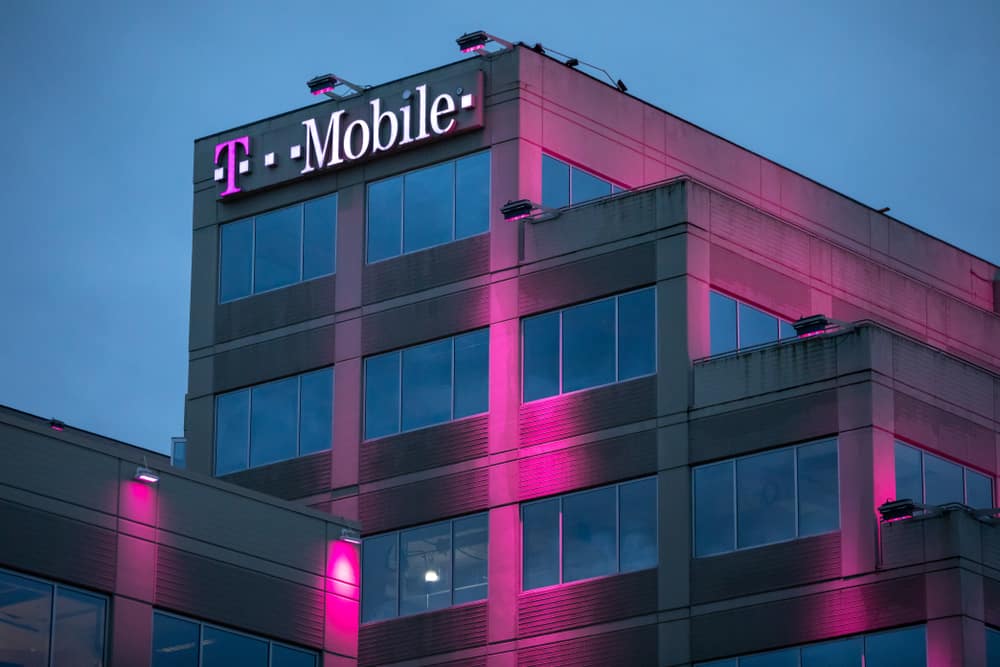 Home Internet from the Cellular Network
Mobile internet is different from your conventional cable, fiber, or DSL home internet connection. It is 100% wire-free, relying on the connection to your nearest cell tower for the exchange of data between your home's devices and the internet.
Rather than the conventional modem and router, a cellular router is used to access T-Mobile Home Internet. This wireless device uses an inserted SIM card for access to the T-Mobile network and authentication of your data plan.
Once activated, the router exchanges data with the internet via the cellular connection, just like when you browse on your cellphone. The router also carries a Wi-Fi radio to provide coverage throughout your home.
T-Mobile Home Internet Services and Cost
One of T Mobile's strongest selling points is its simplicity. There's no need for head-scratching or getting your calculator out. T-Mobile Home Internet has a flat monthly charge of $50 per month. With T Mobile, there are:
No price plans
No contracts
No data caps
No throttling
The only discount available is for eligible Magenta MAX customers who pay $30 per month.
T-Mobile Home Internet Speeds
T-Mobile does not have the gigabit per second speeds that fiber boasts, but for a completely wireless internet solution, with enough bandwidth for a household's-worth of devices, it does a pretty good job. T-Mobile advertises internet speeds of between 33 and a respectable 182 Mbps.
If you were expecting 5G to be super-fast, T-Mobile is going to disappoint you. Firstly, not all 5G networking offers the high-speed connectivity that requires extremely dense cell tower coverage to achieve, and T-Mobile is still leaning heavily on its regular 4G/LTE coverage. However, what it lacks in speed it makes up for in reliability and performance, and some users have reported speeds of up to 300 Mbps.
T-Mobile Home Internet Equipment
With T-Mobile Home Internet, there's no need to get tangled up with an Ethernet cable. Customers are provided with T-Mobile's proprietary 5G Wi-Fi Gateway. This is a router that connects to the cellular signal while providing the coverage you need in your home using Wi-Fi. Here are the headline specs of T-Mobile's Wi-Fi Gateway:
5G New Radio (5G NR) and 4G/LTE connectivity
Wi-Fi 6 router using the latest 4×4 MIMO antenna technology
2 Ethernet ports
LCD
Dimensions: 4.73 in x 4.53 in x 7.52 in (12 cm x 12 cm x 19.1 cm)
The gateways are also mesh network compatible, so you can integrate them with your existing home mesh network. Setup is simple via the dedicated T-Mobile Home Internet smartphone app.
What is Comcast?
Comcast is the largest ISP in the country, with extensive cable internet coverage and a wide range of contract-based service plans. For many homeowners, it is familiar and the obvious choice for reliable home internet services and offers high-speed connectivity.
However, services and customer experience vary widely, with Comcast historically having a reputation for low customer satisfaction. Many of its services are contracted, with additional service charges and termination fees.
About Comcast
Comcast is America's largest multinational telecommunication conglomerate and is only second to AT&T for cable TV and internet revenues worldwide. Comcast is based in Philadelphia and provides coverage for home internet in 40 states, under the Xfinity brand name.
Comcast has diverse subsidiaries, including the NBCUniversal broadcasting network, DreamWorks studios, and the international satellite distribution network, Sky. Its cable networking services include:
Cable television
Home telephone
Broadband internet
Home security and automation
Virtual mobile network (using Verizon infrastructure)
Public Wi-Fi hotspots
Comcast Xfinity Home Internet
Comcast's home internet has been known as Xfinity since 2010. In the third quarter of 2021, it had 31 million customers. The internet connectivity Xfinity provides is predominantly cable, with some areas where fiber to the home (FTTH) is available for faster speeds.
It provides a "triple-play" service with landline telephone and cable to TV services included in its packages. Comcast also provides an Internet Essentials program, which provides low-cost internet for eligible low-income families. The government made Comcast provide this service indefinitely as a condition of one of its mergers in 2011.
Comcast Internet Services and Cost
Comcast Xfinity has multiple price plans which vary according to your location and the speed and type of connection (cable versus fiber). Many of Comcast's plans require a contract but they do not have data caps or throttling. Here are the 7 main options for home internet with Comcast:
Performance Starter
75 Mbps download speed
$65 per month
Performance
200 Mbps download speed
$84 per month
Performance Pro
400 Mbps download speed
$30 per month initially rising to $92 after contract renewal
1-year contract
Blast!
800 Mbps download speed
$60 per month initially rising to $97 after contract renewal
Extreme Pro
1 Gbps download speed
$70 per month initially rising to $102 after contract renewal
Gigabit Plus
1.2 Gbps download speed
$80 per month initially rising to $107 after contract renewal
Gigabit Pro
6 Gbps download speed
$300 per month initially rising to $300 after contract renewal
2-year contract
Comcast also charges a $20 installation fee and a $14 optional monthly charge for the hire of a router. Take a look at some of the best routers for Comcast here.
Comcast Home Internet Speeds
Comcast offers price plans with download speeds ranging between 75 Mbps and 6 Gbps. The download and upload speeds are asymmetrical with upload speeds far slower except for the Gigabit Pro package. This rarely affects service quality for home internet use, though VoIP telephone calls and business use could be impacted.
Comcast Home Internet Equipment
Comcast Xfinity offers a wide range of gateway options in its xFi range, in keeping with the latest router, range extenders, and mesh Wi-Fi solutions on the market. xFi gateways are an all-in-one solution that comprises a modem router and voice-based personal assistant technology. xFi gateways available from Xfinity include:
The xFi advanced gateway (XB8) with Wi-Fi 6E and 2.5 Gbps max
The xFi advanced gateway (XB7) with Wi-Fi 5
The xFi advanced gateway (XB6) with Wi-Fi 5
The xFi wireless gateway with Wi-Fi 5
The xFi fiber gateway with Wi-Fi 5
The Xfinity gateway with Wi-Fi 5
All gateways carry at least four Ethernet ports for home networking. Comcast charges a $14 monthly hire charge for its gateway/routers.
What's the Difference Between T-Mobile Home Internet and Comcast?
Comcast is a large and established internet service provider while T-Mobile is a new entrant into a mature marketplace.
But T-Mobile has a great value proposition with an alternative connectivity solution (cellular) that can provide home internet in a wide range of locations. This cord-cutter solution is wireless so can move with you and is a great solution for broadband internet connectivity in rural or remote locations where ISPs cannot easily install cable or fiber broadband. Better yet, it is contract-free so you aren't tied down!
Similarities and Differences
Similarities
T-Mobile Home Internet and Comcast are both ISPs.
T-Mobile Home Internet and Comcast both offer contract-free broadband internet.
Both T-Mobile Home Internet and Comcast do not use data caps or usage limits.
Both T-Mobile Home Internet and Comcast do not use throttling.
T-Mobile Home Internet and Comcast offer network gateways with Wi-Fi 6 connectivity.
Differences
Comcast provides cable or fiber-based broadband internet, while T-Mobile Home Internet uses the cellular network to provide its broadband connectivity.
T-Mobile Home Internet provides wireless internet access, but Comcast requires a wired connection.
T-Mobile Home Internet offers maximum residential internet speeds of 182 Mbps while Comcast offers speeds of up to 6 Gbps for its fiber home internet service.
T-Mobile Home Internet is available in 49 states in the U.S., while Comcast is available in 40 states.
Comcast has multiple speed and price-tiered plans with some plans having price rises after the first 12 months.
Comcast has installation costs of $20 while T-Mobile does not charge an installation fee.
T-Mobile has a flat-rate $50 monthly bill.
T-Mobile does not charge for its network gateway, but Comcast customers have a hire fee of $14 per month in addition to their monthly service charge.
Comcast offers 12 and 24-month contracts on its Pro cable and fiber packages.
T Mobile Home Internet vs. Comcast: 6 Must-Know Facts
T-Mobile Home Internet's 5G coverage depends on the density of the cell towers for generating the maximum speeds. This means you'll experience the maximum 5G speeds in urban areas whereas rural areas will have slower speeds or 4G/LTE connectivity.
You can purchase your cellular router and insert a SIM card with a data plan to use any 4G/LTE cellular network provider for home internet.
Comcast used optical fiber throughout its network to boost its speeds but predominately uses coax for the last-mile connection to homes.
Comcast entitles Xfinity customers to use Xfinity hotspots throughout the U.S. for free.
Comcast is a NASCAR Cup Series premier sponsor and also sponsors the NASCAR Xfinity Series.
Mike Sievert was the 2022 CNN Business CEO of the Year and is credited with guiding the company through competitive and financially challenging times.
Is T-Mobile Home Internet Better Than Comcast?
T-Mobile Home Internet is a crafty move by one of the largest mobile network operators to leverage its infrastructure for the home internet marketplace. Customers can access wireless broadband internet that uses the cellular network in any location has proximity to a cell tower. This makes T-Mobile Home Internet a solution for households that are in remote or rural areas that fixed broadband providers like Comcast cannot serve.
The flat-fee pay monthly model that T-Mobile is championing is also perfect for Generation Rent, as if customers move home, they don't have the hassle of complicated disconnection and reconnection processes and fees.
T-Mobile Home Internet speeds are not as high as most Comcast plans, but a respectable 182 Mbps is more than adequate for streaming, gaming, and video calls. Therefore, T-Mobile Home Internet stands out as the better buy.
Final Thoughts
Comcast may seem like the obvious choice for home internet, but T-Mobile Home Internet shows just how much convenience and flexibility you should expect from your home internet connection. Both ISPs provide a decent service with unlimited data, but T-Mobile is likely to become the cord-cutter's ISP of choice.
The image featured at the top of this post is ©Blue Planet Studio/Shutterstock.com.