Key Points
The rewind button on Tinder allows users to undo or redo a swipe, giving them another chance to match with someone they accidentally rejected.
The red X symbol on Tinder functions the same as swiping left, indicating that a profile has been rejected.
Swiping up or tapping the blue star icon on Tinder sends a "super like" to a person, indicating a strong interest in them.
The green heart icon on Tinder is equivalent to swiping right, expressing interest in a profile, and signaling a potential match.
Premium users on Tinder can use the purple lightning bolt feature to boost their profile and appear higher in other users' feeds for 30 minutes.
It can be hard enough to keep up with the latest dating apps, let alone actually go on dates. Luckily, Tinder's interface has remained fairly consistent in recent years, which is more than can be said for Instagram, Facebook, or Twitter (or "Meta" and "X", as the latter two are now called). We know it can be hard to find time to fit online dating into your day, and the last thing you want is a headache. Don't worry, we're going to break down exactly what all these symbols on Tinder mean, so you can spend less time scratching your head and more time having fun.
Rewind Button
This is known as the rewind button, but for the computer-savvy among us, you can think of it as an undo or redo button. Basically, if you're almost in tears because you accidentally swiped left and missed out on meeting your soulmate, that's what rewind is for. And due to the way many of us use Tinder (that is, by swiping as frantically as possible), rejecting a potential match by mistake is deceptively easy to do. One little tap of the rewind button, and you get another chance to meet the love of your life. As handy as this feature is, however, it's only available to premium users. The rest of us will just have to keep swiping.
Red Cross
No, this isn't a humanitarian organization, but a simple alternative for those of us who find swiping left too cumbersome or for people who may find the hand motion painful or awkward. The red X accomplishes exactly the same thing as swiping left – the profile is rejected, and Tinder moves on to the next.
Blue Star
If you swipe up on a profile, you send a "super like" to this person, which notifies this person that you like them… like, a lot. A cute little blue star will appear next to your name when you show up in their feed. Likewise, tapping the blue star icon achieves the same objective. Users on free plans can only send one super like a day, but more are available with the various paid plans.
Green Heart
Another button that performs the same function as a swipe is the green heart icon. Similar to swiping right, this button lets the person know you like them and would like to match. If they swipe right on you too, then success! You're matched. Now you can start a conversation, open a joint bank account, adopt five dogs, and get a mortgage together. Or, you know, just go on a date and see how things go. We won't judge.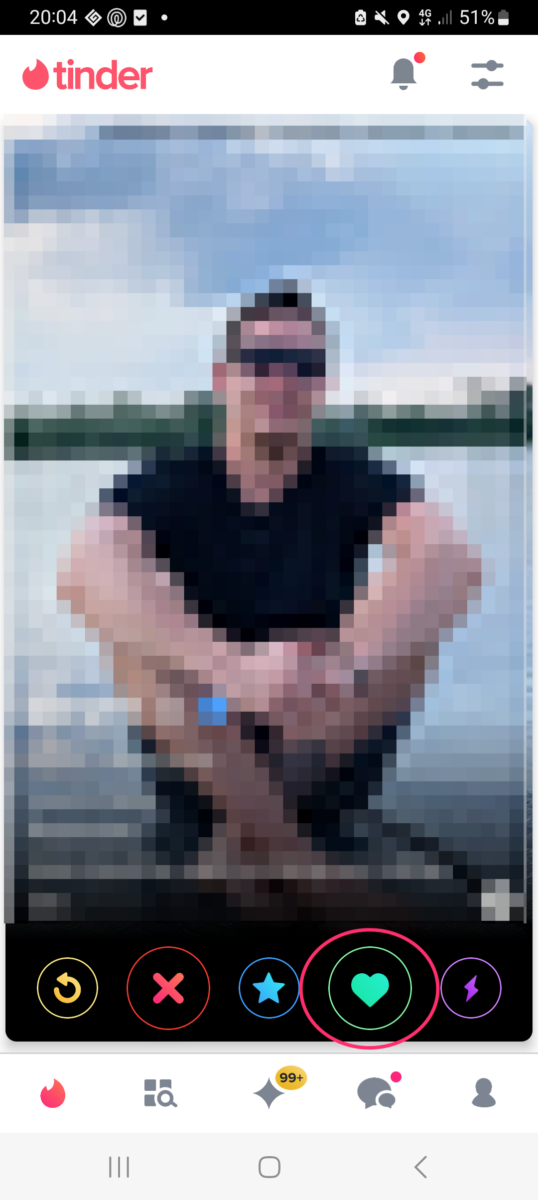 Purple Lightning Bolt
Lightning bolts don't usually appear this elegant, but Tinder is all about aesthetics. Naturally, such a fancy bolt is only available for premium users, but it's a pretty handy feature that might convince you to sign up. If you press the flashy bolt button, your profile becomes "boosted". This means that you'll show up higher in everyone's profile feed in the local area for the next thirty minutes. Paid members only get one of these a month, but there are options for purchasing extra boosts as you wish.
Up and Down Arrows
Usually, you'll want to know a little more about someone before making that all-important swipe decision (but if you don't, that's fine, too). Simply tap the up arrow to bring up their entire profile, which is hopefully complete with a bio. If you've decided that you've read enough, hit the down arrow to minimize their profile again.
Other Symbols on Tinder
Although the symbols and icons we've already covered are the main ones you'll be using, there are some others worth mentioning. These can be found at the bottom of the app.
Tinder Logo
The iconic Tinder flame logo is situated right in the bottom left corner and brings you back to the swiping bonanza, also known as the Tinder feed. Good luck out there.
Explore Page
By hitting the magnifying glass icon to the right of the Tinder logo, you can open up the Explore page. This fairly new addition to the world of Tinder brings a slightly more youthful, TikTok-y feel to the app. You'll see a variety of categories here. These include users who have verified their profiles, various modes for meeting people (such as "Free tonight", "Let's be friends", or "Coffee date"), and ways to match based on your interests. For instance, you can filter your potential matches to people who are interested in creative projects, sports, music, or even binge-watching Netflix. The world's your oyster. As long as the world is on Tinder, that is.
Gold Star
As if the blue star wasn't enough, we have the shiny gold star underneath as well. This curated page shows you the profiles that have liked you, the likes you've sent, and the top profiles selected by Tinder that match up with your preferences. You can only see profiles that have matched with you if you're a premium member, however.
Speech Bubble
This is where the magic happens. After all, communication is apparently key to any relationship. If you tap the bubble, you'll see all of your conversations with your matches along the bottom, as well as matches you haven't spoken to yet along the top. Fancy premium users can also tap the gold "Likes" tab to see who has liked them. This is similar to the gold star tab. We'll wait here while you reply to all those matches you've forgotten about.
Person Icon
Last but not least, we have the little person icon on the far right. This is where you can go to edit your profile and photos or subscribe to a membership. Nobody likes a blank profile, so put some thought into this section and thank us later.
Messaging Icons
These symbols are only found in the messaging section and within a conversation. But that doesn't mean they're any less useful. Find out what they mean next.
Blue Video Camera
If you're brave, you can tap the camera icon within a conversation to have a little face-to-face time with your admirer. Don't worry, though – you'll receive a confirmation message first, so you have time to find a flattering camera angle.
Blue Shield
This icon doesn't get much use but can be very useful. Here, you'll find safety features such as unmatching someone, reporting their profile for violations, or blocking them completely so you can't see each other. Dating apps can be fun, but you have to protect yourself, too.
Double Checkmark
The blue double checkmark symbol next to your message gives you peace of mind that your message has been successfully sent and received by the recipient. Now, you just have to wait for them to reply (that's easier said than done).
Heart Icon
If you've got a healthy rapport going and are especially fond of something your match has said, feel free to hit the heart icon next to their message. This will show up as a cute little red heart, letting them know what they said was well received. Who doesn't like a little validation now and again?
GIF Icon
Sometimes, a picture can say a thousand words. Other times, a picture can say two words – "not interested". In either case, by pressing the GIF button to the left of the message box, you can find the perfect, witty, and humorous way to keep the conversation going (or end it, as it were).
Wrapping Up
Using a new dating app for the first time can be confusing, and Tinder is no different. There are so many functions and features to get to grips with. In addition, the meaning of buttons and icons may not be intuitive at first. But rest assured that any icon you'll encounter on Tinder can be found in this article, so you can confidently conquer the app. Who knows? Maybe you'll meet your new best friend, life partner, or employer. Anything is possible in the world of online dating.
The image featured at the top of this post is ©Ascannio/Shutterstock.com.