With its impressive and innovative designs, Samsung has become a renowned name all around the globe. To help its ever-growing clientele, Samsung has established customer service that assists customers with device issues. This article will guide you on using this service by outlining steps to contact Samsung's customer service.
When your Samsung phone or tablet freezes while you're typing, or it's just not working properly, it can be incredibly frustrating. Fortunately, Samsung offers automated services in order to contact them for assistance.
By connecting with their customer service, you can get help with any Samsung product you own. So, let's look at the steps for contacting Samsung's customer service.
The Importance of Samsung Customer Service
Samsung has gone a long way to ensure that it has fully functional customer service in both its retail and online stores. There is a specialized section that offers support to customers.
They work 24/7 to help users get the most out of the Samsung devices they purchase. They do this because Samsung understands the value of engaging its ever-growing fanbase. Here is the importance of Samsung's customer service:
It ensures customer satisfaction,
Explains the Samsung products better to leads and clients,
Guides clients toward the products that will benefit them the most,
Helps build Samsung's brand loyalty and customer retention.
Without a doubt, customer service is beneficial. And with many people using Samsung products, the need is bound to grow. However, you need to know how to contact Samsung's customer service. Here are the steps.
Steps to Contact Samsung Customer Service
There are five steps Samsung has established to help its customers with any issues with their Samsung products and services. To get proper help, you need to contact Samsung customer service using the following steps.
Step 1: Dial 1-800-SAMSUNG
Contact Samsung Customer Service by dialing this number. When you call, be attentive and listen for any instructions you will get from the other end. The person on the other line will give you options. You are supposed to choose the option that matches your issue.
The number will link you to a Samsung customer service professional if you do not select any option. You can conduct your help inquiry with this professional, and then you will get the solution.
Samsung has set aside a dedicated phone number where people can contact customer service. The numbers are selected depending on the need of the person seeking help.
Step 2: Engage Samsung Customer Service in a Live Online Chat
Aside from talking to someone over the phone, you can engage customer service through a live chat interface. A virtual assistant will give you a list of topics on the live chat. You are required to choose the issue that matches your problem.
Analyze the options and pick the one that is closest to your problem. After this, proceed by submitting the chosen option. Once your choices have been reviewed, Samsung will offer a customer service representative to direct help.
Here is how to engage in the live chat.
2.1 Open the Official Samsung Website
2.2 Click on the Support Button in the Top-Right Corner

2.3 When You Click on It, a Drop-Down Menu Will Appear
This list has numerous options to choose from.
2.4 From This Drop-Down List, Choose "Get Support"
It is under the Contact prompt.
2.5 Scroll to the Bottom of the Page That Appears
You are required to scroll/ move to the bottom of this page.
2.6 Choose the "Chat with Us" Option
At the bottom of the page, you will notice multiple options. Click on Chat with Us.
2.7 Engage the Live Chat Virtual Assistant
Once you press Chat with Us, Samsung immediately opens a virtual window on the right side. You will use this virtual window to engage Samsung customer service.
2.8 Choose the Options That Match Your Problem
You will now concentrate on the information in the virtual window. Here, the window will display a list of options. These options denote a specific issue affecting Samsung users. You will have to choose the option that matches your problem. Click on Start Chat to see these lists of options.
When you click on Start Chat, a list of options will appear.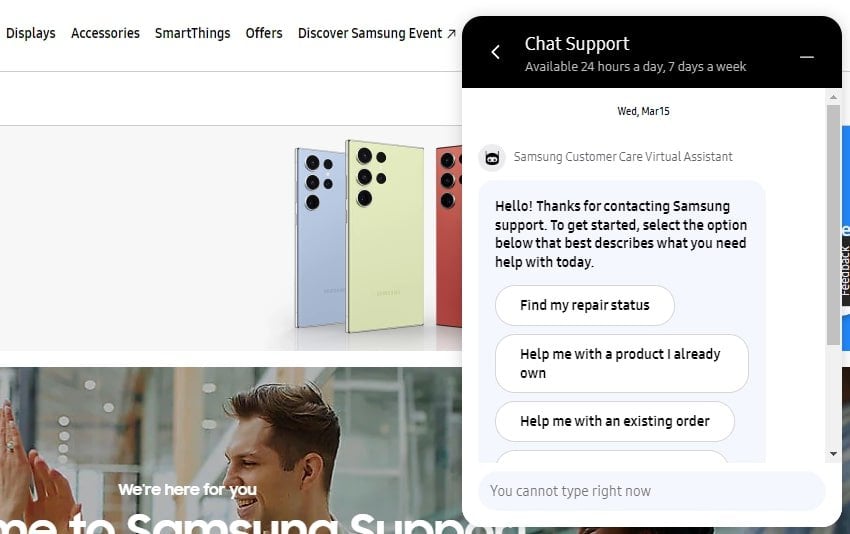 Based on the window that appears, if your issue is the status of your Samsung repair, choose the first option. You will do this for all the prompts that the live chat will give you.
Keep selecting the option that matches your issue. Once you reach the last prompt, Samsung will direct you to a customer service representative to assist you further. They will use the information you give in the live chat window to offer professional help.
Step 3: Contact Samsung Customer Service Through Email
Samsung has a dedicated email address through which you can contact customer service. Use this email to send your questions to Samsung. Typically, Samsung customer service will offer a reply within 24 hours of your inquiry.
3.1 Go to the Samsung Email Support
You must navigate Samsung's official page and go to Samsung Email Support. Samsung displays a web form in which you enter the details of your issue. The web form is well-detailed, showing where you need to enter the details. Navigating it is easy since you're forced to enter your information correctly.
In the web form, you will start by filling out your:
First name,
Last name,
Email address,
Contact number.
Ensure that these details are correct and precise. Afterward, scroll down to where you are supposed to enter the details of your issue. Here, you will enter the product information for your Samsung device. You should provide information about the device and the issue that needs addressing.
You need to enter its type and model name. After this, there is a message box where you can state the problem you need to address. Be as straightforward as possible since Samsung customer service will use this information to offer help.
After filling in the message box, add any images of the device with the aforementioned issue. You will do this in the Upload Files section.
Once you've finished entering the required fields, press the SEND button at the bottom of the page. This is the last step to contacting Samsung's customer service through email.
Step 4: Ask for a Face-to-Face Exchange with a Representative
Samsung has set up numerous first-line centers around the world. You should have an authorized service center in your area. You have to Google this and visit the location that you find near you. Visiting the place will ensure you come face-to-face with Samsung customer service representatives.
Step 5: Sign Language Customer Service Help
This step is for those who have hearing impairments. Samsung has set up a dedicated way for them to reach customer service. It is a feature known as Sign Language Support.
This feature lets clients book a video call with a Samsung customer service language expert. They can submit their questions in the video call and get professional help. Here are the steps for sign language customer service.
5.1 Open a Live Chat
A new window will appear once you click on live chat. Click on the option New Conversation.
Once you click this New Conversation button, you will be taken to a dialog box Chat Support.
5.2 Enter the Details and Submit
Once you've submitted the details, you will receive a video call confirmation in the live chat text box. It will be a Facebook Messenger video call. You will have to avail yourself of the scheduled appointment.
Conclusion
Many people use Samsung devices around the world. Samsung devices are bound to develop issues, just like any other technological device. To address these issues, Samsung has set up a Samsung customer service to interact with clients.
However, you must know the steps to connect to Samsung's customer service representatives. You can connect over the phone, via email, face-to-face, live chat, or video call. All these ways are sure to connect you with Samsung customer service and help you resolve any issues.
The image featured at the top of this post is ©Mahony/Shutterstock.com.