Key Facts
The Steam Deck is meant to provide gamers with mobile PC gaming.
It is somewhat similar to a Nintendo Switch console.
The presence of Yuzu on the device has led some fans to wonder if it might be capable of playing Switch games as well.
Steam recently released a video for a docking station that is compatible with the Steam Deck. However, some keen-eyed viewers caught a glimpse of something much more noteworthy than a new accessory. The video (which Valve has since removed) shows a Steam Deck with Yuzu visible on the home screen.
For those unfamiliar, Yuzu is an emulator that can play Nintendo Switch games on the Steam Deck. It is very controversial as the Steam Deck is essentially a competitor to the Switch. Also, Nintendo is very litigious when it comes to its intellectual property, going so far as to have videos showing Switch games running on a Steam Deck removed from YouTube.
What is a Steam Deck
The Best Handheld
Valve Steam Deck 64GB
Plays your Steam library and PC games from anywhere
Optimized AMD processor
7-inch touchscreen and touch controls

64GB onboard storage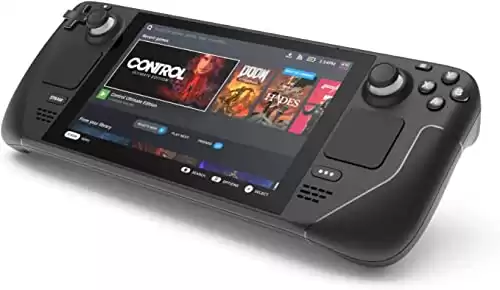 We earn a commission if you make a purchase, at no additional cost to you.
The Steam Deck is a handheld gaming console developed by Valve, which also owns the Steam gaming platform on PC. Steam previously dabbled with hardware such as the Steam Link streaming device and even a short-lived partnership with Alienware. But the Steam Deck stands to revolutionize portable gaming by bringing PC games anywhere.
Valve's Steam Deck loosely resembles a Nintendo Switch console. Although a bit bulkier, it features two joysticks, a D-pad, and ABXY buttons. The difference for gamers is that the Switch obviously plays specific cartridge games, while the Steam Deck plays PC games from your Steam library.
To do this, the Steam Deck runs on a modified Linux operating system which has a simple gaming-friendly interface while still having the flexibility of a PC. This means it can also run programs not specifically designed for it, such as emulators. Therefore, the Steam Deck is more of a computer than it is a gaming console.
The Dock
iVoler Upgraded 4K 60Hz 1000Mbps LAN Docking Station for Steam Deck,Gigabit Ethernet,Aluminum Steam Deck Dock Stand with HDMI2.0 4K@60Hz, 3 USB3.0, Fast Charging Dock for Valve Stream Deck,Space Gray
⚡[One is Enough] iVoler 6-in-1 Aluminum Docking Station for Steam Deck/for ASUS ROG Ally,equipped with an HDMI 4K@60Hz output, an Gigabit Ethernet input, three USB-A 3.0 ports and a USB-C port for...
⚡[4K 2.0 @60Hz 60fps HDMI Output] The Steam Deck Dock comes with a 4K @60Hz HDMI 2.0 output. Advanced built-in chips, Plug and Play, supports HDCP 2.0 to play protected content from iTunes / Netflix...
⚡[Full Charging Speed for Steam Deck]: iVoler Steam Deck docking station supports 100W Max power delivery, which is sufficient to charge your Steam Deck at full speed when paired with the original...
⚡[Portable & Lightweight] This is A Perfect Combination for the ROG Ally/Steam Deck.iVoler all-in-1 Steam Deck docking station blends Hub and stand together perfectly. You don't have to buy a...
⚡[Safe & Reliable] iVoler USB C Hub block built-in safeguards protect your devices against excessive current, overheating, and overcharging.iVoler is a brand dedicated to providing customers with...
We earn a commission if you make a purchase, at no additional cost to you.
The Steam Deck dock is actually the reason behind Valve's video faux pas. Steam previously announced plans to release a dock at a later date, and it is finally available. The purpose of the dock is to connect your Steam Deck to the TV for big-screen gameplay.
You may be thinking that a dock sounds awfully similar to another console on the market, and you'd be correct. However, unlike the Nintendo Switch's dock, the Steam Deck has quite a few valuable inputs. Ports on the dock include ethernet, 3x USB, HDMI, and DisplayPort.
Plus, the Steam Deck dock allows you to use different types of controllers and inputs with your Steam Deck, even allowing you to play in portable mode. Unlike the Switch, the Steam Deck does not come with a dock. Instead, you have the option to purchase it separately if you like.
Why It Matters
You may be wondering what all of this means, or if it even matters. The truth is that it really doesn't change anything, but it is shocking to see this emulator in an official video for the Steam Deck. While mishaps do happen, it is even more surprising that Steam has Yuzu installed on a device that they intended to use for marketing purposes.
So, now the question is whether Steam did this intentionally or if it was an accident. While the argument could be made that Yuzu was purposefully installed on the device to show that it could play Switch games, few would understand what Yuzu actually is. Therefore, this is likely not the case.
It is far more probable that someone testing the device installed the app to try it and didn't intend to show it in a video. This is one possible theory as to why Valve took down the Steam Deck dock video shortly after releasing it, only to put it back up a few minutes later without Yuzu visible.
Whatever the case, it is understandable that Steam would not want any questionable software, such as emulators, shown in their videos, as it could potentially open itself up to legal issues. It could be argued that showing these emulators on the system is essentially advertising for piracy, and that is not the type of publicity that any company wants with a new console release.
The Nintendo Problem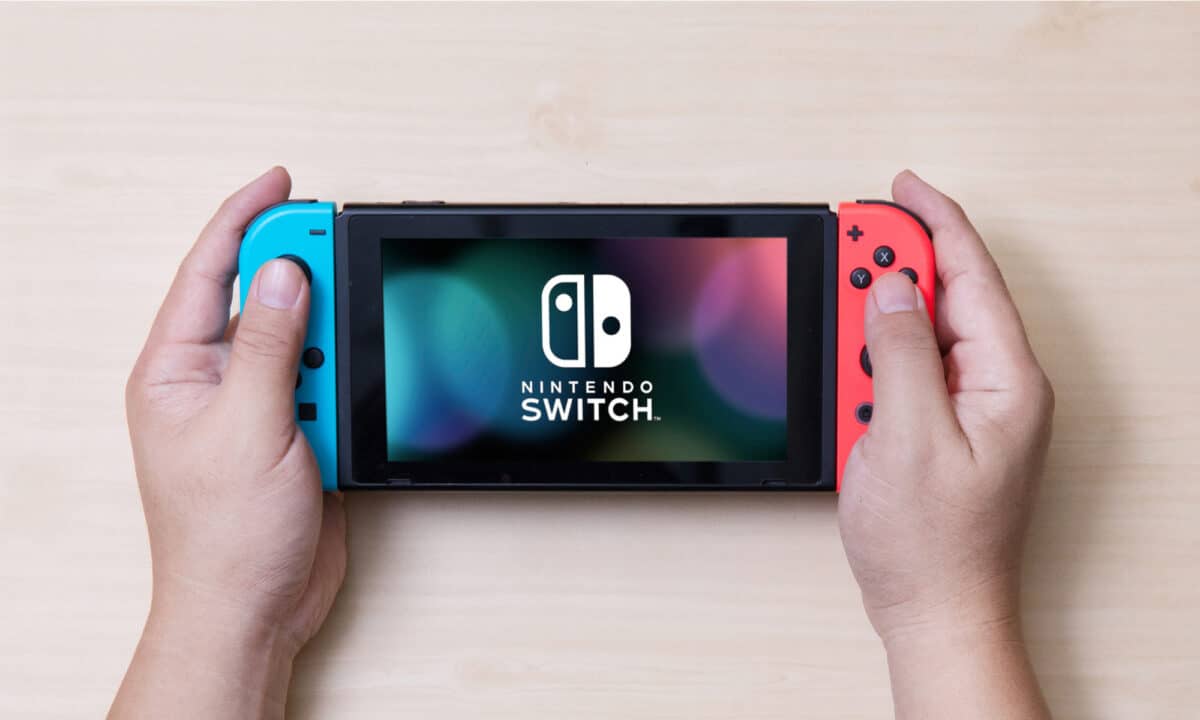 The biggest problem is that Nintendo is very litigious when it comes to emulation and piracy. They do everything they can to stop piracy, which is understandable as they hold some of the most valuable video game intellectual property. However, Nintendo is also known for bending the rules to fit their needs.
In order to prevent the spread of information about Switch games on the Steam Deck, Nintendo began issuing take-down notices. YouTube quickly began taking down videos from their platform that showed how to play Switch games on the Steam Deck, even though many of the videos showed nothing illegal happening.
This has been an ongoing problem for many years as Nintendo vehemently tries to stop piracy. However, they have also managed to anger many fans who want to play the beloved games. It is easy to understand the financial toll that piracy could take on Switch game sales. However, it is harder to understand Nintendo's line of thinking when it comes to older games.
The problem with Nintendo trying to stop people from emulating their games goes back many years. Many people just wanted to play NES, SNES, and Nintendo 64 games that they played as a child. Nintendo does little to make the games available on newer consoles. Making matters worse, used copies of old games cost more than they did when they were new.
Today, it is much easier to play many of those old games through Nintendo Online, but you still can't play many of the games. Also, Gamecube, Wii, Gameboy, and DS games are noticeably missing. Although piracy will always exist, perhaps Nintendo should put more focus on delivering what consumers want rather than attacking them for trying to play their games.
Emulation
The word "emulation" has a bad reputation for its connection to piracy. However, there is nothing bad or illegal about it. An emulator is simply software that can imitate the original hardware a game was designed to run on. Emulation software can run on various devices, such as other game consoles or even computers.
Most emulators run older games and can even successfully upscale them to provide better quality than you could achieve on the original hardware. The issue, however, is the way in which people obtain the games that they run on emulators.
There are many sites on the internet that have ROM and ISO files available for download. Although freely available, this is technically piracy. For many years the laws in the United States were interpreted that someone who already owns a game could legally download the game and play it on another device. Essentially using the file as a backup should something ever happen to their physical media.
But that is where things get a bit weird; since you are only purchasing a license when you buy media, many believed that it allowed for multiple formats. However, Nintendo has long argued that your license for use is limited to what is on the physical media. To make matters even more complicated, some companies have made ripping devices that can clone the data from a cartridge.
Most would think that this is acceptable since it is taking the data from the cartridge you have the licensing rights to. However, Nintendo also argues that doing so is illegal. It is unfortunate that a company that is so beloved takes such a harsh stance on people playing games. Especially considering that they themselves will not make these games available.
Is the Steam Deck Better than a Nintendo Switch?
The Steam Deck and Nintendo Switch are both great portable consoles, but they target two completely different audiences. Deciding which one to buy depends on personal preference. However, there are some reasons you may want to choose one over the other.
For instance, the Switch is a great console that has some awesome exclusives. So this is your best route if you want to play Nintendo games. Similarly, the Nintendo Switch isn't going anywhere soon. In comparison, the Steam Deck has not been around long, and we really don't know how well it will do.
In comparison, the Steam Deck plays PC games from your Steam library on the go. So, if you already have an expansive Steam library and aren't really interested in Nintendo games, then a Steam Deck may be the better choice. It has an optional dock that you can purchase separately to play games on your TV.
Another difference is the price, which is a pretty significant difference. The Switch costs $299 compared to the Steam Deck, which starts at $399, with a dock costing an extra $89. Also, consider that a Switch emulator is currently available on the Steam Deck. Don't base your purchase decision on that, as it may not receive continued support. Similarly, you may not be able to get Switch games on it forever.
Up Next…
Interested in similar articles? Click on the links below:
The image featured at the top of this post is ©Photo by Tarun Savvy on Unsplash.