The Steam Deck has been around for a little while now, and it has positioned itself well in the handheld video game console market. However, many other manufacturers are quickly following up with their own devices.
The Razer Edge is one of those new competitors, and while it has a lot of plusses, it will be difficult for it to edge out the Steam Deck. Both Razer and Steam are behemoths in the video game industry. Steam has a massive digital presence with its Steam Store, which sells PC games.
On the other hand, Razer is in the hardware market with a line of very popular desktops and laptops, as well as peripherals. Both companies bring years of experience to the table, but it is time to find out who makes the best handheld console.
Steam Deck vs Razer Edge: Side-by-Side Comparison
| | Steam Deck | Razer Edge |
| --- | --- | --- |
| Display | 1280 X 800 IPS LCD | 2400 X 1080 AMOLED |
| Processor | AMD Zen 2 | Qualcomm Snapdragon G3x |
| Operating System | SteamOS 3.0 | Android |
| Storage | 64 GB, 256 GB, 512 GB | 128 GB |
| RAM | 16 GB | 6 GB (WiFi), 8 GB (WiFi+5G) |
| Battery Size | 5,200mAh | 5,000mAh |
Steam Deck vs Razer Edge: What's the Difference?
There are many small differences between the Razer Edge and the Steam Deck; however, these two consoles are actually very similar. Both can play a wide range of games and do not limit you to one online store. With that in mind, you should carefully consider what each console has to offer and pick the one that works best for you.
Steam Deck
The Best Handheld
Valve Steam Deck 64GB
Plays your Steam library and PC games from anywhere
Optimized AMD processor
7-inch touchscreen and touch controls

64GB onboard storage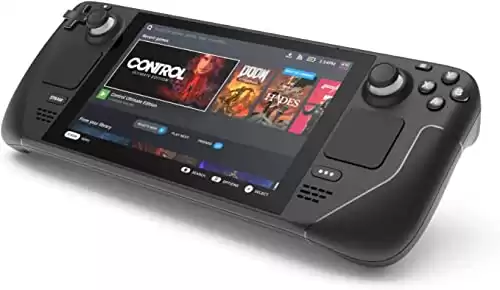 We earn a commission if you make a purchase, at no additional cost to you.
The Steam Deck came out in early 2022 as a formidable opponent to the Nintendo Switch. It was a handheld console with nearly limitless potential. The console was developed by well-known developer Valve, who owns the Steam Store, which is available on computers. Unlike the Razer Edge and Nintendo Switch, the Steam Deck's controls are built into the console.
The fact that the controllers are not removable is actually a good thing here, since they are molded for a better grip. The console also features touch inputs and a 1280 X 800 resolution display.
For a while, the Steam Deck was back-ordered because of the ongoing chip shortage, but that has since been resolved and you can now order a device without a waiting period. The Steam Deck has three different versions, with higher-priced ones coming with more memory, as well as other extras.
The cheapest Steam Deck right now is $399, while the most expensive is $649. The great thing about the handheld is that it supports a MicroSD card, so you can easily add as much storage as you want. It also has an optional dock you can purchase to play on a TV.
Razer Edge
The Razer Edge is very similar to the Steam Deck. It has a similar controller layout with joysticks and buttons, plus internal sensors. However, the controller portion is actually removable as it's essentially the same as the one that Razer sells for mobile phones. While it may sound like a nice feature, it does make the device a little bulkier.
If you aren't familiar with Razer, they are a well-known manufacturer of gaming computers and other accessories. While they aren't as big as companies like Dell or HP, they are a great manufacturer that makes devices specifically for gamers. This gives them plenty of experience, since they are already an established manufacturer, whereas Steam has tried to sell hardware numerous times to no avail.
Additionally, the Razer Edge has a 6.8″ 2400 X 1080 AMOLED display. The screen really is one of the biggest improvements over the Steam Deck. It also comes with 128GB, which is also upgradeable with a MicroSD card.
The console has a launch price of $399, which is the same as the Steam Deck. However, the Razer Edge also has a 5G version that you can get through Verizon as part of a service plan.
Game Compatibility
Because of Valve's ownership of Steam, it's easy to believe that the Steam Deck can only play games from the Steam Store. However, this is not the case, as the Steam Deck also supports the Epic Games Store, Ubisoft Connect, and others. Not to mention, you can stream games with Xbox Cloud Gaming, and even install emulators.
The Razer Edge is very similar, with the ability to purchase and play games from multiple stores, as well as run emulators. But, unlike the Steam Deck, the Razer Edge runs on an Android-based operating system, so you can also access the Google Play Store.
While both devices give you plenty of gaming options, it is important to keep in mind that these are handheld consoles that do have some limitations.
Even though you have access to stores just like you would on a PC, these devices will not be able to run the latest games flawlessly. Some of the games you will be able to stream, while others will be unplayable. Similarly, controls may also be a problem.
Steam Deck vs. Razer Edge: 5 Must-Know Facts
The Steam Deck has an optional dock that you can use to connect to a TV.
Both consoles have upgradeable memory that only requires a MicroSD card.
The Razer Edge has a cellular model that will work on Verizon.
Neither console takes cartridges and can instead access multiple digital game stores.
Both consoles have the same starting price of $399.
Steam Deck vs. Razer Edge: Which One Is Better? Which One Should You Use?
Both the Steam Deck and Razer Edge are great consoles that you will get hours of enjoyment out of. But if we had to choose a winner, it would be the Steam Deck, hands down.
The reason for this decision is that the Steam Deck has been out long enough to prove itself as a great piece of hardware. With that in mind, the Razer Edge is still a great device, but time will tell how it holds up and whether problems arise.
Getting a little more in-depth, the Steam Deck has a lot of accessories already available for it, as well as numerous upgrades. It is also repairable with parts that you can buy from iFixit. This is a real rarity as very few devices, especially game consoles, are repairable. Hopefully, you will never need to make any repairs, as the console is solidly built.
The Steam Deck also has a dock that you can purchase, which is a nice option for some. Unfortunately, Razer has not made any mention of this yet. The Steam Deck runs on a custom version of Linux rather than an Android operating system, which is really a personal preference depending on what you plan to do with the console.
Overall, we really liked the Razer Edge, and it certainly has a lot of potential. But, at this time, we just can't choose it over the Steam Deck. Still, the one thing that really stands out about the Razer Edge is the 5G model, which looks to cater to people on the go. This is an underserved market that may be Razer's path to success.
Steam Deck and Razer Edge: Technology Updates
Since February 2023, both the Steam Deck and Razer Edge have received notable technology updates:
Steam Deck:
March 2023: Introduced "Dynamic Refresh Rate," automatically adjusting display refresh rate to match game frame rates for improved battery life and reduced input lag. Added support for the "Proton Experimental" package, enhancing Linux game performance.
Razer Edge:
April 2023: Rolled out "Razer Cortex Game Booster," optimizing gaming performance by closing background tasks and adjusting system settings. Introduced support for the "Razer Chroma SDK," allowing customizable lighting that synchronizes with gameplay.
Steam Deck and Razer Edge: What's Next
In the next six to 18 months, the following technology updates for the Steam Deck and Razer Edge are expected:
Support for more games: Both devices will likely receive updates to support a broader range of games, expanding their gaming libraries.
Improved performance: Software updates are anticipated to further enhance the performance and efficiency of both the Steam Deck and Razer Edge.
New features: Future updates may introduce new capabilities, such as 5G network connectivity and cloud-based game streaming.
Additionally, there is a possibility that Valve and Razer may release new iterations of their handheld gaming PCs, such as a Steam Deck Pro with a larger screen and more powerful processor, or a Razer Edge 2 with a 4K display and VR gaming support.