You might think that handheld consoles had their moment in the 2000s. From the Game Boy Advance SP to the Nintendo DS to the Sony PSP and all the other rival little consoles in between, handheld gaming had a real hold on the early aughts.
However, they've recently seen a comeback in the form of the Steam Deck vs GPD Win 3. There's just one question: which of these two new handheld gaming devices is best? Let's take a closer look at both, paying close attention to how they compare and how they differ in order to come up with an answer.
Steam Deck vs GPD Win 3: Side-by-Side Comparison
| | Steam Deck | GPD Win 3 |
| --- | --- | --- |
| Developer | Valve | GamePad Digital |
| Release Date | February 2022 | January 2021 |
| Size | 11.7 in. x 4.6 in. x 1.9 in. | 7.8 in. x 3.6 in. x 1.1 in. |
| Weight | 1.475 lbs | 1.23 lbs |
| Operating System | SteamOS 3.4.2 | Windows 11 Home |
| CPU | AMD Zen 2 | Intel Core i5-1135G7; Intel Core i7-1165G7; Intel Core i7-1195G7 |
| Memory | 16 GB | 16 GB |
| Storage | 64-512 GB | 3053 GB |
| Display | 7″ 1280×800 touchscreen; Up to 8K docked | 5.5″ 1280×720 touchscreen |
| Graphics | AMD RDNA 2 w/ 8x CUs | Intel Gen 12 Iris Xe Plus |
| Price | $399-$649 | $799-$899 |
Steam Deck vs GPD Win 3: What's the Difference?
Now that we've laid out all these basic specs side by side, it's worth breaking down a number of the most important considerations. After all, it's one thing to know that there's a difference between the Steam Deck vs GPD Win 3, but it's something else entirely to know what those differences actually mean.
From the size and weight of the devices to their internal specs to their overall price, these are the key differences between the Steam Deck vs GPD Win 3.
Size and Weight
Firstly, when judging two handheld devices, there's little more important than size and weight. Think about it: no one wants to lug around a big, heavy device just because it's been labeled "handheld." It has to truly be light enough and small enough to warrant the name.
With this in mind, the Steam Deck measures 11.7 in. x 4.6 in. x 1.9 in. and weighs just under 1.5 pounds. The GPD Win 3, by comparison, measures 7.8 in. x 3.6 in. x 1.1 in. and weighs just under 1.25 pounds. Overall, the GPD Win 3 is both smaller and lighter than the Steam Deck.
Operating System
The Best Handheld
Valve Steam Deck 64GB
Plays your Steam library and PC games from anywhere
Optimized AMD processor
7-inch touchscreen and touch controls

64GB onboard storage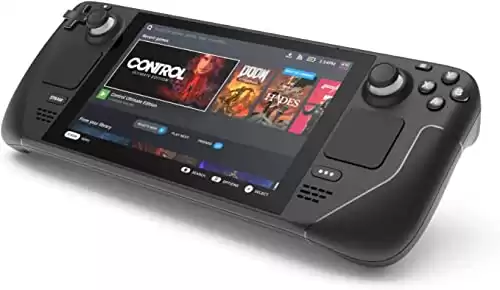 We earn a commission if you make a purchase, at no additional cost to you.
Secondly, let's consider the different operating systems inside the Steam Deck vs GPD Win 3. The Steam Deck runs on SteamOS 3.4.2, one of the most recent versions of the operating system they first introduced with the Steam Machine (more on that below).
The GPD Win 3, on the other hand, runs Windows 11 Home. GamePad Digital stands out from the pack for its reliance on Windows in its handheld products, and the GPD Win 3 is no exception. Its OS makes it more than just a handheld gaming console — it's a full-fledged handheld PC.
Storage
Thirdly, there's storage. This is integral to the number of games you'll be able to store on your handheld device as well as the kind of overall computing power you can expect from the tech. The Steam Deck offers anywhere from 64 to 512 GB, depending on which of the three models you decide on.
The GPD Win 3, by comparison, offers a replaceable 3053 GB SSD. It's not hard to see that the GPD Win 3 offers significantly more storage than the Steam Deck, especially when looking at the 64 GB of storage in the base model Steam Deck.
Display
Fourthly, another key consideration of handheld devices: the display. How big is it in inches, and what's the resolution? The Steam Deck's display is 7 inches across and has a resolution of 1280×800. What's more, the Steam Deck can be docked to a television or desktop monitor to offer a display resolution of up to 8K.
Conversely, the GPD Win 3 has a screen size of just 5.5 inches. Its resolution is also slightly smaller, offering a 1280×720 display. The Steam Deck definitely wins this round, especially with its docking capabilities.
Internal Specs
Before we go any further, we should also spend some time breaking down the internal specs of the Steam Deck vs GPD Win 3. The Steam Deck has an AMD Zen 2 CPU with 16 GB of memory. The GPD Win, comparatively, has either an Intel Core i5-1135G7 an Intel Core i7-1165G7, or an Intel Core i7-1195G7 CPU (depending on which model you go for).
Regardless of CPU, the GPD Win 3 also has 16 GB of memory. Beyond this, the Steam Deck has an AMD RDNA 2 graphics card, whereas the GPD Win 3 has an Intel Gen 12 Iris Xe Plus graphics card. All in all, Steam Deck edges ahead here.
Battery Life
We can't forget about battery life. After all, part of the appeal of a handheld device is being able to use it free from the wires and the confines of a proper console or PC. So, how does the battery life on the Steam Deck vs GPD Win 3 compare?
The Steam Deck boasts a (wide-ranging) 2-8 hours of battery life, but bigger and more powerful AAA games will drain that much faster. The GPD Win 3, by comparison, is not as up-front about battery life. However, hands-on experiences reveal a battery life anywhere from less than 2 hours playing AAA games to as many as 12 hours browsing the web.
Price
GPD Win 3-[11th Core CPU I7-1195G7-1TB] 5.5 Inch Mini Handheld Video Game Console Gameplayer Win 10 Laptop 1280x720 Touch Screen Tablet PC,16GB RAM
GPD WIN 3 CPU: The 11th Core Tiger Lake i7-1195G7, 4 Cores/8 Threads, Base Frequency 2.9 GHz Max Turbo Frequency Up to 5 Ghz.Graphics: The Iris Xe Graphics eligible 96 EUs, Up to 1.4 GHz, DirectX 12.1...
Our GPD WIN 3 Uses A 5.5-inch Sunny Screen, NTSC: 84% (typ), Resolution 1280×720, 400nit, 268ppi, And Adopts Corning's Fifth-generation Gorilla Glass, DC Dimming, So There Is No Need To Worry About...
I/O: 1 x USB 4, 1x USB Type-A , 1x MicroSD Card (A2) Slot, 1x 3.5mm Headset & Microphones.
Network: IEEE 802.11 a/b/g/n/ac/ax, 2.4G/5G Dual-band Wifi, Dual-channel Maximum 2402Mbps Transmission Rate.
RAM/ROM: 16GB LPDDR4x 4266 / 1TB NVMe 3.0/4.0 M.2 2280 SSD. Weight: Only 550 g,Easy to Take In Your Pocket On the GO !!
We earn a commission if you make a purchase, at no additional cost to you.
Last but not least, we need to talk about price. None of these specs will mean a thing if the price of the Steam Deck vs GPD Win 3 is outside of your budget. With that being said, the Steam Deck offers three price points for its three different builds ranging from $399 to $649.
The GPD Win 3 is much more expensive than even the priciest Steam Deck, ranging anywhere from $799 for the base model to $899 for the most expensive model. The Steam Deck is definitely the winner in this regard, but it helps to think that the GPD Win 3's price reflects that of a handheld PC rather than a console.
5 Must-Know Facts About Handheld Gaming
While many associate handheld gaming with the late 1990s and early 2000s, the truth is that the first handheld game originated back in the mid-70s. Mattel's Auto Race from 1976 is largely considered to be the very first handheld electronic game.
As far as color handheld consoles are concerned, the Handy Game from Epyx was the very first one to hit shelves. This was back in 1987, but most will recognize it under a different name: the Atari Lynx, which was released in 1989. This also happened to be the same year as the very first Game Boy in Japan.
The first handheld gaming console with a touchscreen also happened to be the first with internet connectivity. It was called Game.com, and it was released by Tiger Electronics in 1997.
Nintendo's ever-popular 2004 release, the Nintendo DS, remains the best-selling handheld gaming console of all time with over 150 million units sold.
Before there was the Steam Deck or the GPD Win 3, there was the Nvidia Shield: a short-lived and generally poorly received handheld console from computer and tech manufacturer Nvidia. The device essentially functioned like an Xbox controller with a screen attached to the top of it.
The History of the Steam Deck
Many have labeled the Steam Deck as video game company Valve's first foray into gaming hardware. However, this label isn't exactly appropriate. Valve's first true venture into the gaming hardware industry was actually the Steam Machine: a failed series of small, prebuilt gaming computers designed to run Steam software via SteamOS.
The goal of the hardware was to optimize any computer and make it capable of running Steam games. Alas, the Steam Machine was a commercial failure (if not a technical one). It was released in 2015 and discontinued in 2018.
Luckily for Steam, not all was lost. They took the tech inside the Steam Machine alongside other Steam hardware (like the Steam Controller for the Steam Machine) and created something entirely new out of it. They called this device the Steam Deck, a portable gaming device that was said to have the performance and the capabilities of a PC.
The goal was to create a handheld gaming system that surpassed the technical specifications of the Nintendo Switch, the PS Vita, or other recent handheld gaming systems that fell short of a console (not to mention a computer)'s power. After a few years of work, Valve officially announced the Steam Deck on July 15th of 2021.
The device would come in three models: The 64 GB base model, the 256 GB mid-range model, and the 512 GB high-end model. Pre-orders opened to all with a Steam account the day after the announcement, and units finally shipped in February 2022.
Unlike the Steam Machine, the reception for the Steam Deck was overwhelmingly positive. Most critics and fans alike saw it as the first truly hybrid console, marking a major step forward for gaming as a whole.
How the GPD Win 3 Compares
If the Steam Deck is the Goliath of handheld gaming, then the GPD Win 3 is without a doubt our David. Serving as the third in the GPD Win line, the GPD Win 3 is the latest iteration of the massive crowdfunding project GamePad Digital began back in 2015.
A technology company known for its moderately successful handheld gaming consoles (such as the Nintendo DS-esque GPD XD), GamePad Digital entered brand new territory when it began raising money for the first-generation GPD Win in 2015. This product would do more than just gaming. It'd be a full-fledged handheld PC.
The first GPD Win was released in October 2016. It retailed for $330 and closely resembled the look and feel of the GPD XD with its foldable build. It sported a full QWERTY keyboard alongside gaming controls and was met with mostly positive reception — especially for its reliance on Windows 10 instead of a Linux-based OS like so many others.
The GPD Win 2 was announced the following year with its official release coming another year later in the spring of 2018. It made many key improvements to the GPD Win's graphics, RAM, storage, and controls and retailed for $899.
After the release of the GPD Win, the Win 2, and the Win Max (a larger device the size of a small Netbook), GamePad Digital announced the GPD Win 3. This latest and greatest handheld PC revamped the look and the feel of the GPD Win thus far, switching the foldable screen with one that slides up to reveal the full keyboard beneath.
It comes in two options — the $700 Standard Version and the $899 Advanced Version — and serves as the most powerful, most advanced, and most impressive GPD Win yet. (People jokingly call it the Windows Switch.)
Steam Deck vs GPD Win 3: Pros and Cons
| Pros of Steam Deck | Cons of Steam Deck |
| --- | --- |
| Great controls | Load times can be pretty slow |
| Super powerful internal specs | Very short battery life |
| Great library of current and classic games | The fan runs near-constantly and is not quiet |
| A reasonable price for the tech included | Doesn't support many multiplayer games |
| Pros of GPD Win 3 | Cons of GPD Win 3 |
| --- | --- |
| Full keyboard | Super expensive |
| Windows OS makes it closer to a handheld PC than a handheld console | Battery life is really no better than the Steam Deck's |
| A whopping amount of storage | Keyboard is a little inaccessible |
| Lightweight and small in size | The more advanced OS will frustrate some |
Steam Deck vs GPD Win 3: Which One Is Better?
All in all, comparing the Steam Deck vs GPD Win 3 is really like comparing a handheld gaming console to a handheld PC. Those looking for a way to play AAA games on the go will flock toward the Steam Deck, whereas those looking for a device that can do that and also provide PC functionality will flock toward the GPD Win 3.
However, with the Steam Deck's better price, better graphics, bigger screen, and higher screen resolution, it's hard not to name it the winner between the two. It's a matter of preference, but the Steam Deck has more objective wins than the GPD Win 3.
The image featured at the top of this post is ©Esa Riutta/Shutterstock.com.