For a long time, homeowners and businesses who live outside the range of copper or fiber internet services have had limited choices. Remote or rural locations are notoriously inaccessible for internet connectivity, creating a significant disadvantage for communities that cannot participate in the digital economy.
Thankfully, the development of satellite internet technology has created a new generation of internet service providers (ISPs) that can deliver a reliable internet connection to even the most remote locations. Windstream and Starlink are leading satellite ISPs that are well worth considering if you are looking for an alternative to DSL, cable, or fiber broadband.
If you want to learn more about satellite internet and how it could help you, this article compares Starlink and Windstream so that you can evaluate which provider will be right for your home.
Starlink vs. Windstream: A Side-by-Side Comparison
Starlink
Windstream
What is it?
Satellite internet service provider (ISP)
DSL and fiber internet service provider (ISP)
Primary Use
Broadband internet access
Broadband internet access
Initial Release
2019
2006
Influential Developers
Elon Musk
Greg Wyler
Gwynne Shotwell
Surrey Satellite Technology (SSTL)
Teledesic
Iridium
Globalstar
Anthony W. Thomas
Valor Communications Group
Alltel Wireless
GTE Corporation
Frequency Bands Used
Ku- and Ka-
N/A
Max Uplink Speed
Up to 40 Mbps
Up to 1 Gbps
Max Downlink Speed
Up to 350 Mbps
Up to 1 Gbps
Latency
20 – 40 ms
27 ms
Contract?
No
No
Throttling?
No
No
Data Limits?
No
No
Monthly Subscription
$75
$75
Additional Fees
$460 equipment costs
$35 installation fee
Equipment Provided
Base station
Router
Mobile app
Home router
Locations Available
40 countries
18 states in the U.S.
What is Starlink?
Starlink has fast become the world's foremost satellite internet service provider, with a unique high-speed and low-latency service provided to over 500,000 subscribers as of 2021. The company is owned by SpaceX, Elon Musk's satellite and spacecraft manufacturer. The current low-orbit satellite constellation includes 3,000 satellites that provide internet coverage for up to 40 countries.
Starlink is based in Redmond, Washington where the satellite constellation was manufactured and continues to be maintained and controlled. The size of the constellation is still growing and SpaceX intends to launch up to 20,000 satellites to provide unrivaled coverage and quality of service.
The sheer number of satellites that are part of Starlink has prompted concern from astronomers and other space scientists that their orbit could obscure the views of stars and other heavenly bodies. However, the small satellites that Starlink uses have reduced brightness and automatically de-orbit at the end of their usable life. SpaceX continuously tracks them, uploading data the satellites can use to prevent collisions.
The History of Starlink
The low Earth orbit (LEO) satellite technology that Starlink uses was originally developed for intercepting ballistic cruise missiles. It was then adapted for satellite-to-Earth telecommunications in the 1990s. However, high costs prevented companies from bringing a consumer satellite internet solution to market.
During the early 2000s, Elon Musk's SpaceX made several acquisitions related to satellite telecommunications with collaboration on a 700-satellite internet company called WorldVu in 2014. The same year Space X applied to the Norwegian telecommunications regulator to create a satellite network called STEAM. They later changed the name to Starlink.
Starlink progressed towards its launch between 2016 and 2020 with an investment of over $10 billion from SpaceX. In 2017, SpaceX filed with the U.S. Federal Communications Commission (FCC) for a non-geostationary orbit (NGSO) satellite system transferring data over the Ku- and Ka- frequency bands.
Starlink launched its first satellites in 2019. In 2021 2,300 satellites had been deployed and Starlink's broadband internet was released to the public on pre-order.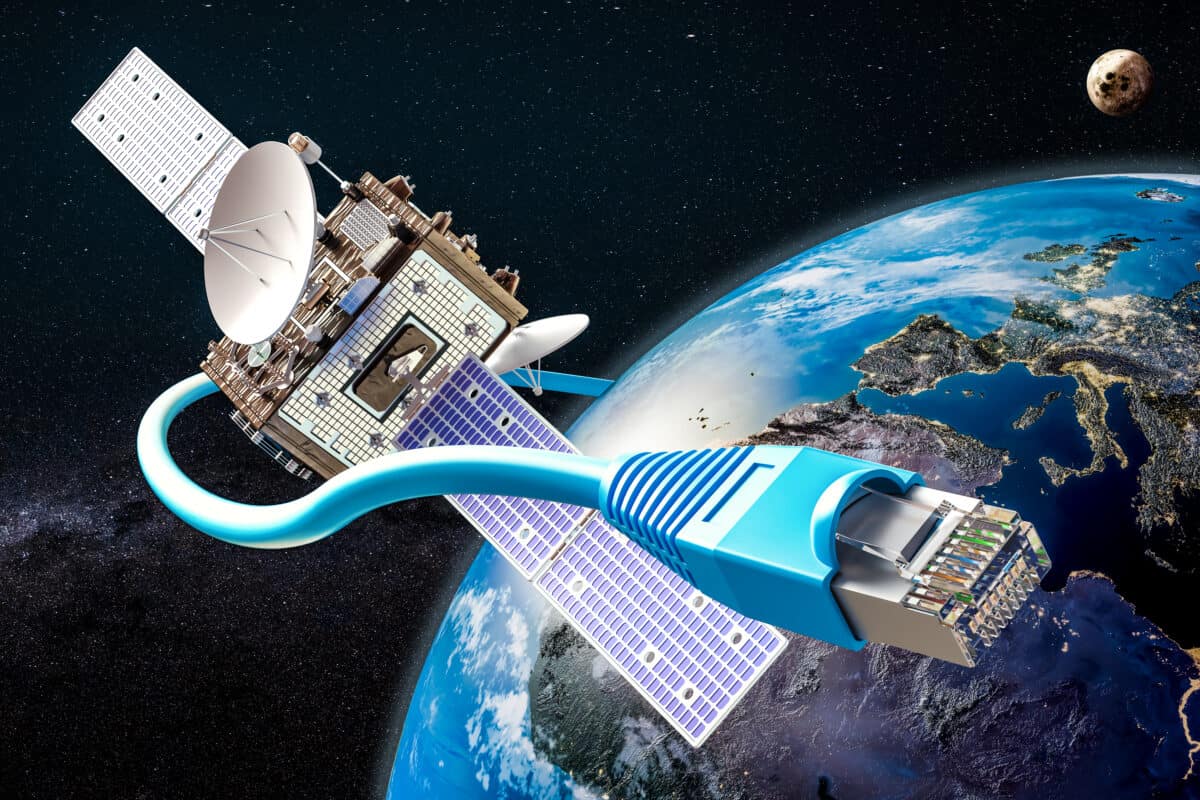 Starlink Broadband Internet Services and Cost
Starlink has quickly become a beloved satellite internet service provider. It out-competes competitors on speed, latency, and bandwidth, using the world's largest low Earth orbit satellite constellation. Unlike other satellite ISPs, Starlink is ideal for streaming, video calls, and gaming with download speeds of up to 350 Mbps.
Starlink also provides a portability add-on, ideal for RV users and other subscribers that are on the move. With no on-the-ground infrastructure, subscribers can get satellite internet in the most remote locations on Earth. With this feature, the service can be paused and unpaused as required.
Starlink is competitively priced and contract-free with a flat monthly $75 fee and a one-off hardware fee of around $569. Starlink also offers a 30-day money-back guarantee.
Starlink Satellite Internet Equipment
Starlink provides subscribers with a plug-and-play hardware kit that includes:
Base and mount: this proprietary base station receives the Starlink satellite signal and needs maximum exposure to the open sky.
Wi-Fi router: the Starlink router is a Wi-Fi 5 router meaning you have high bandwidth connectivity for all your home's devices.
Cables
Starlink app: Starlink has its own smartphone app allowing you to change or update your Starlink connection, customize settings, and get performance data for your network. You can also use the app to find the best location for your base and help you with your setup.
What is Windstream?
Windstream is an internet service provider that is owned by Windstream Holdings, Inc, a U.S. telecommunications company. It is also known as Windstream Communications and has subsidiaries that include Kinectic and DirecTV. Alongside voice and data network communications, Windstream also provides virtual servers, data storage, and firewall services to enterprise customers internationally.
Windstream is the U.S.' ninth largest residential telephone provider, serving over 8 million people in 21 states. Its internet-only services are offered in 18 U.S. states and the company has built up a reputation for providing internet access in rural and remote areas.
The History of Windstream
Windstream was founded in 2006 through the merger of Valor Communications Group and Alltel Wireless. Anthony W. Thomas is the President, Director, and CEO of Windstream and has been in the position since 2014.
Windstream was rocked by a bond default and subsequent Chapter 11 bankruptcy in 2019 but has come back stronger with the launch of Kinetic that same year.
A Rural Internet Service Provider
Kinetic builds on Windstream's reputation for providing copper internet coverage in rural states (think Alabama, Arkansas, or South Carolina). This has gained them a competitive edge in areas where options are limited or satellite-only.
Windstream Kinetic offers some of the fastest speeds you can get in rural areas with competitively priced plans that are contract-free. There are no data limits or speed throttling either, which is not always easy to find from a rural ISP.
The majority of Windstream's coverage is DSL-based but they are also expanding their fiber service that offers speeds of up to 1 Gbps. This is mostly available in the towns and cities of the 18 states they cover.
Otherwise, their DSL-tiered packages offer speeds of up to 50 Mbps. Though this is not fast, a rural homeowner can expect consistent service, lower costs, and a better quality connection than many satellite providers.
Windstream Costs and Hardware
Windstream offers four internet-only plans. Its cheapest plan, Kinetic 50, has an introductory price of $30 per month, rising to $55 after one year. The fiber package with 1 Gbps is $69.99 rising to $85 per month. Kinetic provides Wi-Fi routers and mesh networking for an additional $10 per month and has a $35 set-up fee to get you started.
What's the Difference Between Starlink and Windstream?
These two ISPs could not be any more different! Once is coming through your phone line, while the other is beaming in from the heavens. But, seriously, Starlink offers advanced satellite telecommunications technology that has the potential for global coverage, while, though reliable, the DSL technology used by Windstream is at least 30 years old.
However, if you are out in the Boondocks and want any internet connectivity, you'll be thankful for either option. Both offer some of the fastest internet speeds and bandwidth available to rural homes and business owners can have reassuringly consistent service. Starlink has the edge on coverage if you are in one of the 40 countries covered, you will get internet activity in even the most obscure and forgotten locations.
Similarities and Differences
Similarities
Starlink and Windstream are both ISPs.
Starlink and Windstream both provide their services to customers in remote and rural areas.
Both Starlink and Windstream do not use data caps or usage limits.
Both Windstream and Starlink do not use throttling.
Both ISPs are contract-free.
Differences
Starlink provides satellite-based internet, and Windstream uses DSL or fiber in certain areas.
Starlink provides wireless internet access, and Windstream requires a wired connection.
Starlink offers maximum residential internet speeds of 200 Mbps while Windstream offers speeds of up to 1 Gbps for fiber connectivity.
Starlink is available in more than 40 countries while Windstream is limited to 18 states in the U.S.
Windstream offers multiple tiered price plans that rise after the first 12 months.
Windstream has installation costs of $35 while the Starlink kit currently costs $460.
Starlink has a flat-rate $75 monthly subscription fee.
Windstream has tiered internet-only packages with pricing up to $69.99 per month.
What is Starlink Used For?
Starlink is one of the world's most advanced ISP with exceptional utility that goes beyond basic home broadband. Below is an outline of the full scope of Starlink's applications.
Residential Broadband Internet
Starlink's home internet is a unique offering that operates differently from competitors in its sector. Individual orbiting geostationary satellites have high latency because of the long distances data has to travel between the satellite and transceiver. Starlink has thousands of satellites covering the globe in a low orbit, massively reducing the latency and increasing bandwidth to support streaming and other activity with high data consumption.
Phased array antennas on the satellites and base stations are self-orienting for optimal connection performance at all times. The base station is robust and will withstand the worst any weather throws at it.
Business
Starlink's business internet package provides enterprises with double the antenna capacity of the residential service, for high throughput data transfer. It is extremely reliable and performs consistently, even in extreme weather. Starlink's service agreement ensures that the business has bandwidth for critical operations at all times, with priority support to ensure zero downtime.
Maritime
Starlink is a novel solution for internet connectivity at sea with ultra-fast speeds of up to 350 Mbps across the world. It is a solution that can provide mariners with the connectivity needed to stay in touch with loved ones whilst far from home. Starlink can be installed on fishing vessels, merchant shipping, yachts, and pleasure boats for hassle-free, super-fast connectivity with rugged hardware that has a low footprint and withstands harsh marine conditions.
Aviation
Starlink's broadband internet even extends to the aviation sector with high-speed internet connectivity for private and commercial aviation. The global coverage of Starlink means that in-flight internet can be used right around the globe and has ample bandwidth for all passengers to use it.
Starlink's aviation technology includes an electronically steered phased array antenna that maintains an optimal connection at all times. All hardware is discrete and easily installed.
Is Starlink Better Than Windstream?
Honestly, these are two completely different technologies with a massive difference in scope and performance. Starlink is much more than a home internet company and has a sophisticated offering that can support business and other niche applications.
If you have access to Windstream's DSL or fiber connectivity, it is going to be the cheap and consistent option, with speeds that are adequate for everyday internet use. If you are out of Windstream's coverage, take a serious look at Starlink because it is cheaper than many other satellite options and offers a high-speed connection wherever you are in the world.
Starlink vs. Windstream: 6 Must-Know Facts
Starlink's satellites orbit the Earth at about 550km.
Starlink is capable of global coverage (subject to licensing agreements with domestic telecommunications regulators).
The low orbit of Starlink satellites keeps latency low, at less than 20 ms.
Windstream's DSL option is popular with many rural property owners.
Windstream is currently expanding its fiber network to provide a better quality of service in rural areas.
If you have Windstream DSL and fiber comes to your area, you can upgrade free for three months with a $30 per month increase if you choose to continue.
Final Thoughts
Both Starlink and Windstream have given rural property and business owners more options for internet access. However, Starlink has a much broader coverage scope and utility. If you can get DSL from Windstream on your property, it's going to be the cheaper choice for setup and monthly subscription.
The image featured at the top of this post is ©nmedia/Shutterstock.com.