Key Points:
Starlink has more bandwidth than Starlink RV, making it faster at downloading.
Starlink RV is an affordable option for people who travel and want to connect to the internet during certain months of travel.
Starlink and Starlink RV have no data caps.
If you've ever shopped for an internet provider, you know how many options there are. Cable providers, satellite companies, and cell phone plans are just a few of the options on the table. Starlink is a new up-and-comer that's set to change the way we connect on a global scale. We looked even deeper into Starlink vs. Stralink RV, to find out which of these two works best.
Both Starlink and Starlink RV offer satellite internet at comparable prices and both come with no data caps for their unlimited plans. You can also get speeds of up to 250 Mbps from both services, although you will get faster or slower speeds from certain locations, especially with the Starlink RV.
Both versions include access to top-notch customer support via phone. Starlink also provides 24/7 access to their helplines. The team behind Starlink has been working for years in order to build out these respective platforms. As a result, you can also trust the quality of the products from the world's leading SpaceX rocket and spacecraft developer.
In this article, we'll compare them side by side to find out which is really the best.
Starlink vs. Starlink RV: Side by Side Comparison
Starlink
Starlink RV
Speed
90 Mbps to 200 Mbps
50 Mbps to 100 Mbps
Price
$110 per month
$135 per month
(pay only for 1 month at a time)
Equipment Costs
$599.99 inc, Dish and Router
$599.99 inc, Dish and Router
Company
Starlink was founded by SpaceX
Starlink was founded by SpaceX
Manufacturer
Starlink
Starlink
Data Caps
Non-existent
Non-existent
Availability
First, come first serve basis. Many people are on waiting lists. Each area is unique.
Priority availability to anyone that wants a dish.
Installation
Easy do-it-yourself, with guides online and support chat available.
Easy do-it-yourself, with guides online and support chat available.
Speed Throttle
Users who use more than 250GB of data per month might get slower speeds during congested times.
Users who use more than 250GB of data per month might get slower speeds during congested times.
Power Consumption
Between 60-70W per hour
100W per hour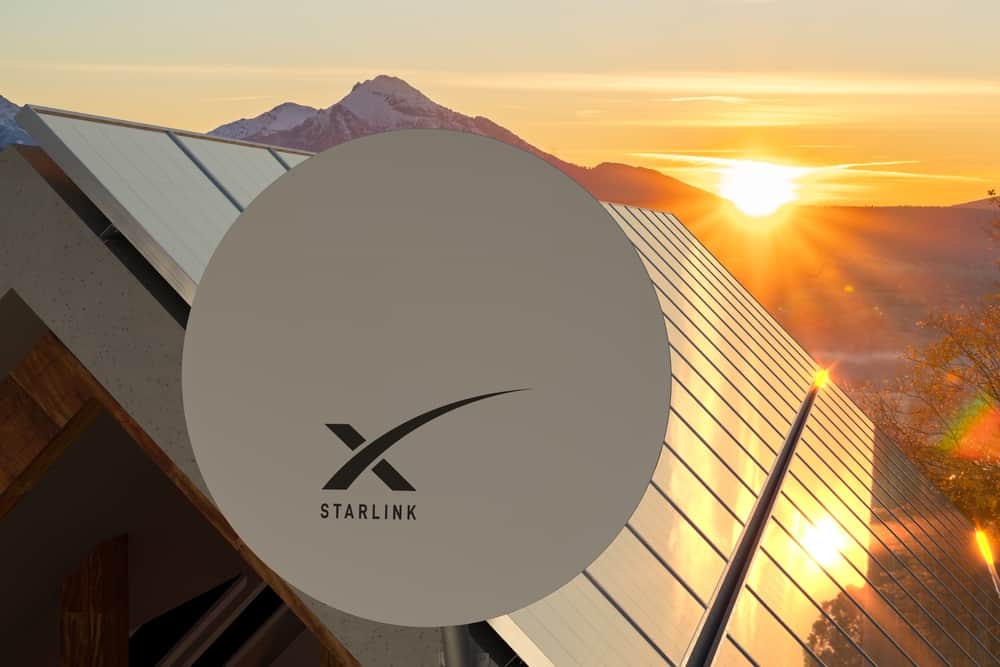 Starlink vs. Starlink RV: What's The Difference?
If you are looking for a fast and reliable connection, then standard Starlink is the better option.
It has more bandwidth than Starlink RV, which means its download speeds are faster. Starlink does plan to boost the performance of its Starlink RV speeds soon, but as of now, they are still slower than the normal satellite option.
If you want to go traveling to rural places, but don't want to spend a lot of money on data roaming, then Starlink RV is a good choice.
Its low price makes it an affordable way for people who love to travel. Making it easy for them to stay connected without putting themselves in debt. Starlink RV users pay only per month of usage. So you only pay for the months that you used it.
You can also use Starlink RV in a lot of ways, not just with your RV. For example, when camping, trekking, or doing motorcycle tours.
(Please note: It's not advised to use the satellite while driving. Doing so will cancel your warranty immediately.)
Speed
Starlink and Starlink RV are both fast. But they're far from the same speed.
In the United States and most countries, standard Starlink is faster than Starlink RV. Both of them are faster than nearly every other satellite internet provider out there.
Starlink users get the highest priority in denser or populated areas. People that are using Starlink RV in populated areas where normal Starlink usage is already high will experience the most speed drops. Starlink RV users can expect speeds as low as 5 Mbps in urban areas.
This is because Starlink RV is used in places with limited internet.
This might turn a lot of people off, but it helps to ensure that the Starlink RV product is not being abused. Starlink RV was never meant for urban usage, so expect less than perfect speed unless Starlink is not popular there (yet).
Data Caps
The one area where Starlink and Starlink RV differ greatly from their counterparts is data caps or lack thereof. The Starlink systems both have no data caps at all and are one of a few services in this field that can truly offer that.
For now, people that use less than 250GB a month will have unlimited speeds, while those who go over this might experience slower speeds during congestion. The company says that they will implement a way to make it fair and make sure that everyone always has max speed and unlimited data.
Pricing
A regular monthly fee of $110 for Starlink and $135 for the Starlink RV.
(Remember that the Starlink RV can be paused if not used to help save money when not in these rural areas)
An upfront cost of $599.99 to get the kit, which includes the satellite dish and wi-fi router. If you choose the Starlink RV it will cost the same for the package.
The shipping costs will vary largely depending on your location.
To get the best price for your address go to their website and write your address into the bar and it will give you a shipping quote at the bottom of the invoice.
Availability
Both of the systems are available across North America. We can purchase them online at the Starlink website. The biggest difference, however, is that there is no waiting list for Starlink RV users.
Those wishing to order the normal Starlink will have to wait for their products as they are pushing it back until early 2023.
Starlink RV and normal Starlink satellites and routers take about 5 to 10 minutes to set up and come with an easy guide to help you do it yourself.
The History Of Starlink
The history of Starlink, the satellite internet service from SpaceX, goes back to 1998 when Elon Musk set up the company. At that time, he was working on a project called X.com, which later became PayPal. He then started Space Exploration Technologies Corporation (SpaceX) in 2002 with the goal of making space travel more affordable than ever before.
In 2010, SpaceX launched its first satellite into space using its Falcon 9 rocket system. It was successful in testing key technologies required for future missions such as deploying and communicating with satellites in orbit around Earth.
The Starlink project was first announced publicly in January 2015 and has been under development since then. It should provide low-cost, high-speed internet access to people worldwide through the company's Satellite technology.
After launching 75 Starlink demo satellites into orbit in February 2019, the company took pre-orders from clients until at least mid-2019. As of today, they are operational in 34 countries.
They have so far launched 3,000 working satellites and plan to have 12,000 by the end of the project in order to have total coverage of all areas.
The Evolution Of Starlink RV
Elon musk made Starlink RV for people that love to travel off the beaten path but still want good connectivity. It allows you to be connected no matter where you go.
It's the first step toward bringing fast and reliable internet to rural areas.
Starlink vs. Starlink RV: 7 Must-Know Facts
Starlink offers a new way to connect globally and more efficiently than fiber.
SpaceX is the mother company for Starlink.
Starlink is the only provider with an orbital class reusable rocket.
One Falcon 9 rocket can carry 60 satellites into orbit.
Those wishing to order Starlink might have to wait.
They created Starlink RV for people who love to travel to rural areas.
Starlink RV can be paused at any time to save costs.
Starlink vs. Starlink RV: Which is the Best?
You might wonder why you would want to choose Starlink over Starlink RV. But in this case, we find both products are excellent choices for whatever situation you need them for. That's really because each product is best at what they made it to do.
For people in populated to medium-sized towns, Starlink is a suitable solution and an all-around better product than Starlink RV. It's faster, more stable, and more affordable.
For the ones looking to travel or that live further away from dense populations, then Starlink RV is a brilliant choice, even better if your house has actual wheels!
Up Next…
If you're in the market for a router, we've done the research for you!
The image featured at the top of this post is ©AlexLMX/Shutterstock.com.