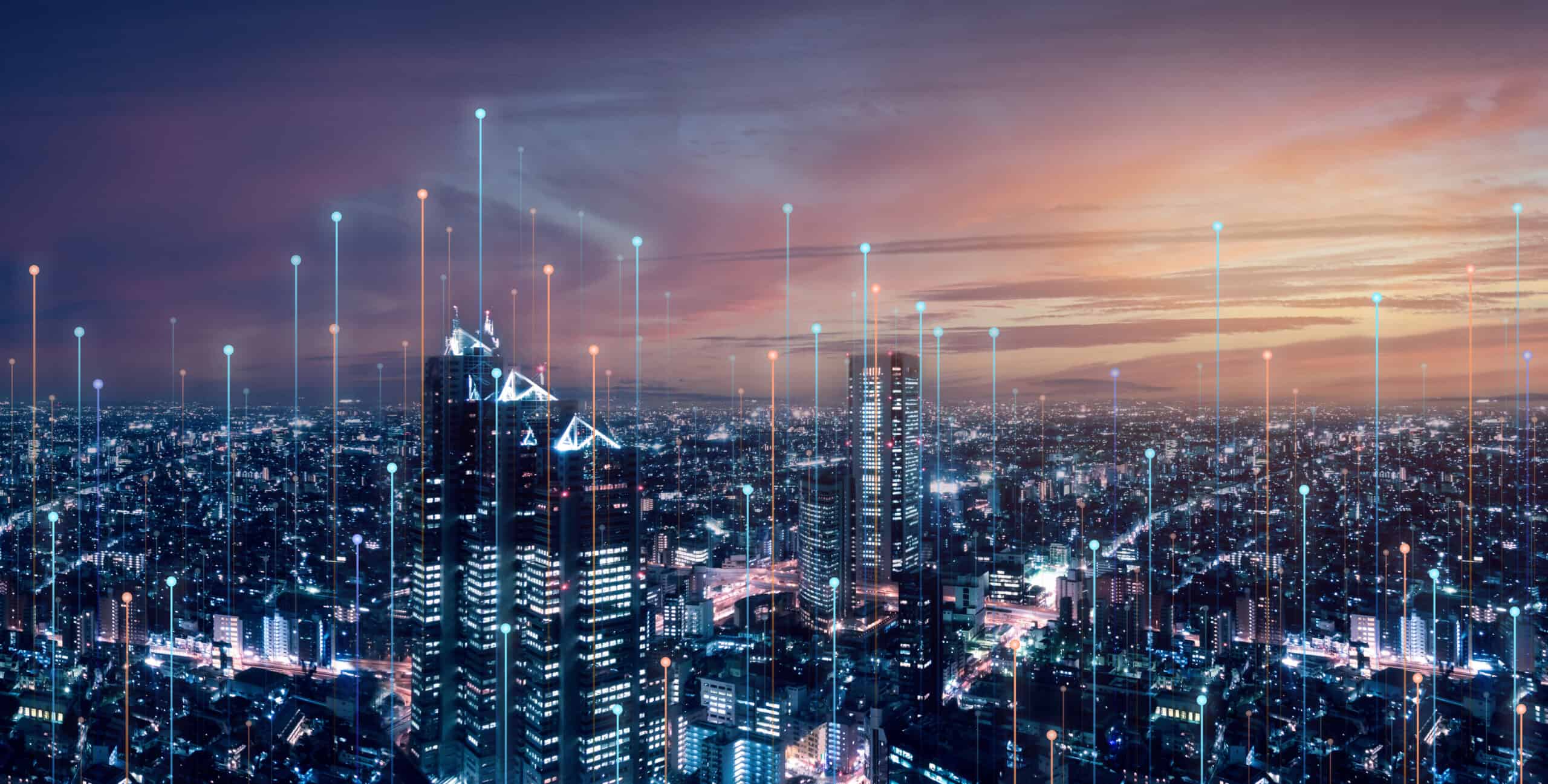 If a copper or fiber broadband internet connection can not reach your property or business, it may feel like you're out of options for connecting to the world wide web.
However, there are many wireless internet options that are providing access to the internet in the most remote and inaccessible locations on earth. In particular, cellular and satellite internet have been game changers for rural internet access and could be the solution that you need. 
Starlink and LTE mobile internet are two popular choices for internet connectivity out in the country! Cellular internet has been around for a while and it has been hard to miss the profile of Starlink satellite internet and its gregarious founder and CEO, Elon Musk.
If you are mulling over either of these internet service providers as a solution for your property, this comparative guide will help you evaluate which option is best for you. 
What is Starlink?
Starlink is a constellation of telecommunications satellites owned and operated by Elon Musk's satellite and spacecraft manufacturer, SpaceX. It provides satellite internet access and mobile phone services in up to 40 countries and is rapidly progressing toward global coverage. At the time of writing, Starlink has over 3,000 small satellites in a low earth orbit (LEO), providing internet coverage to over 500,000 subscribers with $30 billion in revenue. 
The Starlink satellite constellation is manufactured, maintained, and controlled at the company's development facility in Redmond, Washington. Starlink aims to expand its coverage and quality of service by increasing the number of low Earth orbit satellites to over 20,000 in the coming years. 
Astronomers have complained about this plan, but SpaceX has designed its satellites to have reduced brightness and safely de-orbit at the end of their functional life. Starlink carefully monitors and controls the orbit of each satellite with uplinked tracking data used by the satellites to avoid a collision. 
The History of Starlink
Starlink builds on the low Earth orbit technology that was originally developed in the 1980s for the interception of ballistic cruise missiles. In the 1990s, several companies adopted this technology for satellite-to-Earth telecommunications. However, prohibitive costs and the bursting of the dot-com bubble prevented many of these enterprises from bringing consumer solutions to market. 
SpaceX has been making acquisitions relating to satellite telecommunications as early as 2004. Elon Musk's first satellite internet venture was called WorldVu, but they did not it carry forward. Later, in 2014, SpaceX applied to the Norwegian telecommunications regulator for a satellite broadband internet network under the name of STEAM. They later changed this to Starlink. 
SpaceX actively developed the Starlink network between 2016 and 2020 at a cost of $10 billion. It filed with the U.S. Federal Communications Commission (FCC) for a non-geostationary orbit (NGSO) satellite system using the Ku and Ka frequency bands.
By early 2019, Space had deployed the first Starlink satellites and by 2021, 2,300 satellites were in orbit. Starlink released its satellite broadband internet to the public on pre-order later that year. 
Starlink Broadband Internet Services and Cost  
Starlink is the leading provider of broadband satellite internet and owns the world's largest low Earth orbit satellite constellation. It has been a decade in the making, but Starlink confidently asserts that its satellite internet is high-speed and low latency, with exceptional speeds of between 90 and 97 Mbps. The speed and performance are adequate for bandwidth-consuming activities like streaming, video calls, and gaming. 
There is also a portability add-on for subscribers who travel, like RV users. Those who live on the road can pause and unpause their service as required. 
Starlink can provide its connectivity to the remotest locations on Earth because there is no on-the-ground infrastructure required other than a base, including the antenna and transceiver, and a Wi-Fi router for your property. A Starlink subscription has a flat monthly $75 and a one-off hardware fee of $530. It is contract-free and offers a 30-day money-back guarantee.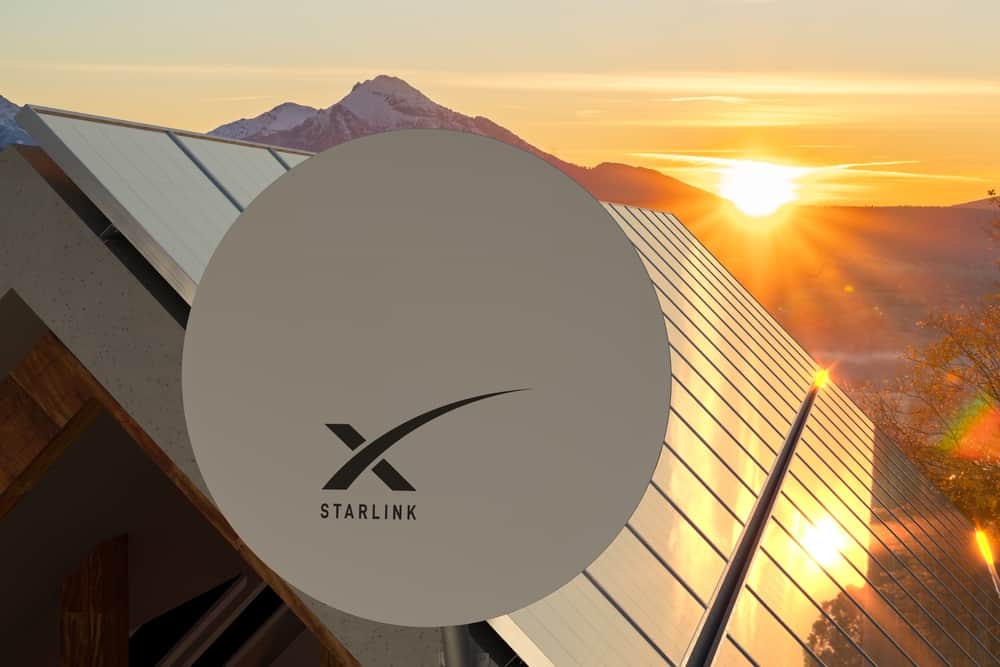 Starlink Satellite Internet Equipment 
Subscribers receive a Starlink kit that is plug-and-play for internet connectivity and includes: 
A Starlink base and mount: This antenna requires an unobstructed view of the open sky to receive the satellite signal. 
Wi-Fi router: Starlink provides a proprietary Wi-Fi 5 router for high-speed connectivity throughout your home. 
Cables
Starlink app: Starlink's smartphone app allows you to update your connection, customize your settings, and get real-time performance data for your internet connection. It can also help you find the best location for your base and help you with your setup. 
What is LTE?
LTE is a cellular networking technology that consists of specifications and standards developed by the Third Generation Partnership Project (3GPP). The LTE technology was developed from existing third-generation cellular technology, in particular, the Universal Mobile Telecommunications System (UMTS).
LTE was released in 2004. Though LTE is a third-generation cellular technology, the advanced features of LTE cellular technology have led to its longevity into and beyond the fourth generation of cellular technology. Mobile internet services are therefore described as 4G/LTE.
Features of LTE technology
LTE has several features that make it an excellent choice for internet connectivity, in remote locations or on the move. Here are some key characteristics:
Coverage: The LTE cellular signal can travel up to 100km, depending on cell size.
Mobility: LTE can provide connectivity to end-user devices moving at speeds of up to 350 kph. 
Bandwidth: LTE has individual channels for data exchange with bandwidths of up to 20 MHz. 
Resilience against errors and interference: LTE uses Quadrature Phase-Shift Keying (QPSK) for modulation. QPSK is noise-proof, efficient, and has a low error rate. 
High uplink and downlink speeds: LTE mobile internet has a 50 Mbps uplink speed and can achieve downlink speeds of over 100 Mbps.
Low latency: Less than 10 ms
Powerful LTE technology: LTE uses special antenna technologies like MIMO and antenna diversity to add further increases in speed. 
LTE Routers for Home Internet
Homeowners and businesses can obtain LTE mobile internet from the leading mobile operators. The mobile company offers access to their mobile internet via a hired LTE router that can receive the cellular signal and distribute it to the devices on your property. 
How Does an LTE Router Work?
LTE routers forward and receive data packets between themselves and connected devices, usually using Wi-Fi or Ethernet. The router uses the cellular modem it contains to connect to the mobile network and exchange its data with the service provider's network. 
The LTE router must contain both a cellular radio and a Wi-Fi radio to maintain connectivity with the cellular network and provide internet access to devices. The router must accept a SIM card, so the cell network can identify it according to the purchased data plan. The SIM card is usually inserted into a slot on the device. Depending on the mobile internet package chosen, an LTE router may have limitations on the networks and frequencies that can be used and prevent the SIM from being swapped.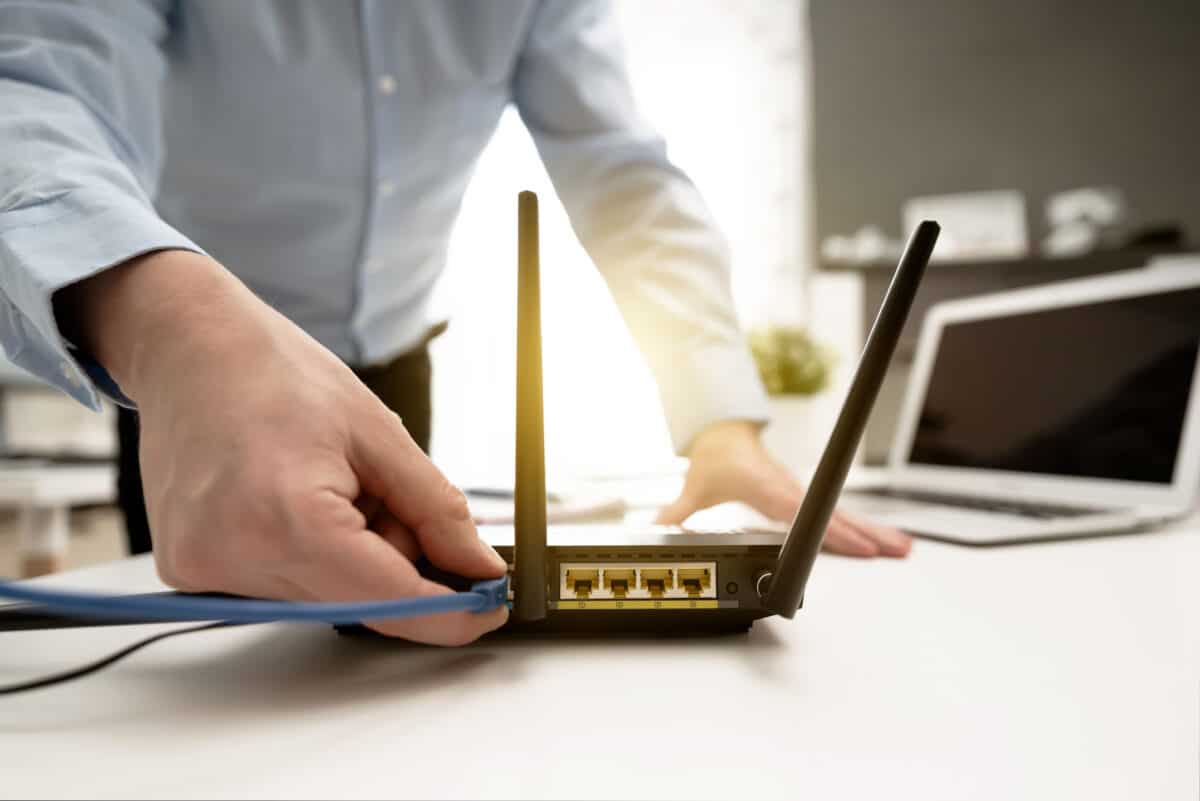 4G/LTE Home Internet
Mobile home internet is available from mobile operators like T-Mobile. The T-Mobile home internet service is an excellent solution for rural properties because it is wire, cable, and fiber-free. 
T-Mobile provides a cellular modem/router that allows homeowners to connect to the internet. Download speeds available are as high as 182 Mbps. Pricing is also competitive when compared to satellite internet, with T-Mobile's cellular internet package costing only $50 per month with no additional fees.
What's the Difference Between Starlink and LTE?
Both Starlink and LTE can provide broadband internet connectivity to rural locations without requiring copper, cable, or fiber. However, these two ISPs go about things in different ways. 
LTE internet uses the cellular network to provide high-speed internet connectivity, while Starlink delivers its wireless internet connection via its constellation of low Earth orbit satellites. Costs of delivering mobile internet are much lower because the cellular network with its network of base stations is already in place and extensive. This is reflected in the lower cost of a mobile internet subscription.
Starlink's satellite internet features brand-new infrastructure, including over 3,000 satellites that were only launched in the last three years. This is some of the world's most advanced networking technology, with coverage spanning more than 40 countries, so it's understandable it comes at a premium. 
Starlink vs. LTE: A Side-by-Side Comparison
Starlink 
LTE
What is it?
Satellite internet service provider (ISP)
Mobile internet technology
Primary Use
Broadband internet access
Broadband internet access
Initial Release
May 24th, 2019
2004
Influential Developers
Elon Musk
Greg Wyler
Gwynne Shotwell
Surrey Satellite Technology (SSTL)
Teledesic
Iridium
Globalstar
The Third Generation Partnership Project (3GPP)
Association of Radio Industries and Businesses (ARIB)
Alliance for Telecommunications Industry Solutions (ATIS)
Communications Standards Association (CCSA)
European Telecommunications Standards Institute (ETSI)
Telecommunications Standards Development Society (TSDSI)
Telecommunications Technology Association (TTA)
Telecommunication Technology Committee (TTC)
Frequency Bands Used
Ku and Ka
1700 MHz 1800 MHz 1900 MHz 2100 MHz
Max Uplink Speed
Up to 40 Mbps
50 Mbps
Max Downlink Speed
Up to 350 Mbps
100 to 200 Mbps
Latency 
20 to 40 ms
10 ns
Contract?
No
No
Throttling?
No
No
Data Limits?
No
No
Monthly Subscription 
$75
$50
Additional Fees
$460 equipment costs
No
Equipment Provided 
Base station, router, mobile app
Cellular modem and router
Similarities and Differences
Similarities
Starlink and LTE are both wireless and exchange data using radiofrequency signals in specific frequency bands.
Both Starlink and LTE require networking equipment with a suitable antenna to access the internet. 
Starlink and LTE can provide broadband internet coverage to properties in remote and rural locations.
The internet connectivity provided by Starlink and LTE is high-speed and low latency.
Customers can confidently stream online content, play games, or teleconference using both these internet technologies.
Both services cost less than $100 per month.
Differences
Starlink is a satellite-based technology, while LTE is a cellular networking technology.
LTE requires a cellular base station that is close to the location where the mobile internet is used.
As a satellite technology, you can access Starlink from anywhere on Earth.
Starlink provides coverage for subscribers in 40 countries.
The coverage of the mobile operator limits LTE internet access.
LTE is cheaper than a Starlink subscription.
What Makes Starlink Different?
Starlink is much more than a home broadband internet provider. It is the most advanced satellite telecommunications system and is designed at every level for high-speed, high-bandwidth, and high-throughput applications. 
Aside from supporting gaming, streaming, and videoconferencing, applications that are known to be poorly supported by satellite internet, Starlink also has solutions for RV users, the maritime sector, and even aviation, using its global coverage. 
Different Satellites, Different Orbits
Starlink has moved beyond existing geostationary satellite internet where individual, solitary satellites provide connectivity. With this arrangement, the time it takes for data to make a round trip between the user and satellite is prolonged, and the high latency means that data cannot be streamed effectively. 
Starlink has overcome these limitations by creating a constellation of several thousand satellites that are orbiting much closer to Earth. This massively reduces the latency of a satellite internet connection, from over 600 ms to just 20 ms.
Each satellite in the Starlink constellation features a solar array and powerful phased array antennae for data transfer on the Ka and Ku frequency bands. The satellites are equipped with autonomous collision avoidance and are carefully tracked across the heavens using in-build navigation sensors.
Robust Hardware
Starlink bases include a phased array antenna that tracks the skies for optimal internet connectivity. Starlink has designed all hardware to withstand extremes of cold and heat along with ice, rain, and high winds.
Is Starlink Better than LTE?
Starlink is certainly a more powerful and sophisticated ISP than LTE, but if your rural home is near a cell tower, LTE internet is just as good a solution. It is cheaper and much more convenient and unaffected by ionospheric interference or storms that could disrupt a satellite connection. 
Unless you really want to try Starlink, the terrestrial solution of mobile internet is more than adequate as the performance is comparable. However, if you are in a remote area without cellular connectivity or on the move in an RV, Starlink offers exceptional service quality, which is easily worth the flat-fee subscription. 
Starlink vs. LTE: 6 Must-Know Facts
Starlink is the only satellite ISP that can launch its own satellites. 
SpaceX undertakes regular low-cost launches to keep the constellation updated with the latest technology.
To save space, the satellite is launched flat-packed and self-assembled in space!
LTE technology will soon be superseded by fifth-generation (5G) cellular technology.
5G New Radio and LTE are incompatible, so LTE will be eventually phased out. 
LTE is not the same as 4G but has significant overlaps with this technology.
Final Thoughts
Satellite and LTE are two technologies that have revolutionized broadband internet in the country! With these two technologies, you can enjoy the same speed and quality of internet connectivity that people in towns and cities do. 
Starlink is a highly advanced solution that can be used in any location, but to use LTE, you will need some proximity to a cell tower. Both solutions are well-priced for the technology used and the level of service provided, but if you're looking to save cash and have a choice, LTE offers better value for money. 
NEXT UP…