Starlink vs Dish Internet: Must-Know Facts
Starlink
Launched in 2019 as a project from SpaceX
Provides satellite internet across all of the United States as well as places around the world
Offers good upload and download speeds
More expensive than 5G services and requires $600 in hardware
Uses 12GHz for its telecomms
Dish Internet
Launched its Dish Genesis project on June 14, 2022
The country's first cloud-native 5G service
Still in beta and requires lots of troubleshooting
Offers the most affordable service plans on the market
In contact with the FCC to update 12GHz restrictions
In 2019, astronomers and night-sky enthusiasts began seeing streaks of light among the stars. Not many could miss the line of satellites that SpaceX launched into Lower Earth Orbit (LEO).
While Starlink is the newest addition to satellite internet, an unsuspecting player is entering the 5G market. Dish introduced its new internet service just this year, and is making waves (in more than one sense) in cities across the United States.
If you're wondering which service is better between Starlink vs Dish internet, it might come down to coverage and price, but it might come down to something even further out. Keep reading for all the differences between the two, including spaces, history, and how 12GHz could affect the way we communicate.
Starlink vs Dish Internet: Side by Side Comparison
Starlink
Project Genesis
Company
SpaceX
Dish Wireless
Launch Date
July 24, 2019
June 14, 2022
Internet Type
Satellite
5G wireless
Coverage
Global (North America, Europe, Australia, South America)
120 cities in the US
Upload Speed
9.33Mbps average
N/A
Download Speed
90.55Mbps average
130Mbps average*
Contract
No contract
No contract
Data Allowance
Unlimited data
Unlimited data
Price
$110/mo
Smartphone Plan: $30/mo
Mobile Hotspot Data Only: $20/mo
Additional Costs
Starlink hardware: $599.99
Dish Genesis mobile device (Samsung Galaxy S22): $399.99
Future Improvements
Starlink increases its coverage every time it launches more satellites
Unrestricted 12GHz would give Dish nearly exclusive use of the midrange wave band
*Download speed is based on a beta test and is not publicly promoted by Dish Wireless.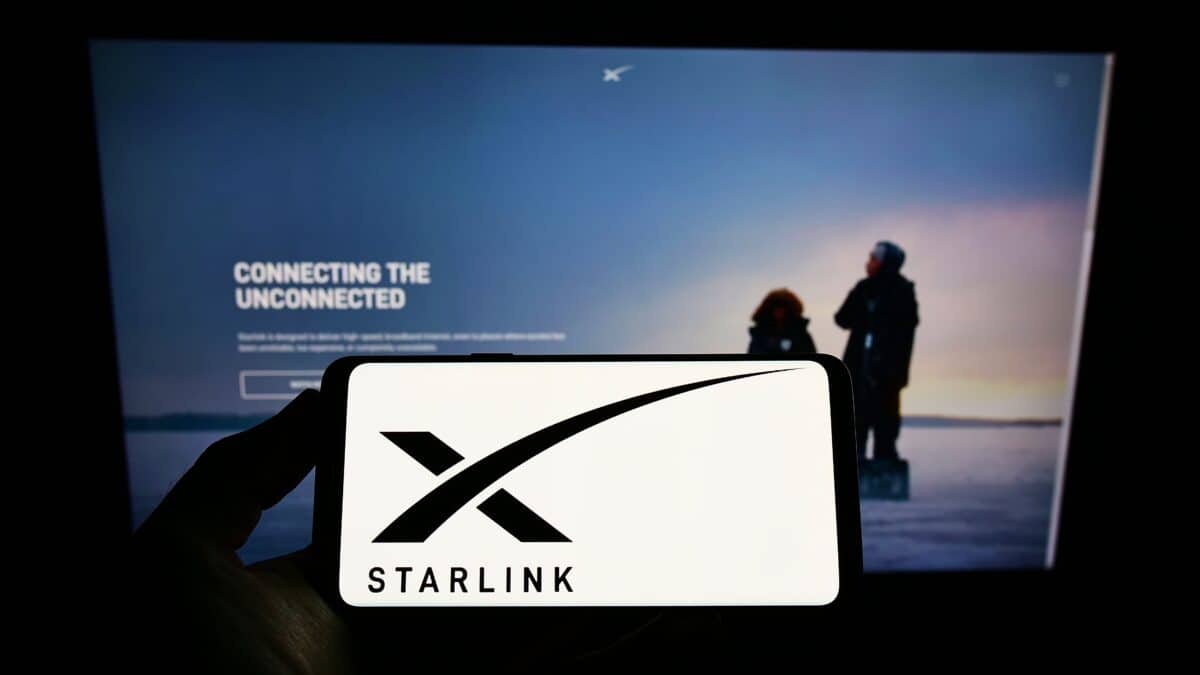 Starlink Vs Dish Internet: What's the Difference?
Starlink History
The concept of Starlink was announced in 2016 by Elon Musk, who stated that despite significant internet options in major cities, rural areas still missed out on connectivity and were largely ignored. Starlink would help meet this demand with a constellation of communication satellites. The project plans to launch up to 42,000 internet satellites and offer internet around the world.
Development started in 2018, and in July of the following year, SpaceX launched its first set of 60 satellites into Earth's lower orbit. Following the company's success, the Federal Communications Commission (FCC) awarded SpaceX $900 million for further research and development. The spaceflight company currently has 2,300 functional satellites and continues to launch more every week.
Starlink Coverage
The satellite internet constellation reaches customers at a wide range. Because the satellites operate on a mid-band wavelength (12GHz) that is restricted to satellite use, they can reach further without sacrificing reliability. Starlink currently covers the entire United States, most of Europe, and parts of Australia and South America.
Starlink is also making headlines on the world stage. The project established communication towers in Ukraine, bringing reliable internet to refugees and Ukrainian militia. Following the conflict, Starlink plans on extending its services across the rest of Western Europe as well as South America and Africa.
Starlink Speed
SpaceX's constellation offers competitive speeds despite satellite limitations. Customers currently see an average of 90.55Mbps down and 9.33Mbps up. While this can't possibly match the speed of 5G services, it's enough to comfortably stream videos or play some of the more demanding games.
Starlink Price
The cost of Starlink is higher than its 5G competitors, at $110/per month for unlimited data. The company also requires hardware installation, which includes a one-time fee of $600. The price range might not be worth it for someone in highly populated areas, where the internet is offered competitively. However, this makes much more sense for those in rural areas or someone who travels regularly.
Dish Internet History
When someone thinks of Dish, they're more likely to think of television services rather than the internet. That's because up until June 2022, the closest Dish got to offering internet was in a package with partnered internet providers. However, the television company is trying to reinvent itself with its newest project: Dish Genesis.
The company claims to offer the country's first cloud-native 5G network. Its Open Radio Access Network (O-RAN) allows it to offer services at a much lower cost. Still, even with its innovations, launching a new internet program amid a hugely competitive market is not an easy feat.
Dish Internet Coverage
In 2020, when Dish entered the 5G market, the FCC required the company to cover at least 20% of the US population by June 14, 2022. Failure to meet this deadline would result in millions of dollars in fees, effectively shutting down the project. Dish barely met the deadline (it publicly launched its network on June 14, the very last day), providing services to 120 cities in the United States.
The company plans to extend its services to the rest of the country, but for now, you can find it in most major cities and some rural areas. Dish partnered with AT&T, allowing customers to use the major comm provider's towers when out of range of Genesis. The 5G service is currently only available via invite, but you can apply for a beta position on their website.
Dish Internet Speed
Because Dish internet is still in its beta stage, there isn't strong proof of its upload and download speeds. One beta tester reported average numbers of about 130Mbps down while outside, but numbers as low as 5-10Mbps when in their own home. A redeeming factor is that when out of service range, customers automatically connect to AT&T towers for reliable internet.
Dish Internet Price
Because of its O-RAN design, Dish can offer its internet at some of the lowest prices we've ever seen. Full-service plans (unlimited data, calls, and text) are going for $30 a month, and data-only plans for as low as $20 a month. The caveat to this is that while it's still in beta, customers have to purchase a new phone (the Samsung 22) for $400 to use the service.
Starlink Vs Dish Internet: The Battle Over 12GHz
In September 2021, Verizon began moving some of its services to a mid-band wave spectrum (C-band), allowing it to compete with T-Mobile's incredible range. It resulted in a major increase in Verizon's coverage and broadcast the benefits of mid-band wavelengths in two-way communication.
Dish especially has its ear to this development, which owns the majority rights to the 12GHz wavelength (another mid-band spectrum). It's unclear why the television broadcast company would own a satellite-restricted wavelength, but it's more clear why it might make the switch to internet.
Dish contacted the FCC and proposed a revision to the restriction, which would allow for two-way communication on the 12GHz wavelength. If the revision were to go through, Dish would have nearly exclusive use of the mid-band. The company could then offer wider coverage and quicker speeds without much competition.
However, this also introduces noise issues to the satellites that currently used the band, particularly Starlink. Shortly after Dish's proposition, SpaceX reported that if two-way comms were permitted on 12GHz, nearly 74% of the company's internet customers would lose service entirely.
As of this writing, the FCC hasn't decided on the matter. Both sides (Starlink vs Dish internet) have overstated their arguments and presented unclear evidence. And while Dish is in a position to provide excellent internet to the United States, the government has a vested interest in Starlink satellites.
And so the battle over 12GHz rages on.
Starlink Vs Dish Internet: Which One Is Better?
Comparing Starlink vs Dish internet is difficult because while they both provide communication services, they aren't in the same direct market. Starlink provides satellite internet and Dish provides 5G.
The biggest difference you're going to find is in coverage and price. Starlink is great for those living outside of heavily populated areas, but its high cost compared to Dish internet makes it unreasonable for those living near major cities. However, Dish's limited range might make it difficult to use while it's still in beta.
One considerable factor that could heavily sway the usability of either service is the status of 12GHz regulations. While the mid-band wavelength is currently reserved for satellite use, an allowance of two-way communication could drastically improve Dish's coverage while also crippling Starlink's reliability.
Next Up…
The image featured at the top of this post is ©AlexLMX/Shutterstock.com.