Spotify Premium comes with all sorts of great advantages for music lovers. However, not everyone listens to music the same way. If you share a roof with other music lovers, you wouldn't want to waste money on individual Spotify Premium accounts. After all, you could bundle together under a cheaper Spotify family plan. It seems like a great idea, but is it too good to be true? Let's break down the Spotify family plan below and see whether it's worth a subscription.
Spotify Specs
Founded
April 23rd, 2006
US Launch
July 14th, 2011
Service
Audio streaming
Podcasting
Subsidiaries
Tencent Music
Founders
Daniel Ek
Martin Lorentzon
Key Figures
Daniel Ek (Chairman & CEO)
Active Users
515 million
Subscribers
210 million
Spotify Plans
$5.99 – 16.99 (monthly)
The History of Spotify
Though it didn't arrive stateside until the summer of 2011, the popular music streaming service Spotify was founded in Stockholm in 2006. Founders Daniel Ek and Martin Lorentzon first launched the streamer in Sweden in 2008, then made their way through Europe before heading to North America in 2011. Spotify is now available in over 180 markets worldwide. What's more, music streaming service grows this number annually.
Spotify was founded to combat the rise of illegal file-sharing that was ravaging the music industry. Ek — who had made a living as a tech entrepreneur — had faith that the streaming could effectively counter piracy and boost sales in one swift motion. He partnered with Martin Lorentzon and came up with Spotify: a free, legal, high-quality music streaming service for all. As they soon discovered, this business model was easier said than done.
Spotify's early days were tough. They did struggle to convince record companies to license music and faced hardships in securing funding. It took a good two years for Ek and Lorentzon to get the burgeoning streaming service on an upward trajectory. After its launch, Spotify didn't take long to garner a massive following. Fifteen years later, Spotify remains a top music streaming. With over half a billion monthly active users and around 40% paid subscribers, Spotify remains a titan of the music streaming industry.
Benefits Of Spotify Subscriptions
The benefits you can expect from your Spotify subscription depend on your Spotify Premium subscription. These four plans — Spotify Premium Individual, Spotify Premium Student, Spotify Premium Duo, and the Spotify Premium Family plan — have a decent amount of overlap. However, a few key elements keep them all distinct. Let's review the benefits and pricing for each of the four Spotify subscriptions below, paying close attention to what makes each one special.
Spotify Premium Individual
Price
$10.99 (monthly)
Benefits
Ad-free music streaming
Downloads for offline streaming
Optional music shuffling
High-quality audio
Listening with friends
Personalized recommendations and playlists
Organized queue
Spotify Premium Student
| | |
| --- | --- |
| Price | $5.99 (monthly) |
| Benefits | All benefits of Spotify Premium Individual, plus access to discounted Hulu (with ads) subscription |
Spotify Premium Duo
| | |
| --- | --- |
| Price | $14.99 (monthly) |
| Benefits | All benefits of Spotify Premium Individual, plus support for a second discounted Spotify Premium Individual account |
Spotify Premium Family
| | |
| --- | --- |
| Price | $16.99 (monthly) |
| Benefits | All benefits of Spotify Premium Individual, plus support for as many as five additional Spotify Premium Individual accounts (including Spotify Kids) and the ability to block explicit tracks |
How Spotify Subscriptions (Including Spotify Family Plan) Came To Be
Though Spotify initially launched as a free music streaming service, it didn't take long for Ek and Lorentzon to realize that a paid version of the service could be hugely beneficial — not only for subscribers but also for Spotify. Spotify users could access additional bonus features and exclusive benefits not found in the streamer's free version for a low monthly cost. Plus, it could help Spotify turn a profit much faster (and, as a result, better take care of artists and labels). Spotify launched its Premium version in 2009 — one year after the free version's launch.
Spotify Premium was immediately appealing for its addition of ad-free streaming, higher-quality listening, and the inclusion of offline downloads. Not long after, Spotify added a mobile app to the mix — opening them up to even more potential subscribers than ever before. In the years since, Spotify Premium has added even more benefits to the mix. This includes playback with no gaps, playback from multiple devices, and later, the addition of video content such as music videos, documentaries, podcasts, and more.
Of course, each of the four Spotify Premium plans comes with its special benefits, as well. Spotify Premium Individual subscribers get ad-free, high-quality music streaming with personalized recommendations and curated playlists (among other advantages). Premium Student subscribers get all of this, plus a discounted Hulu account and a lower monthly cost. Premium Duo subscribers get the same as Individual subscribers, but they get it times two. Spotify Family plan subscribers get the most of all, including up to six accounts.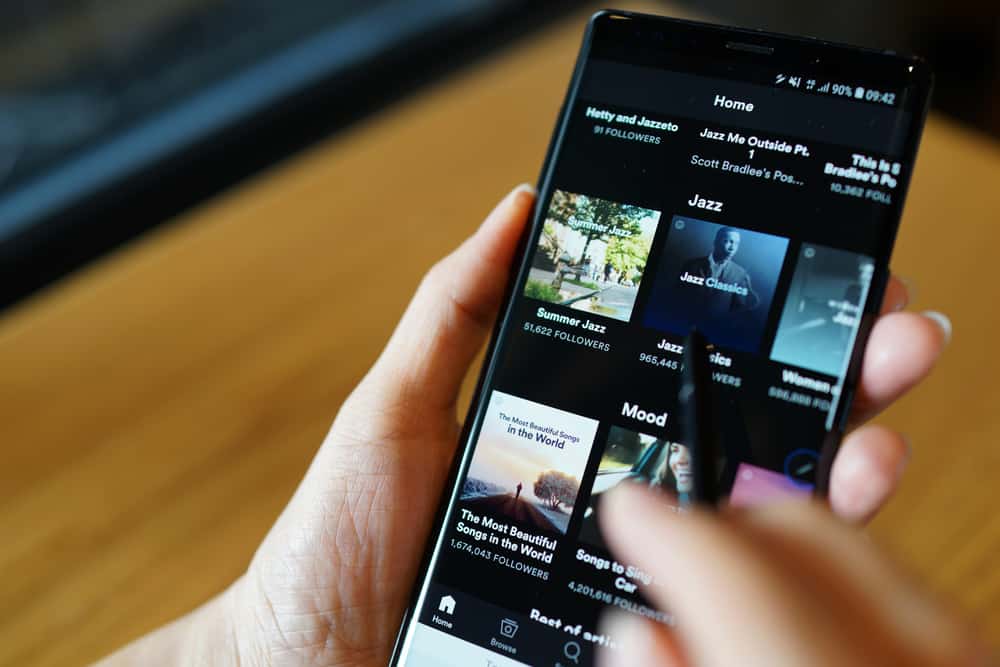 Pros And Cons Of Spotify Family Plan
| Pros | Cons |
| --- | --- |
| With support for up to six people, monthly costs drop to under $3.70 a person | Sharing the Spotify family plan outside the home is forbidden |
| Full access to the entire Spotify catalog in high quality and ad-free | The Spotify family plan is not available in all countries |
| Ability to block access to explicit content for those with young children | $16.99 is quite a lot for a music streaming service, even with the savings |
| Access to Spotify Kids, a kid-friendly version of the streaming service geared to adolescents | Only the primary account holder can modify the Spotify subscription settings |
Is The Spotify Family Plan Worth It?
So, is the Spotify family plan actually worth it? If you and your family love listening to music but don't want to spend up to $60 on six Spotify Premium Individual accounts, then the Spotify family plan is absolutely the more affordable choice. However, it's not an option for those with families spread out across multiple households — let alone different cities or states. The Spotify family plan is meant for those living under the same roof.
If you qualify for the Spotify family plan, then don't hesitate to sign up. Not eligible? Don't worry, as you can explore the other subscriptions. They might not be as great of a deal as the Spotify family plan, but options such as Spotify Premium Student and Spotify Premium Duo are nevertheless great money-savers for those who qualify. No matter which Premium plan you ultimately choose, you'll enjoy a better listening experience than the free tier.