In 1984, Arianespace became the first commercial space company when it overtook the operations of the European Space Agency's (ESA) launch vehicle. Since then, the idea that regular citizens could go to space became reality. But it wasn't until the early 2000s that it became a public phenomenon. 
With a wealth of knowledge (or, in some cases, just wealth), private aerospace companies have started developing state-of-the-art rockets. Companies such as SpaceX, Virgin Galactic, and Blue Origin (founded by Jeff Bezos) have led the industry, creating reusable vehicles and planes that break out of the Earth's atmosphere. Continue reading to learn how two of these companies compete in their race to space.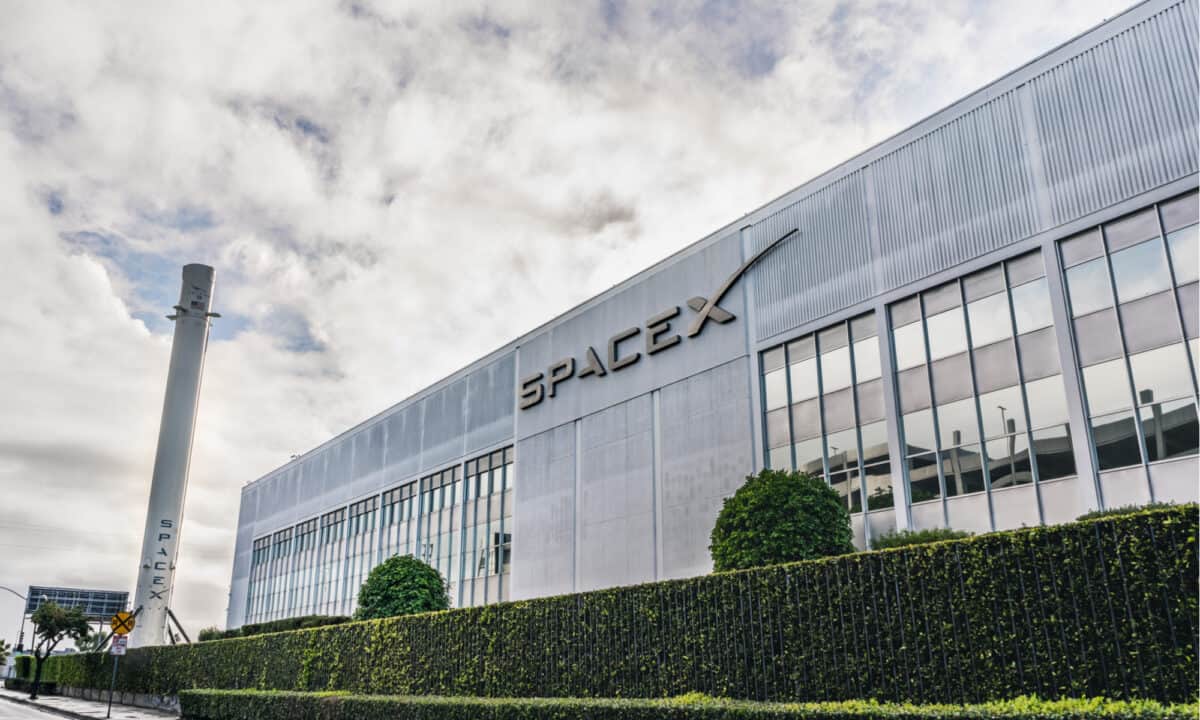 SpaceX vs Virgin Galactic: Side-by-Side Comparison
| | SpaceX | Virgin Galactic |
| --- | --- | --- |
| Why was it formed?: | Colonize Mars, make spaceflight more affordable | Send passengers into space |
| Owner: | Elon Musk | Richard Branson |
| Established: | 2002 | 2004 |
| Headquarters: | Hawthorne, California | Mojave, California |
| # of Employees: | 12,000 | 823 |
| Flagship Rocket: | Falcon Heavy | SpaceShipTwo |
| Revenue: | $2 billion | $3.6 million |
| Future Projects: | Starship, Super Heavy | SpaceShip III |
| Notable Accomplishments: | First rocket booster landing, first space company to reuse a rocket | Won the Xprize in 2004, the first successful space tourist company |
| | | |
SpaceX vs Virgin Galactic: Six Must-Know Facts
SpaceX's largest rocket is the Falcon Heavy, which can travel as fast as 24,000mph.

SpaceX actively sends crewmembers to the International Space Station.
Musk intends to build ships capable of transporting crew and materials to Mars.

Richard Branson worked with the renowned aerospace designer, Burt Rutan, to win the Xprize competition in 2004.

In 2021, Virgin Galactic became the first successful space tourism company, with Branson on the first flight beyond Earth's atmosphere.
Virgin Galactic's SpaceShipTwo is capable of carrying six passengers to space while traveling at a max speed of just under 2,500mph.
SpaceX: The First Commercial Space Program
The private company, SpaceX, builds rockets capable of sending satellites and people into space. Founded by Elon Musk in 2002, the company designs its rocket with reusability in mind. Working closely with NASA in its first projects, the space industry leader now launches commercial loads for a variety of industries.
With the intent to make spaceflight more affordable for everyone, Elon Musk sold his two companies, PayPal and Zip2, to fund the design of his first rocket. Originally wanting to establish a research facility on Mars, Musk had to tone down his lofty goals. He switched his focus to designing vehicles that could return to Earth, bringing down the cost of commercial space ventures.
The founder and company have kept their founding goals, however, and have been designing rockets that can make long journeys to Mars and beyond. Musk believes that a window exists to colonize Mars, and it is uncertain when that window could close. To achieve this, SpaceX has laid out plans for two rockets, Starship and  Super Heavy, which would transport up to 100 passengers and the resources necessary to build the foundation of a colony.
The space industry leader propels its efforts with its flagship rocket, the Falcon Heavy. Standing 230 feet tall and weighing over three million pounds, it is the largest modern rocket in commercial use. On its way out of the earth's atmosphere, the vehicle can reach speeds of 24,600mph. 
Overcoming Growing Pains
SpaceX has had a turbulent history getting to this point, however. It took Elon Musk nearly six years to test his first rocket, the Falcon 1. The vehicle failed its first four attempts to launch successfully, having issues with fuel leaks and rocket-stage collisions. As a privately funded company, Musk absorbed the costs of these tests.
After its bumpy first try, however, the spaceflight company has seen great achievements. Not only was SpaceX the first privately owned company to successfully launch a rocket into space, but it also safely delivered ISS crew members to the space station. The company is now launching its loads into space to provide affordable internet across the entire planet. 
SpaceX's Starship Fails Its First Launch Attempt
On April 17th, 2023, SpaceX had to cancel the first-ever orbital launch attempt of its 400-foot Starship rocket due to a frozen pressure valve that was discovered after loading the rocket with propellant.
The company had to offload the propellant and will retry in a few days. CEO Elon Musk tweeted that they learned a lot from the experience.
The next attempt may take place on April 20, which is significant to Musk. SpaceX hopes to use the super-heavy launch platform to develop reusable rockets to send astronauts to the moon and eventually Mars, making the stakes for the company incredibly high.
In the past few years, the company has launched several Starship prototypes, most of which resulted in significant explosions. However, April 17th's launch attempt was unique because it involved a Starship prototype paired with a Super Heavy booster, which boasts 33 Raptor engines.
Virgin Galactic and the Billionaire's Space Race
Virgin Galactic takes its focus in another direction. The spaceflight company was founded in 2004 by British billionaire Richard Branson. The company has no interest in the commercial space industry and instead focuses its efforts on space tourism. Using rocket-powered planes, Virgin Galactic is capable of breaking through the space barrier for a brief period before flying back to Earth.
Richard Branson, who made his fortune with the Virgin Group conglomerate, created his company in response to a "space race" challenge. He worked in conjunction with Burt Rutan to design a craft that could compete for the reward. And in 2004, they were successful. The two committed to designing vehicles capable of bringing normal people into space.
The company began working on its premier plane, the SpaceShipTwo. The vehicle weighs just over 21,000 pounds, has a max speed of 2,400mph, and is capable of transporting six passengers. With specs like these, it's clearly in a different class than SpaceX and its Falcon Heavy. 
Tragedy Strikes
Unfortunately, their new design would take longer than anticipated to achieve its goal. In 2007, its engine exploded during a routine test, killing three employees. Another accident led to the tragic loss of another in 2014. With hopes shunted, Branson slowed down his tests to ensure that his passengers would be completely safe.
It took the company seven years after its last accident, but their calculated tests started to pay off. The ship was ready for launch, and Richard Branson volunteered for its first manned test. The flight was successful, and in July 2021, Virgin Galactic was the first commercial spaceline.
SpaceX vs Virgin Galactic: What's the Difference?
The efforts of SpaceX and Virgin Galactic to design a spaceflight vehicle are about as far as their similarities go. With totally different objectives, technologies, and public impressions, these two companies are difficult to compare. 
SpaceX is leading the way in commercial space ventures. With some of the most innovative rocket designs in history, they're poised to send major loads into deep space and beyond.
However, if you're hoping to catch a ride on one of these rockets, you'll find better luck with Virgin Galactic. Selling tickets for $200,000, the company is actively marketing vacation trips to space.
NEXT UP…