In today's battle of the 4K televisions, it can be quite an intimidating task to try and make the best decision. Should you go with LED, LCD, Plasma, QLED, or OLED? What about brands?
LG, Vizio, Panasonic, Sony, or Samsung? Should you go for a 48″ model, go even bigger with a 65″ model, or opt for the biggest and best 83″ model? It's a really tough decision, but we're here to make it easier.
Experts agree that OLED is the best possible TV type, and that Sony and Samsung are two of the best OLED brands. But what's the best between Sony OLED vs. Samsung OLED? Let's discuss this.
Sony OLED vs. Samsung OLED: Side-By-Side Comparison
Sony OLED
Samsung OLED
Model Name(s)
Bravia (A9S, A80J, A80K, A80CJ, A80CK, A90J, A90K, A95K)
S95B
OLED Type
QD-OLED (A95K)
WOLED (A9S, A80J, A80K, A80CJ, A80CK, A90J, A90K)
QD-OLED
Resolution
2160p 4K
2160p 4K
Available Sizes
42″, 48″, 55″, 65″, 77″, 83″
55″, 65″
Screen Border
0.30″ (A95K)
0.31″
Thickness
1.69″ (A95K)
1.61″
HDR Support
HDR10, Dolby Vision, HLG
HDR10, HDR10+, HLG
HDMI Ports
4
4
USB Ports
2
2
Dolby Atmos Support
Yes
Yes
Operating System
Google TV
Tizen
Average Power Consumption
126 W
113 W
Max Power Consumption
306 W
242 W
Sony OLED vs. Samsung OLED: What's the Difference?
Because there are so many different kinds of Sony OLED TVs and only one kind of Samsung OLED TV, it's well worth taking a deeper dive into the key differences between the two. Below, we'll take a much closer look at Sony OLED vs Samsung OLED, paying close attention to the six key things that set the two brands apart from one another.
OLED Types
Bright Colors
Sony OLED 65-Inch BRAVIA XR A80K
Features XR Cognitive Processor developed by Sony
Triluminos Pro enhances the already outstanding picture
Dolby Vision HDR and Auto HDR tone mapping for PS5
8.5ms input lag
4K at 120Hz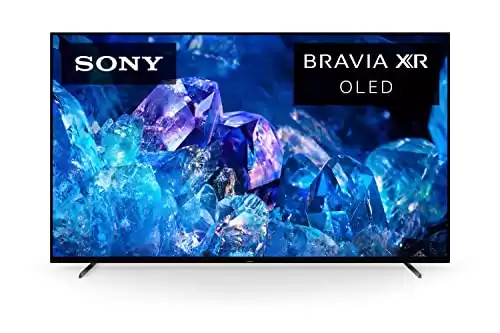 We earn a commission if you make a purchase, at no additional cost to you.
Firstly, there are a couple of different types of OLED to consider here. Samsung uses its proprietary QD-OLED exclusively, which makes sense. They created the innovative OLED type, so why wouldn't they use it?
Reliant on Quantum Dot technology to boost the OLED's picture and brightness even higher, it's probably the best OLED type that money can buy today. Sony actually uses QD-OLED for its Bravia A95K, but it's definitely an outlier. All of Sony's other OLED TVs use WOLED, or white OLED, which combines a white light filter with the OLEDs to boost brightness.
TV Screen Sizes
Secondly, there's physical television size to take into account. When you think of buying a new TV, you typically assume you're going to have a variety of sizes to pick and choose from. Not the case with Samsung OLEDs, however.
Their S95Bs only come in two: a 55″ model and a 65″ model. Sony, on the other hand, has far more options to choose from. Their Bravias come in 42″, 48″, 55″, 65″, 77″, and 83″ models.
Sony has been dabbling in OLED TVs for several years now, while Samsung is just getting started with OLED again after a long break. This might explain the scarcity on the latter's part.
TV Build
While the screen size is definitely a major player in making a TV decision, there's more to a television's overall size than just its screen. It's just as important to consider the screen's width, as well as the length of the border around the screen itself.
One of Sony's thinnest OLED TVs, the Bravia A95K, is just ever-so-slightly thicker than the Samsung S95B. The Bravia A95K's border is also marginally shorter, coming in at 0.01 inches less than the Samsung S95B. These two models are pretty evenly matched, but it's worth stating that the majority of Sony's OLED TVs are much thicker than this.
HDR Support
Another key consideration is HDR support. It's not enough to simply purchase a TV because it's OLED or because it's 4K. You also need to think about what kind of HDR support you can expect to see. This is yet another place where the Sony OLED vs. Samsung OLED diverge.
Sony OLED TVs offer support for HDR10, Dolby Vision, and HLG. Samsung OLED TVs, on the other hand, offer support for HDR10, HDR10+, and HLG. In other words, Sony does not support HDR10+, while Samsung does not support Dolby Vision. This is a pretty significant loss for both brands.
Operating System
You'd be hard-pressed to find a 4K HDR OLED TV that isn't also equipped with smart TV technology. Sony and Samsung certainly have this built into their televisions, as do most other major brands. Sony OLED TVs rely on the Google TV operating system, while Samsung relies on its own proprietary Tizen operating system.
Google TV boasts the Google brand name, while Tizen has the distinct honor of being Samsung's trusted television operating system. When all is said and done, Tizen is a little bit more user-friendly than Google TV.
Power Consumption
Best for Gaming
SAMSUNG 65-Inch Class OLED 4K S95B Series Quantum HDR Smart TV
Roughly 8.3 million specially engineered self-illuminating pixels (ultrafast switching tiny lights)
The AI-powered processor drives the intuitive Smart TV Hub, Dolby Atmos sound and expertly upscaled 4K*
Quantum HDR OLED expands the dynamic range beyond what is possible in HD
Dolby Atmos built-in
We earn a commission if you make a purchase, at no additional cost to you.
While it might not be the top priority when shopping for a new OLED TV, Sony OLEDs tend to consume far more power than Samsung OLEDs. Sticking with the A95K model, the average power consumption is 126 W compared to Samsung's 113 W.
This difference only becomes more apparent when looking at the max power consumption between the two, which is 306 W for the A95K model and 242 W for the Samsung S95B. However, there are some Sony OLED models with far less power consumption (such as the A9S and the A80J).
The History of OLED
Before diving into the specific ways in which Sony and Samsung compete with one another (and their rivals) in the OLED TV market, it helps to explain what exactly OLED is. You're probably aware that OLED TVs are the most highly sought-after type of 4K TVs.
You likely also know that Sony and Samsung are two of the top names in the OLED industry. However, none of these factors actually explain what OLED stands for (or what it does). Here's the simple explanation: OLED stands for organic LED, organic light-emitting diode, or organic electroluminescent diode. (Take your pick!)
At present, OLED technology is the latest and greatest in the world of LED TV technology. OLED televisions are powered by what's known as an "emissive electroluminescent layer." What this actually translates to is a layer of organic LED film that can conduct an electrical current.
The compounds that make up the film then naturally put off light as the electricity passes through it. Not only is it a remarkable advance in television technology, but it also eliminates the need for a traditional television backlight — a major step forward for picture quality and brightness alike.
In addition to increased quality and brightness, OLED TVs are also inherently thinner, lighter, and more energy efficient without the need for a backlight. This lack of a backlight also means more realistic colors. Think about it: when a backlit television shows a dark scene, even when the television is completely black, there's still light shining through because of the backlight.
With an OLED television, black is truly black; the pixel doesn't illuminate, and there's no light shining through from a backlight. So, with all of this in mind, how exactly do Sony OLED and Samsung OLED compete with one another?
How Sony OLED vs. Samsung OLED Compete
To truly grasp the Sony OLED vs. Samsung OLED debate, it helps to understand how they've competed over the years. Sony first entered the OLED game back in 2004 with the release of their Sony CLIÉ PEG-VZ90 PDA. It was the industry's first PDA equipped with OLED tech.
They went on to include OLED screens in various other consumer electronics until 2007, when they first implemented OLED into their TVs. Then, after just a year, they dropped OLED TVs completely. They didn't return to OLED TVs until 2017, followed by the introduction of the popular Sony Bravia line in 2019.
Samsung, on the other hand, is a real pioneer of OLED technology. Whereas LG panels dominate the majority of the market's OLED technology today, the market share actually once belonged to Samsung.
Back in the early part of the new millennium, Samsung was the one churning out the bulk of the industry's OLED panels — somewhere around 40% or more. In 2010, the company had a 98% hold on the AMOLED market in particular. Then, whether it be due to high costs, low interest, or little competition, Samsung left the OLED market entirely… until 2022.
After breaking onto the OLED scene with their innovative AMOLED creation back in the late 2000s and early '10s, Samsung returned with their best OLED invention yet: QD-OLED. Combining its highly coveted Quantum Dot technology with the pre-existing appeal of OLED, Samsung was able to once again cement itself a place in the OLED sphere.
While their limited QD-OLED offering no doubt puts them at a disadvantage compared to other OLED leaders, it's only a matter of time before Samsung begins to ascend the market once again.
Sony OLED vs. Samsung OLED: Pros and Cons
| Pros of Sony OLED | Cons of Sony OLED |
| --- | --- |
| Incredible range of TV screen sizes to choose from | The number of choices between Bravia models and numbers can be overwhelming |
| Supports Dolby Vision HDR | Lacks support for HDR10+ |
| Very thin screen border | Eats up more power than rival OLED models |
| Uses Samsung's QD-OLED technology in its Bravia A95K model | Seven of its eight OLED TV models use inferior WOLED screens |
| Pros of Samsung OLED | Cons of Samsung OLED |
| --- | --- |
| Remarkably thin screens | Only two sizes to choose from (55″ and 65″) |
| Near-infinite contrast ratio, resulting in perfect blacks on the screen | No Dolby Vision HDR support |
| QD-OLED panels are the best in the business | Some detectable bugs in the early models |
| Easy-to-use TV OS | Thicker screen border than other OLED rivals |
Sony OLED vs. Samsung OLED: 5 Must-Know Facts
The camera and film company Kodak is actually the one credited for first inventing OLED technology all the way back in the 1980s. However, the technology would not be truly embraced until decades later.
The advent of OLED has led to another new technology: FOLED, or foldable OLED. The organic electroluminescent diodes are so thin and flexible that they can actually be bent and shaped and still retain their electroluminescence.
A single OLED diode is about 200 times thinner than a strand of human hair.
Like your typical LED TV, OLED televisions are prone to burned-in images on the screen. This is probably the biggest downside of the technology.
The field of view on an OLED TV is remarkable — as a matter of fact, nearly double that of its rival formats. It's around 170 degrees, compared to less than 90 degrees for an LED TV.
Sony OLED vs. Samsung OLED: Which OLED TV Brand Is Better?
So, as you can see, this is no easy decision to make. The showdown between Sony OLED vs. Samsung OLED is a truly vicious one. Each television has its own respective advantages and disadvantages. But, alas, there can be just one winner.
Looking at its specs, history, pros and cons, and overall performance, the answer becomes clear. It's Samsung OLED over Sony OLED. From its brighter, sharper picture to its superior number of upsides, the Samsung OLED TV comes out on top in just about every respect. Sony's OLED TVs are undoubtedly high-quality, but Samsung OLEDs win out.