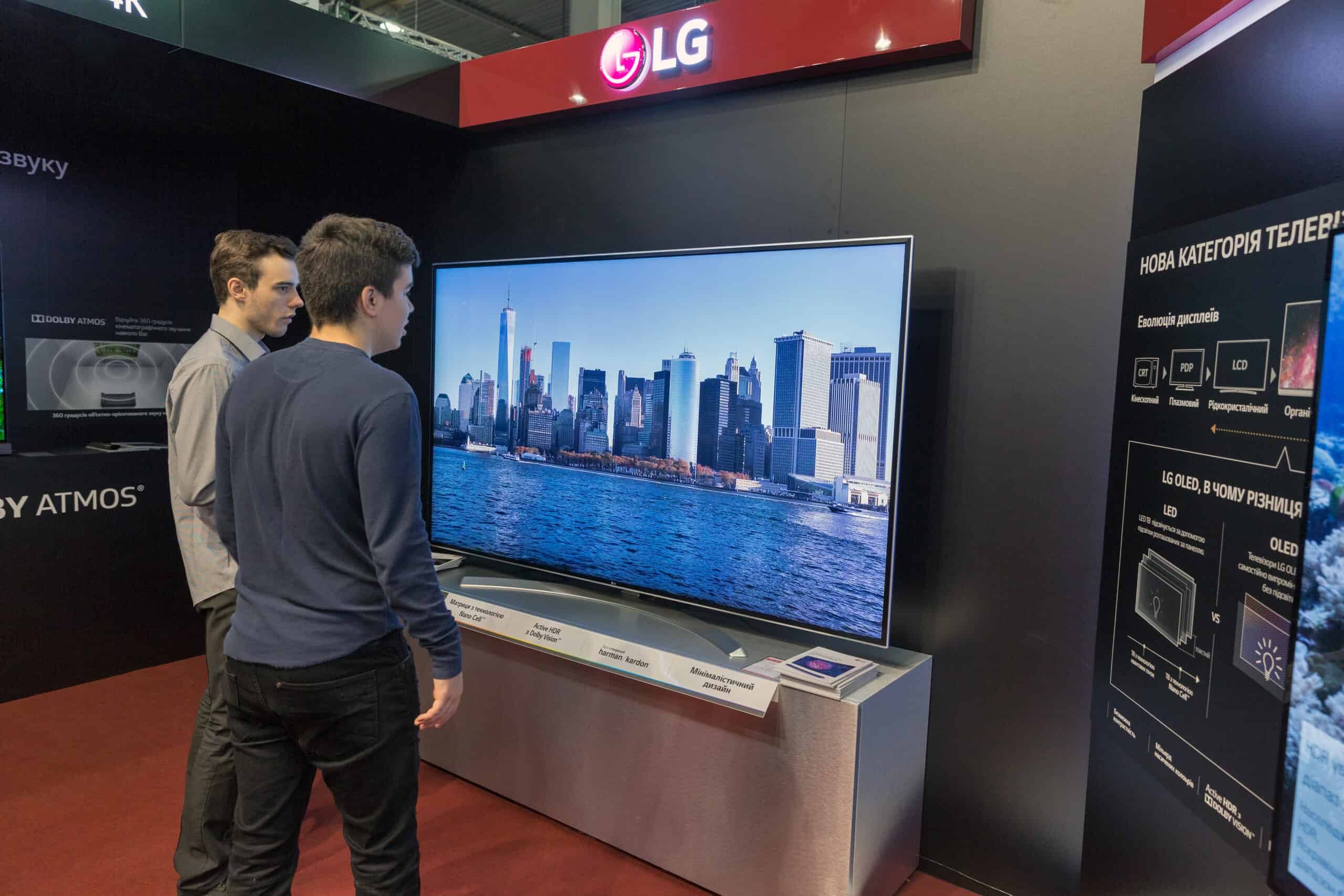 When you're choosing a television these days, there are a few big factors that can go into your decision-making. The "smart" operating system (Roku, Fire TV, Google TV, etc.) plays a big role but nothing is as important as making sure you have the best possible picture. If you have ever shopped for a television in person, you undoubtedly are doing so to see the picture up close and personal to see if it's worth the price tag a retailer is asking. 
For Sony and LG, competing for your dollar and market share is all about producing the best product. To that end, both companies have done a great job of enhancing their OLED screens over time to make them as lifelike as possible. The question persists of whether or not one brand's OLED can be better than the other so let's take a look at some key differences and see which one is worth your money. 
Sony OLED vs. LG OLED: Side-by-Side Comparison
| | Sony | LG |
| --- | --- | --- |
| Image Processor | X1 Extreme Processor adds excellent contrast | alpha9 Gen 4 AI does an excellent job of choosing screen settings based on room lighting |
| Contrast Ratio | Overall better contrast, purer whites, deeper blacks | Still excellent blacks but not quite Sony level |
| Smart TV Platform | Google TV | webOS |
| Connectivity Options | Fewer HDMI 2.1 ports | More HDMI 2.1 ports |
| Brightness | Remains strong in daylight conditions, premium models perform well | Struggles against competition with overall brightness |
| Sound quality | Acoustic Surface Audio uses the screen as a speaker | AI Acoustic Tuning adjusts to the room volume |
Excellent Contrast
LG G2 Series 65-Inch Class OLED evo
8 million self-lit OLED pixels
High contrast, deep black, and bright colors
α9 Gen 5 AI Processor 4K
Filmmaker Mode, Dolby Vision IQ, and Dolby Atmos
LG Game Optimizer mode with NVIDIA G-SYNC, FreeSync Premium, and Variable Refresh Rate (VRR)
We earn a commission if you make a purchase, at no additional cost to you.
Sony OLED vs. LG OLED: 5 Must-Know Facts
LG is the manufacturer of the OLED panel technology that goes into Sony televisions as well as Vizio, Hisense and Philips. 
LG runs the webOS smart operating system while Sony has made the transition to Google TV. 
Sony tends to have fewer HDMI 2.1 ports on its televisions where LG equips its televisions with more ports which is great for future proofing your home. 
LG offers a wider range of television options and is frequently more competitively priced in the market. 
Sony, even as it manufactures its own gaming system still can't quite compete with LG's lower lag and dare it be said, offers a better gaming mode than Sony. 
Sony OLED vs. LG OLED: What's The Difference? 
Panels
So here is where things get a little murky as LG is the manufacturer of OLED Sony uses with its televisions so in theory, there shouldn't be any difference between the two manufacturer's television sets. OLED, which stands for Organic Light-Emitting Diode is essentially a television panel (or wherever OLED screens are used) where every pixel is emitting its own light. Because of this technology, you are seeing better contrast ratios, deeper blacks and even better power saving than ever before. 
There is a caveat however as LG announced in 2021 that it would be introducing its own OLED panel for its televisions known as "OLED evo". Better described as LG's second-generation OLED panel, it marks the first time the company has made any significant panel changes since 2015. What has yet to be determined is whether the evo is being sold to competitors like LG's "regular" OLED panels. For now, until the industry learns more about evo, it's safe to say there is little difference between OLED screens between Sony and LG. 
Picture Quality
Sony has traditionally been better at upscaling 720p to 1080p but when it comes to 4K quality, since the panels are the same, overall picture quality is pretty consistent between the two. Out of the box, you will typically see a better level of brightness and more accurate colors due to Sony's initial calibrations. LG can match similar brightness and color accuracy, it just requires some manual calibrations on the buyer side once the TV is out of the box. 
Where LG can stand up over Sony is with local dimming. As surprising as it might be because of Sony's work on the PlayStation 5, LG stands out more for a better picture during dark scenes, specifically during gaming. LG offers deeper overall blacks and while that isn't to say that Sony doesn't provide excellent blacks on its own, LG offers a better overall OLED experience for those who value deeper blacks. 
Image Processing
Where Sony stands out a little more is with its X1 Extreme Processor as there is a reason why Sony leans on this for a lot of its marketing speak. There's a lot of science involved but what it ultimately does is bring about more color variation, higher contrast and overall stronger details on screen. Sony stands out a little more for better overall color quality and any image-processing around objects where there is less blur on screen. 
Where LG stands out is with its alpha9 Gen4 AI processors that are in their most recent OLED TVs. This smart technology recognizes what type of content you are viewing and will automatically make adjustments without you even noticing to optimize for ambient lighting so you are getting the best possible picture. 
One of LG's best OLED features is "filmmaker" mode that is thought to best recreate whatever an artist had in mind vision wise for a movie. It faithfully recreates colors in a way that Sony simply cannot match while it's in this mode but as good as it is, it's not a mode you'll use regularly. 
Sound
One area that Sony's OLED technology immediately works in their favor is with sound. Sony has helped pioneer a technology that they call an "Acoustic Surface" that utilizes the screen as a speaker. Not only does this provide a richer sound but it doubles as a central speaker as part of any surround sound system. Where this gets really cool for lack of better wording is that this acoustic technology enables audio tracking which essentially allows the sound to come out of the screen wherever someone is talking. 
In other words, if you have two characters on the screen, one on the left hand side and one on the right, whoever is talking is where the sound will come out of the television screen. It's something we hope more manufacturers bring to their televisions in the future. 
On the other hand, LG's OLED televisions don't offer the same type of screen-based sound and sound quality is really dependent on which LG OLED television model you purchase. What LG does use, on its higher end models is AI Acoustic Tuning which uses artificial intelligence to best determine the size of the room you are in and create an audio experience out of that. Many LG models also offer Dolby Atmos sound so there's plenty of reason to believe that LG's sound will impress, Sony's is just a bit more impressive. 
Smart TV 
When it comes to choosing a television, this is often regarded as one of the biggest purchase decisions. Sony has made the transition over to Google's TV platform also known as Google TV and it's incredibly intuitive, especially for current Android users. There's thousands of applications available from Google's Play Store including games as well as more streaming apps featuring more movies and TV shows than you can ever hope to watch. It's smart, it offers Google Assistant for voice help and using Google AI, has an outstanding recommendation engine that helps flag new shows or movies you might want to watch. 
LG's webOS platform has received some recent revamps which has helped increase its flexibility and user friendliness. That it adds things like a gaming optimizer is just nice but it still doesn't quite compare to the strength and user experience of Google TV. You need to dig deeper into settings to get it set up exactly the way you want it, which is not necessarily the best experience for first-time users. Additionally, while LG has a lot of streaming apps available, it's helpful to check and make sure that the app you want is available before buying. 
Remote
One area that LG does definitely have an edge in the OLED battle with Sony is in the remote space. It's "magic remote" offers something of a point-and-click experience, much like the Nintendo Wii remote. With this system, it's incredibly easy to navigate menus (and there are a lot of menus) and activate both Google Assistant and Amazon Alexa, both of which are built right into the remote control. 
Sony's remote is more traditional with a preference for regular buttons over more motion control. It lacks programmable features that LG includes and it's just as "fun" to use but overall, remote use is definitely going to be personal preference even as LG's is more enjoyable to play with. 
Sony XR65A90J 65" A90J Series HD OLED 4K Smart TV with an Additional 4 Year Coverage by Epic Protect (2021)
COGNITIVE PROCESSOR XR – Revolutionary TV processing technology that understands how humans see and hear to deliver intense contrast with pure blacks, high peak brightness, and natural colors.
XR 4K UPSCALING – Enjoy all your HD content in close to 4K resolution and bring back lost texture and detail with intelligent TV processing.
DOLBY VISION, IMAX ENHANCED, NETFLIX CALIBRATED MODE – Enjoy immersive and engaging cinematic content as the creator intended.
GOOGLE TV – Seamlessly browse 700,000+ movies and TV episodes from across your favorite streaming services, all in one place. Watch content from Netflix, Amazon Prime Video, Disney+, YouTube, the...
1 Year Extended Epic Protect Warranty in Addition to the Included Full Manufacturer Warranty. Intended for Residential Use Only.
We earn a commission if you make a purchase, at no additional cost to you.
Sony OLED vs. LG OLED: Which One Should You Buy? 
Unfortunately, the answer of which OLED panel is right for you isn't very cut and dry. If you were to try and do a direct comparison of two standout televisions between both companies like the LG G2 or the Sony A90J, it's not an easy answer. A comparison here indicates that Sony offers stronger black levels and stronger image accuracy, especially at wider viewing angles whereas LG adds deep blacks and outstanding reflection handling. 
If brightness is important to you, LG is the way to go as it's edging out Sony, especially with the introduction of OLED evo. The same goes for deeper blacks as LG and Sony are just close enough to make some of the advantages of the LG standout a tiny bit more like being able to more comfortably watch in a brighter room. That LG also outpaces Sony for gaming is not just surprising, but impressive as there is little reason that Sony shouldn't be the absolute best at color accuracy with gaming consoles. 
Where things get a little murky is price and it's the one factor that hasn't been discussed that plays a big role. The thing is, price is going to vary depending on whether you want a mid-range of high-end Sony or LG TV so it's hard to make a direct comparison though broadly speaking, LG does tend to be friendlier on the price side. 
And The Final Answer Is…
LG is the way to go. Outside of Sony's more impressive sound and friendly smart operating system, LG is simply a better overall package that offers a more impressive connectivity set and is arguably more future-proofed than Sony.