Key Points
Sony headphones have a slightly bass-heavy sound, making them suitable for genres like hip-hop or EDM.
Sennheiser headphones offer a balanced and nuanced sound profile, preferred by audiophiles and professionals.
Sony focuses on modern design with sleek lines and contemporary aesthetics, while Sennheiser combines traditional craftsmanship with modern technology.
Sennheiser offers extended warranty periods, demonstrating their confidence in the durability of their products.
Sony has a wide range of products catering to different users, while Sennheiser focuses on a more specialized market of audiophiles and professionals.
In the world of audio technology, the debate between Sony and Sennheiser headphones has been long-standing. Whether you are an audiophile or just someone looking to enhance your audio experience, this article is your go-to guide. Dive in as we dissect these two iconic brands' features, performance, and value propositions.
Sony vs. Sennheiser: Side-by-Side Comparison
| Aspect | Sony Headphones | Sennheiser Headphones |
| --- | --- | --- |
| Founded | 1946 | 1945 |
| Price Range | $50 – $350 | $70 – $400 |
| Sound Quality | High | Premium |
| Noise Cancellation | Available on higher-end models | Available on most models |
| Battery Life | Up to 30 hours | Up to 50 hours |
| Design & Comfort | Modern, sleek designs | Classic, robust designs |
| Warranty | 1 Year | 2 Years |
| Connectivity Options | Bluetooth, NFC, and Wired options available | Bluetooth and Wired options, with some models offering aptX codec support |
| Additional Features | Touch controls, 360 Reality Audio on select models | High-resolution audio support, built-in equalizers on select models |
| Customer Support | Comprehensive online support and community forums | Extensive customer support, including online assistance and dedicated phone lines |
Audiophile's Choice
We earn a commission if you make a purchase, at no additional cost to you.
Sony vs. Sennheiser: What's the Difference?
Below are some differences between Sony and Sennheiser:
Sound Profile
Sony has cultivated a reputation for delivering headphones with a modern twist, mainly appealing to a younger demographic. One of the truly defining characteristics of Sony headphones is their slightly bass-heavy sound. They emphasize lower frequency ranges to provide a more immersive experience. This is particularly suitable when listening to genres like hip-hop or EDM. Sony has been keen to integrate the latest technology into their products. This often includes touch control and noise cancellation, enhancing the user's experience.
In contrast, Sennheiser approaches sound design with a more balanced and nuanced ear. Their headphones are often lauded for offering a natural and detailed sound profile. This is where each note is distinct, and every instrument is clearly different. This makes Sennheiser a preferred choice among audiophiles and professionals who demand precision and fidelity in their sound equipment. Their headphones reproduce sound in a manner that is as close to the original recording as possible, making them an excellent choice for classical music enthusiasts and audio purists.
Design Philosophy
Sony's approach to design is undeniably for the modern user. Their headphones often feature sleek lines and contemporary aesthetics, making them a stylish accessory for the younger generation. Incorporating touch-sensitive controls and wireless technology further accentuates their modern appeal, offering convenience and a futuristic touch to their products.
On the other hand, Sennheiser adopts a more timeless approach to their design. The studio products often embody a blend of traditional craftsmanship and modern technology. This results in headphones that deliver superior sound and stand the test of time. The attention to detail in their designs is evident, with high-quality materials and finishes that speak volumes about their commitment to quality and durability.
Customer Service and Warranty
While Sony offers reliable products, their warranty periods tend to be standard, often providing a one-year warranty for their headphones. This is pretty common in the industry and offers decent protection for your investment.
Sennheiser takes customer satisfaction a step further by generally offering extended warranty periods. This is a testament to the reliability and durability of their product range. This provides peace of mind for the customer and also underscores the brand's confidence in the longevity of its products.
Technological Integration
Sony never shies away from incorporating the latest technological advancements into their array of products. Their headphones often have state-of-the-art features like adaptive sound control. This automatically adjusts noise-canceling levels according to your environment. Further, integrating Artificial Intelligence in their devices showcases their commitment to leading the digital revolution in the audio industry.
Sennheiser, though embracing modern technology, primarily focuses on refining the core principles of sound engineering. Their products exhibit a meticulous approach to sound reproduction, emphasizing accuracy and detail. Moreover, their headphones often feature bespoke drivers and high-quality components that are tuned to perfection by experienced engineers, thereby assuring an unparalleled auditory experience.
Product Range and Versatility
Sony's product range is expansive, offering solutions catering to a broad spectrum of users. From budget-friendly options that provide great value for money, to premium high-end headphones that offer a luxurious listening experience, Sony has something for everyone. Their product range continually evolves, tapping into the latest trends and user preferences to bring innovative and versatile products to the market.
Sennheiser tends to focus on a more specialized market, offering a curated selection of products that cater to the needs of audiophiles and professionals. Their offerings, though fewer in number compared to Sony, are characterized by quality and excellence, targeting those who seek out the best in sound quality. The brand has an illustrious history of creating headphones that have become benchmarks in the industry, satisfying the demands of the most discerning listeners.
Sustainability and Environmental Considerations
Sony has made significant strides in promoting sustainability through various initiatives. Their efforts to reduce the environmental impact of their products are commendable. This is thanks to their programs aimed at reducing waste and promoting recycling. Further, they have been trying to transition towards renewable energy sources in their manufacturing processes, ultimately demonstrating a conscious effort to move towards a greener future.
Sennheiser has long been committed to sustainable practices. Their production methods often involve using durable materials that ensure a long product lifespan. Thus, reducing the need for frequent replacements and thereby minimizing waste. Moreover, their commitment to quality ensures products that last for a long time and promote a culture of sustainability and environmental responsibility.
High-Performance
Sony WH-1000XM5 (Silver)
Battery: 30 hours
Features an automatic noise optimizer (AI noise cancelling)
Includes Sony's V1 Processor for great sound
Features soft leather ear-cups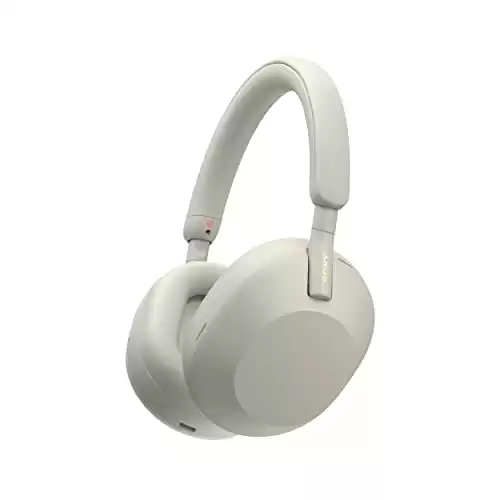 We earn a commission if you make a purchase, at no additional cost to you.
Sony vs. Sennheiser: 5 Must-Know Facts
Sony was founded in 1946, a year later than Sennheiser, which started its journey in 1945.
Sennheiser products generally start at a higher price point than Sony, emphasizing premium sound quality.
While Sony offers high sound quality, especially in the bass department, Sennheiser is known for a more balanced and natural sound experience.
Sennheiser generally offers better noise cancellation technology across its product range than Sony.
Sennheiser takes the lead in battery life, offering up to 50 hours in some models, and overshadowing Sony's 30 hours.
Sony vs. Sennheiser: Which One Is Better? Which One Should You Use?
Choosing between Sony and Sennheiser ultimately hinges on individual preferences and precise needs, factoring in both the nuances of their sound profiles and the aesthetics of their designs. If you gravitate towards bass-heavy tunes and seek contemporary, sleek designs, Sony might be your ideal match, especially for immersive listening sessions involving genres like hip-hop or EDM.
Conversely, opting for a Sennheiser might be the better route if you're an audiophile with a penchant for balanced, harmonious soundscapes and premium build quality, where meticulous craftsmanship meets sound excellence. Both avenues promise a remarkable auditory journey, catering adeptly to distinct audience groups with varied yet discerning preferences, ensuring an acoustic experience that resonates deeply with your unique taste.
Battery: 60 hours
Features adaptive noise cancelling
Includes a transducer system (42mm) and aptX
Supports Sennheiser's Smart Control app

Buy on Amazon

We earn a commission if you make a purchase, at no additional cost to you.

11/28/2023 05:37 pm GMT

Battery: 30 hours
Features an automatic noise optimizer (AI noise cancelling)
Includes Sony's V1 Processor for great sound
Features soft leather ear-cups

Buy on Amazon

We earn a commission if you make a purchase, at no additional cost to you.

11/28/2023 05:37 pm GMT
The image featured at the top of this post is ©Ground Picture/Shutterstock.com.