Sony and LG are top brands with a range of OLED TVs. Choosing one over the other isn't as cut-and-dry as simply declaring the Sony A80J or the LG C2 better without proof. For this reason, it's worth comparing the Sony A80J vs LG C2 and diving deep into the key differences between the two, their histories and their pros and cons. That's the best way to decide on a winner. So, which OLED TV is the superior option? Let's find out below.
Samsung, LG, Sony, TCL, Vizio… LED, LCD, OLED, Plasma, QLED… the brand names and the TV types go on while your uncertainty grows.
Side-by-Side Comparison: Sony A80J vs LG C2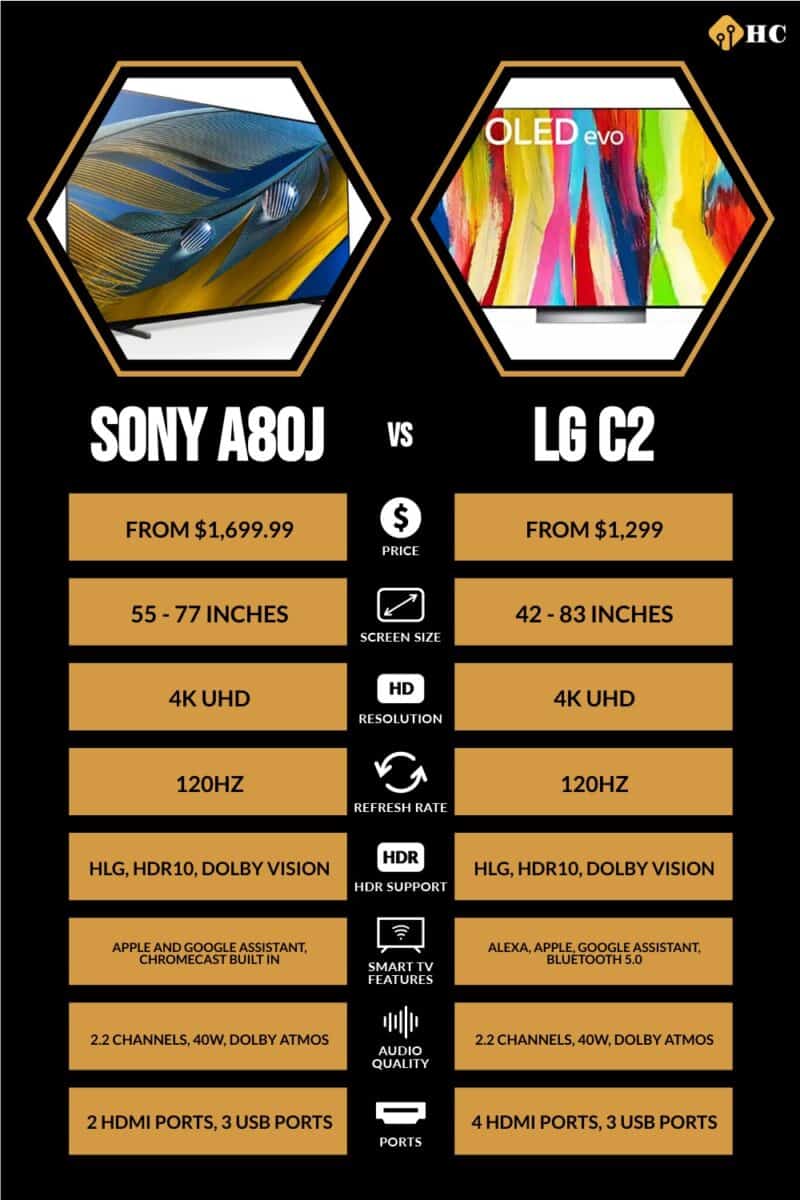 | | Sony A80J | LG C2 |
| --- | --- | --- |
| First Released | April 2021 | March 2022 |
| MSRP (55″ TV) | $1,899 | $1,599 |
| Weight (65″ TV) | 51.8 lb | 37 lb |
| Smart Assistant Support | Apple and Google Assistant | Alexa, Apple, Google Assistant |
| Bluetooth | Bluetooth 4.2 | Bluetooth 5.0 |
| HDMI Inputs | 3 (bottom), 1 (side) | 4 (side) |
| Other Inputs | 3 USB-A ports, 3.5 mm jack | 3 USB 2.0 ports |
| Power Consumption | 452 W (operational) | 115 W (operational) |
Budget Option
LG C2 Series 55-Inch OLED evo
LG's fifth generation α9 Processor automatically adjusts your TV's settings depending on what you're watching.
Filmmaker Mode shows movies the way the movie director originally intended.
Game Optimizer from LG ensures that that you have your most exciting gaming experience ever
Wall mountable (VESA 300 x 200) - sold separately
We earn a commission if you make a purchase, at no additional cost to you.
Sony A80J vs LG C2: Key Differences
So, now that we've seen what these two OLED TVs look like side by side, it's time to break down some of the key differences between them. We'll explore three primary considerations: the price of the TV, the quality of the TV's picture, and the OLED TV is best for specific uses.
Price
As you can see by the chart above, the Sony A80J is much more expensive than the LG C2 on average. The 55″ Sony model listed above is a good $300 more than its LG counterpart. This price difference remains consistent throughout each TV's various sizes. It's even true when looking at the televisions on sale, as with a recent Black Friday deal for the Sony A80J and the LG C2. However, this Amazon sale saw the two flipped: the 55″ LG was more expensive than the Sony. ($1,297 vs $999, respectively.) This likely has something to do with the Sony being an older model.
OLED TVs are considered the best TV types on the market today, and that's going to come at a price. Neither the Sony A80J nor the LG C2 will be the cheapest option, especially in comparison to some of the 4K TV deals going on right now across all the major retailers for the holidays. You could get a 4K TV for under $200, but the Sony A80J and the LG C2 will provide you with some of the best picture quality money can buy.
Picture Quality
After price, the picture quality is the second most important consideration when choosing a TV. To be clear, the Sony A80J vs LG C2 are practically tied for picture quality when examined with the naked eye. Both deliver 4K UHD picture with Dolby Vision-certified HDR colors. Each boasts stunning OLED technology that soars high above most competing TV types such as QLED, Plasma, LCD, and more. Both have identical refresh rates and screen resolutions, as well. So, where's the true difference in picture quality, then?
Knowing what we know about television brands, the picture quality of a Sony A80J vs LG C2 must vary. When compared closely, the LG C2 comes ahead by just a fraction almost every time. When examining the TV for the purpose of mixed usage, the LG C2 is superior by an incredibly slim margin. The same goes for watching TV shows, watching live sports, or playing video games. We'll cut the picture quality discussion here, as we'll be getting more into it in our next category: which television is best for a series of specific uses.
Optimal Usage
Sony A80J 55 Inch TV: BRAVIA XR OLED 4K Ultra HD Smart Google TV with Dolby Vision HDR and Alexa Compatibility XR55A80J- 2021 Model
COGNITIVE PROCESSOR XR – Revolutionary TV processing technology that understands how humans see and hear to deliver intense contrast with pure blacks, high peak brightness, and natural colors
XR TRILUMINOS PRO - Rediscover everything you watch with billions of accurate colors and see impressive picture quality that is natural and beautiful to the human eye
XR OLED CONTRAST – Feel the beauty of OLED contrast with pure blacks and lifelike brightness
GOOGLE TV – Seamlessly browse 700,000 plus movies and TV episodes from across your favorite streaming services, all in one place. Watch content from Netflix, Amazon Prime Video, Disney+, YouTube,...
BRAVIA CORE – Bring the cinematic experience home. Enjoy streaming high-quality movies included with BRAVIA CORE, exclusively on select Sony TVs
We earn a commission if you make a purchase, at no additional cost to you.
"]
Whether you're primarily a TV watcher, a movie watcher, a video game player, or a sports fanatic, varying brands have varying optimal uses. Some are good for mixed usage, as we defined for the LG C2, but most brands have one or two optimal usages that tower over the rest. The Sony A80J vs LG C2 debate is no exception. Each has its own respective strong suits in this regard.
For the Sony A80J, it's movie watching. Time and time again, whether it be brightness, HDR, color gradient, or even upscaling lower-quality DVDs, the A80J comes out on top over the LG C2. However, the LG C2 comes out ahead in several other optimal usages: TV, sports, video games, and even doubling as a computer monitor. If you're an avid movie watcher, then the Sony A80J is the right OLED TV for you. However, if you hop from television to sports to video games and back again, the LG C2 is probably better for you.
5 Must-Know Facts About OLED
Not to be confused with LCD or LED TVs, the lights in OLED TVs are skinnier, more lightweight, and offer more flexibility than competing TV types. What's more, it relies on plastic instead of crystalline.
Unlike other TV types, OLED TVs have no backlight. The OLED tech instead illuminates each individual pixel on the panel for precise control over contrast and color.
In addition to offering superior picture quality over rival TV types, OLED is much more environmentally friendly and consumes far less energy.
OLED has drastically less blue light emission than other TV types.
OLED TV prices continue to drop each new year as the technology becomes cheaper to produce.
History of Sony OLED TVs
While we might think of OLED as a newfangled invention, the truth is that Sony has been dabbling in OLED since the early 2000s. Their first OLED product? Sony CLIÉ PEG-VZ90, a PDA (a.k.a. Personal Digital Assistant, for readers unfamiliar with the term) released in 2004. From there, Sony implemented OLED in their line of portable minidisc recorders and Walkman X Series products in 2006 and 2009, respectively. That's all fine and good, but what about televisions? When did Sony start to use the tech in their TVs?
As it turns out, Sony was the first to make an OLED TV in the mid-2000s. The XEL-1, an 11-inch, 1080p TV, first hit stores in Japan in December of 2007. While the tech was an instant hit for its potential environmental friendliness and energy savings, the company ran into hurdles in making the screens any bigger. Research and development continued into the 2010s, with OLED showing up on products such as Sony computer monitors and the PS Vita in 2011.
Though the initial goal for widespread OLED implementation was in 2013, it wasn't until 2018 that Sony brought OLED technology to its line of televisions. These were the A8F and the A9F, which first debuted at CES 2018. From there, it was off to the races. Competing brands and models rolled out their own OLED televisions in direct competition with Sony, but the technology's originator never lost their footing. Today, Sony continues to put out exceptional OLED televisions — including the Sony A80J you've heard so much about now.
LG's OLED History
Despite Sony beating LG to the OLED punch by getting into the game way back in 2004, LG was no less a pioneer in the OLED industry in the late 2000s. Thanks in large part to LG's acquisition of Kodak's OLED company in 2009, LG was able to get a serious leg-up over the competition before the decade's end. With this helpful boost from Kodak, LG successfully brought their first OLED TV to the table in 2010: the 15EL9500, a 15-inch OLED model several inches larger than the aforementioned XEL-1.
The following year, LG successfully doubled the size of the 15EL9500. In March 2011, they released their 31-inch OLED 3D TV. One year after that, they did it again with the announcement of a 55-inch panel at CES 2012. This new-and-improved LG OLED TV, the 55EM9600, hit shelves at the end of 2012. They might not have been the first to bring OLED technology to the consumer electronics sphere, but LG certainly wasted no time trying to perfect it after its debut.
These days, LG remains one of the top names in consumer-grade televisions. The company continues to improve the lifespan of their OLED panels, increasing from an estimated 36,0000 hours in 2013 to over 100,000 by 2016. Also worthy of note? For much of the 2010s, thanks to an exclusive partnership with leading OLED manufacturer Universal Display Corporation, LG was the sole provider of OLED panels. This meant that, throughout the '10s, no matter the brand name, it was overwhelmingly likely the TV relied on an LG OLED panel.
Sony A80J vs LG C2: Pros and Cons
Sony A80J
| Pros | Sony A80J |
| --- | --- |
| Magnificent infinite contrast | More expensive than some competitors |
| Wonderful 4K upscaling | Lacks the brightness of some competitors |
| 4K UHD and Dolby Vision HDR compatible | Very heavy |
| Extensive viewing angles | Limited smart assistant support |
LG C2
| Pros | Cons |
| --- | --- |
| Great for gaming, TV, and sports | Lacks HDR10+ support |
| More affordable than some OLED brands | Sound quality leaves much to be desired |
| Lightweight and slim | 4K upscaling is not always up to par |
| Uses less power than some competitors | Smaller screens are dimmer than larger models |
Sony A80J vs LG C2: Which Is Better?
Judging by the differences in optimal uses that we discussed above, it shouldn't be surprising that it's still difficult to name a clear winner between these two OLED TVs. Both have advantages and disadvantages and cases that give them a leg-up over the competition. But, looking at the Sony A80J vs LG C2 overall, some things signal which is truly the best. Simply put, it's the LG C2. The reasons why have everything to do with the sheer number of optimal uses.
The LG C2 triumphs over the Sony A80J for normal television viewing or video games. While the Sony A80J is perfect for avid movie watchers, the LG C2 has many advantages over the Sony A80J. In the battle between the Sony A80J vs LG C2, it would be disingenuous to argue that the former deserves to win out over the latter when the LG C2 has so many better uses. Not to mention a lower price, lighter weight, better smart assistant support, superior Bluetooth connectivity, and lower power consumption.
The image featured at the top of this post is ©Grzegorz Czapski/Shutterstock.com.