The Sony A80J vs. LG C1 are two popular TV models that stand out for their superior picture quality and cutting-edge features. Considering your unique demands and preferences before deciding is crucial because, although both models provide excellent performance, significant distinctions separate them. The Sony A80J's OLED display, improved by the XR Cognitive Processor, offers excellent contrast, deep blacks, brilliant colors, and high color fidelity. The picture quality and detail are improved, and the watching experience is genuinely immersive. The LG C1, on the other hand, has an OLED display with the 9 Gen 4 AI processor recognized for its vibrant colors and deep blacks. 
The Sony A80J and LG C1 are remarkable smart TVs, yet they differ in operating systems. The A80J, equipped with the flexible Android TV platform, boasts many apps and other content readily accessible through the Google Play Store. It supports popular streaming services and seamlessly integrates Google Assistant, simplifying control through voice commands. On the other hand, the LG C1 operates on LG's webOS, acclaimed for its intuitive interface and straightforward navigation. It also accommodates various streaming services and incorporates LG's proprietary ThinQ AI, a smart feature enabling voice control. Ultimately, the choice between the two will hinge on the user's preference and familiarity with the operating systems. So this article unravels all the differences between Sony A80J vs. LG C1 for you to decide which is the best buy. 
Sony A80J vs. LG C1: Side-By-Side Comparison 
| Features | Sony A80J | LG C1 |
| --- | --- | --- |
| Display Technology | OLED | OLED |
| Screen Sizes Available | 55, 65, and 77 inches | 48, 55, 65, 77, and 83 inches |
| Resolution | 4K Ultra HD (3840 x 2160) | 4K Ultra HD (3840 x 2160) |
| HDR Support | HDR10, Dolby Vision, HLG | HDR10, Dolby Vision, HLG |
| Picture Processor | Cognitive Processor XR | Alpha 9 Gen 4 AI Processor |
| Refresh Rate | 60Hz (Native), 120Hz (Motionflow) | 60Hz (Native), 120Hz (TruMotion) |
| HDMI 2.1 Ports | 4 | 4 |
| Gaming Features | Game Mode, ALLM, HDMI 2.1 | Game Mode, ALLM, HDMI 2.1 |
| Smart TV Platform | Android TV | webOS |
| Voice Control | Google Assistant | Alexa and Google Assistant |
| Connectivity | Wi-Fi, Bluetooth, Ethernet | Wi-Fi, Bluetooth, Ethernet |
| Available Ports | HDMI, USB, Ethernet, Audio Output | HDMI, USB, Ethernet, Audio Output |
| Design | Slim bezels, metal stand | Thin bezels, sleek stand |
Best Design
We earn a commission if you make a purchase, at no additional cost to you.
Sony A80J vs. LG C1: What's the Difference?
High-end televisions with excellent picture quality and cutting-edge features are the Sony A80J vs. LG C1. However, several significant variations between these two TV brands might help you choose the best pick depending on your unique needs and preferences.
Here will cover the following variations to understand these two TV models better:
Picture quality
Gaming features
Smart Features
Design and Connectivity
Price
Target Market
Picture Quality
One of the crucial aspects that always comes to the forefront when we talk about top-tier televisions is the visual fidelity they provide. OLED displays have earned a reputation for their exceptional performance in this regard. Take, for instance, Sony A80J vs. LG C1. While they both offer spectacular visuals, you may notice minor variations in their picture quality. These subtle changes stem from the unique processing techniques each brand employs and the differences in the quality of panels they use.
The Sony A80J incorporates Sony's Cognitive Processor XR, which employs cutting-edge AI algorithms to evaluate and improve the picture's constituent parts. By boosting details, colors, and contrast, this technology makes watching more realistic and engaging. The A80J also features Sony's XR OLED Contrast Pro, which improves the OLED panel's performance by adjusting the brightness for different lighting conditions.
In contrast, the LG C1 uses the LG Alpha 9 Gen 4 AI Processor, which optimizes picture quality using deep learning techniques. The processor examines content to enhance the graphics' depth, color accuracy, and clarity. The C1 also incorporates LG's OLED Motion Pro technology, a feature that mitigates motion blur and facilitates smoother animation during high-speed sequences.
The comparison between the Sony A80J and the LG C1 reveals that both TV brands provide exceptional performance regarding image quality, with deep black levels, true-to-life colors, and impressive contrast. However, personal tastes can vary, so it's recommended that you explore reviews to determine which television's visual attributes best align with your preferences.
Gaming Features
The Sony A80J vs. LG C1 comparison also shows that both TV brands include attractive gaming features that improve the gaming experience. Both TVs come equipped with HDMI 2.1 ports, a feature that facilitates 4K visuals at a smooth 120Hz, making every image a delight to the eyes. They also accommodate the variable refresh rate (VRR) feature, ensuring smooth transitions and motion.
With the Auto-Low Latency Mode (ALLM) activated, these TVs ensure a smooth and responsive interaction free from annoying lags. On top of that, they've been upgraded with an enhanced Audio Return Channel (eARC). This means they don't just offer amazing visuals but also deliver an equally impressive sound experience, making every moment truly immersive and enjoyable.
The LG C1's HDMI 2.1 support for VRR reduces screen tearing and enhances performance when connected to compatible gaming consoles or graphics cards. The LG also has ALLM. Additionally, since it works with AMD FreeSync and NVIDIA G-Sync, it is more adaptable for gaming on various devices. On the other hand, the Sony A80J has special features that are exclusively for PlayStation, making it a more attractive option for gamers who prefer Sony's gaming consoles.
Smart Features
Modern TVs' advanced features allow users to utilize various apps, engage with streaming platforms, and access online data. This analysis reveals significant differences in assessing the smart functionalities of the Sony A80J vs. LG C1.
The Sony A80J is powered by Android TV, providing an intuitive and familiar user interface. This platform brings forth a wide array of apps and streaming services, all available via the Google Play Store. The A80J also includes voice command capability, compatible with Google Assistant, enabling control over the TV and other smart home devices. This Sony model also features an integrated Chromecast, facilitating seamless casting of entertainment from your mobile devices to your TV.
In contrast, the LG C1 runs on LG's webOS operating system, renowned for its user-friendly layout and easy access to well-liked streaming services. With its point-and-click navigation, the LG Magic Remote and webOS blend to offer a fluid and responsive user experience. 
With the C1, you can harness the power of voice control to command your TV. It is fully equipped to integrate with Amazon Alexa and Google Assistant, making it ideal for modern smart homes. As for smart features, think of many streaming options and voice control functionality, and you've got what the Sony A80J and LG C1 offer. These TV models ensure you have various smart entertainment choices right at the tip of your tongue.
Design and Connectivity
Both the Sony A80 and the LG C1 present sleek, modern aesthetics that effortlessly complement any living space. However, it's essential to consider the differences between the two. The Sony A80J showcases a clean, uncluttered design with slim bezels and a sturdy, high-grade aluminum stand. It also incorporates a cable management system that assists in maintaining a neat and orderly setup. The back panel of the A80J boasts a cutting-edge design.
On the other hand, the LG C1 sports an edge-to-edge display thanks to its minimal bezels and trim design. Its simple yet sophisticated stand gives the overall design a sense of refinement. To reduce clutter, the back panel of the C1 was also designed with wire management in mind.
Both TV support a wide range of ports for various devices in terms of connectivity. Numerous HDMI 2.1 connectors, USB ports, Ethernet, Wi-Fi, and audio outputs are among them. These connectors guarantee compatibility with accessories like sound systems, media players, and game consoles.
Price
The LG C1 and Sony A80J televisions come with similar price tags for the same size models. Typically, the Sony A80J demands a slightly higher price point as it's positioned as a premium model. Its advanced features and state-of-the-art technology underscore its cost and set it apart from more affordable alternatives.
The LG C1 series, on the other hand, has a more extensive range of prices due to the various sizes available, making it more affordable for people of varying budgets. LG created the C1 series to appeal to a broader market, enabling customers with various financial needs to choose a size that suits them. This implies that the LG C1 is an excellent choice for buying either a more affordable or high-end model.
The decision between the Sony A80J vs. LG C1 televisions ultimately comes down to a person's spending limit and particular needs regarding features, picture quality, and general performance. Customers can choose an appropriate brand that perfectly meets their financial capabilities and preferred watching experience by considering the price range of these models.
Target Market
The Sony A80J and the LG C1 have comparable features and capabilities that cater to similar market segments. The Sony A80J is a compelling choice for customers prioritizing superior image clarity, immersive sound, and the advanced technology of the Cognitive Processor XR. The A80J is specifically crafted for cinephiles, PlayStation enthusiasts, and technology lovers looking for an unparalleled viewing experience that mimics the way the human eye sees.
The LG C1 also offers excellent performance for the price. Customers who value picture quality will appreciate the home theater experience provided by Cinema HDR, Dolby Vision IQ, and Dolby Atmos support. Gamers will be drawn to the LG's NVIDIA G-SYNC and FreeSync Premium compatibility. The price difference between the two 65-inch sets is just $100 at the time of writing. The decision will therefore likely come down to personal preference, and for gamers, which consoles they favor.
Reliable Choice
LG C1 65-Inch Class OLED
Self-lit OLED pixels with deep black and rich colors
Stunning pictures and excellent sound
Cinema HDR, Dolby Vision IQ, and Dolby Atmos
Fantastic gaming monitor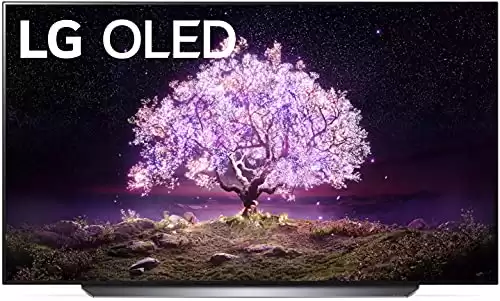 We earn a commission if you make a purchase, at no additional cost to you.
Sony A80J vs. LG C1: 5 Must-Know Facts
Sony A80J utilizes Google TV and provides a user-friendly interface and access to several streaming services and apps via the Google Play Store.
With the Sony A80J and the LG C1, you can use voice commands to control the TV and do content searches, thanks to Google Assistant's built-in functionality.
The Sony comes in 55, 65, and 77 inches, while the LG is available in 48, 55, 65, 77, and 83 inches.
LG's Game Optimizer is compatible with NVIDIA G-SYNC and FreeSync Premium, whereas the Sony TV offers exclusive features for the PS5 console
The LG C1 employs AI Sound Pro, a feature that leverages artificial intelligence algorithms to scrutinize and enhance the audio output according to the displayed content — resulting in a dynamic and superior sound quality.
The LG C1 boasts a stylish look, deriving its modern aesthetic from its slim build and minimal lower bezels. The Sony A80J also has slim bezels, giving it a clean, uncluttered design.
Sony A80J vs. LG C1:  Which One Is Better? Which One Should You Use?
Several elements must be considered when deciding the better fit between the Sony A80J vs. LG C1 for your needs. Both models employ OLED technology, ensuring top-notch picture quality characterized by deep blacks, vibrant colors, and broad viewing angles. 
However, the Sony A80J boasts its advanced Cognitive Processor XR. This unique feature applies artificial intelligence for real-time image analysis and enhancement, resulting in lifelike and captivating visuals. Therefore, if your preference leans heavily towards superior picture quality and intricate detail, then the Sony A80J may be more appropriate.
For those with a penchant for gaming, the LG C1 proves to be an exceptional choice. With its state-of-the-art gaming features, this innovative device delivers a phenomenal gaming experience while providing a versatile pricing range, making it an accessible option for a broad spectrum of enthusiasts. HDMI 2.1 support for Variable Refresh Rate (VRR), significantly minimizing screen tearing and boosting performance when linked with compatible gaming consoles or graphics cards. Its compatibility with AMD FreeSync and NVIDIA G-Sync offers a versatile and immersive gaming experience across various devices, further emphasizing its appeal to gamers.
Whether Sony A80J or the LG C1 is a superior television choice largely hinges on your requirements and preferences. The Sony A80J has outstanding picture processing capabilities and a different audio experience. These features make it the perfect choice for superb visual and auditory quality. 
Thus, when selecting your best pick, consider your personal preferences, budget, and the primary purpose of your new television. Considering these factors, you will be well-positioned to pick the TV that most perfectly aligns with your requirements.
65-inch OLED 4K Ultra HD screen
Smart Google TV
Dolby Vision HDR
Alexa compatibility
Black bezel

Buy Now

We earn a commission if you make a purchase, at no additional cost to you.

05/26/2023 08:55 pm GMT

Self-lit OLED pixels with deep black and rich colors
Stunning pictures and excellent sound
Cinema HDR, Dolby Vision IQ, and Dolby Atmos
Fantastic gaming monitor

Buy on Amazon

We earn a commission if you make a purchase, at no additional cost to you.

05/30/2023 10:27 pm GMT