When it comes to choosing a new TV, a little bit of research can go a long way. Everything from the smart interface and price to the screen size can play a central role in decision-making.
With options like the Sony A80J and the Sony A90J, future television buyers have to make some pretty difficult decisions about what features they can live with and without. Sony has long had an outstanding reputation for televisions, and with the Sony A80J and A90J, they have once again helped differentiate themselves by standing out with excellent features at reasonable prices.
Let's break down these two TVs to give you the full picture.
Sony A80J vs. Sony A90J: A Side-by-Side Comparison
| | Sony A80J | Sony A90J |
| --- | --- | --- |
| Resolution | Up to 4K @ 120Hz | Up to 4K @ 120Hz |
| Interface | Google TV | Google TV |
| Built-in Smart Functionality | Chromecast and AirPlay 2 | Chromecast and AirPlay 2 |
| Audio | 30 watts | 60 watts |
| Sizes | 55, 65, and 77 inches | 55, 65, and 83 inches |
| Gaming | VRR, ALLM | VRR, ALLM |
| HDMI Inputs | 2 HDMI 2.1 ports | 2 HDMI 2.1 ports |
| Price | Starting at around $1,300 | Starting at $1,800 |
Sony A80J vs. Sony A90J: What's the Difference?
Design and Build
The overall design of both the Sony A80J and Sony A90J is relatively the same. If both televisions were turned off, you'd be hard-pressed to know the difference.
The most noticeable aspect of each model is that they offer feet that extend beyond the bottom left and right-hand side of the television and look a little odd. However, so long as these function well for their sole purpose, you can overlook their odd placement but it's a little curious that Sony went with such an awkward design.
Outside of their feet, both Sony models are plain black televisions that each include VESA 300×300 wall mount capability for hanging. Both televisions offer a mere 0.35-inch border between the screen and the edge of the TV so, while a bezel still exists, it's relatively minimal. The Sony A80J comes in 55, 65, and 77-inch sizes while the A90J offers a 55, 66, and 83-inch size.
Likewise, both televisions offer similar ports and inputs, including four HDMI ports of which two are HDMI 2.1 capable. One HDMI port on both televisions offers eARC/ARC for use with an external sound system like a soundbar or woofer. Both sets also support up to 4K at 120Hz, so as of right now, you can see where making a decision between these two sets appears pretty difficult. Thankfully, there are some differences.
Smart Features
Sony has gone all in on Google TV for the most part, so it's no surprise both the A80J and the A90J each offer it as the operating system.
Like Roku and Fire TV, Google TV is a fully functional operating system complete with thousands of apps, including favorites like Netflix, Prime Video, Hulu, Disney+, etc. In addition, Chromecast streaming is built right into both sets as is AirPlay 2, so mirroring a smartphone or tablet is quick and easy.
The remote on the Sony A90J adds is about the first place you can find something about the hardware that is different as it's backlit for easier use in the dark. It also eliminates the need for pressing a button to activate voice control with Google TV, whereas the Sony A80J does require a button for voice activation.
Picture Quality
Where the A80J and A90J really start to differ is in picture quality. Both models offer Sony's "Cognitive Processor XR" which looks to deliver what Sony believes is a visual experience that is similar to how humans perceive the world.
However, the OLED panel on the A90J is definitely better overall, thanks to stronger brightness courtesy of a new aluminum heat sink. The A90J also adds XR OLED Contrast Pro which provides even deeper blacks and improved colors overall.
That's not to say Sony A80J is a bad picture. On the contrary, it still utilizes Sony's Cognitive Processor and combines it with an XR OLED screen but lacks the "Pro" features of the A90J.
The pair each includes HDR10 and Dolby Vision, but where the A80J excels is with its near-infinite contrast ratio, and the A90J excels with its near-perfect black levels. The A90J will also offer slightly better viewing angles thanks to the "Pro" screen and a glossy finish. The Sony A80J has a more matte finish which can be less effective at suppressing glare, so poor wide viewing angles is something to consider.
Ideal Usage
As a Sony TV, one almost immediately wonders how well they work with Sony's PlayStation 5 video game console. While both TVs excel thanks to dual HDMI 2.1 ports for gaming in 4K @ 120Hz, the A90J excels just a little bit more with its higher contrast, which makes it great to game in the dark.
VRR support was added for both televisions through a software update after release, but at 8.5ms, input lag isn't as impressive as some other Sony models. Of course, a similar experience would be had with the Xbox Series X (or S), so there's no immediate advantage for PS5 owners.
The Sony A80J also includes VRR support and near-instant response time for smooth motion, but its 8.5ms response time is also somewhat lacking. Its blacks are also slightly worse than the Sony A90J, and with so many games that emphasize darker colors, it's something to note if gaming is a huge use case. By no means is the A80J bad for blacks, the A90J is simply better at producing deeper colors.
For movies, the same story rings true where the A90J will showcase its near-perfect black level and upscaling of non-4K resolution content. The A80J also does a great job of upscaling non-4K content so these two are almost identical. That's also true for television viewing, but there is something to be said about the A90J's screen and better handling of glare.
The bottom line is that while both TVs are good, if they are both placed close to a window, the A90J will suppress the glare just a little bit better.
Sound Quality
Thanks to its Acoustic Surface Audio+ technology, the differences between the two televisions are subtle but present. Where they most differ is with power, as the A90J adds 60 watts of energy compared to only 30 watts in the A80J.
Each Sony model has the same dual actuators and dual subwoofers, the A90J is just able to make better sound using each speaker. Overall, the A90J is a better sounding option, thanks to well-rounded bass even without any third-party audio equipment.
Where they are also similar is the Acoustic technology utilizes the screen as a speaker and fires upward sound that adds "3D Surround Upscaling." The A90J also adds one additional connector so you can utilize the screen as the central speaker of any surround sound system you hook up after purchase.
Buyers of the Sony A80J would not be able to take advantage of the screen as a central speaker, so a full surround sound setup would be required. In other words, the A80J would require one additional speaker overall.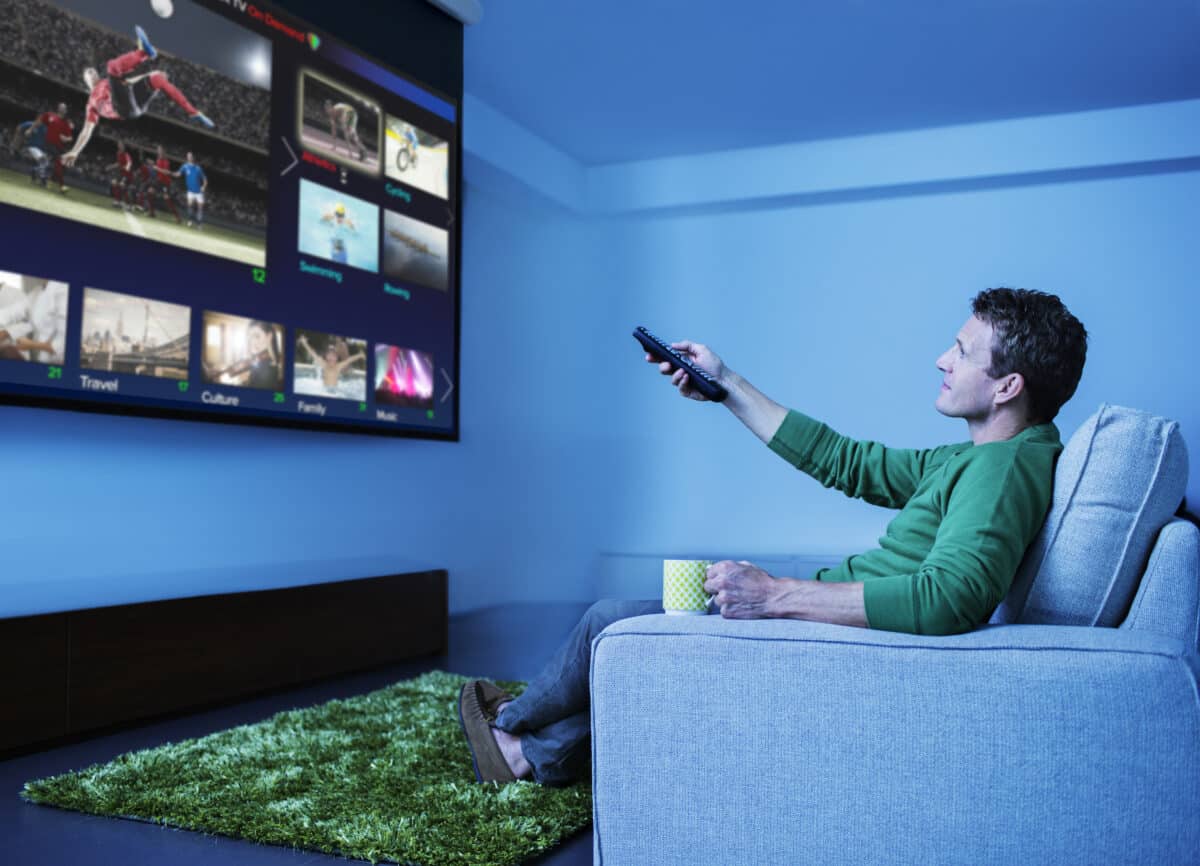 5 Must-Know Facts about the Sony A80J and A90J
The remote on the A90J comes backlit for easier viewing in the dark and doesn't require a button for voice activation.
Both the A80J and A90J can view up to 4K content at 120Hz, plus they can each upscale lower resolution.
The Google TV operating system includes access to over 700,000 movies and TV shows, plus more than 10,000 apps that can be downloaded for use with movies, fitness, music, and gaming.
The A90J offers slightly improved audio quality with 60 watts of power versus the 30 watts of power the A80J produces.
Sony's A80J model only goes up to 77 inches in size whereas you can purchase the A90J up to 83 inches, so it's slightly better for larger rooms.
Sony A80J: Pros and Cons
| Pros | Cons |
| --- | --- |
| Excellent contrast ratio | No FreeSync support |
| Outstanding wide viewing angles | Input lag could be better |
| Handles upscaling lower resolution content with no problem | Not as bright as you might expect from an HDR OLED television |
| Two HDMI 2.1 ports | Only 30 watts of sound |
| VRR support for gaming | |
Sony A90J: Pros and Cons
| Pros | Cons |
| --- | --- |
| Outstanding black levels | Permanent burn-in is a true risk |
| Buttonless voice-activated remote control | Input lag could be better |
| 60 watts of sound | Brightness could be better for this price point |
| Acts as a central speaker for external surround sound setups | Only two HDMI 2.1 ports |
| VRR support for gaming | |
Where to Buy
Both the A80J and the A90J are available for purchase on Amazon with deals for the holiday season.
Sony XR-55A80J 55" OLED BRAVIA XR 4K Ultra HD Smart TV with an Additional 1 Year Coverage by Epic Protect (2021)
Sony TV: COGNITIVE PROCESSOR XR – Revolutionary TV processing technology that understands how humans see and hear to deliver intense contrast with pure blacks, high peak brightness, and natural...
Sony TV: XR TRILUMINOS PRO - Rediscover everything you watch with billions of accurate colors and see impressive picture quality that is natural and beautiful to the human eye
Sony TV: XR OLED CONTRAST – Feel the beauty of OLED contrast with pure blacks and lifelike brightness
Sony TV: BRAVIA CORE – Bring the cinematic experience home. Enjoy streaming high-quality movies included with BRAVIA CORE, exclusively on select Sony TVs
1 Year Extended Epic Protect Warranty in Addition to the Included Full Manufacturer Warranty. Intended for Residential Use Only.
We earn a commission if you make a purchase, at no additional cost to you.
Natural Color and Realism
We earn a commission if you make a purchase, at no additional cost to you.
Please Note: As of July 18, 2023, the XR-55A80J TV is currently unavailable on Amazon. If you are unable to locate this product elsewhere, please check back later.
Sony A80J vs. Sony A90J: Which is Better?
If you haven't been able to tell, both the A80J and the A90J are almost so similar, there's not a whole lot that separates them. Why Sony produced two incredibly similar TVs like these two models is a question for another time, but they did. Ultimately, the question of which is better is a tricky one.
The Sony A80J is a great television for most people. Available in 55, 65, and 77-inch sizing makes it is ideal for just about any home. You can pay slightly more for the Sony A90J and get a larger size which is worth noting, but definitely not a must for anyone wanting to work within a specific budget. Outside of size, the real big difference between the two televisions is the price, which begs the question: which is a better value?
The A80J offers 95 plus percent of what the Sony A90J offers and at a better price point. Unless you absolutely need a buttonless voice-activated remote or a TV that acts as a central speaker, the Sony A80J is the way to go and is the overall better value. You can use the extra savings to pick up a soundbar and get far better sound than either TV can produce on its own.
The image featured at the top of this post is ©alphaspirit.it/Shutterstock.com.