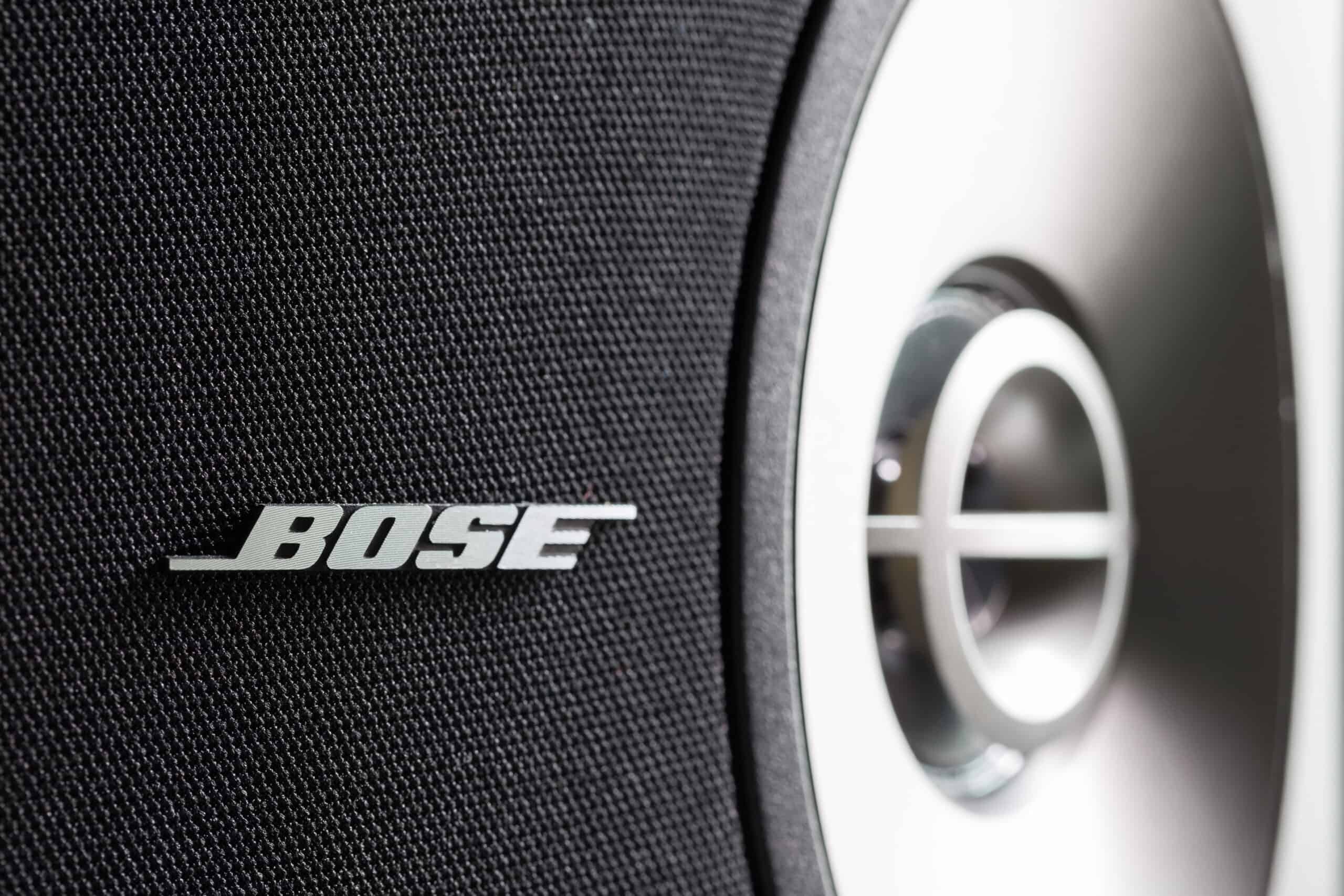 Sonos and Bose are two respectable in-home sound systems. For decades, they have been competing for the honor of being the best speaker brand on the market. From their sound systems to their smart speakers, their respective products have cemented their status as two of the best audio brands money can buy. But which is truly best in the battle of Sonos vs Bose?
To come up with an answer, it's well worth making a full comparison of the two. We'll begin with an outline of the biggest and most significant similarities and differences between Sonos and Bose. From there, we'll place their specs side by side and review some must-know facts about the two brands. After that, we'll look at the histories of Sonos and Bose and size up their respective pros and cons. Once that's been done, we'll tell you which we think is best: Sonos vs Bose.
Side by Side Comparison: Sonos vs Bose
| | Sonos | Bose |
| --- | --- | --- |
| Industry | Audio products | Audio products |
| Founded | 2002 | 1964 |
| Key Figure(s) | John MacFarlane, Craig Shelburne, Tom Cullen, Trung Mai | Amar Bose |
| Key Products | Smart speakers, loudspeakers, soundbars | Home audio systems, car audio systems, noise-canceling headphones, professional audio equipment |
| Revenue | $1.72 billion (2021) | $3.2 billion (2021) |
| Website | www.sonos.com | www.bose.com |
Sonos vs Bose: 5 Must-Know Facts
Bose has not released specs for its speakers since 1968. Nearly 55 years ago, founder Amar Bose stated that numerical data simply couldn't compare to actually sitting down and listening to the speakers themselves.
Sonos has established partnerships with more than 100 different music streaming companies throughout its 20-year history.
Unlike most other high-end audio products at Bose's price point, Bose does not have THX home theater certification.
Bose has been making speakers for more than twice as long as Sonos. Comparatively, Sonos's annual revenue is slightly more than half of Bose's.
Before founding Bose, founder Amar Bose was a professor at MIT. Later on, he gifted MIT a majority of the company's non-voting shares.
Sonos vs Bose: Key Differences
Sonos and Bose both make high-quality, technologically advanced speakers and sound systems for consumers' homes. However, taking a look at what other sorts of products each company puts out in addition to speakers will help illuminate some of their key differences.
Headphones
Sonos does not make headphones, while Bose does. This is one of the most notable differences, as Bose's noise-canceling headphones are one of its best-selling and most iconic products.
Compatibility
There's also the fact that Sonos relies on much more advanced software compared to Bose. In other words, Sonos relies more on software, while Bose puts its focus on its hardware. Sonos works with major music streamers like Pandora, iHeartRadio, and Spotify. Same for all the top voice assistants such as Alexa, Google Assistant, and Siri. Bose doesn't seem to prioritize this kind of smart compatibility, choosing instead to focus on making the best quality audio products (rather than the smartest).
Accessibility
Beyond differences in products and priorities, there's also the simple fact that Sonos speakers are often more accessible than Bose. Sonos's speakers are less advanced than Bose's, to be sure, but this makes them more accessible to the average consumer. They're easier to set up, easier to control, and easier to connect to. By comparison, Bose speakers are much more advanced, much more high-end, and much more professional.
Pricing
Given their technological advances, Sonos speakers tend to be more expensive than Bose. Customers love Sonos product lineup because of their functionality and durability. On the other hand, Bose offers many affordable products. Ultimately, you should work with a budget to customize your audio listening experience.
Sonos: Complete History
Founded in 2002, Sonos aims to bring in-home sound systems into the 21st century by creating a seamless, wireless speaker line. Some of the earliest Sonos prototypes began emerging at various consumer electronics showcases throughout 2004, immediately grabbing the attention of rival tech companies such as Apple. (Steve Jobs even issued warnings to MacFarlane, worried Sonos's controller was infringing on the iPod's scroll wheel.)
Sonos speakers first hit the market in the United Kingdom in 2005. The company has been broadening its global market size and scope ever since. However, things began to stall as the 2000s gave way to the 2010s. Sonos was in desperate need of a revival. So, did a massive rebrand between 2011 and 2014. It couldn't have come at a better time. The rise of music streaming services and the continued advancement of smartphones, made it the perfect time to revamp the Sonos name.
The Sonos rebrand successfully reintroduced the smart speaker brand to a new customer base. With more than $100 million in venture funding, Sonos leaned into music streaming services and smart assistant voice control. Sales soared and, apart from a brief blip during the pandemic onset, have continued to increase almost every quarter for the past decade.
Bose: Long Dominance
When comparing Sonos vs Bose, the latter's history looks pretty different compared to the former's. By the time Sonos emerged in 2002, Bose had already been around for nearly 40 years. Founded in Massachusetts by Amar Bose in 1964, Bose set out to recreate the experience of being at a concert hall in the home. Bose hoped to achieve this by using multiple speakers at different angles throughout the room. While it took several years to get the formula right, the Bose 901 was an immediate commercial success. It led to an immediate boom for the Bose Corporation in the 1970s, which would last for decades.
Bose became a retail mainstay in the early 1990s. The audio brand opened its first retail store in 1993, and by the 2010s, the company had more than a hundred stores worldwide. (That doesn't even include the number of retailers that sold Bose products under their umbrellas, such as Target and Best Buy.) However, as the retail experience shifted online, Bose decided to close all its solo stores in January of 2020.
After Amar Bose died in 2013, MIT became the official owner of the Bose Corporation. Despite moving sales entirely online and within other retailers, Bose is still a dominating force in the audio product market today. They brought in three billion dollars in 2021 alone. Sonos might be more technologically advanced than Bose, but Bose's name has been synonymous with speakers for more than 50 years.
Sonos vs Bose: Which Audio Equipment Brand Is Better?
Comparing Sonos and Bose side by side is almost like looking forward to the future and looking back at the past. You've seen the comparisons and heard the histories of the two, so there's no denying they're both exceptional companies with great product lines. Sonos represents the future of audio, while Bose remains rooted in the past.
This fact alone is neither a fatal flaw of Bose nor a glowing endorsement of Sonos. It's simply how things are: Bose is more traditionally good, while Sonos is more technologically advanced. One is synonymous with wired sound, while the other is synonymous with wireless. One is not inherently better than the other based solely on this, but Sonos still comes out on top.
Sure, Sonos might be more expensive, and yeah, Sonos might not offer as many products as Bose. Yet Sonos has proved that they're committed to the future of audio while Bose seems less and less interested in technological advancement. Coupled with a lack of specs and a failure to rise to today's tech standards, it's clear that Bose is second-best to Sonos.